Greetings from a now warming Australia. Thank you for stopping by to read about the fabulous ladies behind the testing phase of the Tanner Culotte.
The shape of the Tanner was largely influenced again by the shapes I was seeing in all of the top tier international fashion designers collections.
For those not familiar with this fashion-forward style, culottes are essentially a wide-legged, cropped jean. A classic pair of culottes will actually look and hang much like a midi-length skirt, with very wide-cut, flared legs that hit at (or even above) mid-calf level.
The Tanner looks fabulous in a myriad of differing fabrics – linen. twills, cord and of course DENIM – the shapes I was seeing pop up were largely made in denim with strategically placed frayed edges.
Yes !!!…the frayed seam fashion statement is going to be a big trend in the coming months.
I love that my tester posse are so embracing of my design ideas. Again I made a Pinterest board – link is here – loaded it with stacks of inspo pictures to give guidance. Once the girls joined the board to get their "inspo" there was no stopping them.
In the pattern testing phase they really do go above and beyond when relaying back to me their feedback throughout the tester period. I always say to them via our Facebook group – " all SEAGULLS (lol) , niggles, complaints, observations, musings and gripes must be shared "…lol…
So drum roll please….my first group of 8 STARS of the Tanner Cullote who are sharing with you:
1. Where I live
2. What is your most FAVOURITE sewing tool
3. What was your vision of influence when making your Tanners
Cheerio and Kind Regards
Ann at Designer Stitch
---
Inge Moreels
Ok, here we go!
1. Belgium
2. My most favourite sewing tool is my (I don't know the correct word) adjustable mannequin. I love to pin all my pattern pieces on it so I can have a clear vision of the garment I'm sewing.
3. My vision of making the Tanner was the fabric I used, an old curtain found in the triftshop with a look of denim. When I looked at that fabric I pictured the perfect Tanner for me to wear.
My blog www.madamestof.wordpress.com and IG account https://www.instagram.com/madame_stof/
---
Ilse Lemmens
Hello, I live in Belgium.
2. My favourite sewing tool is my tape measure. When I sew I wear it around my neck to have it near by.
3. My inspiration for the Tanners became very clear when Ann added me to a pinterest board with lots of ideas. So as always Ann is my greatest inspiration and driving force!
Follow me on instagram : https://www.instagram.com/sewsewilse/
My blog: https://sewsewilse.wordpress.com


---
Dora Serrano
1.I'm from Portugal.
2. My favourite sewing tool is my sewing machine – my beloved Bernina was my Christmas present last year and I love it! Of course that my dear friend seam ripper can not be forgotten since he plays an important role in my sewing… but we have a kind of love/hate relationship… LOL
3. My inspiration for the Tanners was actually a pair of jeans that I had and, after my third child, no longer fit me. All the top stitching was made with the look of those jeans in mind.
You can follow my daily sewing at www.instagram.com/colourbymim


---
Caroline Flynn
1. New Zealand
2. My favorite tool is my sewing machine and the instruction manual, knowing that with a tweak here and a change of needle there, I can sew anything I want.
3. My vision of influence with the Tanners was a relaxed beachy summer look.
I can be found here https://www.instagram.com/caros_time/
---
Synthia Lee Gerritson
1. I live in Los Banos, Ca U.S.A.
2. A very sharp pair of scissors would be my favorite tool because of my bad hand, I need all the help I can get, lol.
3. My vision for the Tanner Crop Culottes was to make a nice pair for going out, given the reason why I did not use a contrasting colored thread.
4. Social Media Links, – Blog. http://sewsynsewn.blogspot.com.au/  
https://www.facebook.com/Synthia20000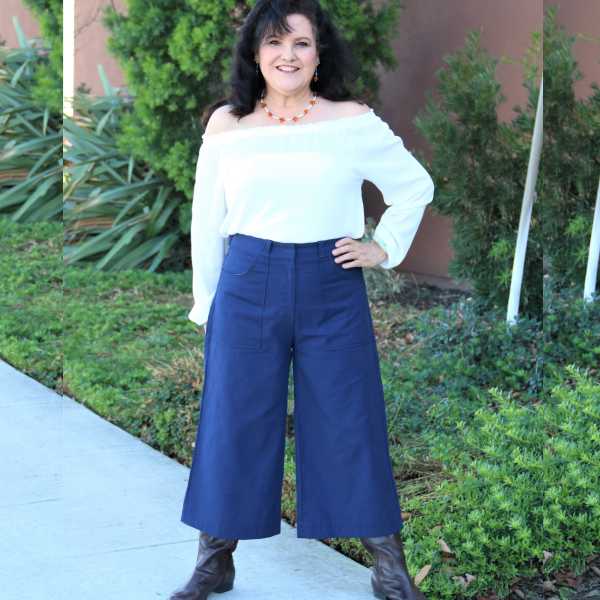 ---
Camelia de Bruin
1. At the moment living in The Netherlands.
2. My favorite sewing tool(s) are my pressing tools : a ham, sausage, tailors board and of course my iron . Sewing without good pressing is nothing for me.
3. I was not sure about the Tanners but after a bit of inspiration I wanted a pair to wear with long boots, perfect for the fall, and the result is just as I imagined it.
I am on IG here https://www.instagram.com/calcedoniasewing/?hl=nl and my blog is http://calcedoniasewing.blogspot.nl/


---
Lone Thomsen
1.I live in Aarhus in Denmark
2. I love my long, sharp sewing needles. Makes pinning so much easier and precise.
3. My biggest inspiration was the first inspiration picture you posted. And I love the look of culottes with long boots.
https://www.instagram.com/lonelot/
https://sewnbylone.wordpress.com


---
Kiran Grewal
1. Hello, I am Kiran and i live in Singapore.
2. If i was asked to name my favourite sewing tool, I'd be completely stumped. The reason for this is that what i use in my daily sewing arsenal is really basic, nothing fancy or special at all. All this means is that sewing is such a special art that gorgeous results can come from the most basic of tools. That said, i also don't use fancy gadgets because I'd much rather splurge on fabric (hangs head in shame) lol
3. In sewing up the my Tanners, i took a lot of inspiration from fashion blogs for petite women because my fear was that shorter ladies, such as myself, couldn't wear this look. I sure proved myself wrong. 🙂 With the right styling, petite ladies can carry off this look amazingly well. Needless to say, I'm stoked with the end result.
Thank you for reading, i can be found on instagram at www.instagram.com/gloopygoo