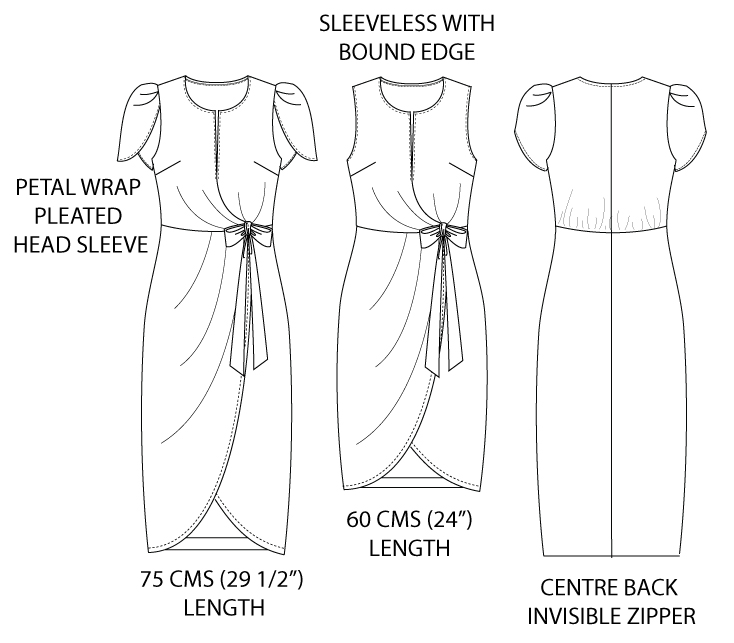 Hello again my lovely sew'ist friends. I am sure you were equally be-dazzled and certainly impressed with the roadies line-up for their gorgeous Valentina Tied Front Dresses…how gorgeous they all were !!!! … so again I am going to impress with the 2nd installment of the Valentina Tied Front Dress Roadies Roundup.
And as I always say re: the best thing about my roundups  – I get to showcase my stunning roadies and all their glory !
The Valentina Dress is a fabulous and stunningly unique design and is flattering, slimming and stylish on all figures.
The draped front tie bodice along with the mock wrap skirt screams STYLE and SOPHISTICATION.
The Valentina is all about feeling SASSY, SPIRITED and downright SEXY.
The finer details : the Valentina Tied Front Dress is on its release sale price of  $8.95 US and is a
multi-sized pattern :
(AU/UK) 6 – 30
(US) 2 – 26
(EU) 34 – 58
Cup Size – B, C, D, DD
https://designerstitch.com/shop/valentina-dress

---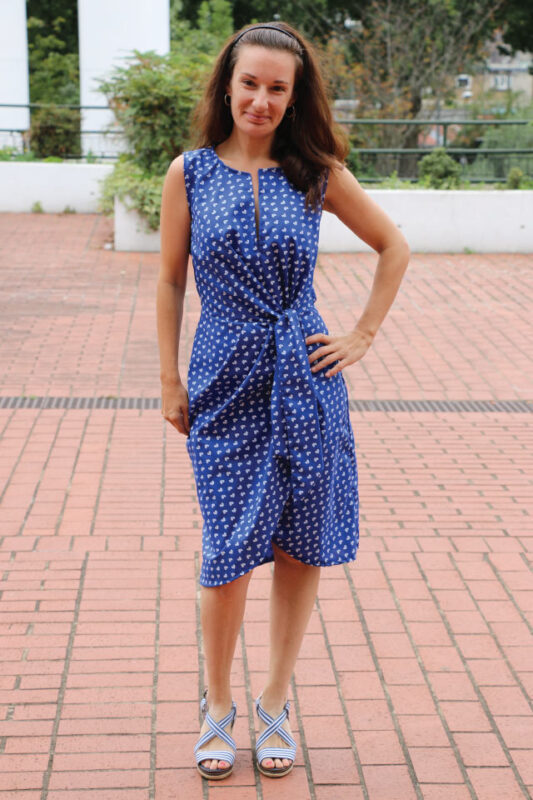 Hi im Ashley R from London. I made two versions, one sleeveless and one with sleeves. To have a summers feels and a dressed up with the sleeves.
I use cotton from a local shop and the sleeve version i used a beautiful satin i got from a facebook group Coalville Fabrics.
My favorite part about making the Valentina was how it made me feel when i put it on, it made me feel amazing. It's not my usually style i go for but i love the end results, the pleats and the tie it really makes the dress stand out. I would also make sure you read the pattern well and place your fabric on the right side as you need both skirt and top to side on the right side.
I've worm mine a few times as the weather has been really nice, a nice pair of wedges with your hair down and letting the wind flow through my dress. I had a few people ask where my dress came from which made me feel great knowing i've made it for myself.
https://www.instagram.com/madebyashleyriley/
---
Hi, I am Arina de Mol and I live in Katwijk aan Zee.
The Valentina is a chic dress but can also be very cool. Just what I love! At HollandStoffenhuis I found a supple, woven fabric that I immediately wanted for my Valentina dress. The tie is my favorite part of the dress, I really enjoyed making it, because it seemed very difficult to me, but it definitely wasn't! Read it carefully and you will work it out! I have worn the dress several times and received a lot of compliments. My mother thought it was so beautiful that I made it myself. I style it with my cool lace-up boots.
www.facebook.nl/molz2.0
www.instagram.com/molz2.0_
---
Hi , I am Christina. I am from Cape Town, South Africa. This was my 1st time testing for DS and I absolutely loved it. – I chose the sleeve version and made both lengths. The tulips sleeves looked extra special and with the pleats made the Valentina unique, hence my choice. – my shorter dress was in a lined, although it creases I do love linen and the way it holds the sleeve pleats. My longer dress was a gorgeous viscose like olive fabric with a luxury feel to it, it made the Valentina feel as luxurious as it should. this one had all the drape the Valentina needs and I adore how slimming the dress makes me look. – fabric bought at a small local shop that sells off cutts. -sewing tips will be to measure yourself well, and then just follow Ann's instructions well, it is perfect. and I basted all seams. – My favourite thing about making the Valentina was inserting an invisible zipper for the 1st time…-it has been too cold to wear my Valentina out. While taking pictures though 2 friends saw it and gave loads of compliments on how flattering the dress looks. – I will style with low heels and a jacket or cardigen.
---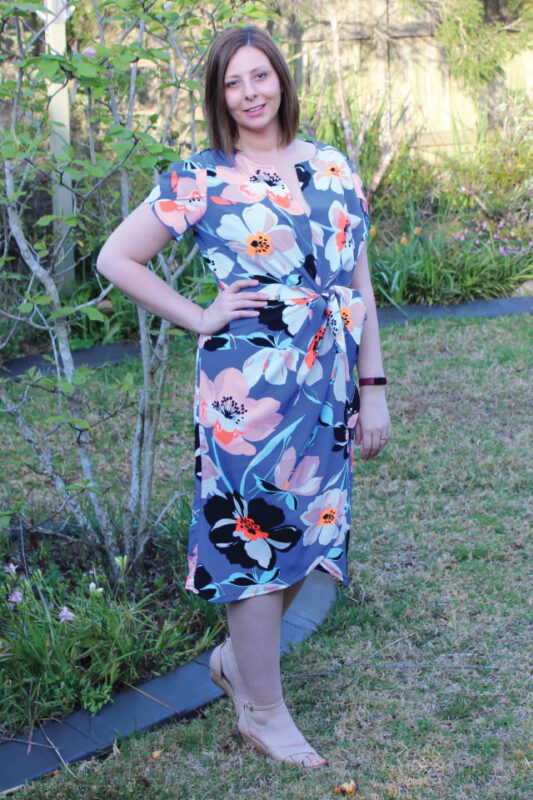 Hello my name is Elise and I am from Queensland, Australia. Gosh I love this dress. I am so proud of how it turned out. I must say making this dress was an enjoyable challenge. Not too hard but a sew where you need to take your time to think about the steps. Each time I sew, I like to learn something new, and this pattern has heaps of great techniques to master. I have worn it a couple of times and people are blown away when I tell them that I made it. If you are using slippery material, make sure to feed it into the machine so the material does not stretch as you sew. I will stop here and go look at my dress again. I really am so proud of it.
---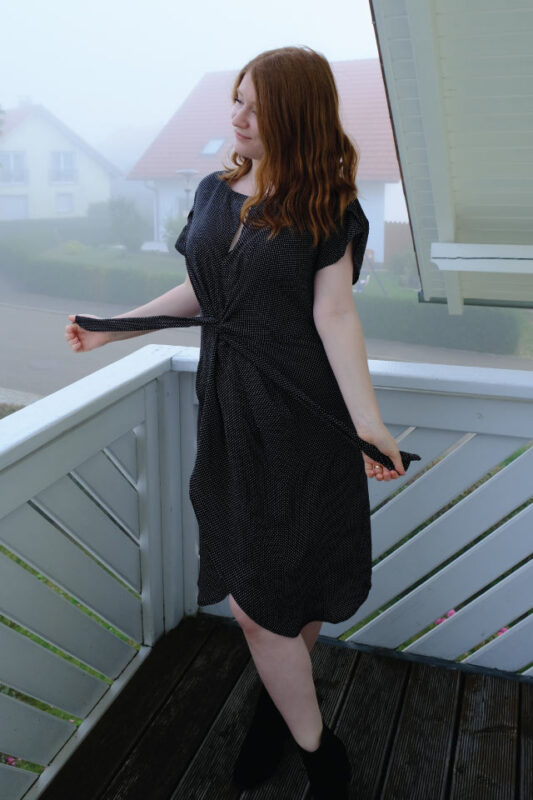 My name's Giorgia and I'm an Australian based in Stuttgart, Germany! I made the shorter length for my Valentina with the sleeves and I LOVE IT! I used a very drapey viscose from my local fabric market to keep the dress soft and floaty. I found sewing the Valentina straightforward but definitely read the instructions to make sure it remains an easy sew! I really love the tie in the front, it looks amazing but was easy to sew! I've been wearing my Valentina with ankle boots – soon to be worn with ankle boots and tights as the weather here in Europe cools down. You can find me on: https://www.instagram.com/gsewssometimes/ and https://www.instagram.com/gsewssometimes/
---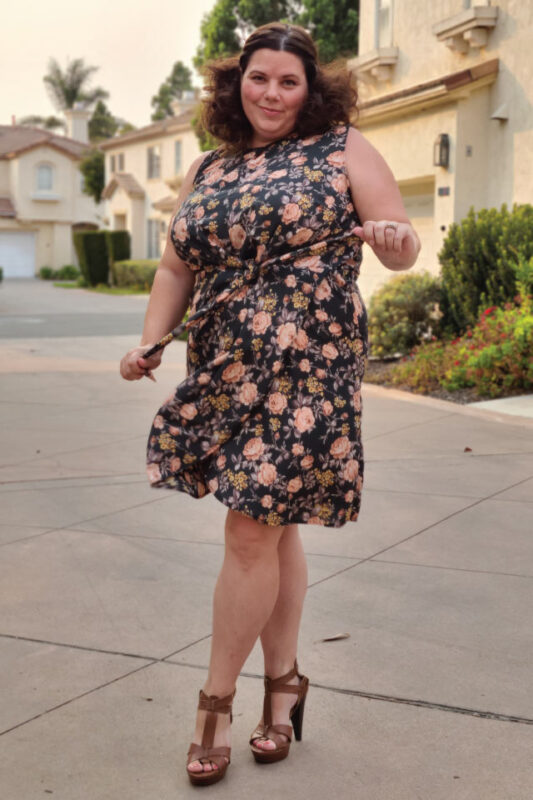 Hello, I am Kelly from sunny California!
I chose to do sleeveless Valentinas in both lengths. I usually go for shorter length dresses, but knew a longer length Valentina would bring on the wow factor!
I found some great fabrics at my local market. I made sure from feeling them that they would hold the pleats well and form the ties nicely.
Tip: When you're cutting your fabric make sure that you copy all markings correctly and have your pleats folded the correct way 🙂
My favorite thing about making my dresses was putting them on and feeling proud that I made such gorgeous dresses that fit me and my curves beautifully.
My Valentina dresses pair perfectly with a fabulous heel and sophisticated hairdo 💕
You can see more of my sews at instagram.com/kellygonthierart
---
Hi! I'm Kynthia from sunny Singapore! I made Valentina in the sleeveless + knee length option as I love the focus on the tie and gorgeous pleated skirt.
I used gabadine for my Valentina. Its from a local store. I love the results it gave! Structured with pleats held in place and with some body, yet drapey enough to flow around me! I think using the correct fabric is very important as it wouldn't give such awesome results otherwise.
I love how each seam is trued up perfectly! This really speaks to me of a well drafted pattern and gives me the satisfaction of sewing my own dress. This will be my go-to workdress from now on! 😊
IG: https://www.instagram.com/kyncreations
---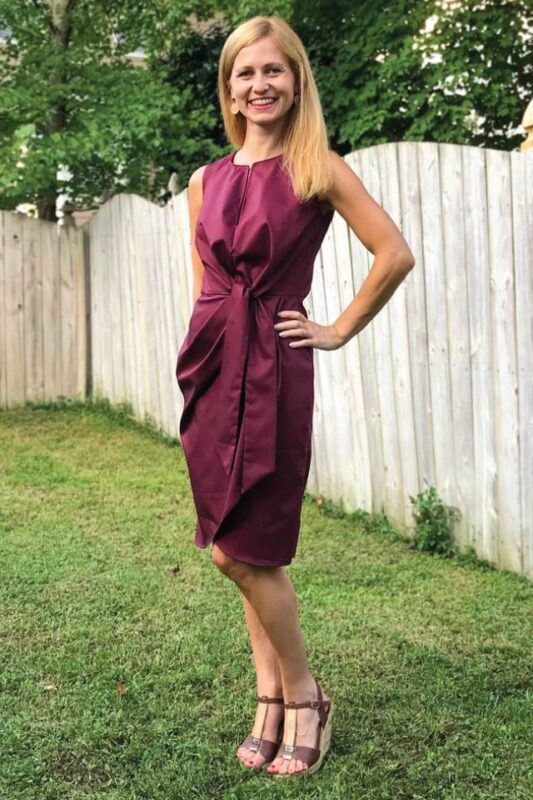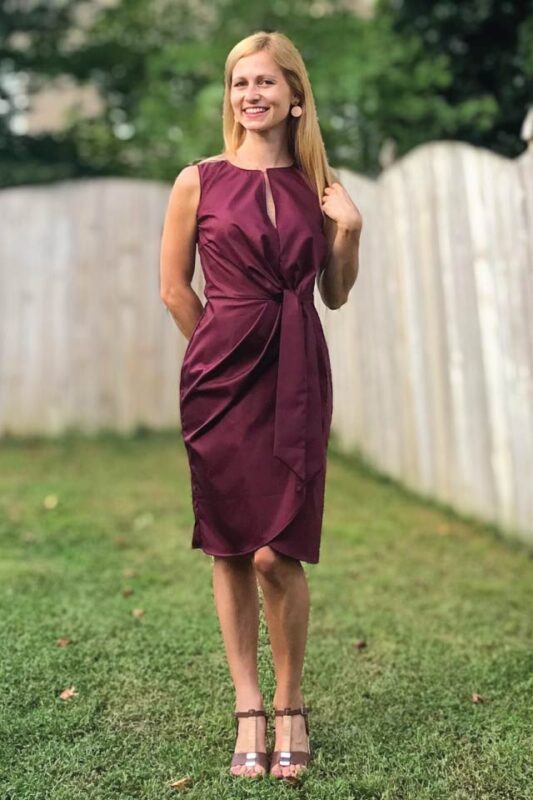 Hi, I'm Luana and I live in North Carolina (USA). For both my toile and my final dress, I chose the shorter version of Valentina. I made sleeve for my toile and sleeveless for my final. The fabrics I used were both from my stash, I've got them in Italy a while ago. The one I used for my toile is a cotton, while for my final I used a fabric that feels similar to a taffeta, which I think is perfect for the design of this dress!!
I have to say that the pleats gave me a little bit of headache, I would suggest to use a dress form if possible, I found it way easier with it.
My favorite thing about it is how it drapes on the body, with the perfect touch of the tie.
I already wore it to go to the office and my coworker couldn't believe I made it myself. It doesn't need accessories, maybe a necklace and your favorite pair of shoes!
My blog https://lmfcrafts.com/
My Instagram https://www.instagram.com/lmfcrafts/
---
Hi all, I am Marit from the Netherlands.
When I first laid eyes on Valentina I knew I just had to make it! I ended up making two, because one just wasn't enough! For my first dress I used an organic Cloud9 cotton rayon from Www.ansje.eu. I love the drape it gives to the sleeves and how classy and businesslike it makes me feel.
I also made a leopard sleeveless dress, because leopard is my favorite colour. It's a satin silk fabric I bought from www.instagram.com/shaniosdorp.
After making my toile in a hurry I realized – Valentina calls for slow sewing! First you cut, then you baste and then you finish all the edges. After that, sewing is a dream and you are finished before you know it. This actually was my favorite thing, getting really deep into the pattern, focus on the dress and the result – mindfull sewing I guess 😉
I have worn both dresses to work. The black floral one is best paired with heels, whereas I am giving the leopard one a more sporty look with a denim jacket and white sneekers. My coworkers were awed by both dresses – all kudo's for the brilliance that is Ann.
You can find pics and all my makes on www.instagram.com/modemamaprins
---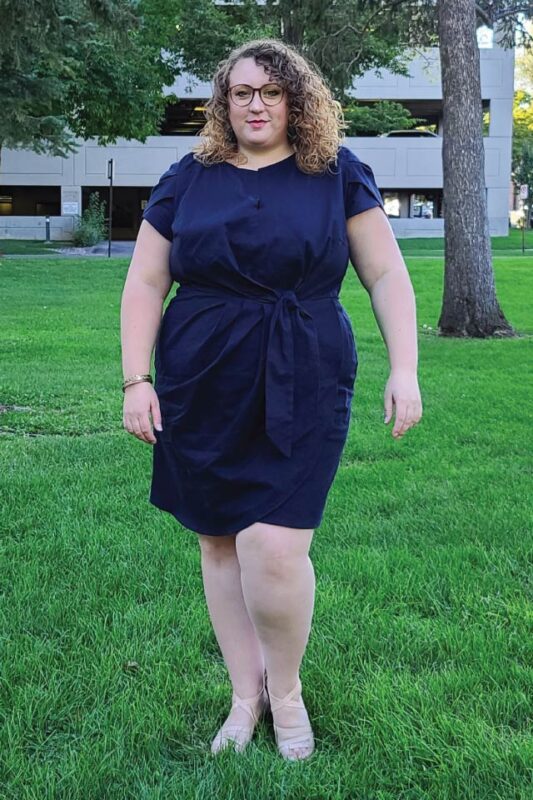 hello you lovely sewists. My name is Melissa and I sew for my daughters here in Colorado USA.
The Valentina we chose was the short length with sleeves. It's the start of fall here and my daughter Cherish works in a business setting so this lovely dress works beautifully. She chose a love deep navy light weight linen for our fabric closet, originally purchased from a local tailor.
Valentina is such an easy sew it's amazing.
Cherish commonly wears very structured knit dresses so wearing a woven that she feels comfortable in as a curvy girl is new to her!! This dress is Fantastic!!!!
A true Runway look!!!
She wore hers the very next day and received many smiles, nods and compliments!!!
She has already ask for another to be made for her this time in a bit softer, more floaty fabric for a bit different look. She is keeping her look clean and understated with earrings and a bracelet, as well as a pair of neutral heeled sandals.
Don't wait this is a wonderful design!!!
Http://Facebook.com/Melissa.deeg3
---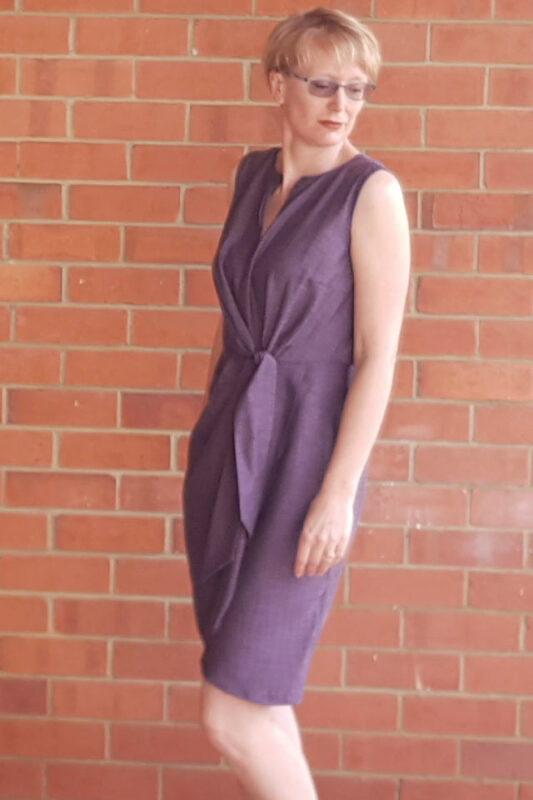 1. Hey, it's Narelle from Perth, Western Australia.
2. I chose the sleeveless Valentina dress with a 60cm length – the perfect style for a hot summer's day.
3. The fabric is a mid-weight polyester from Homecraft Textiles (https://www.homecrafttextiles.com.au/). It was a random selection after wandering about their store!
4. The way the tie front sews up looks confusing, but somehow it all comes together. Just take it slow and follow the steps!
5. My favourite thing about making the Valentina was trying on my muslin and just WOW! The fit was spot on and the tie front just makes it perfect – nothing homemade about this dress!
6. I'm waiting for some warmer weather to wear my Valentina out, but can't wait to let it loose!.
7. I'll be styling my Valentina with black strappy sandals and a thin, simple necklace.
https://threadistry.com
https://www.facebook.com/threadistry
https://www.instagram.com/threadistry/
---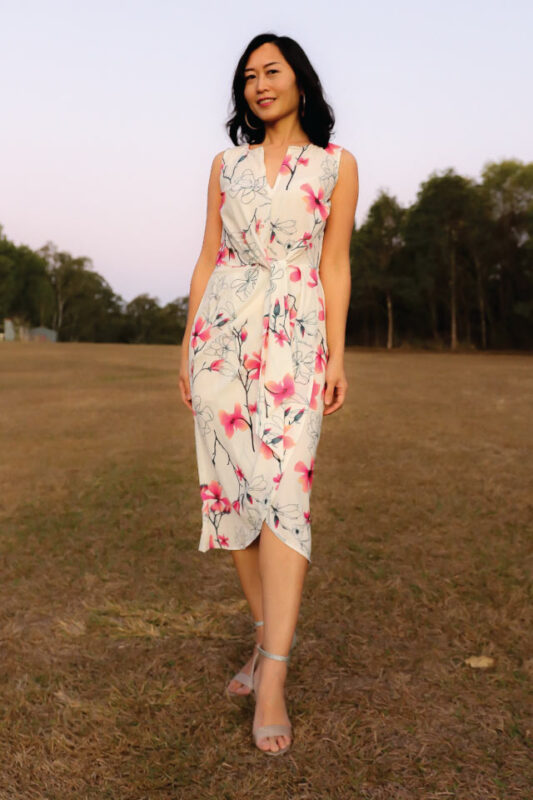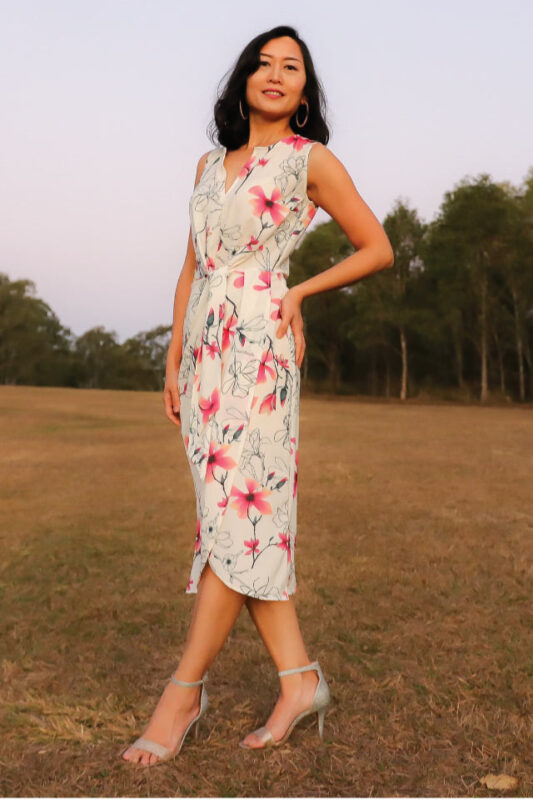 1. Your name and where you live ?
Pimrak Pakdeethai. I live in Brisbane.
2. Your choice of style for the Valentina and why ?
I chose the sleeveless because it's quite hot here in summer.
3. What fabric did you choose and where did you purchase?
I used crepe bought from Spotlight.
4. What sewing tips can you share when sewing the Valentina ?
I have made a total of 4 Valentinas during the testing using 4 different types of fabrics. I love it with crepe but also find the cotton/ cotton blend type give the dress more structure and would look professional for work attire.
5. What was your favourite thing about making the Valentina ?
I got a chance to experience with many different kinds of drapey materials. I didn't sew much with them in the past. It's quite fun to see how the final products come out when made in different materials.
6. Have you worn your Valentina yet and what compliments did you receive.
I wore it for the photoshoot and hubby quite liked them. He actually likes all garments I made from DS patterns.
7. And how are you styling your Valentina ?
I went to a hair salon to shorten my hair and the hairdresser styled my hair as in the photos. Also, I put on the earrings for the first time in many years. They are quite big but you can't see much in the photos due to my volumised hair, lol. Oh.. and don't forget the shoes…They are glittery heels!
8. Social media URLS ?
https://www.facebook.com/pimrak/
---
Hi my name is Sonia I live in SW Missouri, USA with my husband and fur baby Dune.
I chose the longest length for my Valentina as I feel more comfortable when my dresses fall below the knee.
I chose a Satin crepe from https://www.fabric.com/…/telio-pebble-satin-crepe…
I love floral, and the Navy and yellow will be perfect as we transition into Autumn.
The other dress was made from cotton fabric from Blended Thread Fabrics
https://blendedthread.ca/
Which was a pre-order.
A sewing tip that I have is to make sure make a toille before using your good fabric. You want to make sure the fit is just right when making your Valentina.
I love the tie feature, the construction is amazing to achieve this classy look!
I have worn my Valentina to church and have received so many compliments. One of my friends said "you just sparkle" and that made me feel so good!
I love to style my Valentina with some classy pumps and I take extra time with my hair style when I wear her!
Blog: Www.sewsowforth.com
Facebook: Www.facebook.com/sewonandsowforth
IG: www.instagram.com/sewsowforth
---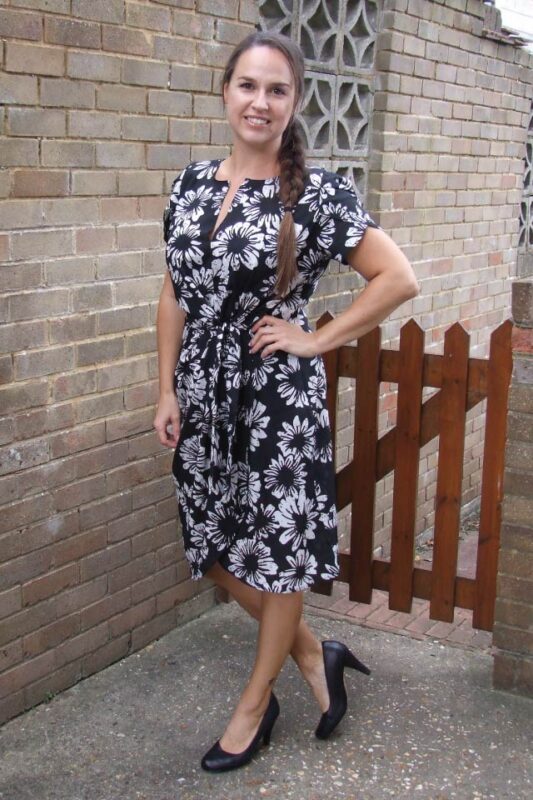 My name is Stacey and I live on the south coast of England.
I chose to make the shorter version with sleeves – I just love those petal sleeves!
I used a lovely floaty crepe fabric which I bought from 'fabrics by Penny'.
With all the curved edges pressing is very important to keep it all looking smooth, don't skip it, and use lots of steam.
My favourite thing was making the front ties, I enjoy sewing different and unusual designs.
I keep the styling simple and just put on some classy heels.
I wore my dress to work the other day and got loads of compliments!
www.instagram.com/all_sewn_up_by_stacey
http://allsewnupbystacey.blogspot.com
---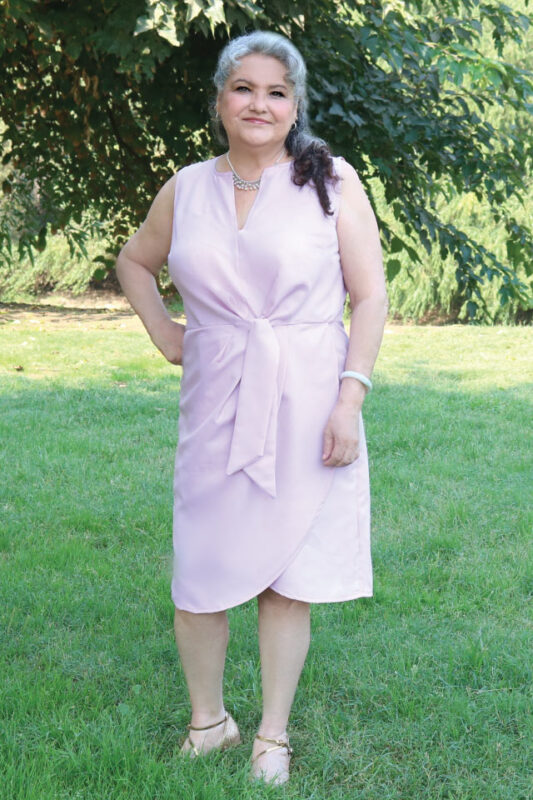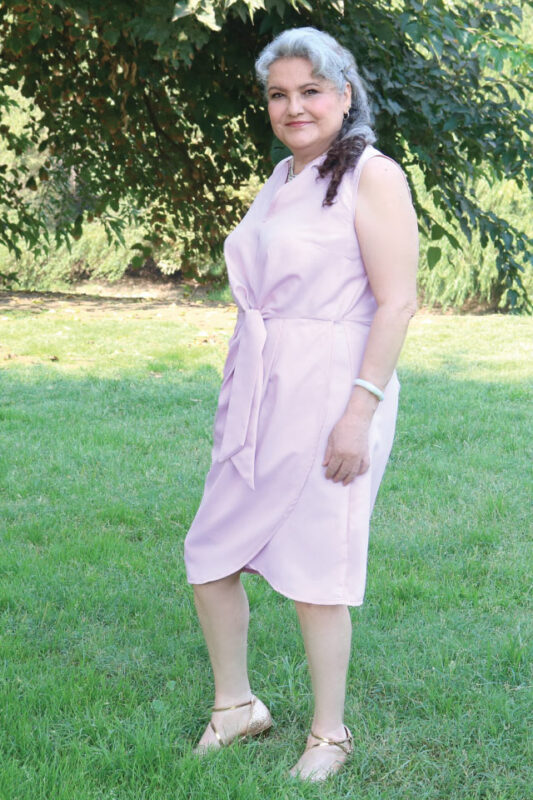 My name is Synthia and I live in Central California. The Valentina is a unique dress with a side tie belt. I sewed my Valentina using a, well not sure of the fabric, but it's soft to the touch and has a good weight for this dress. As always, I need to make a muslin first, being 5′ 3 1/2″ call for adjustments. The end result, I love, I love the fit and style. With Covid-19, I haven't been able to wear my dress out yet. Great unique design. https://sewsynsewn.blogspot.com
---
My name is Valentina, and I live in Carrollton, TX
I chose to make the Valentina dress with sleeves, and the shorter length, because those sleeves are so adorable, how could I pass them up?
For my final dress I used a denim look tencel that I purchased from Mood fabrics. I love the feel of tencel, and I love denim too. The dress is so elegant and I thought that using a denim look fabric will be a nice mix of elegant and casual.
The dress is easy to sew, but it's important to follow the instructions closely when seeing the front, so everything lines up.
My favorite thing about sewing the dress was trying out different fabrics. I used 2 different ones for my toile and final, and the result really looks and feels different. I also loved sewing the sleeves.
I haven't worn out my new dresses. Unfortunate, we are still staying home, and my outings consist of dropping the kids at school. But I am planning to wear it to dinner with the hubby soon.
For my photoshoot, I wore red shoes, because I love the looks of blue and red together. But really any bright and colorful shoes look amazing with denim, so I am excited to try it with various shoes. I wouldn't add to many accessories, because the dress design by itself is very interesting and doesn't need much to be added to it.
Blog: www.theengineerseamstress.com
IG: Instagram.com/the_engineer_seamstress