Hello my lovely sew'ist friends and it is a WOO HOO kind of day !!!! The release of the new Valentina Tied Front Dress has gone amazingly well and I am so looking forward to you all looking absolutely divine in your own Valentina – it is a truly stunning and elegant mock wrap dress.
Featuring a front draped/tied off-set asymmetrical front tie overlay on the front bodice – along with a pleated front mock wrap in the skirt.
Finish the Valentina off with its bound neckline for a sleek smooth finish – along with a choice of a sleeveless bound armhole or the chic and elegant cross petal sleeve showcasing gorgeous draped pleats on the sleeve head for that extra sophisticated look.
So lets start the Valentina Tester Roundup Part 1 – and a round of SHOUTOUTS and GASPS to all of my amazing testers. Love you all xx
Our roadies would like to share the following with you all :
1. Your name and where you live ?
2. Your choice of leg width of the Valentina and why ?
3. What fabric did you choose and where did you purchase ?
4. What sewing tips can you share when sewing the Valentina ?
5. What was your favourite thing about making the Valentina ?
6. Have you worn your Valentina yet and what compliments did you receive.
7. And how are you styling your Valentina ?
The finer details : On Sale for a limited time only – $8.95 (US)
And the finer details;
(AU/UK) 6 – 30
(US) 2 – 26
(EU) 34 – 58
Cup Size – B, C, D, DD
Confident Advanced Beginner and Above Sewing level
https://designerstitch.com/shop/valentina-dress/
---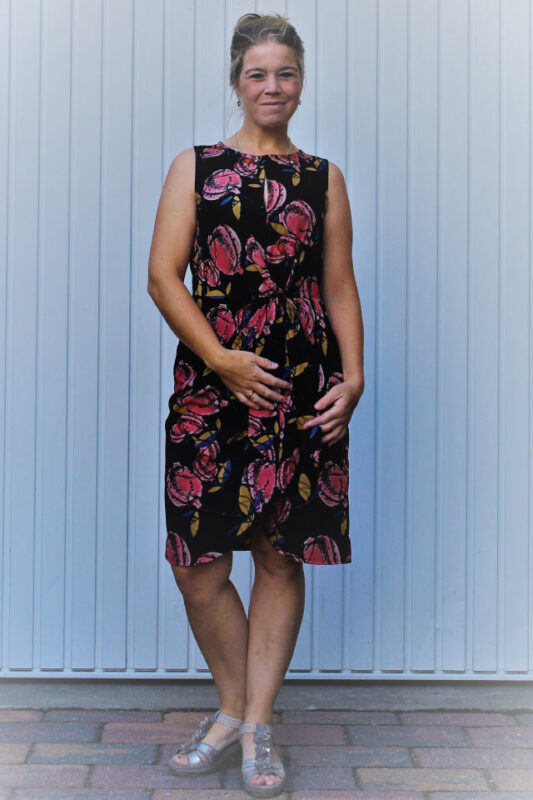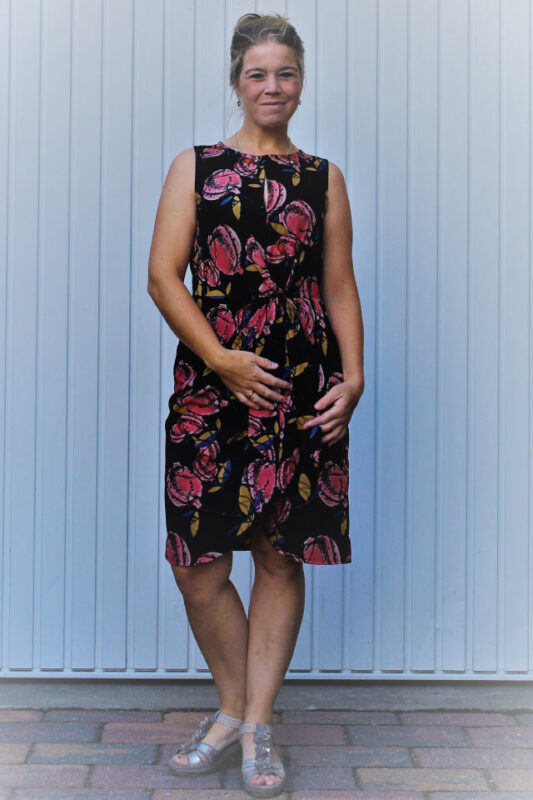 Hi, my name is Annet L and I live in the Netherlands.
I chose the sleeveless Valentina. This is because autumn and winter are just around the corner in the Netherlands and I can easily wear a cardigan over it. I also chose the knee length because I know that it suits me best.
I chose a polyester fabric with tulips that I bought last holiday at Javro Fabrics XXL in Epse Netherlands. A super beautiful and large store with many beautiful fabrics.
The tips I can give when sewing the Valentina are, Measure yourself well and then choose your right size. And with sewing the zipper pre-fix it with a water soluble tape. That way it doesn't shift and it sits neatly straight in the dress.
I thought it was a very nice dress to sew. Especially the ties and the pleats. This makes it the Valentina dress.
I have worn my Valentina a number of times and I was especially told that it flatters so well and they also really liked the tie straps.
I have now only worn the dress with a camisole underneath and styled it with my espadrilles. But next fall I'm going to wear a cardigan or a denim jacket over it.
To see more of my Valentina you can follow me on instagram. www.instagram.com/josewbo_creaties_
---
If you could share with the readers ?
1. Your name and where you live ?
Béatrice from Basel, Switzerland 💕
2. Your choice of style for the Valentina and why ?
I chose the longer version and sleeveless, because I prefer my knees being covered.
3. What fabric did you choose and where did you purchase.
I used a cotton blend from Driessen
4. What sewing tips can you share when sewing the Valentina ?
As always follow the instructions, they are perfectly written. Adding the bias to the neckline was my least favorite part because I don't do this often enough to have practice (gotta make more Valentinas 😅😁)
5. What was your favourite thing about making the Valentina ?
I love the overlaying skirts and the pleads, so much fun to sew. It's always a great joy to sew designer stitch patterns because they are designed so well 💕
6. Have you worn your Valentina yet and what compliments did you receive.
Yes I wear them all the time and a friend asked me to make one for her too 🤩
7. And how are you styling your Valentina ?
with a jacket and a purse 😅 I'm really not the styling pro and love to keep it simple, keeping the focus on my dresses 💕
https://www.facebook.com/sewing.epiphanies/
https://www.instagram.com/sewing_epiphanies/
---
Hi I'm Brenda from The Netherlands. I've made the sleeveless version of the Valentina dress and I absolutely love it. I picked sleeveless because for me that is an all round option for all kind of weather because I can easy wear a shrug or jacket over it.
I've used a Viscose for it, but I'm terrible at names so I'm not sure what Dutch online shop I got it again.
When I was just finished making pictures for my dress my best friend came over for a moment and she already talked me into making one for her! In my book that is the biggest compliment one can get.
I really like how this dress feels around my body. It is a very nice fitting dress, for several occasions but do not feel as uptight as rtw dresses. This one actually feels as comfortable as my pj's!
My tip for you when you make this dress is to use your measurements and pick your size based on that. Mine fit like a glove after the first fit!
I plan on wearing this dress with both boots as heels, depending on the weather, they match both so well!
My instagram account is: https://www.instagram.com/fabricfairybrenda/ in case you want to see more of my sewing.
---
Hello from sunny Singapore! I'm Chui Ling and this is my first time testing for DS.
I chose Valentina with the tulip sleeves as they were what caught my eye when I saw the tester call, and in knee length version. Made it with a beautiful cotton sateen fabric from Nerida Hansen (sold out on https://www.nekoneko.co/).
In terms of tips, as I'm relatively new to wovens, I would say go slow and easy on yourself to enjoy the process and not have to be such good friends with the seam ripper. 😅 It was a steep learning curve for me and despite that I appreciated the push to learn and to finally use the lovely fabric I had in my stash.
The Valentina is a style quite different from my usual wardrobe so husband and friends said it is very nice and I should wear more dresses like that! The dress itself is a statement so I would just style it with minimal jewellery and a lovely pair of shoes.
Would love to connect with fellow sewists and crafters on https://www.instagram.com/lingsterocks/
Once again, thank you Ann for the opportunity! Have a good day, all! 😘
---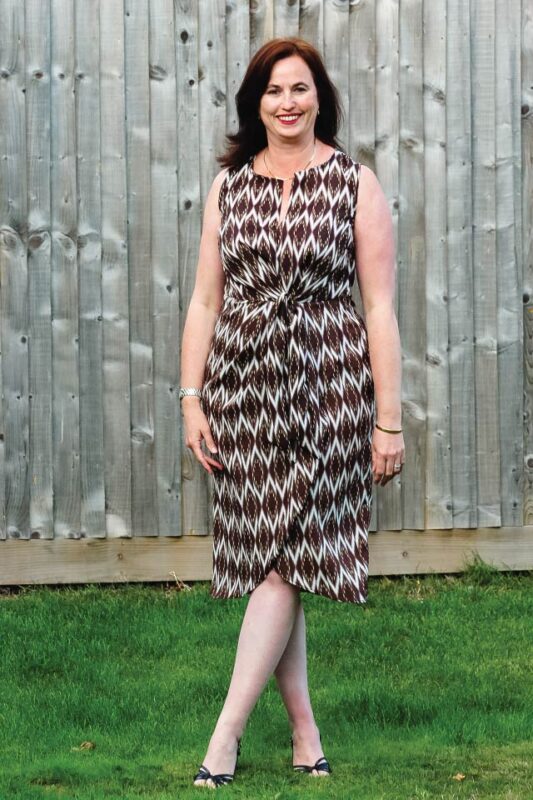 Hi, I'm Genevieve from Horsham in the UK. I chose to make a sleeveless Valentina with the longest length, as I wanted a really chic formal dress.
I used Microfiber fabric that I bought from Minerva.com
My best sewing tip is to go slowly and read and follow each step.
My favorite part of this sew was fitting my dress, I was blown away by how flattering it was.
I am wearing my Valentina with heals and Strappy sandals and the consensus is that it is very chic and sophisticated.
http://www.instagram.com/gegiegrossmann
---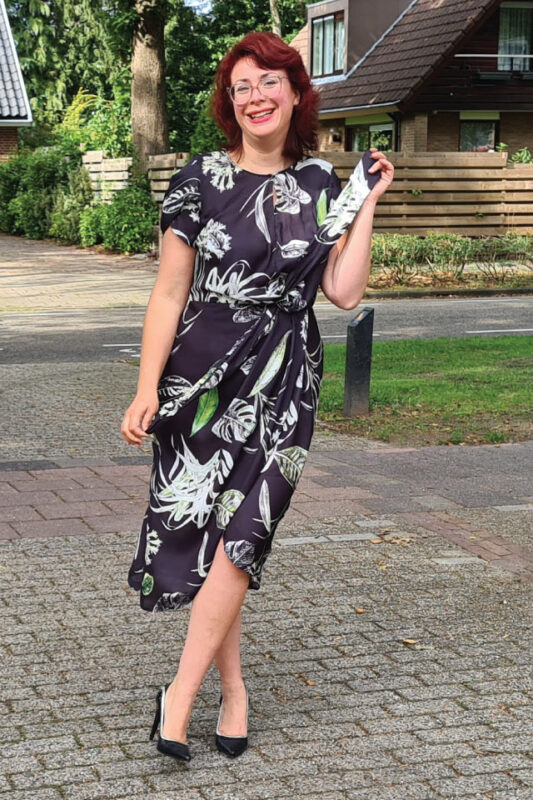 Hi , I'm José from the Netherlands! I'd love to show you my Valentina dresses! Yes I have made more and I'm in love with both. My first dress is made of the thinnest silky satin (faux silk) and it's gorgeous. I've sewn the longest length and the petal sleeves and this black – leavy dress is so versatile! I'll be wearing it with a jacket to work this fall for sure, but also went biking with it easily 😜.
My second dress I decided to take a leaf out of Marieke her book and to colorblock my Valentina with this fabulous design crêpe I had bought with Shanitex. And I'm absolutely smitten with how this turned out, the dress totally has a 2 sided face to it, white on the one side and black on the other side. And it's coming together on the ties and wrap in front 💕.
The design is very flowy, not too tight but still figure hugging so it'll look gorgeous on all of your curves too!
I've been pairing my dresses with a Jeans jacket or a dressed jacket and pumps as a favorite.
Or wearing them with the short sleeves to show off the design on those.
People have been telling me that they absolutely love this dress and since I can't be convinced to give them mine I'll probably be making another dress or two for the desperate ones eying mine 😜
Fabrics are both from Shanitex, https://www.instagram.com/shaniosdorp
Want to see more of my makes? I'd love to meet you on my Instagram:
Https://www.instagram.com/jose.vernooy
---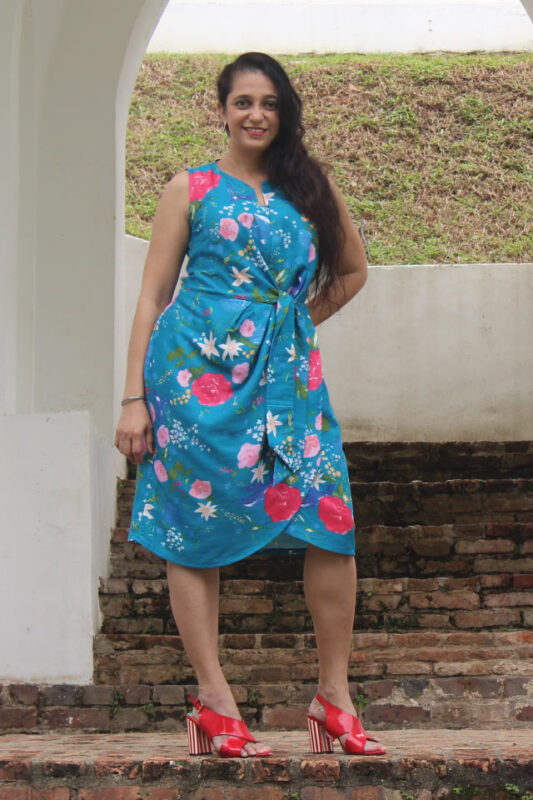 Hello there! I am Kiran (https://instagram.com/sew_kiran_sew) from Singapore.
Lets talk about the lovely Valentina. She is quite a beauty, isn't she?
I sewed my muslin with a silky polyester but made a massive mistake, I printed it wrong and didn't check my test box. Note to everyone out there. Always check the measurements of your test box because even if you've sewn a gazillion garments, skipping this step might prove regrettable.
I sewed the shortest length for the Valentina because I stand at a petite 5'3 and made no modifications apart from blending for size. This girl has hips *wink*
Since my muslin was a disaster, I proceeded with caution on my second sew. I think i checked my test box FIVE times the second time around, also because I was using this gorgeous Nani Iro Fuccra Rakuen double gauze in Teal. It's sat pretty in my stash for a long time until it called out to me to be transformed into a stunning Valentina. My fabric is from a local retailer called Nekoneko.
In sewing with double gauze, the main advise i would offer is for you to sew as soon as you cut the fabric pattern pieces out because they start to fray soon after. However, don't let this deter you. The beauty of this fabric coupled with its weightlessness make it all worth the effort. Try it and let us know in the Designer Stitch pattern support group (https://m.facebook.com/…/DesignerStitchPatternSupport/
---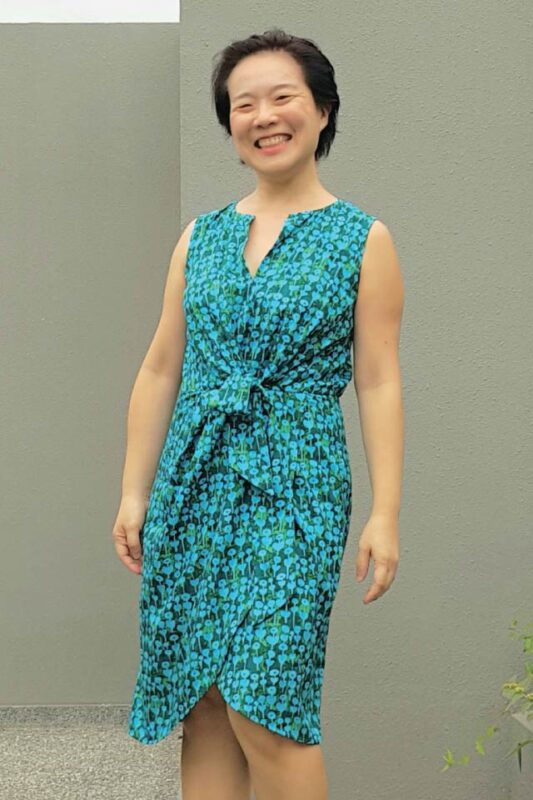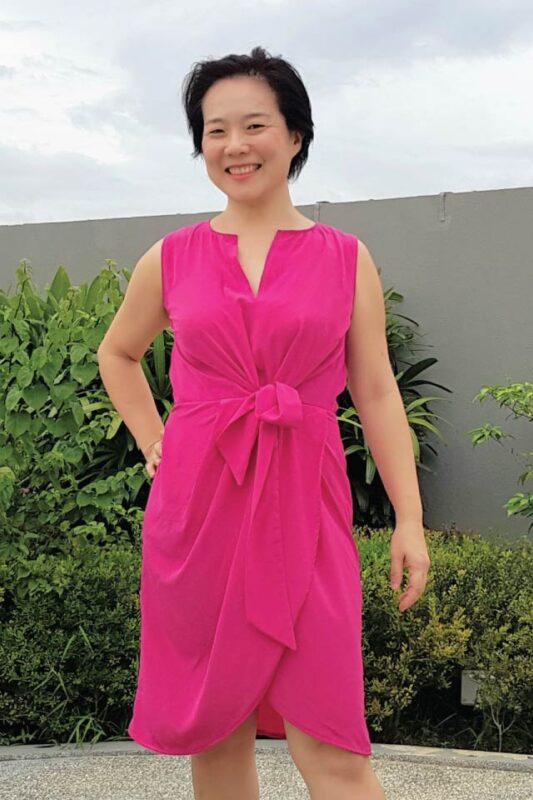 hi hi everbody! it's me Boon Kuan again 🙂 i hail from sunny Singapore where it is summer all year round. Hence i prefer my garments sleeveless and in natural fibres to keep cool in the heat and humidity. For my first Valentina ( the turquoise floral print ) i made it in rayon which is a dream to wear. My second Valentina is the one in hot pink, which will come in handy for the next Chinese New Year and all future happy occasions! Valentina is a fabulous dress pattern that comes together beautifully and easily but it does require some precision when stitching the waistline/tie junctions. Nevertheless, it is totally worth the effort; Valentina is super flattering. All you need is a pair of heels to complete the look! Do come hang out with me at www.instagram.com/limbksews!
---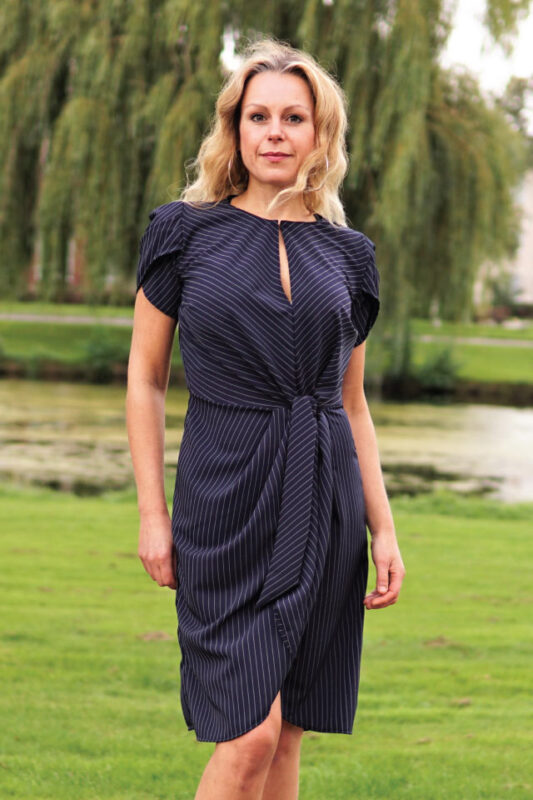 Hi, here is Marieke from the Netherlands.
Spoiler alert….I absolutely love my new dresses!🙌
I knew already I wanted to try both versions and started with a sleeveless for my toile. (Luckily almost all my toiles ending up really wearable too, so I dared to cut in my good fabric too.😅)
But, I used my toile for an idea I had in mind: what when I colorblock it? A really crazy, funny colorblocking?
Well, that turned out to be 1 of my greatest dresses ever! I already worn it and I got massive of compliments and questions where to buy it.
This dress don't need any accessoires, just put on your favorite shoes and you are ready!
My striped one is fun too, it turned out completely different and is more a classis dress. I decided to cut the front bodices on bias for some fun stripe matching and although it's not as colorfull as my pink/ yellow dress, it is a special dress, which totally shows the special design of the dress and it makes me feel mature (in a good way.😁)
It is a nice sew, it's not difficult, but relaxing and the result is more then spectaculair! The way it's being tied…well try it yourself!😀
Take your time for getting the right fit and take your time for sewing at the ties, it's the Eyecatcher, so don't rush it.
I think this dress is getting the best out of everybody and I adore every single dress I saw in the tester group.❤️
I used for my colorblock version crepe silk from Shanitex (https://instagram.com/shaniosdorp?igshid=100t8a56400n5)
Well, I would say: have fun sewing!❤️😀
Https://www.instagram.com/jongdesign
---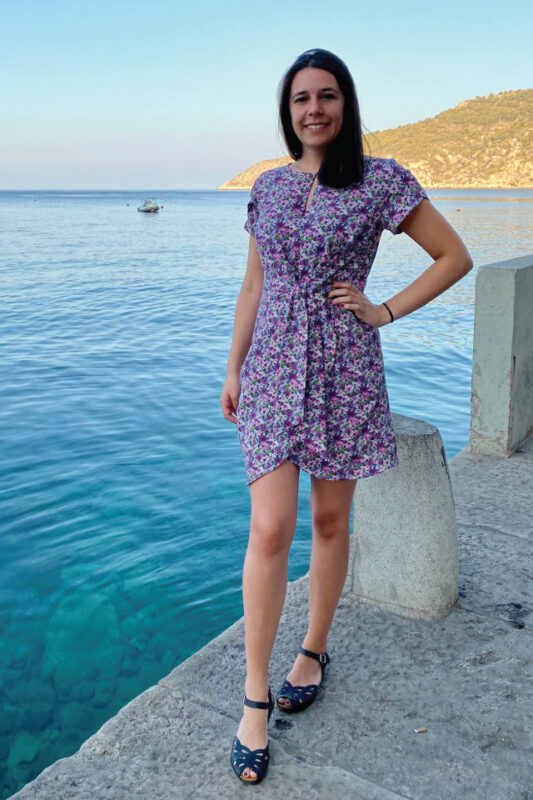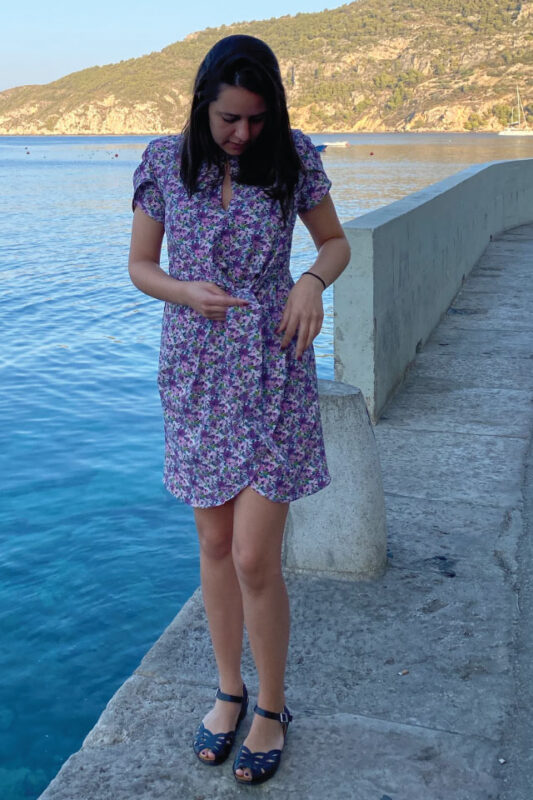 Hi! I am Marta 🙂 a Spanish living in Prague, Czech Republic.
I have chosen the Valentina shoe length with sleeves. The first time I saw those sleeves and I completely knew I would do them!
The fabric I chose was kind of a crepe, I say kind because I communicate with the ladies from the shop by google translator (I don't speak the local language 😅 and they normally don't speak English). I bought it in www.dumlatek.cz, it is the local place to buy fabrics here ☺️
One tip for you while sewing the Valentina is to make sure that the zipper is at the same level so the waistline in the back you will have it at the same position, I normally pin the whole zip to avoid this situation 🙃
You will see how nice is this classic style which I love, and so easy to sew!!
If you want to see any other of my makes I am on Instagram: https://www.instagram.com/mp_bakeandsew/
Enjoy sewing‼️🥰
---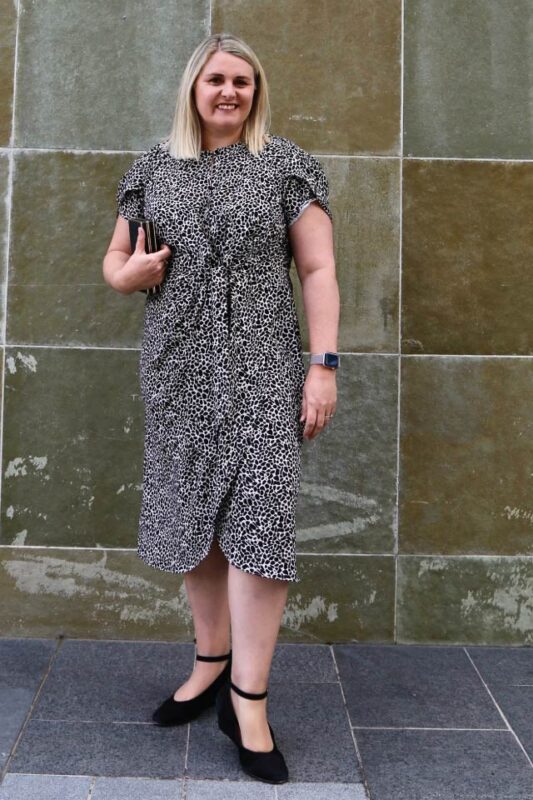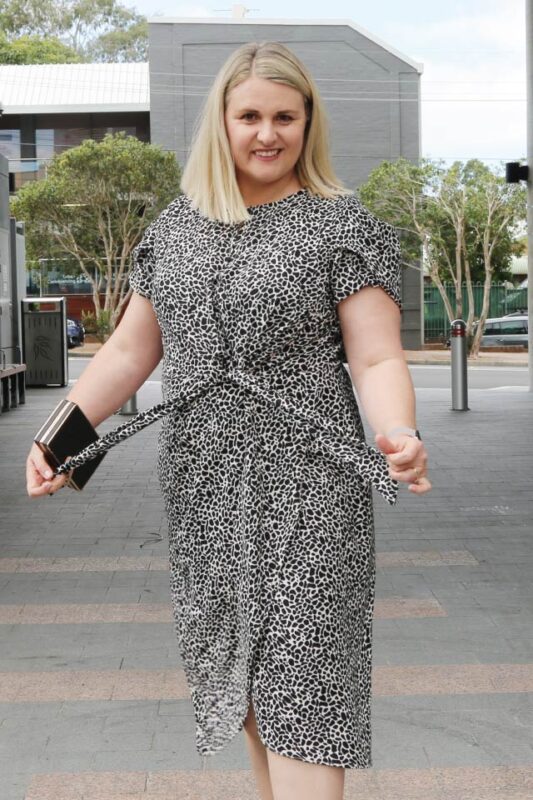 1. Your name and where you live ?
Hi there – I'm Meredith from Sydney, Australia.
2. Your choice of style for the Valentina and why ?
My Valentina dress is the 75cm length and features the gorgeous petal sleeves. I just love the extra detail in the sleeves which gives the dress the ability to move seamlessly from day to evening. I made a size 8 with a swat back adjustment – there is a great tutorial on how make this adjustment at https://designerstitch.com/pattern-alteration-for-a-sway…/
3. What fabric did you choose and where did you purchase.
My Valentina dress is sewn in a pebble-detailed black and cream polyester microfibre from Pitt Trading. The fabric has a smooth texture and a fabulous drape which is so important for the Valentina dress, while still being able to hold the pleats. The fabric is still available at https://www.pitttrading.com.au/…/wild-polyester-microfibre
4. What sewing tips can you share when sewing the Valentina ?
To my mind the most important thing about sewing Valentina is your fabric selection to make sure the details of the dress really make a statement. Finding the right drape to hold and feature the pleats is very important. Make sure not to skimp on your pattern markings – centre front mark is crucial. Your blind hem foot is useful when finishing the hem but of course not necessary.
5. What was your favourite thing about making the Valentina?
My favourite thing about making my Valentina dress is the detailed instructions and how quickly it comes together. A confident sewer could have a Valentina dress made in a day. How the hem comes together is magic too.
6. Have you worn your Valentina yet and what compliments did you receive.
My Valentina dress has had a couple of outings to work meetings and lunches. This dress instantly makes an impact and gathers many compliments. The way the dress skims over the body makes it so comfortable to wear and the wrap detail does not leave you in a panic clutching for your skirt if the wind picks up.
7. And how are you styling your Valentina ?
For the office, I am adding a black blazer with black pumps and a black clutch if I need to transition to an evening event. For casual wear, a denim jacket or pashmina scarf with patent leather sneakers compliment the dress also.
Blog https://sites.google.com/view/allinaruffle/home
IG https://www.instagram.com/all_in_a_ruffle/
---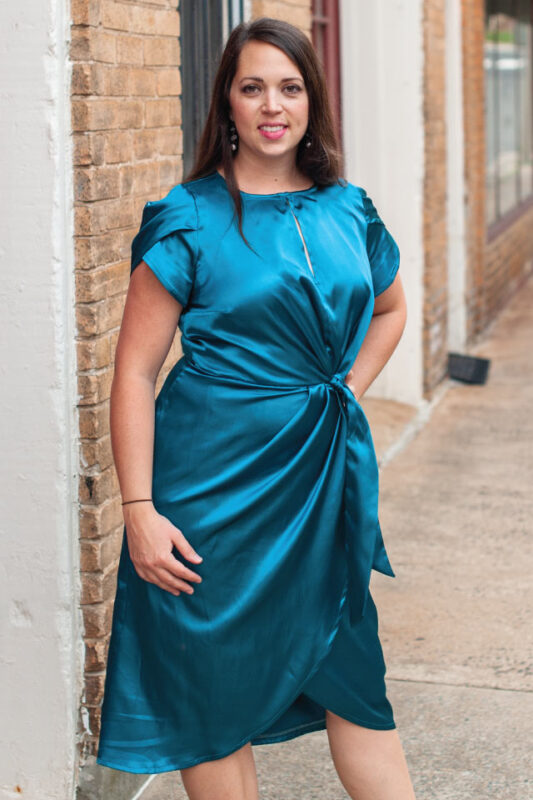 Hi there! I am Monica from Virginia, USA. I chose to sew up the sleeved version because I love a unique sleeve. These pleated tulip sleeves look so fancy I couldn't pass them up. I tried out the shorter hem length for my toile and really liked it, however for my final I felt like the longer hem length fit my fabric better and I'm really pleased with the outcome. My final version was made with a lovely satin fabric I found at my local Hobby Lobby store.
Ann did a fantastic job marking the pattern pieces to make assembly a breeze, so when you sew up your own Valentina dress make sure to mark all the markings! There are several lovely details and if you mark your fabric when you cut it out then it will make the pleats and matching up pieces so easy.
This is my very first pattern testing. The thing that really caught my eye when I saw the pattern testing call was the gorgeous skirt. I love the split front with the pleats, like the sleeves I felt like the skirt is really unique and couldn't wait to sew it up. I was pleasantly surprised with the hemming technique to connect the front split hem to the back hem.
Unfortunately due to covid I haven't had an opportunity to wear my beautiful Valentina out yet other than pictures, but I had a lot of looks from people passing by while I was taking pictures. This pattern definitely stands out and can be dressed up with heals and dangly earrings for a night on the town.
If you would like to see more of my makes, please visit instagram.com/mwstitches
---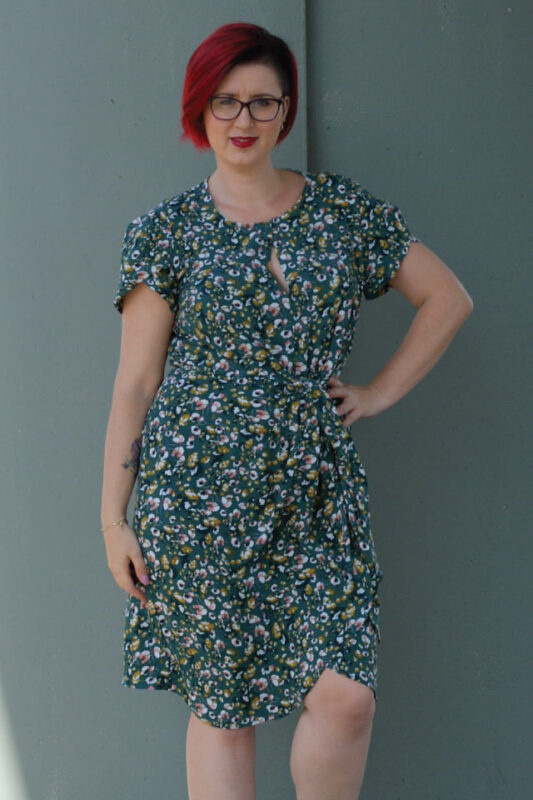 Hi I'm Shardee from the Netherlands.
The Valentina is such a fun dress to make. Lots of different techniques, like darts, wrinkles and blind zipper.
I made mine in viscose, a very flowy fabric. It feels like a second skin wearing it.
The dress needs to be the eye catcher, so I wear it with simple pumps.
I promise, you feel fabulous and beautiful in your Valentina. 😘
If you like to see more and a little bit of my private life, follow me on
www.instagram.com/Sdvtje
---
My name is Sophie M and this is my first test for Designer stitch Patterns.
I live in Vienna, Austria.
I chose the above knee version for the Valentina. I used an African wax print for the green/red dress and cotton for the blue dress. Both from a local shop here in Vienna.
I'd advice to get recent measurements, heed the fabric suggestions and make a toile!
i loved everything about sewing this pattern, from the pattern itself with an amazing pattern page selection feature, construction, fabulous ties and oh! those cute sleeves😍
I've been around town in my green Valentina which I styled with heels and a head wrap, I had strangers complimenting me and two of my closest friends begging me to sew for them 🥰
www.instagram.com/sophie_magico
https://www.facebook.com/sophie.magico
Looking forward to seeing all the Valentinas
---
Hi! I'm Stephanie from Oklahoma, USA. I made the knee length Valentina with the sleeves, because I fell desperately in love with the sleeves. I made my dress out of a silky mystery woven from Walmart that I really just like the print of. The Valentina is really a simple sew, as long as you make sure the pattern pieces are facing as instructed and you mark all your pleats you'll have a stunning new dress in no time. The testing period was a crazy time at work for me so I was sewing 10-15 minutes at a time and still finished one within a few days.
The Valentina is a bit more sassy than a lot of my wardrobe. The tie at the way and the keyhole in the front give it an allure that is classy and sexy at the same time, so she really requires nothing more than heels and some lip gloss. I've worn my dress plenty, but alas for virtual meetings no one really gets to appreciate the complete awesomeness, all the more reason to have cute sleeves though.
IG: https://www.instagram.com/scrapsandscissortails/
---
My name is Taryn from Cape Town, South Africa and my confession is that I am totally in love with my hot pink Valentina dress. At first I wasn't sure whether I had enough fabric for the beautiful sleeves but careful pattern placement and cutting at the 60cm skirt length meant I could make it work. I had the perfect printed crushed satin in my stash already which I thought would have just the right amount of structure and drape. As I was working with satin, I hand basted the sleeve and skirt hems before machine stitching it – that way I am likely to get the best finish possible and very little risk of slippage. I do the same thing when inserting a zipper as this holds it in place. I also mark my zipper tape at the position of the waist seam to ensure the seam lines match up.
I do love the attention to detail in Ann's designs and instructions – every pattern testing experience helps me become a better seamstress and the feeling of accomplishment I get as strut down the passage in my latest . With some relaxations now starting to come in, I had the opportunity to attend an in-person church service for the first time in over 5 months and in celebration donned my Valentina for the occasion. I was also the most over-dressed I have every been for a family barbeque later that same day. As for styling – I found the perfect pair of hot pink heels. Dress and heels were made for each other – Oh what a lucky girl I am 😊
Keep up to date with my sewing endeavours at https://www.instagram.com/tarynhaynessmart/