Hey ho my lovely sewing friends. Today we have Part 1 of our pattern testers roundups for the glorious Yasmine Wrap Dress.

And what a stunner she is – or should I say what stunners every one of our pattern testers are!
Our new Yasmine is a lightweight, high low hemline dress is a relaxed, wrap fit you're sure to love. Easy to wear yet absolutely feminine with a capital F our Yasmine is the type of dress that will suit everybody.
Think flowy fabric, bright colours and prints, or even more subtle muted tones for autumn – the Yasmine is the type of design and style that will carry itself across all seasons. 
But don't just take my word for it my friends – our pattern testers are always very generous with their time and thoughts and this time they are sharing their details of their Yasmine pattern test and make of their dress. 
So with a resounding WOOT WOOT please read on for Part 1 of the Yasmine Pattern Tester Roundups. 
They would like to share with you the following:
1. Your name and where you live?
2. What fabric combinations did you choose and where did you purchase.
3. What sewing tips can you share when sewing the Yasmine?
4. What was your style choice for the Yasmine?
5. What fit alterations did you have to make to the Yasmine?
6. Have you worn your Yasmine yet and what compliments did you receive.
7. Any plans for future combinations of the Yasmine?
And the finer details; (AU/UK) 6 – 30 (US) 2 – 26 (EU) 34 – 58
On Sale for a limited time only – $9.75
Very Confident Advanced Beginner and Above Sewing level.
Yasmine Dress
---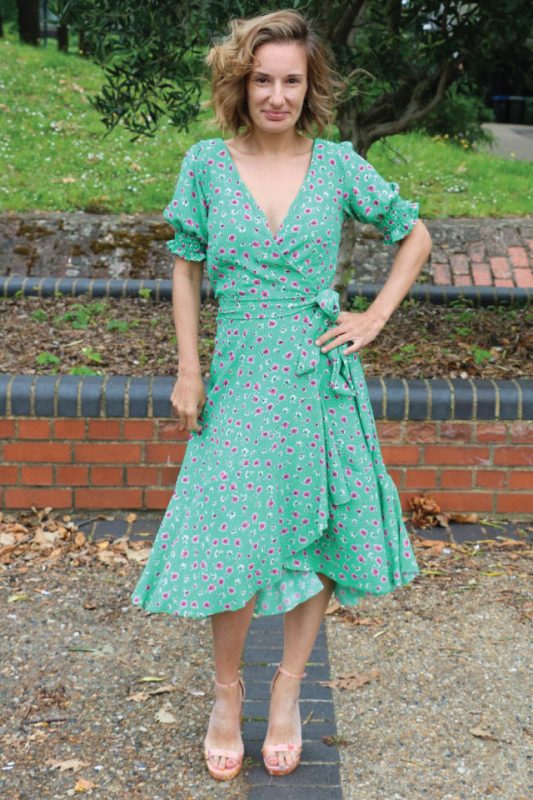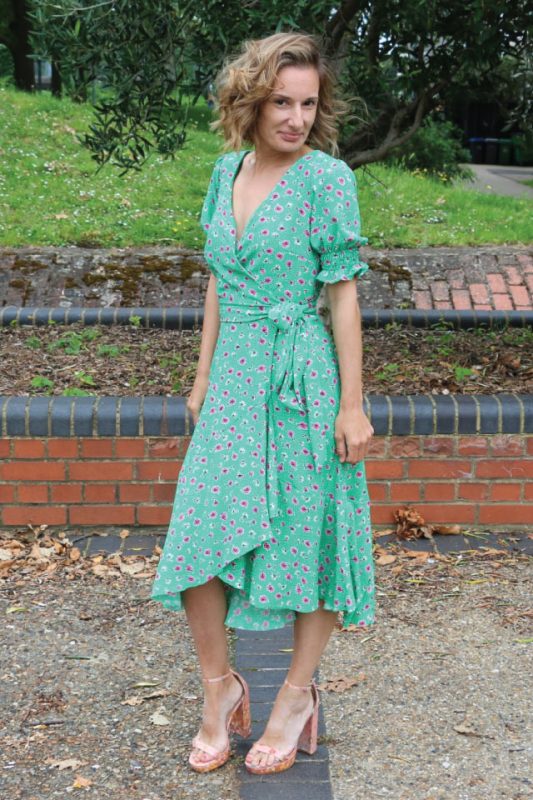 Hello I'm Ashley R also known as Sew Ashley from London.
Today I'm sharing my new Yasmine dress with you, I have used a flowy summer viscose from a new group just opening called www.abcfabric.co.uk in the UK.
My tips would be to read the measurements chat to make sure your making the right size but also make a trial run in old fabric but same weight as your good fabric.
I make the smallest size which my measurements fit into, I went for the shortest length but as I'm only 5 foot had to remove 1/2″ from my bodice plus moving the dart up by 1/2″, 1″ from the skirt and an inch from the ruffle to get the perfect length. I also love the shirred short sleeves, perfect for summer.
I went for a summer style pairing my Yasmine with some cute pink heels. I have taken my dress out for lunch and got a few lovely compliments on it, got asked where I bought it from which made me so happy to know I have sewn it. I plan to make the longer length which will be great for a winter look.
IG: https://www.instagram.com/madebyashleyriley/
FB: https://www.facebook.com/sewashley.co.uk
---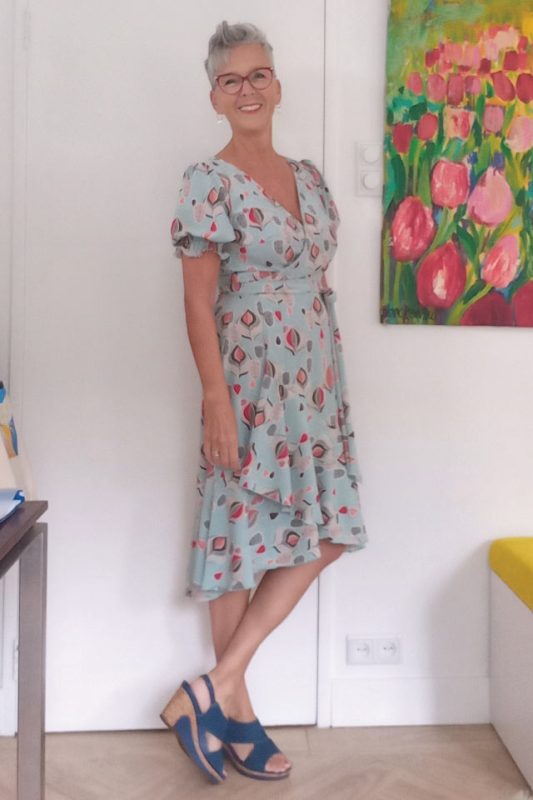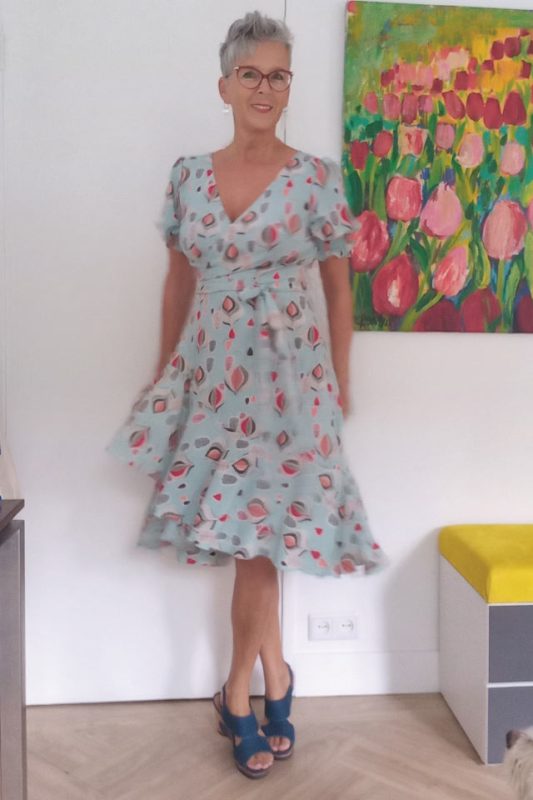 Hi everyone, it's Christine from the Netherlands. I used a soft viscoes which I bought 2years ago at a fabric market and is was waiting for the right pattern. And Yasmin did not dissapoint!! I used a rolled hem on my serger to finish the hems on the flaunce and the sleeves. I like the clean finish it gives. For the shirring I can advice to do a try out on soms scrap. For this fabric I choose the shortest skirt, which is nog really short. Just fine.
I shot the pics indoors, because we had really bad weather this summer. But as you can see, our new doggo absolutely loves it.
https://www.instagram.com/stienmakes/?hl=nl
---
My name is Elise and I live in Queensland, Australia. I will start by saying this dress is stunning and therefore I have used a fabric I have been saving up for a special occasion. This fabric is a Katie Kortman loghtweight cotton linen from Nerida Hansen Fabrics. The most challenging part of the sew is actually cutting out the pattern and all the pattern pieces. It does use a fair amount of fabric but I am passionate about reducing waste so have managed to MacGyver mine out of 3m. I have joins in my ties to achieve this. I remember when cutting out the flounces, I was cursing the flounces, but gosh they are the crowning glory when finished. Sewing is the easy part, it actually comes together really quickly. To me this is a special occasion dress so I have not worn it out yet but I know when I do, compliments will just roll in. I am pretty sure people won't believe I have made it because Ann's patterns have all the professional details to achieve the perfect fit and finish. Another amazing pattern from Designer Stitch that makes me feel confident and fabulous in my skin.
https://www.instagram.com/seweliseium/
---
Hi guys! Jose here.
I'm here you tell y'all about this Yasmine dress. Well it's a full wrap, it's got these gorgeous sleeves and the full ruffle on the bottom! It's not a very hard sew, although there are some things you'll need to be careful about to get things done right.
Firstly, the neckline has two options, a facing and a binding option. I do the binding because I like that finish best, but it can be hard when doing this the first time.
So do as Ann says, and you'll get there.
Make sure your bias strip is on the bias, also make sure the neckline doesn't distort. Staystitch it if needed. Press biasstrip in half, pin it carefully, the strip will need to be stretched a bit to fit, and this is where it's important to make sure you don't stretch the neckline or it won't fit together.
For the smocking I worked with wider elastics underneath because my automatic tension sewing machine DOES NOT LIKE elastic bobbin thread. I love how this elastic hack looks just lock regular smockwork!
For this dress I used the 75 cm skirt option, and I cut it all out of 3 m of cream colored woven fabric. With only tiny scraps leftover it was a careful puzzle!
I sewed my dress together, and dip dyed it with the sleeves separately to achieve this effect. Afterwards I sewed the smock and the sleeves into the dress. And I hemmed all, I did this all after dying since the thread doesn't dye, so I wanted to make sure I got thread to blend with the dye for hemming.
I'm absolutely smitten with this dress, so don't mind me wearing this one to absolutely thread bare!
I hope to see yours too soon, make sure to tag with #dsyasmine or #yasminedress when sharing so we all can take a look!
More of my makes over at my Instagram:
Https://www.instagram.com/jose.vernooy
---
Hi, I'm Josée from Ottawa, Canada. The Yasmine is the perfect wrap dress that hugs the body with a gorgeous twirl factor. It looks a bit like a tiered dress but with a flounce instead of gathers which gives it such a beautiful flow. The wrap is perfect too, with just the right amount of cleavage at the bust and coverage at the upper thighs. I sewed mine in a light viscose fabric that was gifted to me from a friend. I made a size 2 graded to 3 at the waist. As I'm 5 feet, I shortened the bodice by 1 inch (2.5 cm) and the main skirt by 6/8 inch (2 cm). I also took in the upper back slightly. I kept the ties long. I did the binding method for the neckline as I love the clean look from this finish. I wore this dress out twice already, for a garden party and a birthday event, and it was a hit! I felt pretty and I love the movement of the skirt. People commented that it looked perfectly fitted for me.
The dress is not complicated to sew – no zipper or button. The hardest part is fitting it to your body with the right adjustments. The DS support group on FB can help you with that – Ann is also wonderful at eyeing your make and making the right recommendation. Make sure to always start with accurate measurements and take your time to fit the bodice.
I'm planning my next Yasmine in a solid burgundy red linen blend as a holiday dress. I want to look festive and twirl as I decorate my house and dance for the holidays.
For more of my makes, follow-me on my Instagram account at https://www.instagram.com/couds_moi_ca/
---
Hi everyone, here is Marieke from the Netherlands.
As you can all see the new Yasmine dress is one of the most flattering real wrap dresses ever! The best part about it- to my opinion- it's designed for wovens!
I love to work with wovens, not only because it's expanding your choices of fabric, but also it's 1 of the nicest challenges to get a tailor made fit.
Well, with Ann her design and size chart this isn't the biggest challenge in the world, but because of that maybe even more satisfying ❤️
It is a pretty easy sew, no zippers or other 'strange' sewing skills are necessary, just a measuring tape, measure accurate, don't forget to read the chapter about bust sizes well and pick your sizes honestly.
I used a chiffon fabric myself for this lovely dress. Not every chiffon is suitable as a 'stand alone' fabric. I would recommend to drape it onto your body- while wearing your underwear only- and look into the mirror with good light. You'll see if your underwear is visible yes or no. When yes, an option to wear an underdress is always possible when you absolutely want to use this fabric.
Luckily my fabric 'behaved' itself lol.
To get the best out of my fabric and leave it as flowy as possible, I used my pinking shears to finish the seams and used a tiny rolled hem to finish the hems.
I am more then pleased with the outcome and I feel really mature- in a good way- in my dress. It is flowy and leightweight, covering but still intriguing my husband said.
I would just say: do yourself a favor and add a beautiful new piece to your wardrobe ❤️
When you like, you can have a look at my Instagram: https://www.instagram.com/jongdesign
Have fun sewing!
---
Hi everyone.
I'm Meredith from Sydney, Australia.
I couldn't see this dress, in anything but a floaty fabric so I used a rayon viscose with just the right amount of floatiness for this gorgeously 'swishy' dress. I absolutely love it ❤
There is a choice of doing a facing for the neckline or to use binding. For both methods, I strongly recommend following the instructions for the neckline (both methods) and stay stitch the neckline. I can easily stretch out when applying facing or binding. I would also recommend stay stitching the waistline.
I sewed the 75cm hem, used binding on the neckline and opted for the short sleeve with shirred mock cuff. I think it's so cute. Don't be put off by the shirring of the cuffs, as Ann has excellent instructions on how to do the shirring. It's not hard
I made my usual alterations of grading out to the hip from the bust (size 3/5).
I'm so looking forward to some warmer weather so that I can wear my Yasmine. I know it's going to be on high rotation.
Follow me on Instagram for more of my makes. Thanks for reading
https://www.instagram.com/sew_mere_makes
---
I'm Shardee from the netherlands.
The Yasmin is a allrounder. It's a dress for spring, summer, autumn even for the winter.
It's almost the end of the summer in the netherlands, so I made a autumn version.
A beautiful flowy viscose from unistoffen.nl, dress in the length 75 cm and boots and I'm ready.
Sewing the Yasmin is not a hard, but you need to take your time. It definitely pays off
If you like to see more of my work, follow my Instagram on www.instagram.com/Sewing_shar
---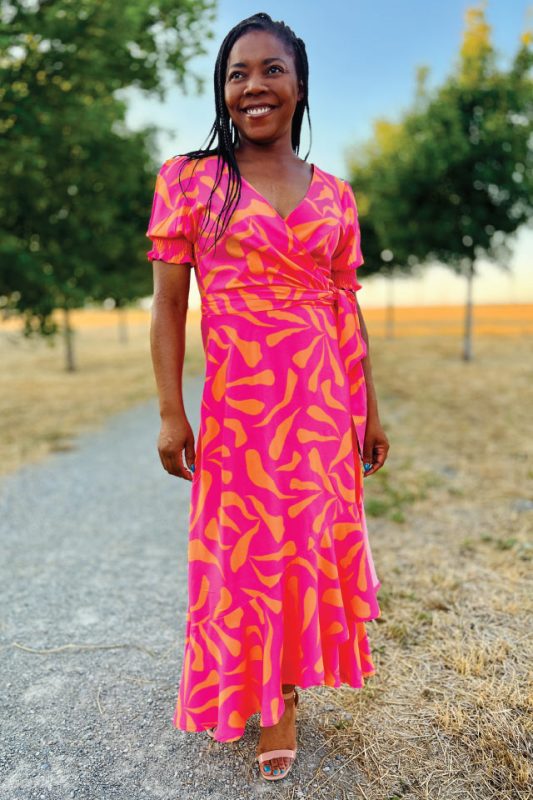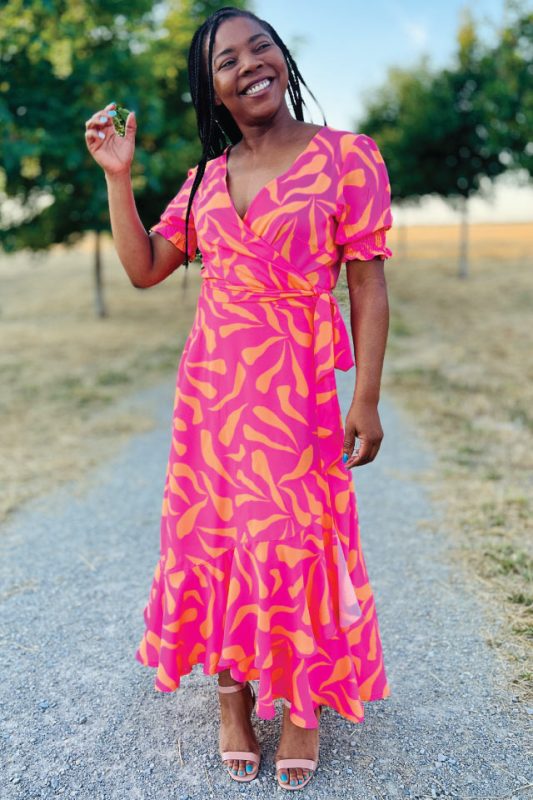 Hello
Sophie from Vienna here.
The Yasmine dress was actually very easy and fun to sew up. I am now obsessed with shirring! It's so simple to do.
I got this beautiful rayon from Selfmade Vienna a little while ago and I'm so happy I had enough yardage.
One thing that is important to remember is to block fuse the facings ( before cutting!) this guarantees a nice finish without gaping. And measure accurately and trust the sizing guide.
I wore my dress to see the Barbie movie and got loads of compliments! I am currently working on another for a friend
Follow me on Instagram for more of my makes.❤️
https://www.instagram.com/sophie_magico/
---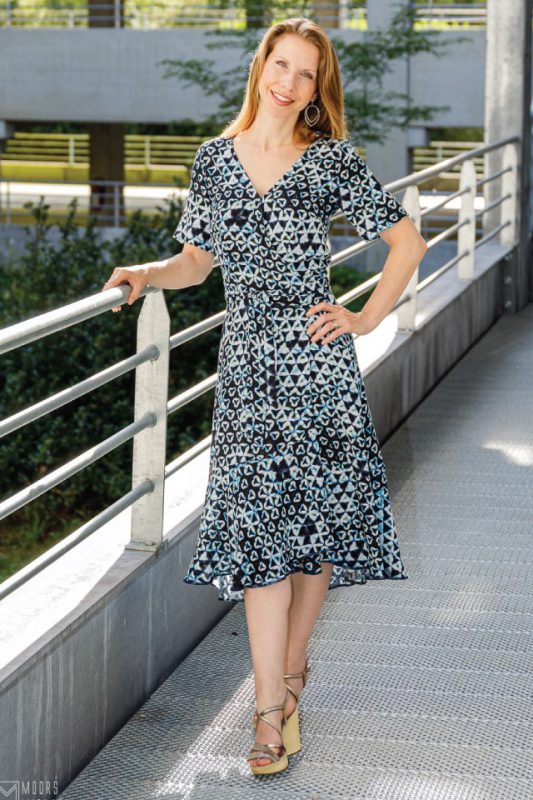 Hey, I'm Girl in Uniform Lieve from Belgium. I made this elegant and super feminine Yasmine in a Minerva Exclusive viscose fabric. I did a sway back adjustment. Because my machine can't stitch with elastic, I sewed a straight sleeve into the dress. I love the wrap dress because the flounce is so beautiful, and because the skirt rarely if ever blows open. I feel elegant and girly in this beautiful dress.
Blog : https://girlsinuniformblog.com/
Instagram : https://www.instagram.com/girlsinuniformblog
---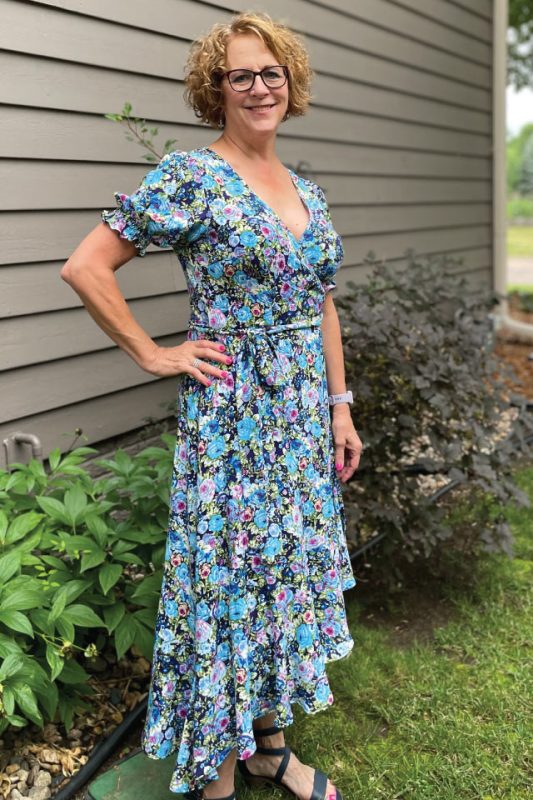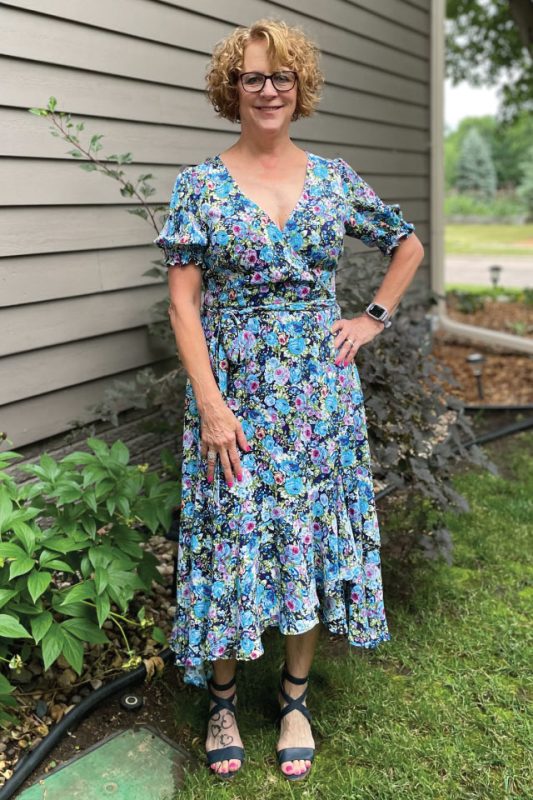 hello! My name is Sue and I live in South Dakota. We are in the midst of summer, so I knew I wanted to use a rayon fabric for my final dress. Ninety-nine percent of the time I make a muslin to test the fit and although Ann's drafting is exceptional, a few tweaks to a test garment is necessary to get a great fit. Don't skip the muslin phase! For my test version, I used a poly blend which had a similar weight and feel to my final garment in which I used rayon. Using a similar type and weight fabric for your test garment is also important!
My process for this dress was to take my time, focus on the finishes, use a fabric you love, and get the fit right.
My husband absolutely loves this dress and positive comments like that make you feel great about your new clothing!
I can't wait to wear my new dress!
You can see more of my makes at https://instagram.com/sue_glasparrott?igshid=OGQ5ZDc2ODk2ZA==