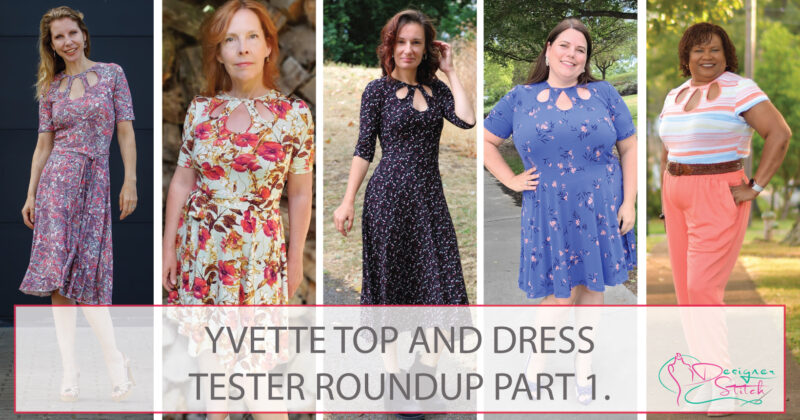 Hey ho my sewing friends. I hope this blog post finds you all well, happy and safe.
Today we have the first installment of the Yvette Top and Dress Rockstar Roadies Pattern Tester Round-up.
And even if I say so myself – the Yvette looks absolutely marvelous on EVERYONE. It is such a fabulous fit and flare shape that skims the body and enhances everyone's curves.
What I adore about the Yvette is the tear drop neckline that sits at the décolletage – which in my mind is one of the best parts of the body.
The tear drop – or in Yvette's case – the tear drop by 3 – is a beautiful and eye-catching addition to a classic shape.
Add in the bind and you have a gorgeously finished garment.
Cut in a soft and flowing jersey the Yvette offers an A-line Dress or a Top – choice of 5 sleeve lengths along with a self fabric tie belt. The dress also offers 3 skirt lengths – from a midi to above the knee
The Yvette Top is a skim fit over the body with a round neckline and choice of sleeve lengths. 
So lets get into our roundup my friends. I would like you all to give a WOO HOO shout out for all of our fabulous roadies of the Yvette Top and Dress. 
They would like to share with you the following. 
1. Your name and where you live ?
3. What fabric did you choose and where did you purchase ?
And the finer details; (AU/UK) 6 – 30 (US) 2 – 26 (EU) 34 – 58
On Sale for a limited time only – $9.95(US)
Very Confident Advanced Beginner and Above Sewing level
---
Hello I'm Ashley R a sewist from Central London, England, UK.
I'm excited to share with you the amazing new Yvette pattern! Yvette comes with lots of options, so I had to make a few to start I made the knee length dress in an ITY stretch fabric which had a great drape and worked really well. I also made the longer length as I see a dress just the same and wanted it, I made the elbow length sleeves and used a jersey both fabrics from Jo-Ro Rags Group
My tips for this pattern is just take your time on the keyholes baste first to make sure there in place right.
I styled both my Yvette's dress with heels but can also be styled with flats perfect for day or night wear.
I'm only 5 foot so I always find that I need to take 1/2 inch of the bodice and about 2″ off the length to fit perfect but I always make a fit in old fabric to see if there are any other adjustments needed.
I worn mine out a few times and had lots of nice comments on them. This is the perfect all year round pattern and will be making many more.
IG: https://www.instagram.com/madebyashleyriley/
FB: https://www.facebook.com/sewashley.co.uk
---
Hello everyone, I am Camelia and I am based in Germany.
For my Yvette, I chose a rayon jersey and I went with the dress option and the longest length for the skirt and the sleeves, I wanted a fall dress. This is not a difficult pattern but of course, it requires a bit of attention when making the three holes in the front, as that is the center point of this garment, and that detail should be made as neat as possible.
My only change was to raise the bust darts, a typical change for me in DS patterns.
Because the rayon jersey is very stretchy and a skirt like this can get a bit heavy, I added clear elastic in the waistline to be sure that it will not get pulled by the weight of the skirt, also some clear elastic in the shoulders seams for stabilizing and avoiding stretching out of shape.
I love my Yvette and I plan to make some top versions also.
Be sure to check my YouTube channel for a tutorial on the holes and finishing the neckline!
You can find that here https://www.youtube.com/calcedoniasewing and other sneak peeks on my Instagram https://www.instagram.com/calcedoniasewing/
---
Hi! I'm Barbara and you can find me in Northeastern Mississippi, USA.
I reached deep down into my fabric stash for this beach stripe rayon spandex for my Yvette. My Yvette is the shirt length with caps sleeves. The only alteration was to shorten for my height.
Tip: Before attaching the neckband, I hand-stitched the edge of the teardrops together so they would not move and separate.
I have worn my Yvette out and about and received many compliments. In the near future, I plan on matching my Yvette with the Ravana pants. To me, they just go together!
Follow me on IG: https://www.instagram.com/ninjabreadgirl61/
---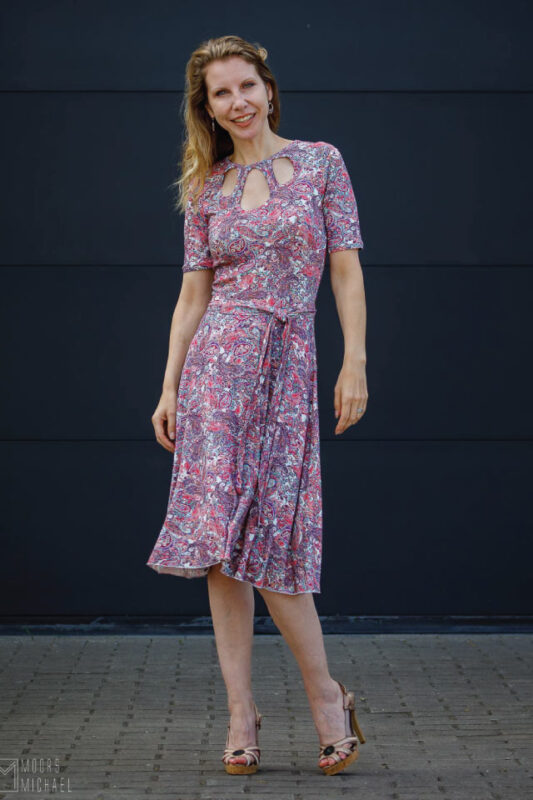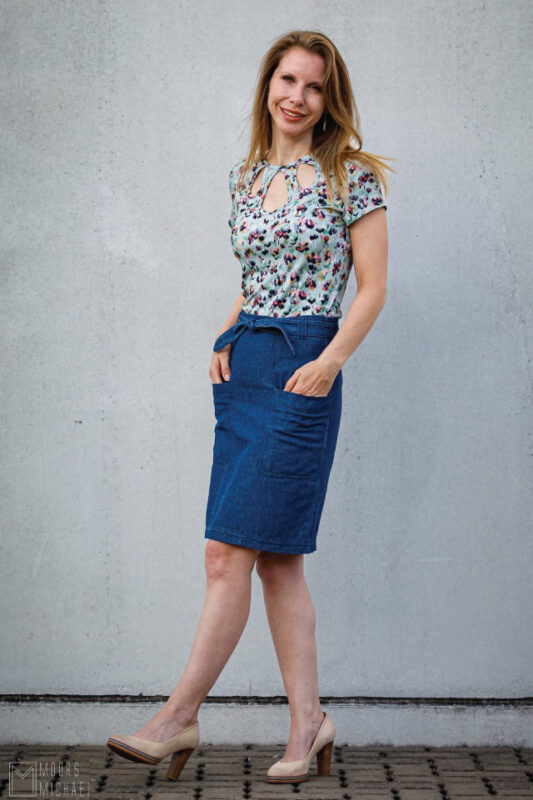 Hi, I am Girl in Uniform Lieve from Ghent, Belgium. For my Yvette dress, I chose a beautiful paisely viscose crêpe from Toverstof. For my top I used a supple viscose jersey from Pieke Wieke. The Yvette is a top pattern with lots of options. For the dress, I chose short sleeves and a 60 centimetre skirt, which I finished with a rolled hem. I made the top with cute little cap sleeves. I also did a sway back adjustment there. The Yvette is not difficult, but you do have to be very precise in finishing the keyholes, because that is the eye-catcher of your garment. I wore the dress to work with wedges, but for the photo I posed in high heels, ready for a party. Want to know more? Follow me on www.instagram.com/girlsinuniformblog and on the blog www.girlsinuniformblog.com.
---
Hello Lovelies, this is Brenda from The Netherlands.
For my Yvette shirts and dress I used a various collection of viscose jersey. I got them all ages ago. Most are from Droomstoffen and Driessenstoffen.
I sewed up 6 pieces. 1 dress and 5 shirts (sleeveless, elbow sleeve, cap sleeve, hacked short sleeve,
I also played around with the keyhole, in some items I placed it on my back as well as the front. But that is not the official pattern, that's just me playing around.
When it comes to sewing the keyholes, try not to rush, you should take your time making them, they are the key of the Yvette.
Also if your making the dress from a stretchy material, you might not need to lengthen the top (I didn't) .
I've wore my Yvette tops on multiple occasions and on most times people asked me where I got them.
For the future I might want to try a sleeve with a keyhole. .
Want to see more of my sewing: https://www.instagram.com/fabricfairybrenda/
---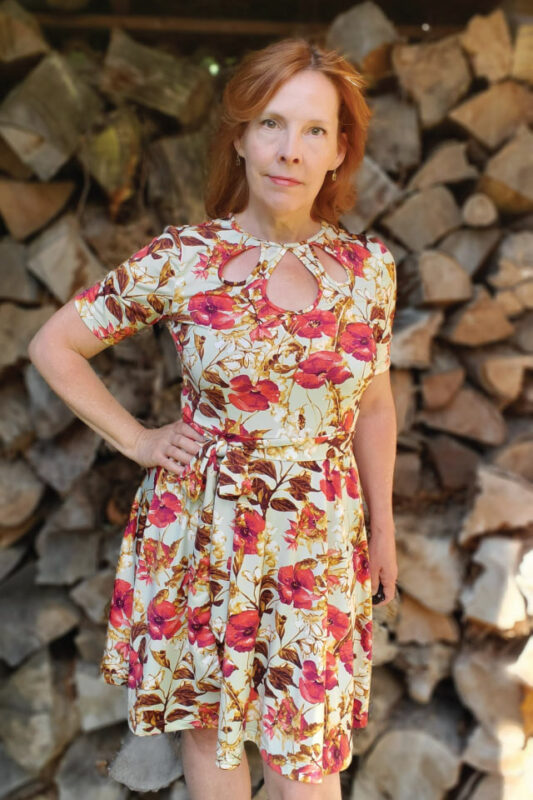 I am France and I live in Canada's national capital area, in Gatineau. When I saw the call for the Yvette, I knew precisely which fabric I would use because it had been sitting in my stash for a while and I was saving it for the perfect design. It is a ITY from my local Fabricville, from the section at the back where they offer great deals.
Then came the Yvette! Wow, what a fabulous eye-catching design!
I made a summer dress with short sleeves and the shortest length for the skirt in 3B. Because I am shorter, I shorten the bodice half an inch and one inch on the skirt. I was worried about the keyholes as I wanted them perfect, especially if people were going to stare at them! I took my time and followed the instructions to the letter and everything came up beautifully on my first attempt! I also added clear elastic at the shoulder seam to stabilize and prevent pulling on the collar.
Although this dress can be assembled in one night, make sure to give it some time and hang it for the skirt to settle before hemming. My toile required lots of adjustment but not my final!
As soon as my Yvette was finished, I wore it! I don't always get comments on my makes, but this one got me lots of compliments and praise once people realized I had made it! And a few people asked if I could make them one!
This is a wonderful pattern and I can see a winter version in my future, in a solid colour and with longer sleeves.
FB : https://www.facebook.com/france.langlois.14/
IG : https://www.instagram.com/langlois.france
---
Hi everyone, Kelly from 🌞 California here! When I saw the line drawing for Yvette I knew that an ITY would be perfect for it. I chose a vibrant blue that I picked up recently from the National City Swap Meet for my dress and made the shortest length.
Yvette is a pretty easy sew if you're used to binding, but if you're not, now is the time to practice! For my Yvette I did my standard grading and brought the shoulder in a little as per usual.
I can't wait to wear my new dress out to a date at a winery!
You can see more pictures and twirl videos of my Designer Stitch makes on my social media channels, which can all be found here: https://linktr.ee/kellygonthierart
---
Hi! I'm Pauline from Singapore.
I made my Yvette dress with this lovely Ikat print in black and white. This fabric is from Swafing.
When sewing this dress, I would suggest reading the instructions carefully and having a look at the pictures provided too to help you visualize the sewing steps better. I made quite a few mistakes myself when sewing the Yvette up as I rushing myself and ended up wasting my first pink knit fabric with foil as I attempted to redo the neckline keyholes…. And it was only on my 3rd attempt that I finally realised my mistake and if I had visualized it earlier I would have saved my fabric.
I made a size 2 and the fit was perfect! I love the fit and how the neckline looks on me and I have yet to wear it out as I am going to save it for an occasion to wear it out to!
I am thinking my next Yvette would be a top so that I can wear it out with my denims.
If you would like to follow me on Instagram – my link is https://www.instagram.com/pmlah
---
Hi. My name is Meredith and I live in Sydney, Australia.
I just love my new Yvette Top which I have made in a jersey fabric bought from a Destash group. It is quite a stretchy fabric and I think it worked perfectly for this top.
The top (and dress) is a relatively simple sew and I love how all DS patterns come with cup sizes for that perfect fit. I sewed a size 3 graded to 4 over the hips.
My only 'tip' for sewing the pattern is to pay particular attention to the instructions for the keyholes. I used LOTS of pins and was careful to evenly divide the bind around the keyhole so that there were no puckers. It's not difficult, I think you just need to take it slowly and carefully.
I sewed a top during testing but am waiting on some fabric for a dress version which I am going to wear for an upcoming concert that I am participating in 🎶
I finished my top and left pretty much straight away on a ski holiday where I'm woolly sweaters but I'm looking forward to wearing my top when I get home.
My Instagram is https://www.instagram.com/sew_mere_makes/
and my Minerva Blog Profile is https://www.minerva.com/people/1150385
Thank you Ann for another beautiful design and a great test 💗
---
Hi! I'm Sandra and live in the Netherlands.
I made two Yvette dresses. One with viscose tricot (the pink one) with elbow sleeves and the other one with jersey tricot and 3/4 sleeves. I love them so much. It's a quick sew and because of the key holes, very unique. Take your time for the keyholes as they need to be perfect. I will definitely make more.
I didn't have a style in mind. I just wanted to make a nice dress and a dress to wear multiple times. I'm in holidays now and guess which dresses are with me?😛
I already received some compliments how nice the dress is and nobody expected the dress is handmade!
Another tip: don't forget to use sunscreen in the keyholes when you wear the dress outside and the sun is shining 🙈.
I didn't need to make alterations.
My Instagram is: www.instagram.com/sandra_wilbrink_sewing
---
hi, I'm Sjoukje from the Netherlands! This was my first time testing for designerstitch, Yvette made me do it! I've used cotton/elasthane for my top version because I thought the stripes would compliment the design best. The just above elbow sleeves are a great alrounder, easy in all weather circumstances 👌The keyholes are a true eye-catcher, and if you take your time sewing them, it will be just perfect!
My next Yvette will be a floral dress for sure!
You can find me at www.instagram.com/dutch_sjouks for my sewing adventures!
---
Hi, my name is Meiling from Perth, Western Australia!
I used textured knit both from www.supercheapfabrics.com
Tips for sewing the Yvette would be to go slow when sewing your keyhole bindings to ensure you get an even seam for turning. Also, ensure you have the right needles for sewing knits.
My choice of style was the full length sleeves and the second length skirt as well as the shortest length skirt.
No fit alterations were required for my dresses.
I have worn both my dresses and definitely get compliments especially on the keyhole features. Definitely plans for more as they are a very quick and easy sew and look fantastic!
You can find me at www.facebook.com/Sewaholiccreations and www.instagram.com/Sewaholiccreations