Hey my friends. Let us continue all that is fabulous about the Kat Top. 
Yesterday we introduced the new additions to the Kat Top pattern – two new sizes into it – DS 12 and 13 – plus cup sizes – C, D, DD.
The Kat Top Week Day has a slightly different fit than the Kat Top Weekend.
The Kat Top – Weekday – offers an easy fit shell with set-in sleeve whereas the Kat Top – Weekend is again an easy fit shell but with an extended shoulder line to create a "grown" on short sleeve.
Both Kat Top shapes have a slightly curved and very flattering hem with a self fabric bound neckline.
This re-release has added two new sizes into it – DS 12 and 13 – plus cup sizes – C, D, DD.
The original fit of the Kat Top is still classed as a B cup so we still have our cup choices that Designer Stitch is well known for. 
So lets get started my friends with Part 2 of the Kat Top – Rock Star Roadies – Pattern Tester Roundup. 
And our roadies would like to share the following with you all :
1. Your name and where you live ?
2. Your choice of option for the
Kat Top
 and why ?
3. What fabric did you choose and where did you purchase ?
4. What alterations did you have to make to your
Kat Top
 toile ?
5. What sewing tips can you share when sewing the
Kat Top
 ?
6. What was your favourite thing about making the
Kat Top
?
7. Did you make more than one combo of the
Kat Top
?
8. Have you worn your
Kat Top
 yet and what compliments did you receive ?
And the finer details; (AU/UK) 6 – 30 (US) 2 – 26 (EU) 34 – 58
On Sale for a limited time only – $9.75(US)
Very Confident Advanced Beginner and Above Sewing level
---
Hi everyone, I'm Annick and I live in Belgium. I made the Cat top in a crepe fabric from Minerva. I think the result is beautiful! I prefer to wear my top with jeans. It is very eye-catching, so I like to combine it with a simple piece of clothing. I didn't have to make any adjustments to the fit of the Cat so that was super easy! If you like my work you can follow me on instagram: https://www.instagram.com/flaxfield_sewing/
---
Hi everyone, I'm Annie and I live in Argentina. I made the Cat top weekend version in a plain cotton fabric from a local retailer here in Buenos Aires. I had to make a sway back adjustment as my bust is smaller than my waist, although that did not stop me and it turned out to be a quick and easy garment to sew!
If you like my work you can follow me on instagram: https://www.instagram.com/civitana/
---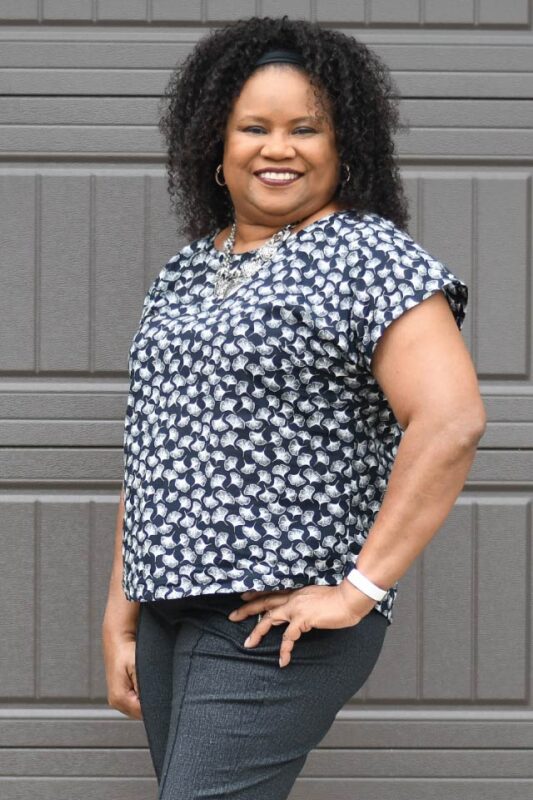 Hi, I'm Barbara from Northeast Mississippi USA.
I was gifted a cotton lawn fabric from Minerva.com, which was perfect for my Weekend Kat Top.
As with all of my wovens, I finish the cut pieces by serging around the raw edges before sewing. It takes only a few minutes, and you don't have to worry about finishing the edges later.
I chose to make the Weekend Kat Top and only altered the pattern for my height.
I have worn my Kat Top out and about and received many compliments! The Kat Top will be a staple in closet for sure.
I blogged about my Kat Top here: https://www.minerva.com/posts/1130434
Follow me on IG: https://www.instagram.com/ninjabreadgirl61/
---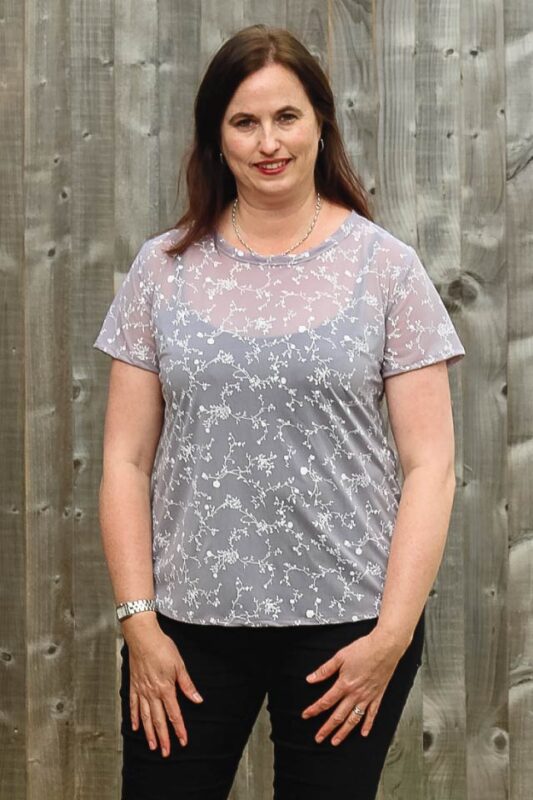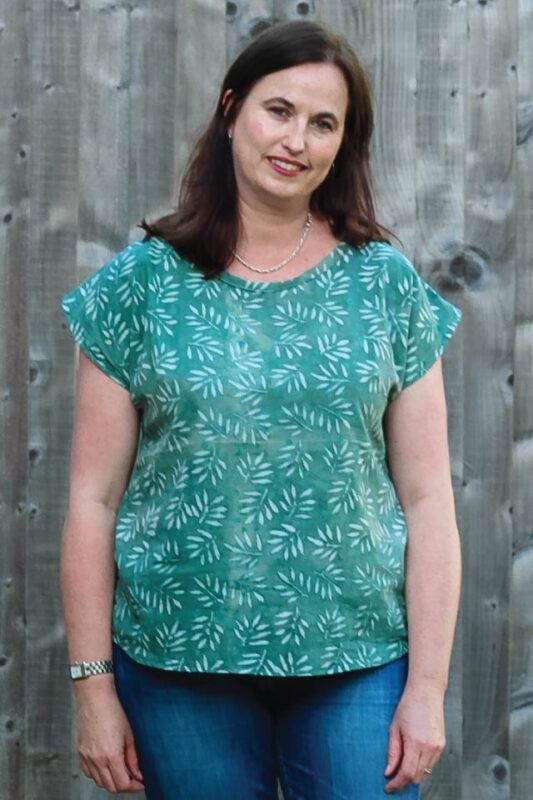 Hi, I'm Genevieve from the UK. I made both the Weekday and the Weekend Kat. I used chiffon and cotton for these sews. Both were fabrics that I had in my stash.
As these are for woven fabrics, my biggest tip is to ensure that you measure yourself correctly and choose you size based on your measurements. I made a 3D and graded to a size 5 at the waist and hips (these are usual adjustments for me) and both of my tops fit perfectly. I wear both constantly and they are regularly complimented. I wear them both to the office and casually with jeans. This is a staple pattern for me and I know I'll be reaching for it time and again.
HTTPS://www.instagram.com/gegiegrossmann
---
Hello everyone, my name is Kaitee and I live in South Dakota. I used a cotton sheet that I found at the thrift store for this project. The only modifications I had to make to this pattern was adding some length and some depth to the armscye, which are my standard adjustments. I have worn my Kat multiple times and it is a great tee to have in your wardrobe. You can check my styling and all my other designer stitch makes on Instagram at https://instagram.com/goatislandsewing
---
Hey everyone! I'm Huike from Singapore. I made a few Kat tops already and they are all heavily rotated in my wardrobe because I made them using light woven fabrics so they are perfect for the hot summer weather in Singapore.
I like how quick the Kat top is and since i fit in the smallest bust option, that meant no bust darts are needed for me and i am all for it! Hehe.
If u wld like to see me and my makes, i can be found at www.instagram.com/kekesews. See u all there!
---
Hi, I am Luana and I live in Raleigh, NC in the US.
For my Kat Tops I used a shirting cotton for one version and silky fabric for the second version. Both fabrics were gifted to me (people know I sew 😃).
The best advice I can give in sewing this top is to measure and remeasure the biding length since it stretches out very easily (depending on the fabric type of course).
I chose the Weekday version for both of my Kat Tops, and I didn't have to make any modifications since the fit was on point!
I did wear my Kat, and I received a bunch of compliments for it. The friend who gifted me the fabric was so happy!
My blog http://lmfcrafts.com
My Instagram https://instagram.com/lmfcrafts
---
Hi, It's Narelle from Western Australia.
The pink is a mystery fabric from my stash. I'm pretty sure I picked it up from a charity shop. The purple is a cotton lawn that has been in my stash for a LONG time.
Kat is a quick and easy sew, so just get onto it!
I didn't make any alterations.
My Kat tops are getting lots of wear as they are so easy to throw on with jeans.
https://threadistry.com
https://www.facebook.com/threadistry
https://www.instagram.com/threadistry/
---
My name is Synthia, I live in Central California. I love the Kat top. I have made around 8 Kat tops over time. I have sewn them In rayon fabric with lace trim, challis, stretch lace, cotton voile fabric, and knit. Kat is one the quickest sews ever and versatile. I have even hacked Kat top and made a shift dress. Tips, have fun with this top. https://sewsynsewn.blogspot.com
https://www.facebook.com/Synthia20000/
---
My name is Stacey and I live on the South coast of England.
I used a nice drapey poly crepe for my Kat top.
The Kat top is a really quick easy make, use lots of pins to hold the neckband evenly, so make it easy to sew around.
I made the Weekday version with set in sleeves, and it fits really well with my wardrobe.
Thanks to cup sizes being included I needed no alterations for my Kat top.
I have worn my top to work and received lots of compliments.
www.instagram.com/all_sewn_up_by_stacey
---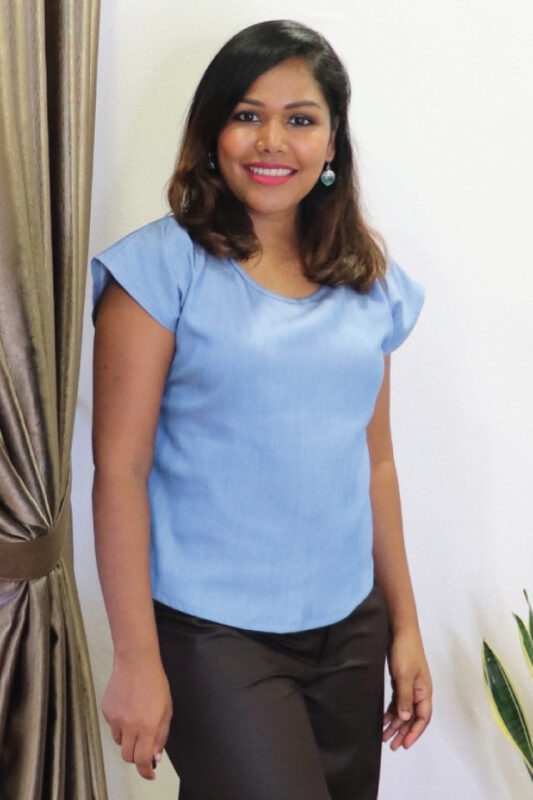 My Name is Uma. I am from sunny island Singapore. The Kat top is such a versatile one. I made mine in Japanese lightweight denim fabric. It was so easy to make. I made mine in a size 2 however I would make my next one in size 3 instead for a more roomier fit. I can see so many tops in different colours made with this pattern because all it takes is 1 hour to sew one up! Do come by my Instagram page for more pictures and styling. https://www.instagram.com/akutidesigns/