And a glorious day to you my sewing friends- and welcome to Part 2 of the amazing Ava Boudoir Set Pattern Tester Roundup Part 2.
SO what did you all think of the Ava from Part 1 yesterday – I think that you will absolutely blown away by my roadies – YES ?
Todays introduction will be a little different – I am going to instead share a short msg I received of one of my roadies – our Taryn Hayes-Smart – and her beautiful words speak absolute volumes !!!

Taryn writes: " When I started up sewing again as an adult, I would never have imagined that I would have one day tackled let alone modeled something like this.
Being able to sew beautiful clothes and more intimate items made to fit my body perfectly has been a great confidence builder.
It just soared a thousand times higher seeing this this morning. Can't quite find the right words right now to express how much it means. Thank you.
I continue to learn so much (not just sewing related) and it is a privilege to be one of your testing posse. Love your patterns and love you ! "
So without further ado lets continue Part 2 of the Ava Boudoir Set Tester Roundup – and I would love you to give a massive CHEER for all of the stunning-ness. xx
Our roadies would like to share the following with you all :
If you could share with the readers ?
1. Your name and where you live ?
2. What fabric did you choose and where did you purchase ?
3. What sewing tips can you share when sewing the
Ava
?
4. What was your favourite thing about making the
Ava
?
5. Given the
Ava
is a boudoir garment how did you feel after making it and trying on for the first time ?
6. Have you worn your
Ava
yet and what compliments did you receive. (This could be a case of TMI for me !!!….lol )
(AU/UK) 6 – 30
(US) 2 – 26
(EU) 34 – 58
Cup Sizes – B, C, D, DD
On Sale for a limited time only – $9.50(US)
Very Confident Advanced Beginner and Above Sewing level
Ava Boudoir Set Sewing Pattern 
---
Hi, my name is
Synthia
, I live in Central Ca. I made 3 sets of the
Ava
lingerie set.
First I made a muslin to get a proper fit, I used spandex fabric, loved the fit.
Second set I made an all black lace fabric with spandex.
Third set I used a burgundy colored, out of velvet burnout fabric, I did use power mesh in-between layers for the bra. All fabrics were 4 way stretch.
I paired my
Ava
set with an all black Willow shawl, also a DS design. The bra and panties are a perfect fit for me, as well as the garter belt.
A beautiful 3 piece lingerie set for my undergarment wardrobe.
Great job Ann Grose.
https://sewsynsewn.blogspot.com
---
Hi I'm
Ashley Riley
, from London.
I worked with stretch velvet and mesh to make my
Ava
sets. My fabric came from a Facebook group called Coalville Fabrics.
This was my first time sewing a sew like this, I've never done a bra before so, i would recommend to make a fit first to make sure the sizes is right as I'm small on top i have to shave a bit off the top of the cup. Just take your time and read through the instructions first.
My favourite thing about the
Ava
set is that it makes me feel really good and sexy and I'm sure that's what we all want from a set like this! I will definitely be making more sets. Another thing about making this set i used items I've never used before like the clips at the back of bra and garter but don't be scared like me as i found them easy to apply.
This was my first time trying a boudoir garment and i really like how its all came together, it wasn't as hard as i thought and love the end result.
I've worn my
Ava
set a few times and I have to say my partner loves them as its not my usual wear but been told i look really sexy, so that's great and it makes you feel amazing in.
---
I'm
José
and I am from the Netherlands, and I'd like to tell you about my
Ava
makes!
I already have made a few lingerie pieces before and when this call came through I was jumping with joy!
And then I reminded me that I'm currently pregnant sooo what to do? Well that was an easy decision, just make them, even for during my pregnancy! I was also ISO comfortable panties to wear with my belly since I cannot stand the elastics going over it. So two birds one stone right?
I wrote a blog about my pattern hack for the
Ava
you can read all about it on this site.
I had a fun time sewing these pieces. I made a toile and found out that I needed to grade a size back on the top half of my bralette because my volume is on the lower half of it. Gravity right 😜
I used a really nice black velvet, leftover from my Lana dress actually, and I got most of my notions from several stores: Kantjeboord
for some basic foam out of my stash, Small Bobbins for the metal sliders, some straps and nursing clips and from lingerie hulp en meer groep
the other elastics and closures since she has the most choice of wide elastics.
Also the blue fabric is a left over Nicky velours and I used power mesh and wide lace for the back of the blue set.
I did find that I like to pull the elastic on while sewing instead of cutting to length and that applying in the round and quarters. Since every fabric has its own stretchyness.
Since foam and fabric don't usually match in stretch I also used my knee to pull tight and smooth the fabric over the foam layer, I then pin both layers together and apply bottom and top elastic.
While I was very excited to test the
Ava
, to actually take the photos of it was a bit daunting, but my friend pulled me through it! Hope you like all the ideas and possibilities that this pattern offers and I wish you lots of fun with it too!
All the reactions I had of this set were very very positive and appreciative so I'm sure you can pull it of too!
---
I'm
Kaitee
and I'm from South Dakota. I used a faux stretch leather and black power mesh.
I loved making this set! I'm a believer that the attitude you have while sewing actually makes an impact on the finished garment.
Saying that i tried to only have positive thoughts for this set. Take your time and it'll be amazing.
I love the high waist option for those of us that feel a little insecure about their tum. I feel incredibly sexy in this set and my husband agrees 😏.
My Instagram, if you are interested,
https://instagram.com/goatislandseamstress
---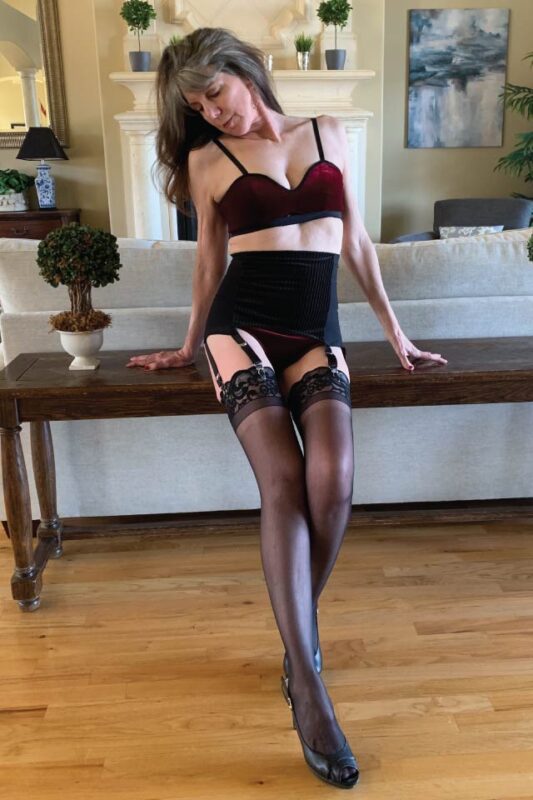 Hi, my name is
Lola McLachlan
and I live in Reno Nevada. I was thrilled to be part of the test group for the
Ava
Boudoir set.
One of my early jobs in high school was working in the lingerie department of a department store and that cemented my love of lingerie.
Ava
's classic movie screen siren style had me hooked the second the teaser photos for the tester call were posted!
It was a departure for me to do so much sewing on my regular sewing machine instead of my serger (hello athletic knit lover!) but it was no problem at all!
Ava
has earned a place in my 'dress up lingerie' drawer and I have another set on my cutting table. I made the garter belt (or suspenders) out of black so that I could wear different bras and bottoms with it. Let me tell you, this is the first time my husband didn't complain about having to help me with photos!
I've been sewing since middle school – my mom used to sew for me and my 4 siblings and passed the love of sewing on. I had lots of disappointing projects back then since altering the pattern to fit you wasn't really stressed. I was taller than what things were drafted for, and especially with wovens, my dream garments never seemed to work out.
In the '80's and '90's I learned to sew knits to make clothes for my 3 kids, and in the early 2000's I dabbled in quilting too.
Fast forward to a few years ago. I retired and had lots more time on my hands and (cue angels singing)
I found out about PDF patterns, and recently, using a projector to shine the pattern right onto the fabric. Truly cut-and-sew sewing!
Not being afraid to alter patterns has really made sewing work for me, and I feel more accomplished as a sewist.
Everything can be made in the special size of "YOU". ❤
Catch me on IG @thatssewlola
---
hello everyone!
Marit
from the Netherlands here, Marit who? Well Marit with the very happy husband since I made 3
Ava
sets!
I had some leftover sparkle velvet lying around to make my toile. And dang the spillage was enormous! This is definitely NOT a supermarket bra but ooh it is so comfy! And so sexy! I just LOVE it! I made the finals one cup size bigger and still a lot of spillage. I made all my sets out of velvet lined with knit fabric.
I had some experience in making brah's and panties, but the instructions are quite clear and it is not hard at all!
It looks so great and it is so doable! I had some doubts about the suspender belt, but it was quite easy to whip up and it really adds something to the set!
---
Hello everyone, my name is
Rachel
and I live in sunny southern California.
For my
Ava
I used a very beautiful sequin velvet that I purchased a while back from The Fab Clique Fabric Shoppe
One of the biggest lessons I learned when sewing the
Ava
is to get a good fit for your body and take your time when sewing.
My favorite part of sewing my
Ava
is seeing how well it turned out and how beautiful it makes me feel.
My husband has given me the go ahead to make as many
Ava
's as possible.
Thats definitely a really big boost for my confidence as a seamstress and mother/wife, lucky me and lucky husband.
---
Hi, I'm Sarah from the USA. I used a stretch velvet that was gifted to me and all my notions are from https://surgefabricshop.com/ .
I've never made anything like this until now, and let me tell you: it is empowering to be able to make the
Ava
set! (but read the directions before touching your fabric).
I think my favorite part of the whole experience was hearing my husband say "wow…….you made that?" 😍.
You are welcome to follow me at
www.Instagram.com/s.s.makes.stuff
---
Hi I'm
Trish
. I live in Oxfordshire, UK. For my first set I used stretch jersey custom printed with one of my own designs and stretch mesh.
The second I used stretch velvet and power mesh.
Take your time when sewing the lingerie set, use a walking foot if your machine is struggling and make a toile before cutting into your good fabric.
I loved the making the bra the most as working with cut and sew foam was a dream.
Once I had the full set it made me feel like I was off to a boudoir photo shoot 🥰 It is seriously 🔥
I've been told it makes me look smoking hot
My social is www.Instagram.com/beautifulsummermoon
Www.facebook.com/beautifulsummermoon
---
1. I am
Christina Sinclair
from Cape Town , South Africa.
2. I made 3 bralettes – 2 in velvet and 1 in a crepe with mesh back strap. Panties was 2 full velvet, 1 crepe and 1 front panel velvet back and side mesh. I preferred the fit I got with the crepe it fits tighter, more form fitting. Full velvet more luxurious though.
3. I learned about the difference in stretching FOE and scallop edge elastic. I found FOE much harder to not end up with wavy over stretched seams. Sewing with velvet is amazing , your top stitching choice does not matter that much – tricot vs zigzag – as it disappears in the velvet.
4. Trying it on, having some sexy secret feeling wearing this big "granny" style panty that actually makes my feel sexy under my clothes the next day. Seriously I enjoyed seeing how small things like starting the elastic at specific points shaped the items.
5. Secretly gorgeous
6. I am wearing it frequently, not only dies it make ME feel great, the bralette is also comfortable, and the panty flattering.