Hello my lovely sew'ist friends and I trust that you and your loved ones are happy and healthy.
Thank you for visiting with me today for Part 1 of the new Callie Pinafore Dress Tester Roundup Part 1.
The new Callie has just released and she is such an amazing design.
Some would call her a pinafore, others a dungaree dress and still others a romper – but whatever you would refer to her as, our Callie is BANG-ON trend and can be seen in most ready-to-wear catalogues around the world.
The Callie is just FUN and oh-so easy to wear.
The Callie offers a choice of styling options:
1. 3 lengths.
2. Standard or Racer Back.
All of the above styles are completed with choice of:
1. Choice of 2 Chest Pockets.
2. Choice of 3 Front Patch Pockets.
3. Choice of 3 Strap Styles.
4. Choice of 1 or 2 Back Pockets
The finer details : On Sale for a limited time only – $8.95 (US)
(AU/UK) 6 – 28
(US) 2 – 24
(EU) 34 – 56
Cup Sizes Included – B, C, D, DD (E)
www.designerstitch.com/shop/callie-pinafore-dress
So now we are going to dazzle you all with some AMAZING Callies and the most wonderful and extraordinary pattern testers there are in this industry.
And I have asked them all to share with you:
1. Your name and where you live.
2. Your choice of style for the Callie and why ?
3. What fabric did you choose and where did you purchase – make sure you add affiliate link to fabric seller if you are able.
4. Some of the sewing steps need a bit of patience – what tips can you share when sewing the individual garments parts?
5. What was your favourite thing about making the Callie.
6. Have you worn your Callie yet and what compliments did you receive.
7. And how are you styling your Callie ?
8. Social media URLS
---
In the midst of wondering if Milwaukee forgot about summer, came Callie. My name is Allison and I made Callie for my teen daughter, Megan. Her Callie is made from a white canvas with black eyes, eyelashes and other geometric designs. She choose the fabric from Joann Fabric. Why? Because she loved the funky design and the canvas was study enough to hold the style.
Things that require patience, well this list could be long, but not if we limit it to Callie. The most time consuming part is the top stitching. Tips? Use a top stitching thread, lengthen your stitch, with the heavier fabric use a denim needle and take your time. My machine has both high and low settings for speed, when top stitching, I switch to low. The other tip is take your time with pocket placement. If unsure, snap a picture and post on the Designer Stitch Patten Support FB Page for input.
She is wearing her Callie e.v.e.r.y.w.h.e.r.e! All the teens and young adults are stopping her to tell her how much they love her dress. For the moment she is keeping the styling monochromatic in line with an Art Deco look. It looks fabulous with a colored top, too. I think this fall it will be fabulous with a fitted turtle neck, paired with trendy boots. The styling options are wide and varied. There is simply no wrong way to wear your Callie!
Many of my makes are posted here:
https://m.facebook.com/Songs-of-Thread-725505747577599/
---
Hi, I'm Barbara (my daughter Tashara is the model) and I live in Northeast Mississippi, USA. I chose the racerback, short length. I chose the metal slides so that the straps would be adjustable.
For this Callie, we chose a 12 oz Optic white denim from Nick of Times Textiles.
My advice, if you are sewing with denim, is to use the correct size needle, usually a size 16 or 18.
I love all of the different pocket options for the Callie!
We styled this Callie with a red, white and blue theme for the upcoming 4th of July holiday here in the USA.
https://www.instagram.com/ninjabreadgirl61/
---
Hi, I am Camelia from The Netherlands and here I am with my corduroy Callie Pinafore dress.
First I want to say that I never made /wore a pinafore as I always thought that it was not something I will enjoy wearing, so when Callie came along I thought to go try to make it and see how I like it. Because I had zero experience with pinafore style I went with the standard back style and after I made the toile ( which ended up as my final dress too) I started playing with the different styles of pockets and I decided on the pointed chest pockets and the slant pockets, I think they go nicely together.
I used this fine corduroy to make the toile and intended to make a final in denim but I loved this one so much that I decided to finish it. I didn`t have enough fabric to cut the facings too so I used some scraps of denim to cut those. Then I took care to understitch and press well and the facings are nice and hidden …from the outside, you can`t see that the facing are blue :).
Of course, in this style pockets and top stitching are the big stars so take care and time to make these details perfect. Press the edges of your pockets well and take time for the top stitching. I used a top stitching needle and lengthen the stitches a bit.
I love love how this dress turned, a new style to me but so much to make and wear. I am going to wear this with flats in the summer and as a layering piece in the winter with boots, I love the versatility of it.
A modeling video you can see here on my YouTube channel
https://www.youtube.com/calcedoniasewing and sneak peeks of my sewing projects are here on IG https://www.instagram.com/calcedoniasewing/
---
I'm Diane and live in Phoenix Arizona. 2. I chose the racerback because that style tends to fit me better than the straight straps that may want to slide off my shoulders. I love the look of the square rings, but didn't see the required width at my local stores, so chose the regular straps. 3. The pink butterfly fabric was from my stash and the denim stripes were from my friend Sue's stash. I don't know where either came from. 4. The trickiest part for me was getting my machine to sew nice buttonholes on the thick denim. I love top stitching, but for some, that may be something you go very slow and steady. 5. My favorite is all the top stitching. I love sewing it and love how it looks when complete! 6. I wore my butterfly Callie to church where the ladies all thought it was cute. 7. I like it styled kind of casual with a tee or tank underneath. 8. http://sewingwithd.wordpress.com
---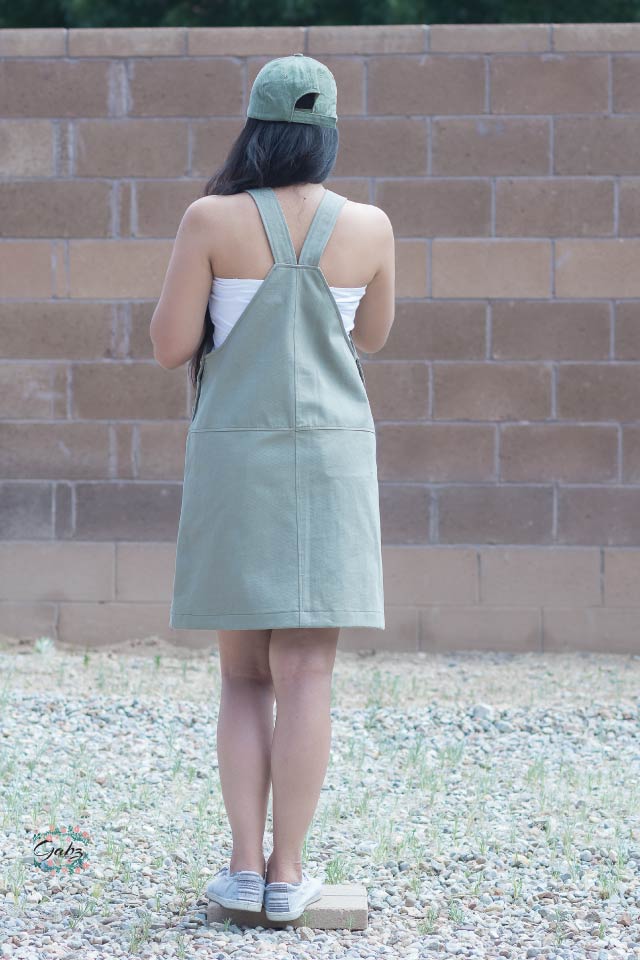 Hello! It's Gabz J from New Mexixo, USA. I sewed up the short, racer back, with chest pocket version of Callie. This style reminds me of my high school days. I used the same color and kind of fabric which my old one had, how lucky! I got my fabric from thrift store..
This pattern is very easy to make and you don't need to worry about it. This is the easiest jumper I made! That's another thing I love about it. I am planning to wear my Callie on July 4th since it matches my army green cap. Oh! I'm so excited…
If you want to see more of my Designer stitch projects, you may follow me on ig: www.instagram.com/itsewcolorful or subscribe to my blog: https://itsewcolorful.wordpress.com , you may also like my fb page at www.facebook.com/itsewcolorful
---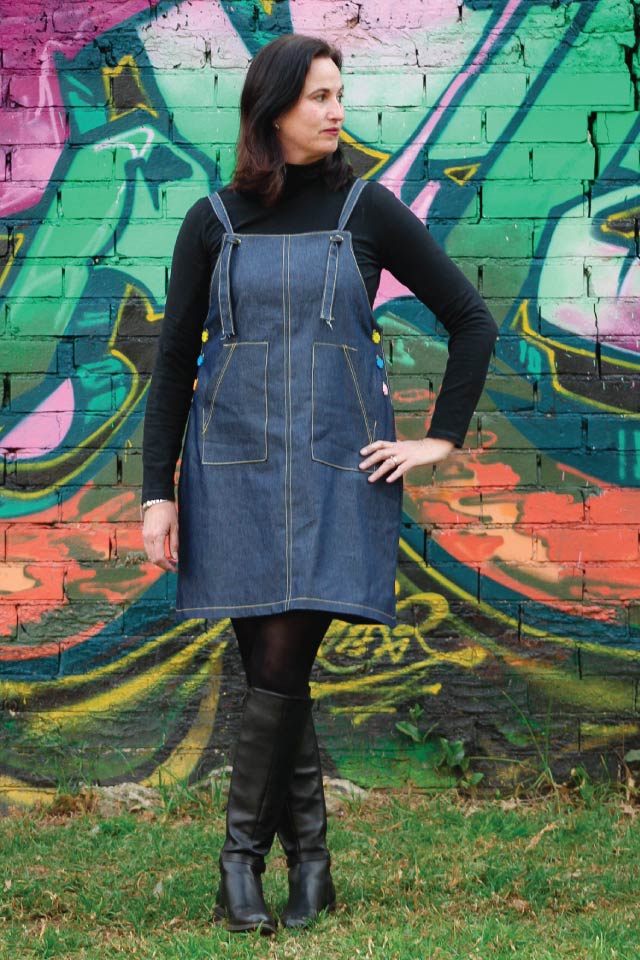 I am Genevieve and I live in Johannesburg, South Africa. I chose to make my Callie with the front slat pockets, knit straps and the 50cm length. I seriously just loved choosing from all the options and this combo appealed to me most for my first one. I used denim for mine, which I had in my stash. I've been dying for a denim Pinafore. The top stitching needs patience but it's SO worth the final result. I loved watching all my top stitching come togetherness I sewed it. I wore my Callie the day after I photographed it and I felt so trendy. I wore mine with a turtleneck and boots, as it's cold here.
---
Hi, I'm Ilse L from Belgium. The Callie Dress reminds me of the time that I was a schoolgirl myself. I feel so young in it! this ligt blue striped cotton jeans was perfect for my Callie with standard racerback and above knee length. I really love the end result! It's the first time I made a jumper and I think it's not the last time. I enjoyed to topstitch the pockets, it gives that beautiful finishing touch! I waited until yesterday to wear the Callieand I was surprised by the compliments. My colleagues and children from the class thought the Callie was super! Worn with a t-shirt underneath, I think they're pretty cool and I definitely get them more out of the closet. Follow me on Instagram: https://www.instagram.com/sewsewilse/ my blog: https://sewsewilse.wordpress.com
---
Hello here is Inge from Belgium, I love the boho style so my choose was a heavy cotton with a blue stripe that is easily styled in to a boho look. I went for the standard back and above knee length bur to my surprise a chopped of another 5cm, now it's perfect! The Callie is a fun sew but if you really are making an eye catcher please taken your time in your topstitching and pocket placement because that is what this dress makes so special, did you check out how many pockets you can play with???? I haven't worn my Callie yet but summer just started here and it wil be the perfect dress for late night drinks with friends. I love wearing it with an of shoulder top and cute boots or lovely boho styled sandals….
Do you want to get social, find me on Facebook https://www.facebook.com/madamestof/, Instagram https://www.instagram.com/madame_stof/ or come and read my blog https://madamestof.wordpress.com/
---
Hi! Jenny from Canada here! I made the standard back and front for my Callie with the slanted front pockets. I did mine in the longest length but with Ann's prompting, I turned up the hem an extra inch, so because of my height of 5′ 9″, my Callie ends just above the knee. I chose this style mostly because I couldn't decide which one to start with so my plan is just to make one of each and I started with this one! I used a lightweight navy blue corduroy that I purchased from my local fabric store.
One of my favourite parts of making the Callie is also one of the trickier parts and that is the topstitching – I love the look that topstitching gives to a garment and I love any excuse to use my coverstitch. machine. I am still trying to get the hang of good stitches but at least getting the stitches out when I mess up is a lot easier than removing serger stitches!
I love that the Callie can be an everyday dress or a date night dress all depending on how it is styled. I paired it with the Eleni Top, also from Designer Stitch, copying a look I saw online. The Callie is so versatile, though, and I have quite a few other tops that look great with it.
I can be found sharing my creations at:
IG – www.instagram.com/othersideofthegarden
Blog – www.EmbraceEveryday.com
---
Hi Jess here, I live in St. Louis Mo. Stay home mom to 4.
I chose a simple razor back mid length. No pockets because my fabric was busy. Fabric is a upholstery twill from Joann fabrics.
I actually found it a fairly easy sew. I would just take measurements and blend sizes accordingly for best fit. I would also take time to finish exposed unfinished seams.
My favorite thing about making the Callie is all the options and being able to use my coverstitch machine for some beautiful topstitching detail.
I have worn it out and it was so comfortable and felt very stylish.
I styled my Callie for summertime, with a simple tank underneath with some sneakers❤
www.instagram.com/sewjessdesigns
---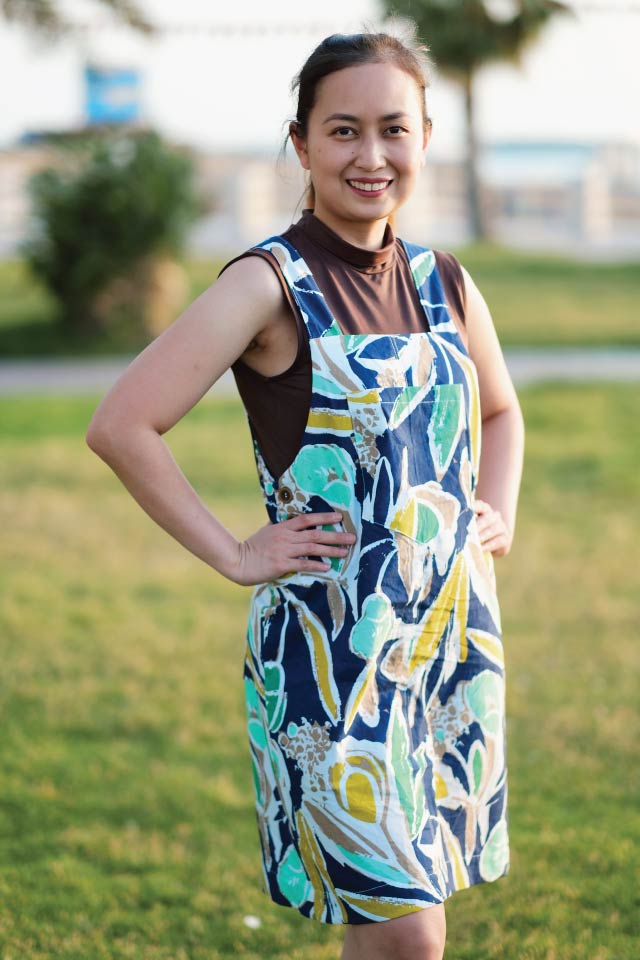 Hi I'm Joanne! I made the above the knee length with standard straps. I used cotton canvas which I got from a local seller in Philippines. Press! Press! Press! and Press to have a good crisp. I am not a pinny gal, but when I saw Callie, she's calling my name #annknowsbest. I wore Callie when we went to the park with my kids. So comfy and I was able to run and play with my kids while on style. I styled it by using a fun bold print as it is the peak of the summer in here. Follow me at IG:
www.instagram.com/ar.JCcouture
---
My name is Kate and I live in Australia just a bit south of Sydney.
I chose the racerback Callie with front slant pockets and one back pocket. I have a big front middle pocket but decided not to add it (because of where I placed the slant pockets). And there's another back pocket in the sewing room that didn't make the cut – slightly off grain and topstitching not up to scratch. This is the shortest length cause I'm short and Ann is always saying to go shorter! I think the length is just right.
I used a medium weight linen that I had in my stash. Originally it was from a friend's grandma's stash. The fabric had some odd sized cuts, so this project, with pieced front and back, linings and pockets was perfect for it.
Top stitching always requires patience. I use upholstery thread, it comes in longer spools than topstitching, and has a good range of colours. I practiced topstitching on some scraps of the fabric I used, and made note of the settings that work best – I usually have to play a little with the tension. To help get the back seams lined up nicely I used sewing glue, so that things didn't slip around as I was stitching. I will be adding some bar tacks to the tops of the pockets to help secure the edges.
My favourite thing about sewing Callie was the topstitching. There's something special about a row of beautiful stitches. I usually like my sewing to go quickly, but always take my time in the topstitching to get it right.
I've worn my Callie out a couple of times. But honestly don't think people have noticed it as it was under a cardigan and a jacket.
At the moment it's winter, so my Callie has been paired with long sleeved tees, tights, boots, and a cardigan. I can't wait until summer cause the linen will be perfect for warm days with a tank or short sleeved tee.
I blog at http://katewillknit.blogspot.com
You can also find me on Instagram www.instagram.com/katewillknit
And Facebook www.facebook.com/katewillknit
---
Hi all, I'm Katie and I live in California. I opted for the straight straps and the middle length in medium weight denim so my Callie would be as neutral and easy to fit into my wardrobe as a pair of jeans. So far, true! If you opt to contrast topstitch, don't forget to test the stitch length a bit so you get the look you want and don't lose the pretty thread in the fabric. It's summer here and I've been pairing my Callie with fitted short sleeved tops and sandals. You can find lots of my sewing projects at www.instagram.com/kak513
---
Hi there! My name is Kee and I live in Melbourne, Australia. I chose to make the standard back 45cm Callie with slanted front pockets and no back pocket as I wanted a young sexy length with functionality. I loved how the back of the Callie with the top stitching detailing looked so forwent the back pocket to maintain the simplicity. The slant pockets are also super deep so I knew they would be able to hold everything I desired without needing another back pocket as well. I used mid weight non stretch denim from my local fabric and everything-but-the-kitchen-sink-store, Spotlight.
The Callie instructions were amazing as with all other Designer Stitch pattern instructions – very detailed and her pictures depict the corresponding instructions clearly. However, be patient when moving from steps 15 to 17 – read the instructions carefully as you need to attach the straps in the correct way, otherwise the tail ends will be flapping at the front once you finish your facings. Also, take note of the different seam allowances for the facings. Really – just read these parts a few times and look at the pictures properly before you start and be sure you know what you are doing! My favourite part about sewing the Callie was doing the top stitching and pockets. You know you're on the last legs of making the dress and it just adds all of the detail to make the dress look really standout especially if you're using different coloured thread. I've worn my Callie to work and received complements from almost everyone. My colleagues all want to make one for themselves after seeing mine! They love the top stitching detailing, the fit (as it isn't baggy and sack-like – like some other pinafores), the pockets being super functional but stylish and the wooden button detailing is super cute and really throws highlights to the design.
You can find me and more of my sewing (and other) makes (along with cute pics of my kitty: Rom Rom) at https://www.instagram.com/thekeetoacraftylife/