Hello my darling sew'ists and a happy Tuesday to all of you. I trust you are well and happy today.
And a big THANKYOU for coming over to read this second installment of the Donelle Top and Dress Tester Roundup. The Donelle is such a glorious design and easy wearing due to its jersey base.
And again my beautiful women who are part of the pattern road tester posse have outdone themselves in this tester round – I am always humbled by their skill and talent. !!
If you missed yesterdays post be sure to read the Donelle Top and Dress Pattern Tester Roundup Part 1.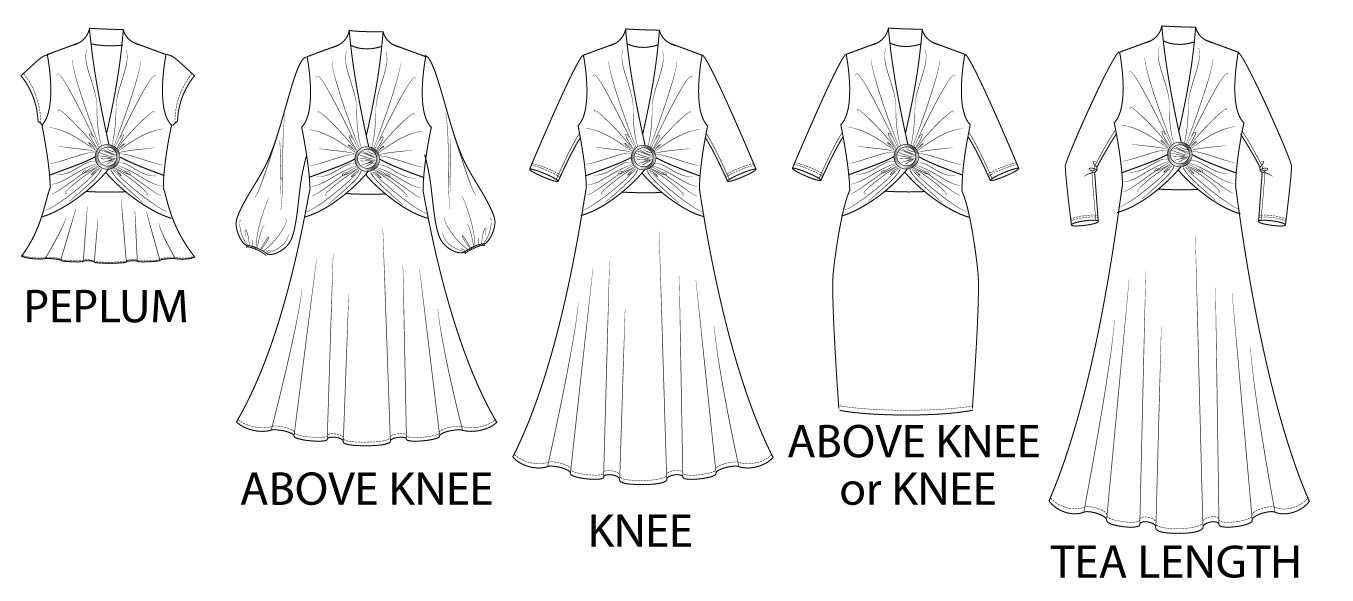 The Donelle Top and Dress is for a sewing level of Confident Advanced Beginner and Above.
On Sale for a limited time only – $8.75 (US)
multi-sized pattern : Women's
(AU/UK) 6 – 28, (US) 2 – 24, (EU) 34 – 56
Cup Sizes – B, C, D, DD (E)
https://designerstitch.com/shop/donelle-top-dress
So with further ado !!!!… here is part 2 of the amazing tester roundup of the Donelle Top and Dress.
Cheerio my friends.
Love to you all. xx
Ann at Designer Stitch.
---
Ding Ding, my tester round up!!! My name is Kim and form Melbourne Australia. I Love testing Ann's amazing Designerstitch patterns and this is my absolute fav. Since it is Autumn season at the moment I choose the 3/4 sleeve and have made the full skirt (although I am just finishing a second ready for spring in a cap sleeve and 1/2 circle skirt in SBP fabric). Prior to testing a set about buying up lots of slider buckles as I got slightly carried away as kept finding more I liked, hence I could possibly end up with about 15 Donelle's in my wardrobe!!!! The slider Buckle on my tester Dress was from Jimmy Buttons in Australia. I brought a 6cm buckle and it worked well. I think the design of the dress is on trend and a little different from many other PDF knit dress patterns. It is great that Ann has added the additional curvy size as this is a dress that is super flattering on all bodies. Please read carefully through the instructions first as it helps you envision the garment coming together and will make the sewing stages flow easily, hence I found it much easier to sew that expected and it was great seeing the garment come together in the final couple of steps. I was very careful to make sure my side gather was very even and I actually did a "rolled hem" along my neckline and cross front edges as an extra step. I posted a photo of me wearing my Donelle on my private FB account and got some amazing and very flattering responses. Thank you Ann from the bottom very corner of my sewing room for bringing this pattern to life. @sewtwopins
---
1. Kendel W i live in Medford Oregon
2. I choose knee length as it is in my opinion the most versatile length. It can be worn to a variety of occasions.
3. I picked "Erin" Rayon Jersey from Amelia Lane Designs
4. Measure your gathered edge and remeasure! Getting the measurements right on this step really make a difference.
5. How quick a sew she is!
6. Not yet but i have plans to soon!
7. She doesn't need much a nice pair of heels or flats can get you thru any occasion.
---
Hi! I'm Kristin, from London, Ontario, Canada ????.
I chose the above knee length, 1/2 circle skirt with elbow length sleeves as summer is nearly here!
My fabric is a light weight jersey – from my local Fabricland, I love the little flowers that add a hint of colour and pop to the fabric.
My best advice is to read all the directions on the pattern – before cutting anything! Take time with the gathers along the sides – and measure, measure, measure! ??
I loved learning the construction of this dress – it is brilliant the way it all comes together.
I haven't worn my Donelle yet – but I will be wearing it next weekend to a friend's engagement party.
I styled my Donelle with my basic brown boots, however the options are endless with Donelle. Flats or heels,Donelle is so versatile!
---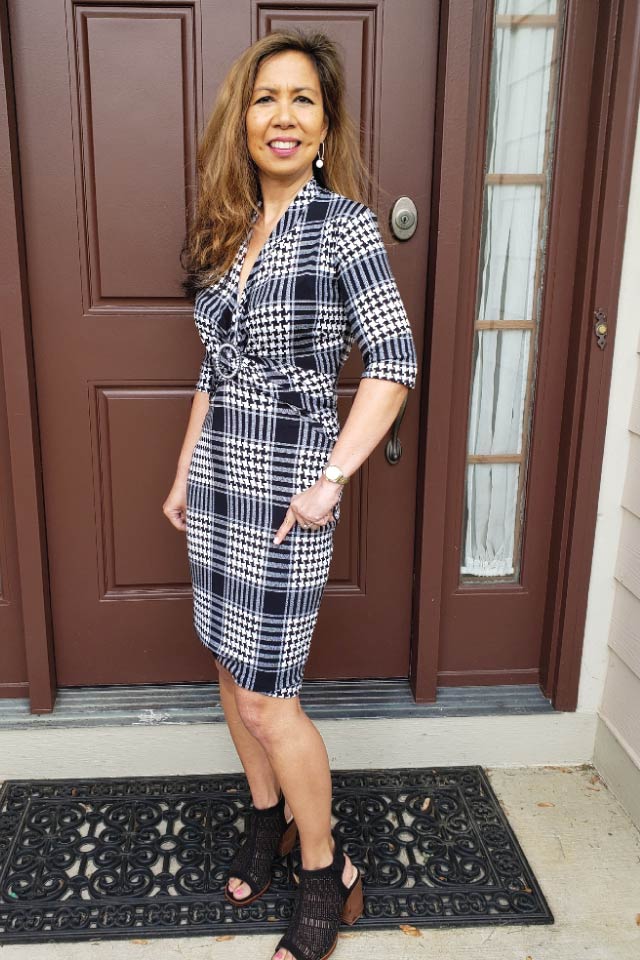 1. Your name and where you live
My name is Laurie A and I live in Lewis Center, Ohio.
2. Your choice of style for the Donelle and why ?
I had originally chosen the dress with the knee length style, but when Ann had offered the pencil skirt option I couldn't resist.
3. What fabric did you choose and where did you purchase .
For my toile I used a rayon spandex that I got from a scrap box from an unknown source, but for my final I chose an ITY fabric that I bought from a destash group.
4. Some of the sewing steps need a bit of patience – what tips can you share when sewing the individual garments parts ?.
I'm a very visual person but I went slowly and read through the pattern several times before I attempted any of the steps-just trust the process.
5. What was your favourite thing about making the Donelle.
I loved how the bodice came together after putting in the slider.
6. Have you worn your Donelle yet and what compliments did you receive.
I am planning to wear my Donelle to a nice dinner date.
7. And how are you styling your Donelle ?
With strappy or chunky heels and dangly earrings!!
---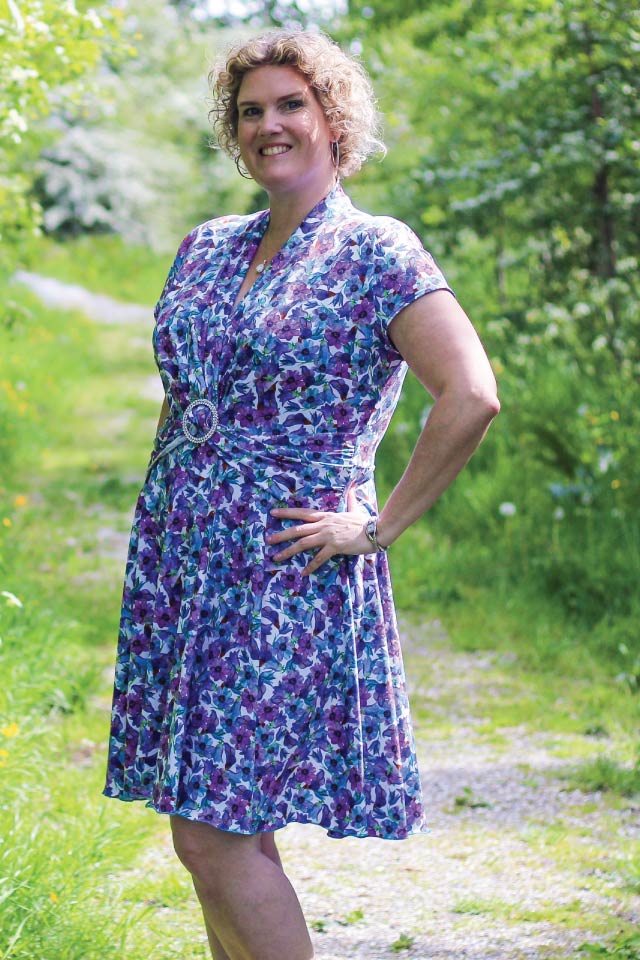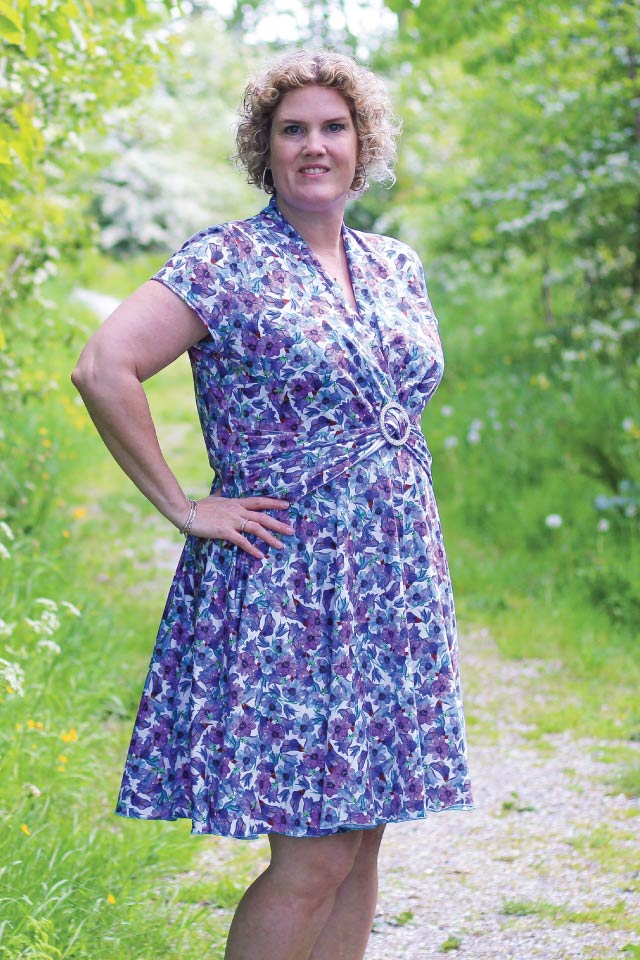 Hi there! I am Manda from the Netherlands, talking to you about our newest Donelle Dress. When I first saw the linedrawings, I volunteert right away to test this gorgeous dress. I believed it would be super flattering on me, and it didn't disappoint for sure! I picked the capsleeves with 3/4 circle skirt in a flowery cotton jersey for a cute summer twirl.
While sewing I needed to trust Ann's instructions all the way, because at some point I couldn't visualize how to sew on the collar. Best thing ever is to just trust the instructions and let the magic happen. And don't forget to cross right over left when you fold your fabric in the buckle.
I have my Donelle packed for my holiday, because I plan a date night while wearing it for our wedding anniversary! Donelle & some lipstick, you don't need anything else!
Please follow me on insta and join my sewing journey: http://www.instagram.com/sewingambi
---
Hi, I am Marieke and I am from the Netherlands.
You are going to love your Donelle!
I had a nice and soft colorful jersey laying around and sewed my Donelle with the longer pencilskirt. I was looking for a divine dress which is sexy in the same time. And it totally worked out!
When you are sewing your own Donelle take your time to follow every single step. I know you want be ready yesterday, but measuring, basting, ironing and so on aren't steps without a reason. It is worth it to take your time.
The moment you wrap the front pieces through the buckle is so nice! You'll notice this is a very special dress!
On Mothers day I worn my Donelle, it was nice to dress up and feeling gorgeous! When my husband is back from his business trip, I want to wear my Donelle on our Date night.
I wear mine with my high heels and a nice trenchcoat, but ankleboots and a short jacket will spice it up too!
Everybody needs a piece of clothing in your wardrobe what is saying: Here I am! ?
You can follow me or have a look at my (other) makings if you like.
https://jongdesign.wordpress.com
JONG Design
https://www.instagram.com/jongdesign/
---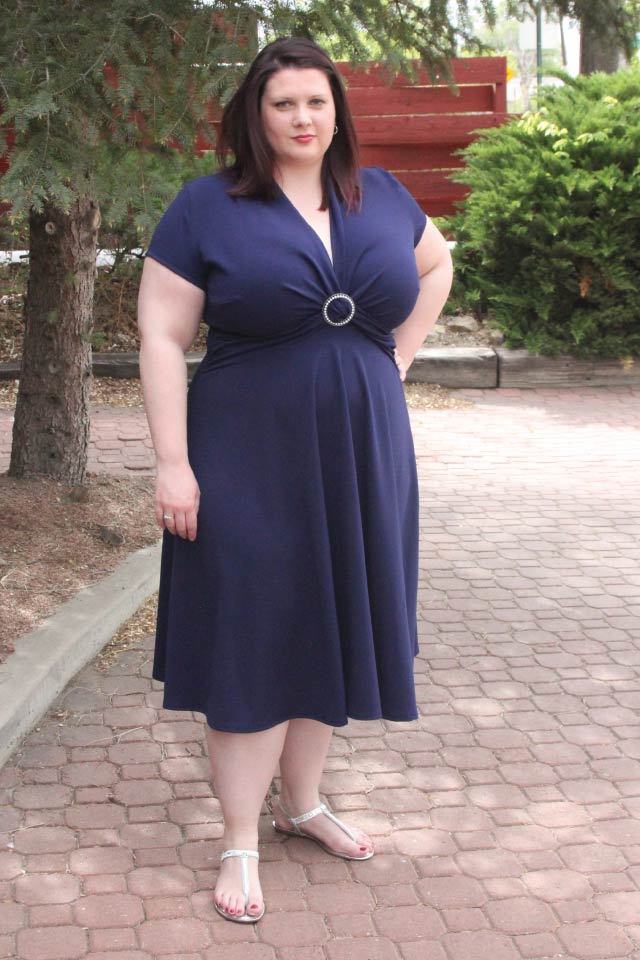 Hello, so happy to be here! I'm Melissa, from the high desert of Colorado, USA.
The lovely Donelle is my first test, indeed my first sew with Designer Stitch, and I must say, I AM THRILLED!!!!!
I chose to make the mid length with cap sleeves and the peplum with the bishop sleeves.
I sew for my three adult daughters, all of whom are very curvy and need beautiful clothing for work and social events.
This is the first time in a very long time that I've sewn from a pattern that fit my beauties so well!!!
Thank you so much Ann!
The fabrics are from Hobby Lobby. The navy is a light knit crepe and the black is a light sparkling poly knit.
I have made three garments, my toile was a soft dbp and was a total disaster! Don't let that scare you, my only difficulty in making the gorgeous pattern was my haste. Apparently I skimmed more than read the prep directions and even though I took copious measurements I failed to comprehend the bust and cup instructions, well needless to say my garment was vastly oversized. This is my advice even if you have years of experience, READ every word carefully. With Ann and the groups encouragement I went on to create garments that fit Perfectly!
My girls are receiving multiple compliments every time they are worn and the neckline is exceptionally flattering and modest.
My favorite thing other than it's beauty is that I'm able to provide this incredible design so quickly. It truly is a very easy and quick sew!
When you are sewing for a multitude quick is a plus!
They navy dress is styled with simple sandals and a pair of earrings. The jeweled slider is all the jewelry she needs. Simple for church and the office and she can add beautiful heels and a clutch for more formal events.
The black peplum top is styled with simple jeans and neutral flats, but it's such a statement top with black slacks and heels it perfect for a date or dressy event.
We can't wait to make the pencil skirt version next!!! Curvy Girls give this beauty several spots in your wardrobe. I'm very excited to make this beauty for every season, I've already planned a holiday version with a lace bodice and matt satin skirt!!!! Happy sewing!!!!
Https://www.facebook.com/Melissa.deeg.3
---
Hi! I'm Nicole from North Pole, Alaska. I made 2 Donelles, one has cap sleeves and the other with 3/4 sleeves. Both with the 3/4 circle skirt in knee length because I love the swish! I used dbp from Stitchin' Pretties and Knitpop. One tip when making this, especially if you haven't made a shawl collar before, is to read the directions carefully and have a good look at the photos. It can be a bit confusing on the first read because it's not like normal collars or necklines. But once you get a hang of it, it's really simple and quick. I've worn these dresses to church with pumps and have gotten compliments because it's different and stands out. I can't wait to try the pencil skirt option because all the testers who tried it look amazing!
---
I'm Sarah from Virginia Beach, VA. I picked the peplum style because I have a bunch of leggings and I thought this top would be super cute to wear with them. I used some rayon spandex from Boho Fabrics (http://rwrd.io/s3ekv27). I had a hard time wrapping my head around how the ruffles/collar would work, but as I followed the step by step directions, it was easy! My favorite part was putting the buckle in, it comes together so nicely! My husband (Donny!) loved my Donelle and took me out to coffee after we went to the park to take photos 🙂 I tried it with skinny jeans and heels, loved it, but for the park, I switched to flats. Leggings next! And I will definitely be making the short length dress, too! https://www.instagram.com/yarndoggiedog/
---
Hi there, I'm Shardee from the Netherlands.
It's the first time I made something for Ann, but I'm so in love of the retro style you can create with the Donelle. I love retro style, with a little touch of the modern time ??
The fabric I used is a lightweight cotton lycra, bought on the local market.
When you are sewing you lovely Donelle, take you you time, is a quick and easy sew, but don't skip a step ?? so don't forget to iron.
And the favorite part of sewing is finishing ?? because you can finally wear the beautiful dress you made.
I promise, you feeling fabulous in the Donelle.
And if you like to follow me, you can do it here ????
Www.instagram.com/sdvtje
Www.creashars.blogspot.nl
---
My name is Stacey and I live on the south coast of England.
I went with the peplum length for my Donelle because I have made lots of dresses recently and fancied a new top!!
I used the lightweight stretchy Jersey which I bought from my local fabric shop.
Some of the steps of a little fiddly, take your time and do one step at a time, don't try and get ahead of yourself! Also lots of pins for stretchy fabrics is always helpful.
My favourite bit about making my Donelle was adding the slider, it was just something a bit different to work with and I think it makes each garment stand out from the crowd.
I wore my Donelle to work the other day I got lots of lovely comments!
Mostly I have worn my Donelle with jeans but I think it would also look great with a pencil skirt.
Http://allsewnupbystacey.blogspot.co.uk
https://www.instagram.com/all_sewn_up_by_stacey
---
Hi, my name is Synthia LG, I am from Central California. I sewed up every version of the Donelle because I just love this design. The fit is very comfortable to wear and stylish. I used mostly jersey knit fabric, sourced from various shops. One of the most important tips I can give, make a muslin to get your proper fit. Also, don't skip steps in the instructions and just try to get by with illustrations only, lol. What I loved most about the Donelle, the many different versions you can create, the flattering fit, and it is very beginner friendly. While I love all the versions, the pencil skirt version is my favorite and my friend's too. Thank you Ann Grose
https://sewsynsewn.blogspot.com/2019/
---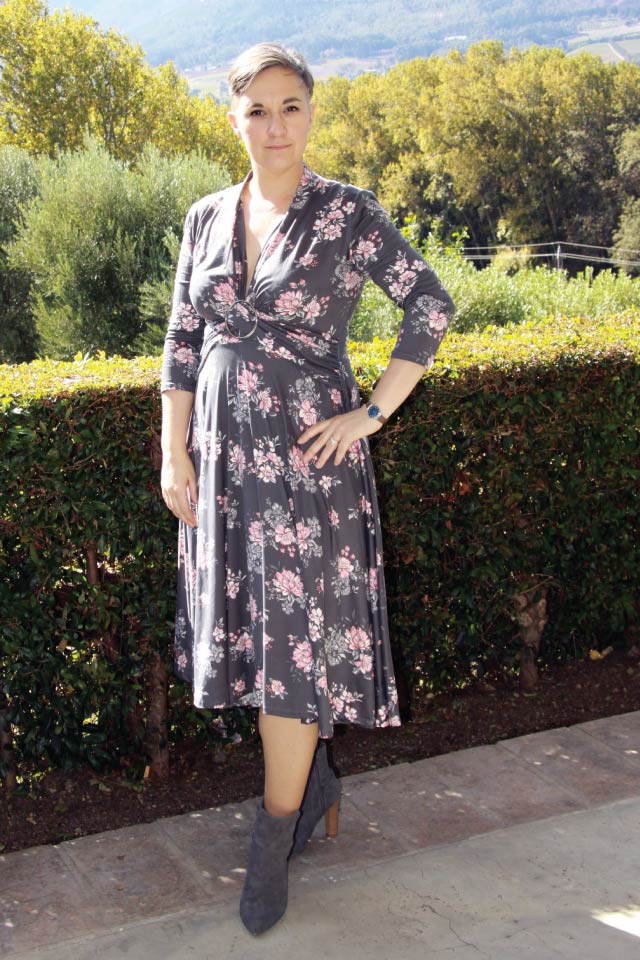 Taryn HS here from Cape Town, South Africa. I'm a dress girl and fell in love with the longer tea length view of Donelle. For my toile I made up the ¾ circle tea length skirt with the bishop sleeve in a deep red Trilobal. I was smitten. I had ordered a beautiful grey floral DTY from my favourite South African Facebook Shop (NewMoon Fabric) a few weeks before and when it arrived, its amazing drape and soft brushed feel was perfect for my Donelle final: a ¾ circle tea length skirt – this time with the ¾ sleeve.
Ann insists on a toile in testing as it gives you the opportunity to ensure you get the best fit for you before cutting into your final fabric. It also gives you the chance to practice some of the potentially tricky spots. As an added advantage my toile's with Designer Stitch patters are always, always wearable! It's essential to read the instructions carefully especially when stitching the collar. Don't rush it, be patient with yourself and by following the instructions, it comes together beautifully.
My favourite part of making Donelle – creating the amazing wrapped front using the glide buckle. What an incredible effect! I have worn both my toile and my final which I had earmarked to be my Mothers' Day High Tea dress. This dress is a head turner. I've had loads of complements, but my favourite has to be the comment from a co-worker who said she was so inspired by my sewing adventures, that she wanted to start sewing herself.
I love the deep v at the front (especially that it doesn't leave you feeling over-exposed at all) so feel comfortable wearing it as is. The slide already acts as an extra accessory. For a more modest look though, I have worn a fitted tank under the dress in a complimentary colour which also looks great. And I just happened to have the perfect pair of grey boots in my wardrobe already.
I have big plans for Donelle ??.
Keep an eye on https://www.instagram.com/tarynhaynessmart/ or https://www.facebook.com/taryn.haynessmart/
---
My name is Vaida and I live in Vilnius, Lithuania. At first I was a bit reluctant to sign for the test, as I thought the dress will not fit my body – but as always, Ann was right – it's flattering and very elegant! For my toile I made a knee-length dress with cap sleeves from cotton jersey from the stash – and it turned out very wearable. My second dress from floral jersey fits like a glove (thanks to Ann for fit advices – that's why I love sewing your designs ??).
You need to read carefully through instructions, but it's really a fast and very satisfying project. I'm already making third Donelle, for my 18 year old daughter – she tried mine and requested exactly the same fabric!
It's getting warmer here in Europe, so I'll just wear my dresses with some sandals/nude high-heels, but I see them also with a cardi in cooler evenings.
https://www.instagram.com/vaidab/
---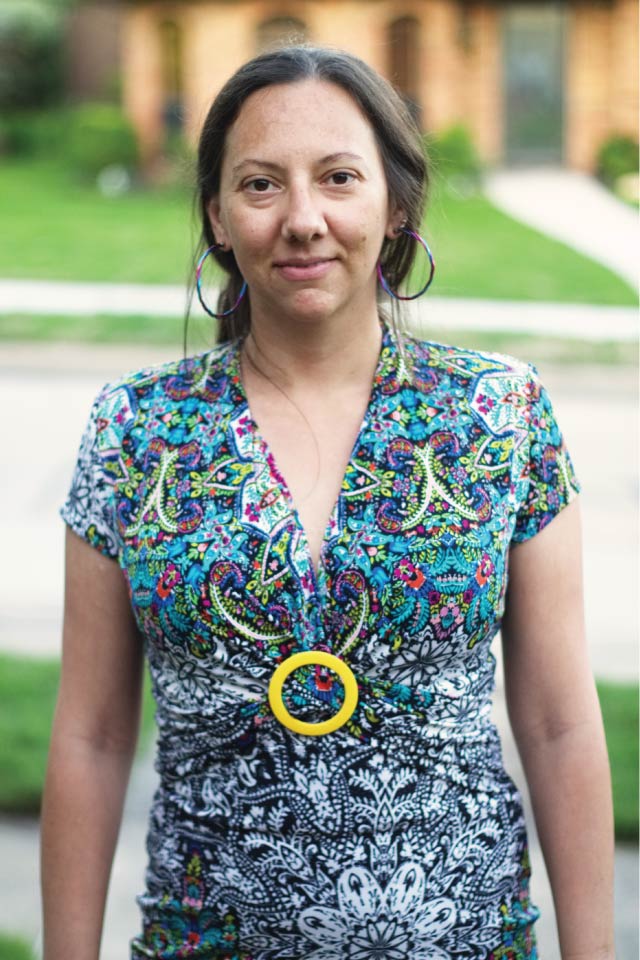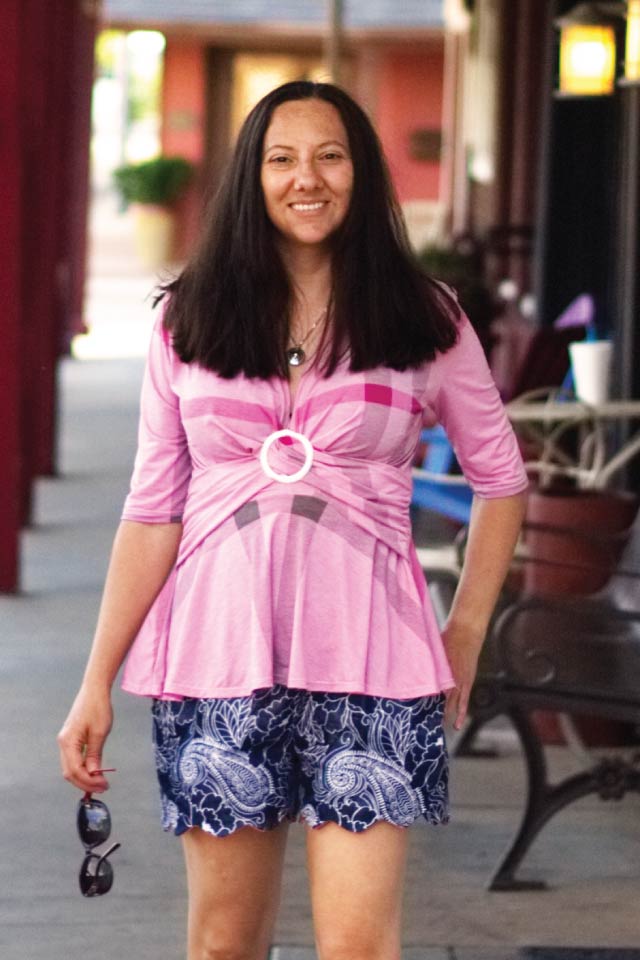 My name is Valentina and I live in Carrollton, TX.
I chose to make the Donelle in peplum length, and I also made the tube skirt version. I needed more tops so that's why I made the peplum first, but then I saw how gorgeous the dress was and I could t resist making one.
I used ITY for all 3 Donelles I made. I bought the pink and the white one from So Sew English Fabrics, and the geo print I got from a local store.
The most challenging part was seeing the back neck line. Follow the instructions step by step.
I love the use of the slider/buckle on this pattern. It's something I hadn't done before. I am excited about all the possibilities this opens. Not only I can chose fabrics, but also combine with the perfect slider.
I've worn my Donelle a lot of times! My friends loved it.
The neckline is really perfect for showing off gorgeous necklaces.
Follow me on Instagram:
Instagram.com/the_engineer_seamstress