Greetings and hello to all my friends around the world.
Ding Ding !!!….welcome to the Eden Jumpsuit Combo Tester Roundup Part 1.
This is part 1 of my 2 part blog post is the showcase of all my glorious pattern testers who undertook the tester phase of the Eden Jumpsuit combo.
When testing my patterns my group can do whatever they want with the pattern I provide – I actually tell them to test the pattern as if they were a customer and had purchased the pattern for themselves. They are to choose their own sizing, play with colour combinations, sample and fine tune the fit of the garment and also look for errors or typo's. I call this a good "seagull".
So for this roundup I asked them the following questions so they could all share their thoughts with you.
1. Your name and where you live
2. What fabric you made the Eden in and what influenced your choice of fabric.
3. And where do you intend to wear your Eden.
4. Tell us how many friends and work colleagues have commented on your Eden and what they have said
And don't forget the Eden Jumpsuit Combo is on it release sale price of  $8 US and is a multi-sized pattern :
(AU/UK) 6 – 26
(US) 2 – 22
(EU) 34 – 54
Advanced Beginner/Intermediate Sewing Level
Cup sizing – B, C, D, DD (E)
https://designerstitch.com/shop/eden-jumpsuit/
So tadah..without further ado – here are the first 12 of my most GORGEOUS GIRLS !!!!
Cheerio and Kind Regards
Ann at Designer Stitch
---
My name is Meghan and I live in Brazil. I chose a medium-weight embroidered chambray fabric for my Eden jumpsuit. This fabric has been in a lot of stores lately and I had been eyeing it and thought the pants would look great with a border. I decided to get even more playful and include the embroidery on the back bodice! I have already worn my Eden a couple of times – once to a farewell BBQ and also for an event at my kids' school. As usual, people are impressed that I made my clothing. The Eden in particular, they say looks so cute and comfy! It is!
You can find me on social media here:
www.facebook.com/mtchandbags
www.instagram.com/emptyseasewing
---
I'm Donna Leng from across the pond in England.
I made my Eden in a beautiful cotton lawn fabric.
My choice of Roses on aqua was influenced by my homeland …. The English Rose.
My Eden is perfect for British weather, as it is light and cool enough for a hot summers day, yet provides enough cover for our cooler days.
My friends adore the style of Eden, and I've been inundated with requests to make several.
My favourite design feature has to be the cold shoulder sleeves – stunning to look at whilst hiding a multitude of sins. X
---
Hi, I'm Ilse Lemmens and I live in Belgium. I used a red linen for my Eden. It was a piece out of my mother's stash. Because it was too little I had to make a short version and used a crepe for my sleeves. I didn't wore it already, but if the weathers stays good I 'll wear it for sure.
---
My name is Johanna Ali and I live in Fort Lauderdale, FL
2. What fabric you made the Eden in and what influenced your choice of fabric.
I used a 55% Linen/45% Rayon. The suggested fabric was linen and I found this blend that worked out perfectly.
3. And where do you intend to wear your Eden.
I plan on wearing my Eden Mother's Day weekend. I can also where it for a girls night out.
4. Tell us how many friends and work colleagues have commented on your Eden and what they have said
I haven't worn it out yet, but my friend takes my photos and she loved it. She couldn't stop raving about it. It thought it was very flattering to my body type.
Blog www.soveryjo.com
Facebook www.facebook.com/soveryjo
IG www.instagram.com/soveryjo
---
My name is Synthia L Gerritson and I live in central California, U.S.A. I rarely use Linen fabric, but when Ann suggested Linen, I thought I would give it a try for the Eden. I am glad I used linen, very comfortable to wear. I used a light lavender/pink in color. I plan on using my Eden to my God Daughter's wedding in June, will dress my Eden up. My friend, my photographer, indicated the Eden was one classy outfit and he was very impressed with the design, awesome design Ann.
http://sewsynsewn.blogspot.com
https://www.facebook.com/Synthia20000/…
---
My name is Karen and I live in Sydney Australia. For my Eden I chose a cotton fabric and I liked the print because it had a fresh design. My Eden has a summery feel so it will be great to wear as a casual outfit in the warmer months….I'll have to wait a few months as it is cooling down here. Everyone who has seen my Eden have loved it on me! I have a beautiful fabric with cherries on it that I have earmarked for my next one.
FB https://www.facebook.com/wildmarmaladeoriginals/
IG https://www.instagram.com/wildmarmaladeoriginals/
---
Hi there, I'm Kiran and I live in Singapore. I recently went on vacation to India and chanced upon a lovely wholesale store in Delhi. Let's just say, I went a little crazy shopping! This cute border print viscose is from that shop. Aren't vacation buys always the best! 😍 When Ann posted the line drawings, I wasn't sure this pattern would suit me. But after trawling though Pinterest pictures on jumpsuits, I decided this was the look I was after. A cold shoulder, border print with pockets to store my kids what-nots! LOL
If I was to be brutally honest, never in a million years would I have actually purchased a jumpsuit. I just felt it wasn't the type of garment that would suit me. BOY, was I wrong! I had the impression that you'd need to be a leggy, slim lady to pull off that look. Here I am, at a less than statuesque 1.6m, and I think I did okay. I will absolutely be making many more amazing Edens. Wanna see more of my sewing adventures?
You can find me at www.instagram.com/gloopygoo
---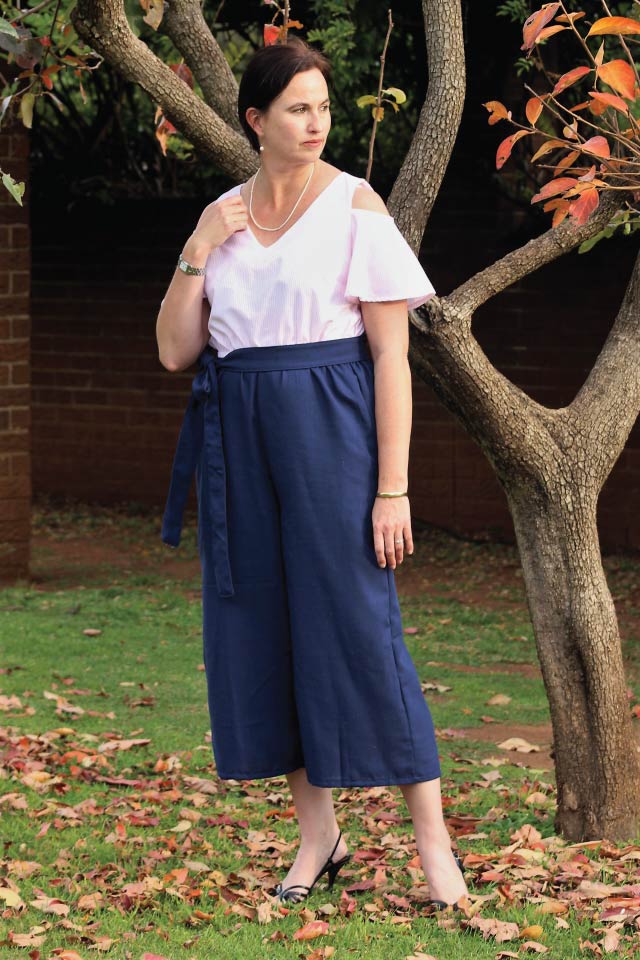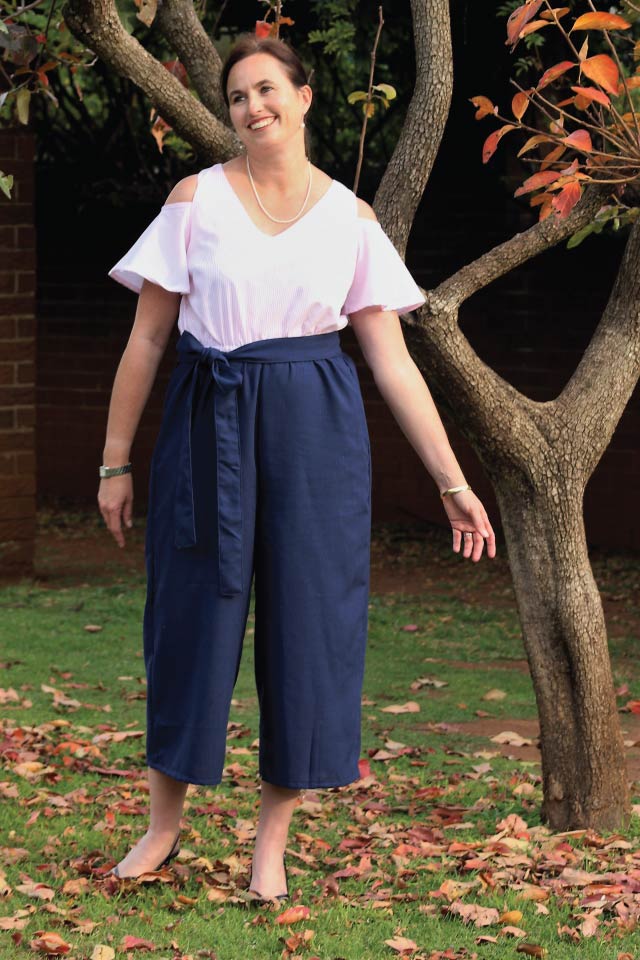 My name is Genevieve Grossmann and I live in Johannesburg, South Africa. I decided to make my Eden out of blue linen for the pants and a light pink and white stripe cotton for the top. I loved vex the idea that my jumpsuit could look like separates. The fabric was given to me recently by a dear friend. Her mom passed away about 10 years ago and she had kept all her fabric and decided she wasn't going to learn to sew. She asked me if I would like it. It ya such a special gift and this pattern was perfect to make a special outfit. As it's quite cold here now, I haven't had a chance to wear it yet but I see myself wearing it to functions at school or to watch spot or dancing. I love that it can be very dressy or rather casual. My IG account: https://www.instagram.com/gegiegrossmann
---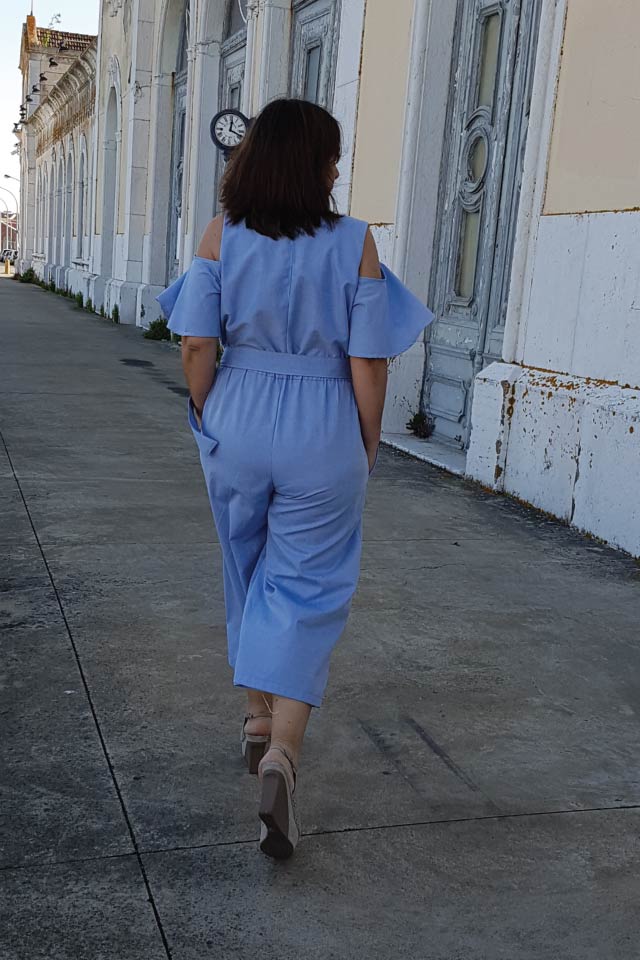 Hi! I'm Dora and I live in Lisbon's South bay, Portugal.
I made my Eden jumpsuit in blue chambray that reminds me of denim. I love this colour and type of fabric. It's flowy enough for this pattern, doesn't wrinkle much and it's easy to sew.
I'm actually wearing my Eden today. It's Sunday and I'm going out with my family. I'd wear it anywhere because depending on the accessories, it can go from sporty to classic or sexy in a couple of minutes.
I'm not the only one liking Eden: when I wore for the first time, several friends stopped me to say how much they liked it. My husband told me it looked amazing on me (and believe me, he's pretty straight forward when he doesn't like something… 😀 ). My daughter actually said: "Mom, you went shopping without me?? I love that!" So now I have one more Eden to make. 😉
If you want to know more about me and my sewing adventures, just follow me on:
www.sew4five.wordpress.com
www.instagram.com/colourbymim
www.facebook.com/colourbymim
---
I'm Ana Inês Barros and I live in Lisbon, Portugal
2. I used a pale pink crepe thinking of some fashion summer nights 😉
3. This is quite a versatile pattern. I can use it at work with my sneakers for a casual look or get my heels on and go for a stylish summer night party
4. I must confess…our spring is a bit shy and haven't had many chances to wear my gorgeous Eden, but when I went for pics some friends saw me and they were amazed by the jumpsuit. And the ones that saw my pictures are jealous <3
Facebook: https://www.facebook.com/PontonoibyInes/
Instagram: https://www.instagram.com/ponto_no_i/?hl=pt.
---
Hi Inge here, born and living in Belgium. I made my Eden in a fabric used for suits but with enough flow, when I was looking at the pattern drawing Ann showed us I was thinking more suit then jump 😉. I'm wearing my Eden true the week at the office or in the weekend for dinner with friends, trow some heels under and you're ready to go! I was wearing my Eden for the first time at the office and my co-workers complimented me one by one. My hubbie who is my biggest critisist love's my Eden so again Ann job well done!
www.madamestof.wordpress.com
---
My name is Lone and I live in Denmark. I made my Eden in a black Linen/rayon mix. I liked the feel of the fabric and it is perfect for summer in Denmark.
I have been wearing Eden with long boots to work, but it will also be perfect for a night out with a pair of heels. Very versatile.
My mother and my daughter have asked me to make them an Eden too. That is a big compliment.
https://sewnbylone.wordpress.com/…/eden-jumpsuit-from…/
https://www.instagram.com/lonelot/
https://www.facebook.com/lone.thomsen.92