" It has become my absolute favorite outfit"
Hey my lovelies – Welcome to our Emma Dress Pattern Tester Roundup Part 1.
Our new Emma Dress is a stunning Fit and Flare Empire Line Dress that is ultra flattering on all figure types.
Featuring a gorgeous neckline, 4 panel flared skirt and statement sleeves your new Emma Dress will be a KNOCKOUT.
And each pattern release I am very honoured to feature and highlight our pattern testers and their amazing makes. They each stamp their own personal signature to the design.
The varied choice of fabrics – print or plain – and how they style their garment gives such wonderful ideas that can easily be adapted to your own personal look.
So, my friends be prepared to be BE-DAZZLED with our amazing pattern testers roundups and lets all give these fabulous women a resounding WOO HOO !!!
They would like to share with you the following:
1. Your name and where you live?
2. What fabric combinations did you choose and where did you purchase.
3. What sewing tips can you share when sewing the Emma?
4. What was your style choice for the Emma?
5. What fit alterations did you have to make to the Emma?
6. Have you worn your Emma yet and what compliments did you receive.
7. Any plans for future combinations of the Emma?
And the finer details; (AU/UK) 6 – 30 (US) 2 – 26 (EU) 34 – 58
On Sale for a limited time only – $9.75
Very Confident Advanced Beginner and Above Sewing level.
Emma Dress
---
Hello I'm Ashley R from London.
To make the beautiful Emma dress I used a White viscose jersey with black polka dots and a plain black for the contrast bands and cuffs from @abcfabric. It had a lovely drape to it which I knew would be great so the skirt.
My sewing tips would be to read the measurments chat to make sure your making the right size but also make a trial run in old fabric but same weight as your good fabric.
I styled my Emma dress with a pair of black boots but it could also be paired with some sandels for the summer. For all Designer Stitch patterns I find I need to shorten the bodice by 1/2″ and as I'm only 5 foot tall, I take around 1.5″ to 2″ off of the skirt to get the perfect length. When I've worn my dress around friends got lot's of lovely comments. I do plain to try the sleeveless style when the weather warms up.
https://linktr.ee/madebyashley
---
Hi! I'm Barbara from Northeast Mississippi, USA.
I used an ITY fabric that I purchased from Amandasbundles.com. This is such an easy sew, the only tip I can give is to enjoy your sewing time, you will look and feel gorgeous in your new Emma Empire dress!
For my Emma, I wanted a knee-length dress with 3/4 length sleeves. The fit alterations that I made were: shortened for height, swayback, and forward shoulder adjustment made to bodice.
I've worn my Emma and received many compliments! I can't wait to make several sleeveless versions for Summer '24! IG:https://www.instagram.com/ninjabreadgirl61/
---
Hello everyone, I am Camelia and I live in Germany. The Emma dress was love at first sight! And when I had it finished, I also knew why! The skirt on this dress is just gorgeous! The way it is cut makes the fabric flow beautifully, and the shape of the waist makes the whole dress just gorgeous. I made three versions of this pattern, two in viscose jersey, probably the best fabric choice, and one in stretch velvet. For the velvet version, I added some vertical length to the bodice and skirt pieces, at the waist, as the velvet has lesser vertical stretch than the considered viscose jersey. I used the 3/4 sleeve in all my versions just because it is so beautiful!
My tip will be, to take care when biding the neckline: be accurate with the width of your seam allowance, as that will dictate the finish width of the bounded edge. I have a little tutorial here https://youtu.be/HO0dbbdwkzk?si=_PgCQC2q9YwBkskt&t=529, from the Madison dress, but applicable for the Emma too!
You can find a full video review on my channel
https://www.youtube.com/@CalcedoniaSewing
And more of my makes on Instagram
https://www.instagram.com/calcedoniasewing/
---
Hi All, I'm Brenda from The Netherlands and I've made a sleeveless version of the Emma dress. This way it was easy to dress up of down for me with a cardigan with the upcoming cooler weather.
My Emma is made with a cotton tricot, and while the recommended fabric is viscose tricot I think my fabric works because it is a light version of the cotton tricot, and thus, not to stiff. My bestie loved my dress and I'm positive I'm going to have to make her one next summer.
I got the fabric I used for this Emma at a Dutch webshop when it was closing down. So I don't have a link for you this time.
My instagram is: https://www.instagram.com/fabricfairybrenda/
Love Brenda
---
My name is Jackie from the Netherlands. Made this dress from a polyester tricot and the fit is just marvelous. Such a flattering fit. Did my usual alterations, lengthened the sleeves and the length a bit and shortened my shoulder seams. In love with this dress.
---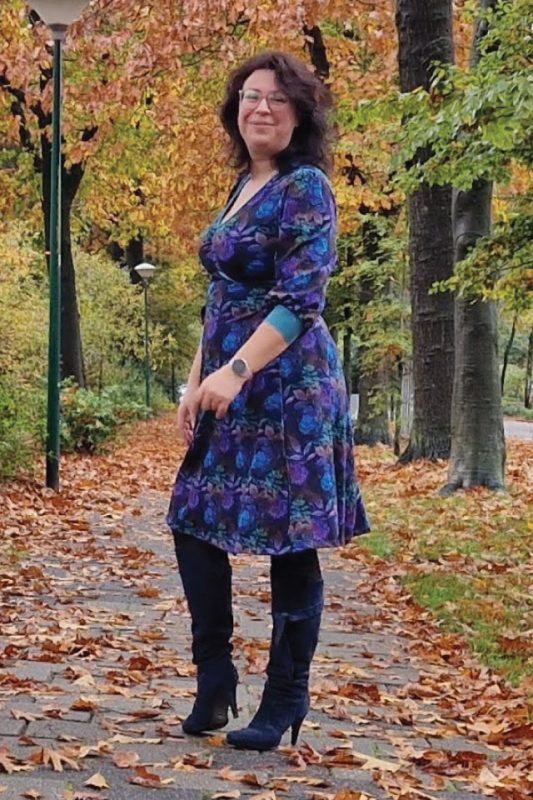 Hi I'm José VW from the Nederlands (Soesterberg) and I've made this beautiful jewel/teal colored Emma dress. I used a drapey jersey (cottonbased, but which is not recommended, so i gave Ann some headaches)
I think it turned out great. I paired it with a piece of jersey that I dyed along with my dip dye dress, and it matched perfectly! Lucky win!
I cut a three quarter sleeve and shortest dress length out of 2.30 m and I have some leftover. It is important to precheck your patternpieces to make them fit.
Sewing is very easy and quite quickly too.
I wore it with my winter blue long boots and I love the look. I'll probably layer it with a (jeans) jacket for the cold winter too.
When doing the pics my neighbor told me and my friend that she thought we looked gorgeous, so I take it, the dress is well received
Check out more of my makes at my IG, https://www.instagram.com/jose.vernooy
---
Hi everyone, I am Marieke and I am from the Netherlands.
When you want to make yourself a dress that is different then other dresses, quick to make and make you look just wow…Well then no need to search any further because here is the Emma dress!
I am not specially fond of striped fabric, but for some reason I own tons of them- well maybe I am just unaware of my love for stripes lol.
Anyways, I had this fun flowy fabric from Textielstad and it was exactly enough to make myself a new dress. I used the white selvedge from the fabric for the bindings to let them pop out as much as possible.
The style is an empire look and although I usually feel/ look pregnant in an empire style, this one absolutely not! It's just a beautiful, flowy, feminine feeling to wear this dress!
Ow and did I mention the skirt already? Because of the way it's being cut it's really special. You have to try out yourself to know what I mean
I would say: no more waiting and start sewing!
You can always have a look on my Instagram if you like for more makes: https://www.instagram.com/jongdesign
---
Hi everyone, Meredith here from Sydney, Australia.
I made 3 Emma Dresses – 2 of the dresses were in a VERY stretchy poly jersey and the 3rd was in a viscose jersey, also very stretchy but not quite as 'heavy' as the first 2 dresses.
My first Emma was a sleeveless long length, my second was a 3/4 sleeve long length and my third was a sleeveless short length.
My sewing tips for the Emma would be to use LOTS of pins on the binding … and to mark Centre Front and Centre Back on the skirt pieces.
I absolutely love all my Emma's – in fact it would be one of my favourite dress styles I have made … but my absolute favourite is the plain black one which I wore to a choir concert which I was performing in. I have never had SO many compliments on my dress, which made me pretty happy
I would love to make another Emma in a summery, tropical type fabric … .just looking for the right fabric to present itself to me.
Thanks, Ann, for another wonderful pattern. ❤
You can see my makes on my Instagram – https://www.instagram.com/sew_mere_makes/
And read my blog on Minerva Site
https://www.minerva.com/people/1150385
---
He everyone,
I'm Shardee from the Netherlands.
Welcome to another pattern you need to have in your collection
For the Emma, you need to use a viscose jersey, but I bought mine at the megastoffen.nl
The longest length is perfect for fall, wear it with long boots and you're ready to go.
Viscose jersey is a bit trickier to sew. It wants to move al little bit more. But with al lot of pins, you can do the trick
If you like to see more of my work, follow my Instagram on www.instagram.com/Sewing_shar
---
Hi my name is Sarah and I live in the UK. I used an ITY for my dress with black jersey cuffs and accents. I love my dress and wore it on holiday where somebody stopped me to ask where I'd bought it. I'm looking forwards to styling it for the autumn weather and will make another one in bright cheerful colour to wear on the miserable winter days.
I made a B cup, size 4 upper bust graded to a 6 waist and it's such a flattering fit. I used the knee length option and the long cuffed sleeves.
My top tip would be to secure your gathering at the bust well as this is such a lovely flattering feature.
https://www.instagram.com/bobbin_tails/
---
Hi! My name is Sue Parrott and I live in South Dakota. Autumn is in full swing and I wanted a dress with fall vibes. I chose this DBP from a local chain store. DBP is a great choice for this dress since you want a beautiful drape for the skirt and sleeves. Sew the trim portion slowly as you want to make sure it sits flat and symmetrical. Other than that tip, it's such a fast and stylish make!
Since the weather is turning cooler, I styled my dress with tights and boots. No matter how you style this dress, you'll feel great and look great!
My only alteration to the pattern was to make a swayback adjustment at the center back tapering to nothing at the side seams. This adjustment is typical for me, no matter what pattern designer I choose.
I made this dress to wear to an educational conference and I wore it when my presented. I received so many compliments from people I know and didn't know.
I really want to make a sleeveless summer version. This dress is so fun I can see making it again and again! You can find me on Instagram at https://instagram.com/sue_glasparrott…
---
Hi, I'm Sandra from the Netherlands! I love my new Emma dress! I used a viscose tricot for this dress. The pattern comes with a wel explained tutorial and it's very easy to make. Well, if you print out everything or use a projector . (I forgot to print out 2 pages and didn't see this ). Luckily I had enough fabric left to make a new one .
I had no specific style in mind. Just a nice elegant dress. Alteration I did was lengthen 1,5 cm. Already received a lot of compliments when wearing the nice dress ❤️
https://www.instagram.com/sandra_wilbrink_sewing