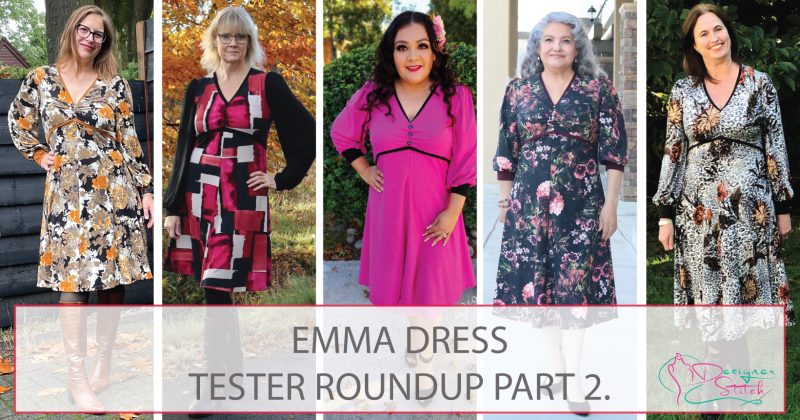 Hi there my lovely sew'ist friends. Welcome back to Part 2 of the Emma Dress Pattern Tester Roundups. 
And what a reception the Emma received. Such positive comments from everyone who have purchased the pattern, and many are so looking forward to what is quite a quick sew!!!
Made in jersey the Emma is the ultimate dress to sew. And the ultimate dress to wear.
On-trend and so stylish the Emma can easily transition from day wear right through to a night out.
The Emma Dress offers a choice of styling options:
1. Full Length Gathered Bishop Sleeve
2. ¾'s Length Gathered Bishop Sleeve
3. Sleeveless Sleeve
4. Skirt/Body lengths – 60cms (23 1/2″) or 75 cms (29 1/2″)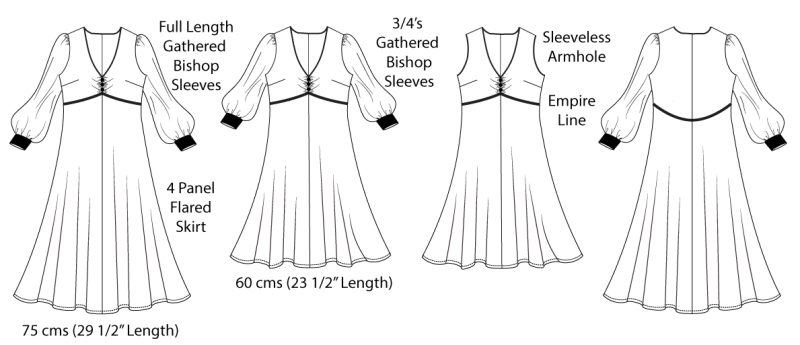 Very Confident Advanced Beginner/Intermediate Sewing Level.
And the finer details; (AU/UK) 6 – 30 (US) 2 – 26 (EU) 34 – 58

On Sale for a limited time only – $9.95
Very Confident Advanced Beginner and Above Sewing level.
Emma Dress
---
I am very happy with how my Emma turned out. My name is Synthia and I l live in Central Ca. I used a light stretch jersey fabric, from Styled Magnolia. I have been stashing away this fabric (because it was expensive, lol) for a special dress, and Emma was it. I did my usual DS adjustments, shaved about 1/4 from center bodice and back neckline, graded from 5c to 4 from hips down. I love how the Emma dress will fit many body types and yet look slimming overall. The only tip I can give, follow the instructions to the tee and grade wherever needed to get that perfect fit for you. I do plan on making an all black Emma. Love the binding detail too. Great design Ann Grose https://sewsynsewn.blogspot.com
---
Greetings from Milwaukee, W – Allison F.
When I first saw Emma I just knew I had to make one for my teen daughter. It is the perfect design for her figure. Well, I did not! Due to an injury she was not available to participate, so I made three Emma dresses for me.
As always, the first was a fit piece. It fit perfectly and has made it into my regular wear rotation.
The next one I made is perfect for our autumn season. Off white double brushed polyester with a fantastic floral design in autumn tones. I had purchased that fabric for a different dress that never got made from Surge Fabric Shop . Found the perfect coordinating mustard/gold fabric in my stash for the accent band, neckband and cuffs.
For the fit I made the long sleeves with the longer skirt length. Decided I would prefer the three quarters length sleeves better, so used that sleeve length for both the second and third dress.
I decided on the longest length as we are headed into our coldest season. I thought that long length would be fantastic with boots. Now, I just need to go boot shopping.
The third dress is monochorionic black and white. The fabric was purchased from Hobby Lobby. This fabric was significantly thinner, so I decided the skirt needed lining. I lined the skirt to the length of the shorter skirt option. For the accent on this dress I used a solid black.
Emma is really comfortable and suitable for a variety wears from casual, to professional, even a dressier event. The swish of the skirt is absolutely fantastic. I love the shaping on the skirt which makes it a skimming fit through the torso with the flare at the hemline.
I have worn my dresses several times. The autumn print is a resounding favorite. People have given many compliments on that dress. If I were offering a rating on this pattern, I would give it a 15/10!
---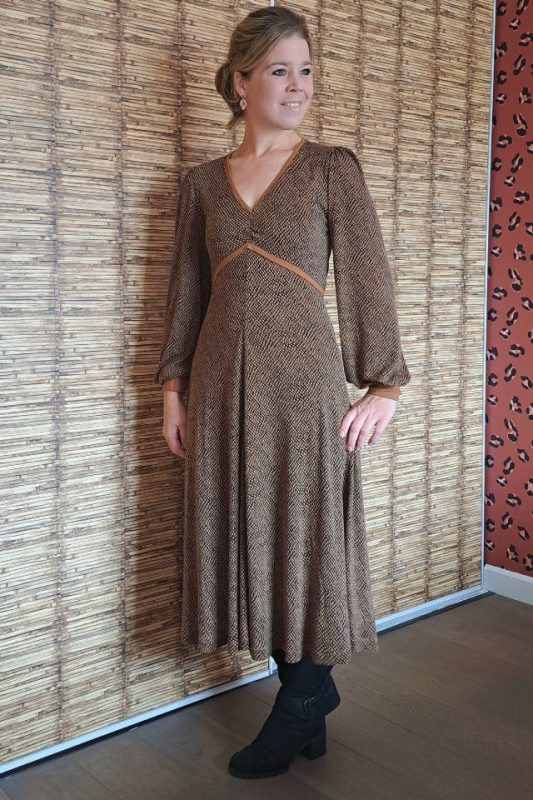 Hi Iam Annet L and i come from the Netherlands. I love the new Emma dress. Its so flowy and comfortable. I made the dress with a stretchy viscose jersey and the contrasts are cotton jersey. I bought it by megastoffen.nl a webshop and shop in the Netherlands. Do you want to see more of my work. www.instagram.com/josewbo_creaties_ See you there?
---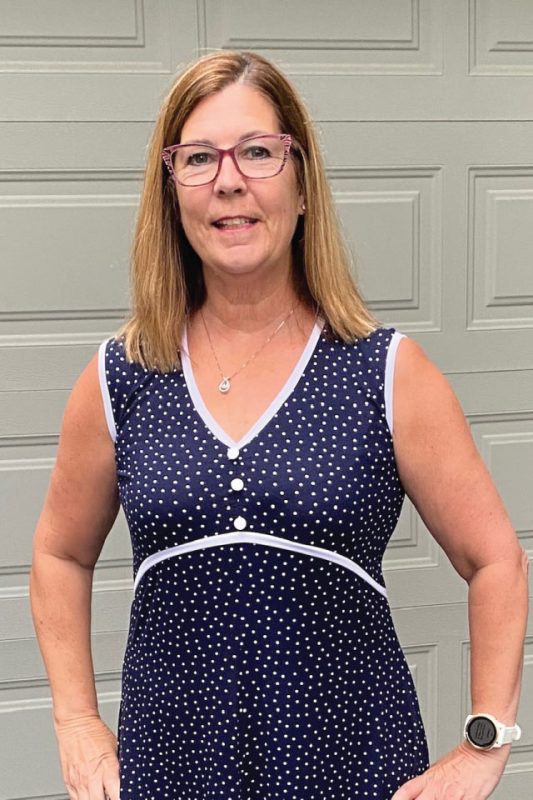 Hi I'm Bonnie from Cincinnati, OH. As a consultant who travels almost every week, I'm always on the lookout for cute knit dress designs that look professional enough for the business setting but also comfortable to wear for those long travel days. Emma is the dress! I recently wore my dress to speak at a conference and had several people ask me where I bought it. (The ultimate compliment from non-sewers!) This sleeveless version is made from double brushed poly (DBP) in a size 3 (bust and shoulder) graded to 4 (waist and hips). I can't wait to make more and have the perfect floral ready to go for a long sleeve version. This is such a quick sew that I can whip one up in the evening to wear for the next day's business trip! The binding technique is genius; use lots of pins to get it evenly distributed and be exact with your seam allowance.
https://www.instagram.com/bonnieossege
---
Hello all Genevieve here and I live in England and so it is Autumn here. Inspired by the beauty of falling leaves and the colour palette of Autumn, I decided on my fabric. I bought this wonderful Viscose Knit from Minerva.com.
I definitely wanted to make long sleeves, as I wanted to wear my Emma immediately and I love the midi length.
This is such a satisfying sew, each part just comes together easily. I am a pear shape to I always grade my patters to a bigger size for my waist and hips and so I graded from a size 3 to size 5.
I know that I will be making more Emma's in the future, but for right now, I've already worn mine more than once. It is comfortable and I feel so good in it.
If you'd like to follow me on Instagram: http://www.instagram.com/gegiegrossmann
---
Hello everyone I'm Tina and I'm from Southern California. I just love my Emma dress and I'm are you will too! It's such an easy pattern to start with if you're a beginner. I used this pretty Fuschia Swiss Dot knit from Mily Mae Fabrics. I did my usual DS sway back adjustments and accommodating the length for my height. It's such a flattering dress on everyone and I've received many compliments while wearing my Emma Dress.
---
I am Girl in Uniform Lieve from Ghent, Belgium. I made my colorful Emma from super soft viscose jersey from Minerva, combined with dark blue, slightly heavier jersey from my stash. I literally followed the pattern and manual and didn't have to change anything. What a lovely dress this is! Too bad it's quite cold in Belgium right now. So I haven't been able to wear my Emma yet, but my husband thinks it's the perfect model for me.
So I am sure that many more Emma's will be sewn in the spring. A short sleeveless one is perfect for summer. Would you like to know more about my sewing? Come visit www.instagram.com/girlsinuniformblog or www.girlsinuniformblog.com.
---
My name is Bonny and i live in the Netherlands! I used a viscose fabric with faces on it, I can't remember where i bought it, sorry!
My sewing tip is go with it, as it's very easy quick sew! And don't make the binding on the neck too wide.
My style choice was vintage vibe, and I love me some color. So pop!
I made the middle length but added a little to that, I made the shoulders more narrow, shortened the sleeve and graded to a size bigger under bust.
Yes, I've worn people l loved both my makes! Esp the green one.
Yes, gonna make Emma again! In yellow for sure!
My insta: https://www.instagram.com/bonnybonansa
---
Warm greetings to you all from Cape Town. My name is Taryn. I had a few good reasons for getting on board the Emma test – apart from being a 'sucker' for a pretty, easy-to-wear dress, I was also desperate to sew up some of my DTY fabric stash as a birthday gift for myself (my butterfly dress) as well as to celebrate the season change (yay for Summer!). While I love a reason to go shopping, there does seem to be something quite satisfying about sewing from my stash of fabrics and I had almost as much fun matching options for the contrast bind and cuffs as I did sewing up my Emma dresses. As we are heading into the Summer season here in South Africa, I opted for the ¾ sleeve and sleeveless styles and stuck to the longest skirt lengths for both (my preferred skirt length for these kinds of dresses). My top tip would be to 'over' gather the front bodice especially if your gathering stitches tend to ease out with handling (or at least ensure it is well secured so that you don't lose the gather on handling). I found that it tended to ease out a bit in the handling and so I needed to readjust the gather before attaching the bodice to the bind and skirt. For my first (my fit garment) I graded up a size over the waist and hips – the curve in the waist from front to back makes this a little trickier but not impossible. Just be sure to match your adjusted curve on the relevant bodice and skirt pieces using the waist and hipline markers as a guide. Given the fabric stretch and ease in the design, I opted not to grade for my final dress. I have worn both of my Emma dresses and I am certain they will both remain on high rotation in my Summer wardrobe. The Empire waistline on the front bodice I think is very flattering and gets most of the compliments. The contrast trim also helps that feature stand out. I have already earmarked another paisley print DTY in my stash and want to make the long-sleeve version (preparing early for next year's cooler seasons) and am toying with experimenting with a lace and maxi version too. Watch these spaces for more: http://www.instagram.com/creatazzly and http://www.facebook.com/creatazzly
---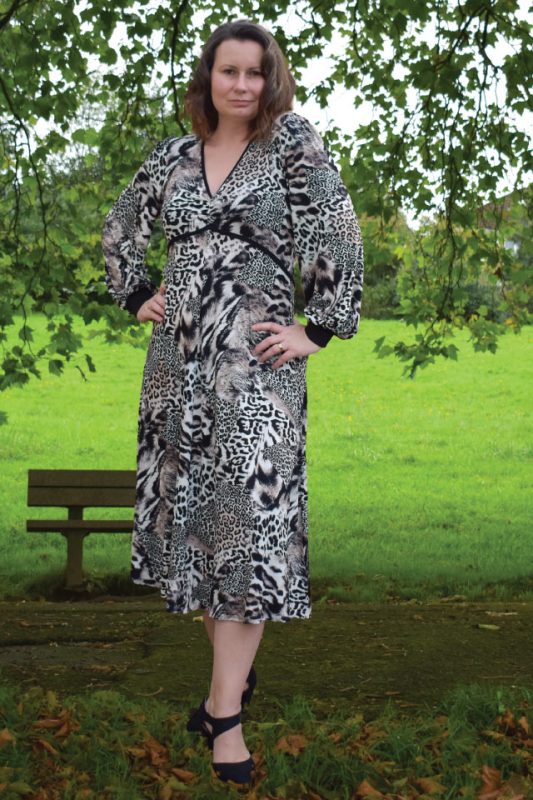 Hi all! I'm Joanna and I live in beautiful Wales in UK. I really think new Emma pattern is the most flattering dress I have ever worn. The empire waist slims your tummy area so nicely. I chose to make long bishop sleeves and midi skirt lenght as it's close to a winter time here in the UK.
The only adjustments I had to do were grading between sizes, 4 1/2 at the upper bust going to 6 at waist. My friend already asked me to find a time to make one for her.
The only problem I had was the fabric as I didn't use viscose jersey a lot before and working with it was a bit difficult for me. But totally worth it. I used fabric from https://northernmonkeymakes.com/.
You can find more of my makes on my Instagram https://www.instagram.com/de_busew
---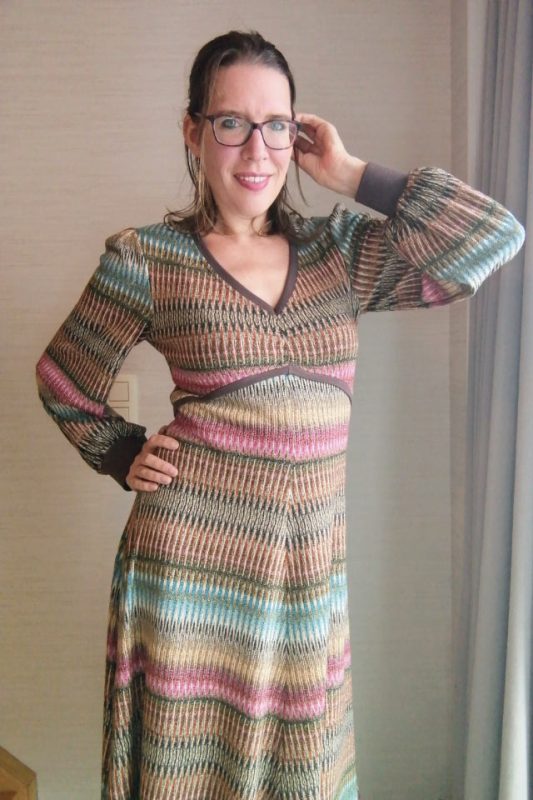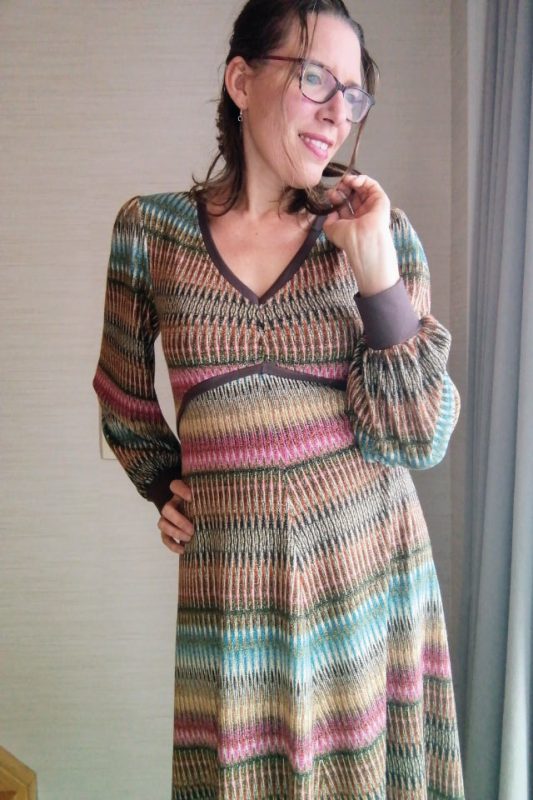 My name is Karen Van Damme, living in Belgium. For my Emma dress, I chose a beautiful zigzag-patterned jersey fabric, elegantly finished with brown ribbing.
When sewing the Emma dress, one essential tip I discovered was to consider the stretch of the ribbing. As mine had considerable stretch, I had to adjust the waistband to ensure the perfect fit.
My style choice for the Emma was to create a cozy, warm autumn version. Pairing it with a snug cardigan and sturdy boots resulted in the ideal fall outfit.
I've worn my Emma dress multiple times and received numerous compliments. It has become my absolute favorite outfit. Looking forward, I am contemplating creating a romantic version for the upcoming spring.
For more insights into my sewing projects and to connect with me, you can visit my instagram: www.instagram.com/_sewkaren_
---


hi everybody, it's Marit from the Netherlands.
The only person who loves my Emma dress more then me, is my husband he was blown away by it, lol.
I used a super flowy jersey and I looove it. I also made a test version with a cotton jersey (not on photo) it works for fit, and it is nice, but it does not have the wow factor my final dress has.
It's a super nice and easy sew. I made a size 4 to 5 waist and hip, no alterations.
If you're cutting fabric, be sure to puzzle the pieces so you don't come up short in fabric
I will make more Emma's for sure!
Thanks Ann, for another lovely pattern
---
Hi, I'm Beck from Melbourne Australia. I really enjoyed sewing my Emma dress as it's a quick, flattering and rewarding pattern. Both the fabrics I chose are from Lush Fabrics Australia. My sleeveless tie-dye dress is a poly jersey (DTY) and my short sleeve dress is rayon spandex.
---