FABRIC SOURCES FOR MAKING YOUR GRETA
Greetings my sew'ist friends. I hope you are well and happy today.
This is a very short – and sweet – blog post with link details of fabric sources for making your own Greta Dress.
The Greta Dress can be made in a variety of knit fabrics that have the correct stretch ratio. 
Choose from Lurex, Metallic Jersey, Stretch Velvets, Embossed Stretch Velvets – anything that has a knit base.
Recommendations are as follows : approx weight of 200gsm – are BEST with at least 50 % stretch across and 20% stretch going down the fabric.
– Jersey Weight – Fibre content approx to = Polyester 80%, Lurex 15% Spandex 5% (approx).
I hope that this helps you find your perfect fabric for your Greta Dress.
And if you have a link for the perfect fabric THAT you found for your own Greta Dress – and would like to share it – please let me know.

Cheerio my friends.
Ann xx
---
Kayla from Surge Fabrics.
Great choices in stretch velvet.
---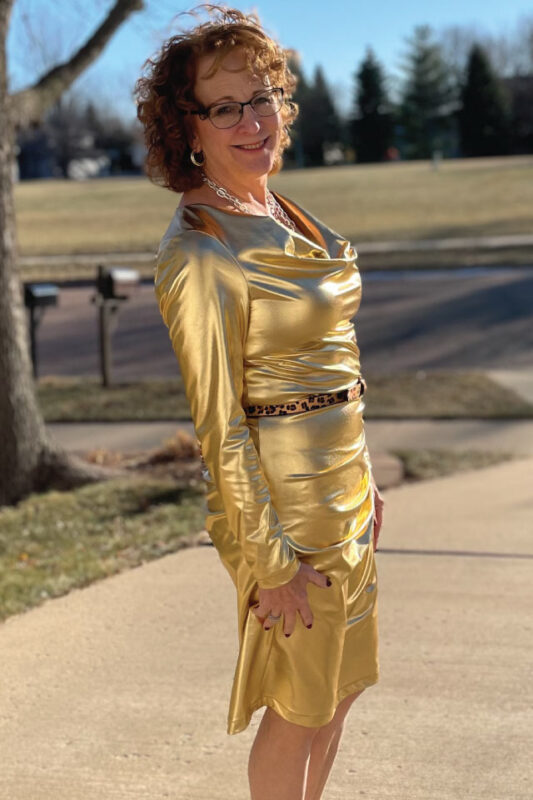 Sue Glas-Parrott
My gold fabric was purchased on Amazon.
---
Synthia Lee Gerritson
Retail Store – Joann's in Turlock, CA.
---
France Langlois
The shop I was looking at on Etsy did not deliver to Canada.
So I went on AliExpress therefore I could not test because of the delays in shipping.
But I got my fabric now…LINK


---
Shardee Van Driel de Visser
Click for Link Here
---
Shardee Van Driel de Visser
Click for Link Here
---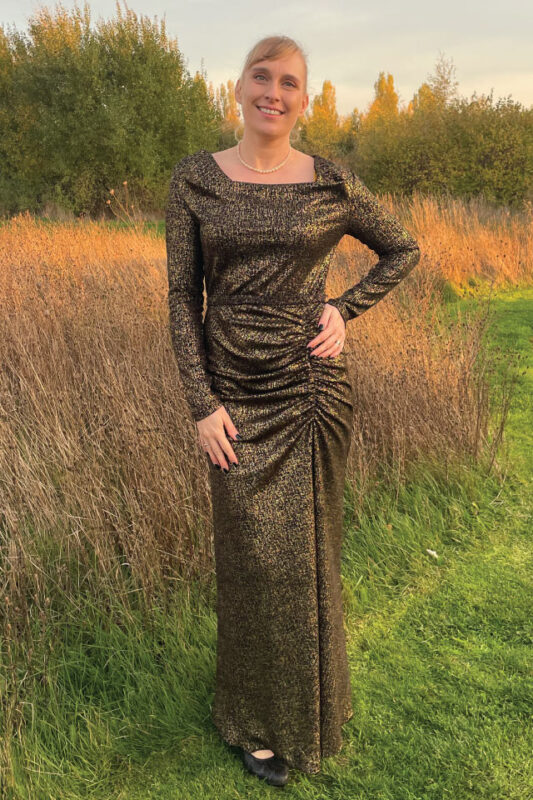 Mieke Moyaert
Click For Link Here
---
Lianne Lee
Click For Link Here
---
Camilla Pergelius
I had it in stock in my own fabric shop, www.sosewme.se, but I used up the last on the roll so it's not available to purchase 😅
---
Marieke de Jonge
Click For Link Here
The black dress is from @shanifabrics (you can buy per instagram)
---
Meredith Damon
Gold metallic foil knit from Lush Fabrics Australia
Click For Link Here
Shimmer knit – celestial navy from Remnant Warehouse Sydney
Click For Link Here
---
Ashley Riley
My sliver dress was this fabric from Jo-Ro Rags Group
Click For Link Here
and my blue but they are out of stock right now.
---
Allison Falkey
Click For Link Here
Finally I noticed on Cyber Monday that Boho Fabrics has Lurex that meets the stretch requirements
Click For Link Here
---
Sandra Wilbrink-Jeursen – I made 4 dresses.
One with lurex gold:
One lurex black:
Click For Link Here

One black velvet:
Click For Link Here
The pailletten fabric I bought at a wholesale a year ago. I had 12m