Greetings to you my friends and welcome to Part 2 of the Heidi Skirt Rocktar Pattern Tester Roundups
I am sure you were total wow'ed by yesterdays installment of our roadies and I guarantee it will certainly continue today.
Our pattern testers all created such wonderful – and very individual – Heidi Pleated Skirts.
You can get a fabulous idea of what plain or prints to use for your own Heidi depending on what your own personal style may be.
And utilising the mock front band you could also showcase any unusual or quirky buttons you may have by making them an added feature of the skirt.
The style of the Heidi offers two types of waist finishes. Use the self fabric pattern to create the soft front tie – or make some regular belt loops to then wear a purchased belt back with your Heidi Skirt.
The Heidi Skirt offer 4 lengths so is a total ON -TREND transeasonal garment and you will find a length that suits your own personal style.
The sophistication of the Heidi skirt will be the styling saviour your wardrobe LOVES.
So off we go my friends – please shoutout for our Rockstar Pattern Roadies in Part 2 of the Heidi Skirt Rockstar Pattern Tester Roundups.
And don't forget Part 1 if you haven't already visited with our roadies from yesterday – Part 1 of our Heidi Skirt Rockstar Pattern Tester Roundups.
They would like to share with you the following. 
1. Your name and where you live?
2. Your choice of option for the Heidi Skirt and why?
3. What fabric did you choose and where did you purchase?
4. What alterations did you have to make to your Heidi Skirt toile?
5. What sewing tips can you share when sewing the Heidi Skirt?
6. What was your favourite thing about making the Heidi Skirt ?
7. Did you make more than one combo of the Heidi Skirt ?
8. Have you worn your Heidi Skirt yet and what compliments did you receive?
And the finer details; (AU/UK) 6 – 30 (US) 2 – 26 (EU) 34 – 58
On Sale for a limited time only – $8.75(US)
Very Confident Advanced Beginner and Above Sewing level
Heidi Skirt
---
Hi! I'm Barbara from Northeastern Mississippi, USA.
My Heidi is made with Ankara wax fabric that was purchased from ankaramalkia.com. This particular piece is from the Ankara Malika (Sales) group on FB. I chose to make the box pleats, longest length with hidden pockets and self belt. The only alterations made for my Heidi was grading sizes. I have yet to wear my Heidi, I'm saving it for the upcoming Holiday season!
Follow me on IG: https://www.instagram.com/ninjabreadgirl61/
---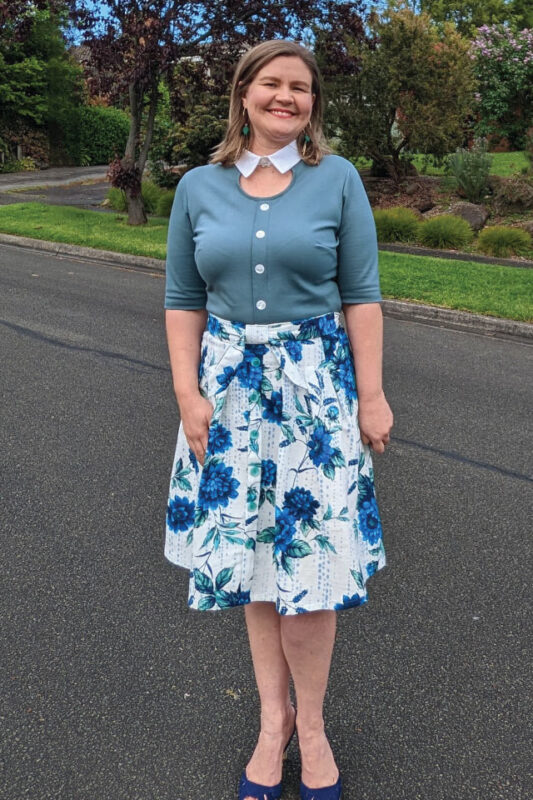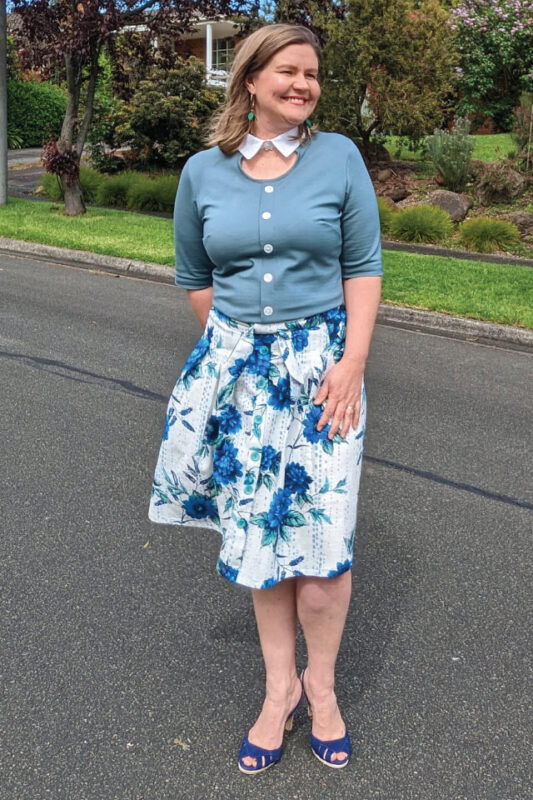 Hi, I'm Beck from Melbourne. I made my Heidi skirt from a hoarded piece of precious Outback Wife barkcloth and I absolutely love it! I made the pleated midi version with the waist bow. I based my size off my waist measurement and didn't need to do any fit alterations. I love this elegant style and the midi skirt is an absolute wardrobe essential this season. I'm planning to make more of the pleated skirts and also try out the gathered version. I've paired my Heidi skirt with a Phoebe top and I think this combination is so elegant! www.instagram.com/becksews
---
Hello, my name is Elise and I live in Queensland Australia. I have made the knee length version of Heidi with front tie. But this is only the beginning for me. I already have others cut out with patch pockets and belt loops. I intend to make one in every style. I love the pleats. I often find that gathered skirts add too much bulk to my hips, so the pleats are perfect, they show my curves without accentuating them. I have used a linen cotton blend from Nerida Hansen Fabrics and I think I will stick with cotton blends for this skirt pattern as I feel it needs a bit of structure. I am pairing mine with the Kat Top, also a favourite of mine from DS. I think they pair really well together, loud pattern skirt with simple solid colour shirt. When sewing, make sure you sew the pleats exactly on the markings otherwise the waistband will be too short…..speaking from experience.
---
Hi, I'm José VW and I'd love to share this supercute faux button pleated skirt with you. The Heidi skirt is super simple and very easy to wear. I brought mine on my vacation trip last month and they went with me everywhere, lounging on the balcony, out to dinner, over my bathing suit, or for a stroll along the boulevard. Perfect for those airy wovens! Add some nice buttons and you're all set.
Both my fabrics and buttons are from my stash, so easy stashbusters, go😁
Want to see more. Check out my Instagram account https://www.instagram.com/jose.vernooy
---
Hellooooo I am Kiran from Singapore and I tested the lovely Heidi skirt with Designer Stitch.
As you see, I sewed the longest view in the pattern and I used lightweight cotton sateen by a lovely Australian fabric designer, Bec Williams.
My skirt is a wardrobe staple as it fits right into my teacher-mode attire for school. It sewed up in no time and required no blending for my size.
In this picture, I have styled it with the tie sleeve blouse by Designer Stitch for Vintage Made Magazine. Its a lovely blouse thats unique to most other blouses out there.
I think I would certainly sew a full length Heidi. Am currently thinking of potential hacks but dont have any good ideas. How would you hack your Heidi? Let me know over on my IG page at www.instagram.com/sew_kiran_sew
---
Hi I'm Lisa and I live in sunny North Queensland Australia.
I made my Heidi from a satin viscose I picked up at an op shop last year. I just love how light and flowy it is! I made a size 5 at the mid length.
My tips for sewing Heidi are just to be careful that your pleats are all facing the right direction when you sew. I accidentally made one box pleat on the front of my muslin when the last pleat got sewn down the wrong way 😂. Otherwise it's a really easy sew.
As with all my DS makes, I've worn this skirt to work regularly and always get compliments.
---
I'm Mary and I reside in Oklahoma, USA. I made my Heidi skirt in the longest length out a lovely, brown poly pinstripe satin that I found stashed away. I added the belt loops and pockets but substituted the back waistband button closure for a hook and bar. Since I'm smack dab in between 2 different sizes I drew a new line half way in-between the 2 and the fit turned out perfect! I haven't had a chance to wear my new skirt out and about yet but I'm excited to pair it with all my cozy vintage sweaters this fall and winter.
IG: https://www.instagram.com/marynishimutaatelier
---
Hi, my name is Meredith and I live in Sydney, Australia.
I used a fabric from my stash for my Heidi. I'm not too sure of the type of fabric but it is a heavy (ish) fabric which has a lovely drape, so I thought it perfect for my skirt.
I would suggest that marking the pleats carefully when cutting and sewing the Heidi is very beneficial. Apart from that I think the skirt is a very easy and quick make.
I made a straight size 4 and opted for the longer length.
I actually wore my Heidi out today for coffee with a girlfriend (who happens to own a fashion retail store). She said that the style of the skirt is very similar to skirts she is selling in her shop … so I'm feeling quite 'on trend'😍.
I have a lovely light cotton linen in very bright and fun colours which I think would make a lovely skirt for summer, so am thinking that this will be my next Heidi.
To see pics of my Heidi Skirt and other makes, please visit me on Instagram at https://www.instagram.com/sew_mere_makes/
Thanks so much.
Meredith
---
Hey, I'm Mieke from Belgium
I used a denim with leopard print from Fibremood.
Take your time to make the pleats.
My style was colorful with a turtleneck in it and black mid-length boots.
I didn't make alterations to the fit. I changed the belt, by dividing it in 3 pieces and put the belt loops in the seams.
My husband likes it a lot and that's the most beautiful compliment. I feel very feminine in it.
I will wear it with a black turtleneck or a nice blouse in the skirt.
IG: https://www.instagram.com/sewista_mc
---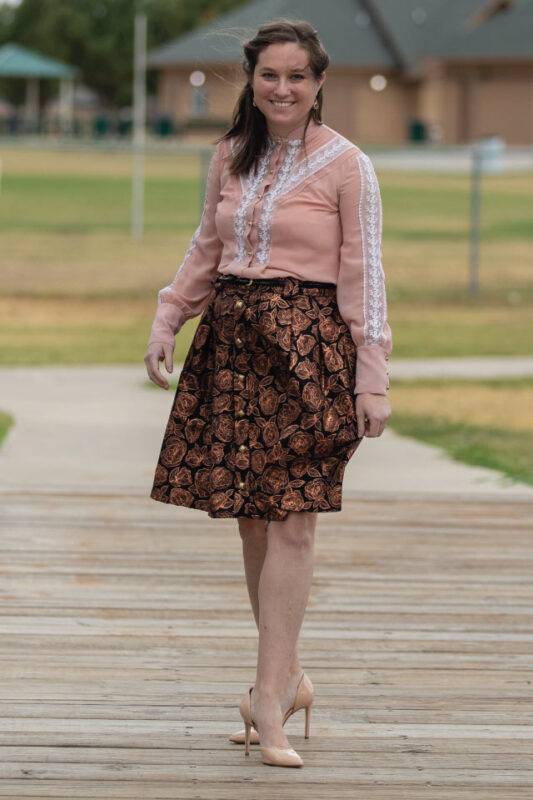 hi, I'm Stephanie and live in Oklahoma, USA. I made the knee length Heidi with inseam pockets and belt loops. I made it with a gorgeous embossed print cotton from Fabric, Laces, Trims. Heidi is a great staple skirt pattern that was an easy sew. No alterations were needed. I sized my waist and cut as drafted. Make sure you transfer the markings and you'll have no issues. Heidi has become one of my favorite work skirts and has been on heavy rotation, usually paired with one of my boring work issued polos. Even this pairing receives lots of compliments and I have a second light blue twill on my cutting table now.
See my Heidi skirt and other makes on Instagram Instagram.com/scrapsandscissortails
---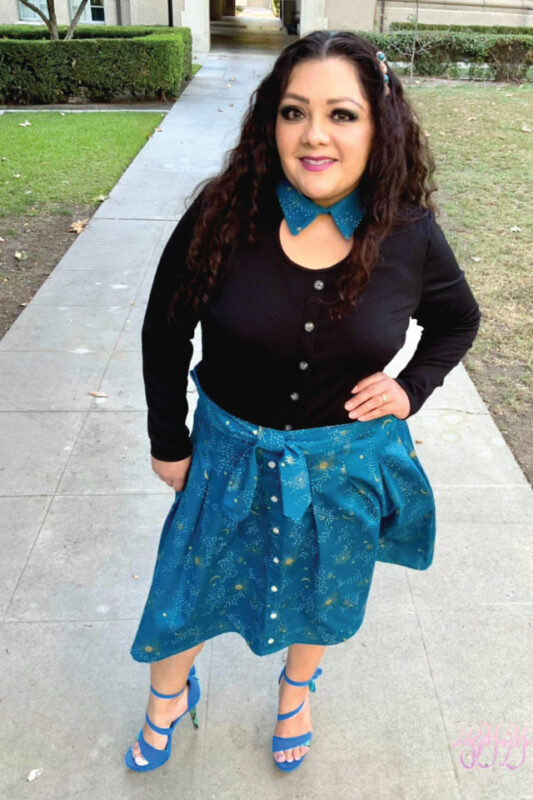 I'm Tina from California. I used this beautiful Teal Cosmo print from Fabric, Laces, Trims. Definitely take your time measuring, ironing and sewing your pleats for a beautiful skirt! If in doubt, practice on scraps of fabric. I only had to adjust for my height for my perfect fit. I actually wore my Heidi skirt paired with the Phoebe Top out to my birthday dinner and received compliments. I love the detail of the faux placket with the ties and planning on making more.
---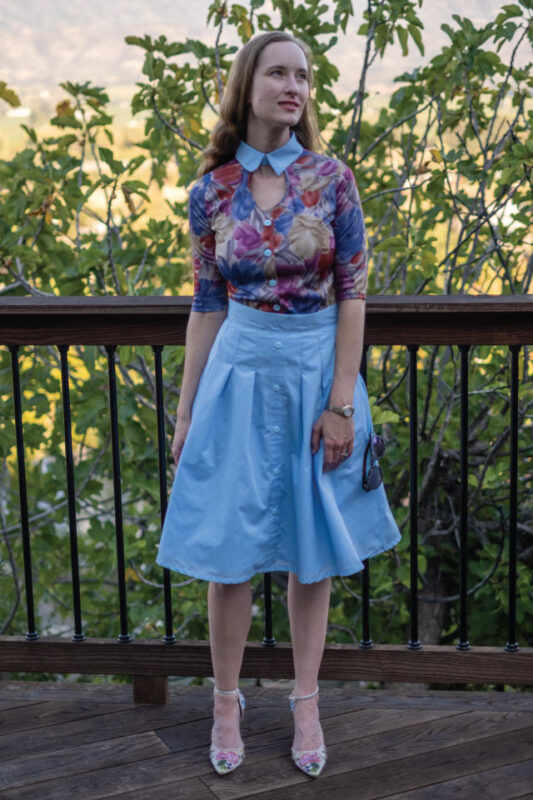 Amanda Xu California
Cotton (thrifted)
Make sure this pleats are right on. O little shift with each one makes a big difference
Skirt with no loops
Graded hips and waist to fit measurements.
Yes. Little girls hugged me and called me Elsa. I'll take it. She's a queen, right?
Yes. Would love to try with patterned holiday print.