Hello to all my sewing friends in our wonderful community and welcome to my blog post for the release of the new Gemma Twist Tops PDF Sewing Pattern.
This new style is such a HOT TICKET item at the moment and can be seen in all RTW catalogues around the world.
As is my usual I couldn't decide what style of top to develop – I was seeing both twist front and twist backs everywhere I looked. The element of "twist' was taking on so many different forms – front twists, back twists and even side twists. Here are some inspo pics from my favourite web site – Anthropologie of course.
And I knew that with the use of stripes or a distinct one way designed fabric the twist would take on a "design element" of its own. Here is another version of a twist stripe top again from Anthropologie.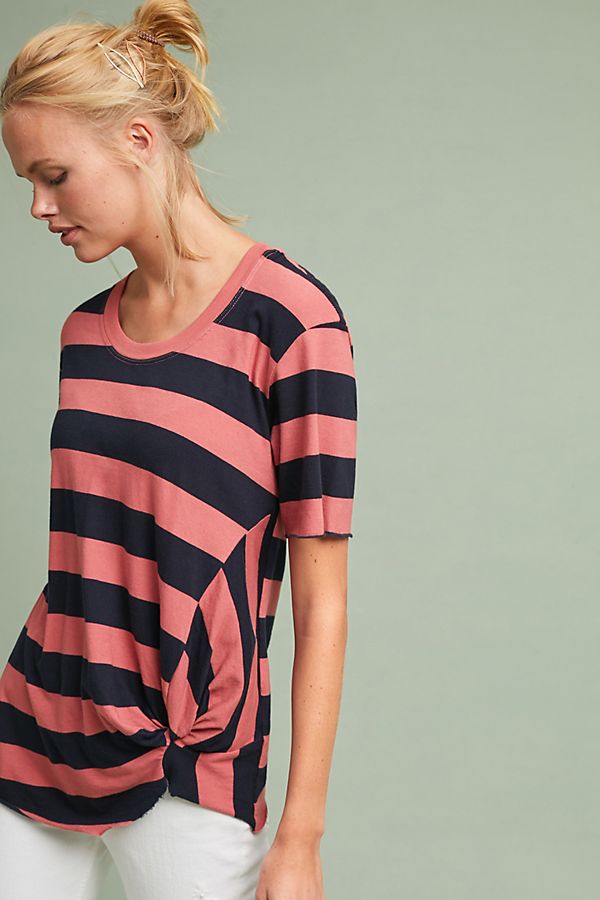 PATTERN ENGINEERING AND DEVELOPMENT
When starting to develop the shape of the Gemma Twist Back Top I had to nut out how I could get the shape of the pattern piece  to render the stripes perpendicular to itself once sewn. I sat down with a half scale version of my block and cut it up into little pieces to see what would happen when opened and swung. I actually mulled over this concept for a few days – and tried a few scenarios with paper and ruled lines to replicate strip jersey. Hence we have the Gemma Twist Back Top.
The actual back pattern piece of the Gemma Twist Back Top is cut all in one and has a seam approx 1/2 way down that divides the pattern – once this seam is sewn the stripes twist back on themselves…Clever huh !!!
The pattern for the Gemma Twist Back Top was much easier to render than the Gemma Twist Front Top as the back was cut as 2 pieces and then twisted together with seams.
I have to share with you a little secret – the development of the front of the Gemma Twist Front Top nearly gave me a few grey hairs. The necessity of the front having to be cut on the fold meant that the development of the twist had to be entirely different than the Gemma Twist Back Top.  Again – scrap paper and my basic block – and cutting, pasting and twisting was in order. And for this garment 6 samples were made until I got it !!!… At one stage I thought to myself – " this bloody thing is not going to get the better of me !!"…lol…
PATTERN GRADING
I have been a grader for many years and have even given myself the title of "Master Grader"…lol…. There usually isn't a grade that I cannot figure out how to render…lol…
I have graded so many garments over the years – I couldn't even tell you how many – and have also taught quite a few of my students the way I grade (in the most time efficient manner possible.) But the tricky thing about these twist pattern pieces were that the side seams where not where they "usually" are… a side seam is vertical on the body – just imagine your own side seam of the garment you are wearing.
The side seam of the Gemma Twist Front Top was actually at the bottom of the pattern !!!
I mulled over this grade for nearly a week – and even printed off tiny scale pattern pieces that I could add to – twist and turn – to see where the grade shifted too !!
Here is a pic of my tiny printed pattern pieces….
After I graded the pattern I still couldn't get my head around the grade rules I had applied – so the next best thing ?…
I printed off the A0 Copy shop pages – traced off every second size – pinned the papers together – to check the grade and lengths to make sure each piece would go back to each other… Yes I am crazy aren't I ..lol…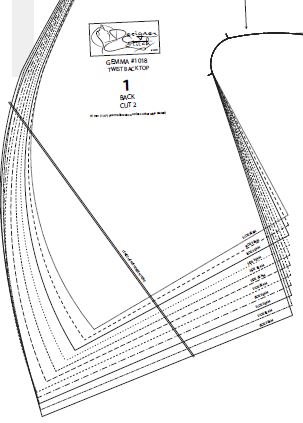 The Gemma Twist Tops are so flattering to wear and give you an amazing opportunity to make them in some wonderful fabric whether it is stripe, plain, floral or even lace.
Please don't forget to check out all of my amazing tester photos here as you will just LOVE how each of my gorgeous and talented women have made the Gemma their very own.
This week I will also be posting the Gemma Twist Tops Tester Roundup Part 1 and 2 so that will give you even more inspiration for your Gemma.
I would love to see YOUR Gemmas so please dont forget to join us here at our Facebook Group here or over on Instagram here .
Or even email me your Gemma pictures and I will add them to the gallery.
I would love to hear from you. xx
Cheerio and Kind Regards
Ann at Designer Stitch.