A big freezing hello to all my friends around the world – I live in Melbourne Australia and at the moment we are having a very unusual cold snap – we are in single figures for our daily temperature (degC)
I would like to say a big THANK YOU for coming over to read about Part 1 of the tester roundup for the very on-trend and funky new Gemma Twist Tops pattern that is new in the shop this week.
This new style is such a HOT TICKET item at the moment and can be seen in all RTW catalogues around the world. Just do a search over on Anthropolgie for "twist" and you will see quite a few variations.
Made in a jersey type fabric they offer so many different options – and WHY?
Because the options rely on your own fabric choices !!!.
A myriad of stripes, florals, one way designs, or even plains can be used to showcase your Gemma Twist Tops !!!
Is it – " A Party in the Back or a Party in the Front".
The styling of the Gemma offers 2 distinct shapes – The Gemma Twist Back Top has a cute and funky back waistline twist feature with a deep upper area "v" anchored by a pair of self fabric ties.
The Gemma Twist Front Top has a lower front body centre front twist along  with a flattering v-neckline.
Both tops have a deepish dolman sleeve for ease of wearing.
So lets start the Gemma Twist Tops Roundup Part 1 – and you will certainly agree that these women are absolutely STUNNING !!!!
And they would like to share the following with you all :
1. Your name and where you live
2. What style did you choose for your Gemma and will you be making the alternate style
3. And where are you wearing your Gemma ?
4. Tell us how many friends and work colleagues have commented on your Gemma and what they have said
5. Any sewing tricks or tips you have for sewing the Gemma ?
5. Social media URLS
And don't forget the Gemma Twist Tops is on it release sale price of  $8 US and is a
multi-sized pattern :
(AU/UK) 6 – 26
(US) 2 – 22
(EU) 34 – 54
So for the first installment of the cavalcade of gorgeous women in their new Gemma Twist Tops – tadah  !!!
Cheerio and Kind Regards
Ann at Designer Stitch
---
My name is Aileen M and I live in Pittsburgh, Pennsylvania.
I've made 2 Twist Back Gemma's during the testing. I will definitely sew the Twist Back next! So far I've worn my Gemma's out and about to dinner and a few casual parties, I've received so many compliments.
My best sewing tip for the Gemma is DO NOT try to figure the twist in your head prior to sewing! Haha! Just do 1 step at a time and you'll get it. In fact, it was so easy after doing it once, I didn't even need to refer to the tutorial the second time.
I also used a washable glue stick to hold the hem in place before top stitching. www.instagram.com/labeenababy
---
I'm Ana IB from Lisbon, Portugal. Proud to be Ann's tester for quite a while 😍
Gemma is so my style. I choose the back twist that's my favourite and has my name all over it. I've been wearing mine while on holidays and it has been a success among my friends 🙂 I actually ended up given mine to a good friend. She was always asking and I have the chance to sew other and other and other.
Gemma is a very easy and quick sew. I made mine from paper to body in an hour so how many do you think I will still be making? I'm thinking of hacking it with sleeves for the upcoming Autumn.
Facebook- https://m.facebook.com/PontonoibyInes/
IG- https://www.instagram.com/ponto_no_i/
---
Hi, I am Andrea from Annapolis, Maryland. I made two versions of the twist back Gemma—one in a double brushed poly and the other in a light jersey. I then moved on to the front twist in a jersey. I am delighted with all three! I shared pictures of my Gemma tops with my daughter and she said they looked great (she is always very honest)! I found that using spray starch on the lighter weight jersey fabrics made the twin needle hemming very easy.
https://www.instagram.com/andreashpuntoff
---
hi hi! I'm Boon Kuan from sunny Singapore. I'm obsessed with tops, as I'm always in shorts! Especially whimsical tops which look regular from the front, with cheeky surprises at the back like Gemma! All the more so if I can make it in woven as well, as I do like to live in my double gauzes and rayons too 🙂
I also have a French Terry front twist top made already! Gemma is that quick n versatile a sew!
Follow me at www.instagram.com/limbksews
---
I'm Gabz J and I live in Albuquerque, New Mexico. I chose the back knotted Gemma because I love tops/bottoms with ties. But for sure I'll be making the other style. Both style are perfect to wear for parties or even on special events.
My friends love my Gemma and they said the style is so in. And if you will ask me about about tips or tricks on how to sew this sewing pattern, well, I guess you don't need it because it is very easy to sew this pattern.. If you want to see my
other creations, you may visit my Ig: www.instagram.com/itsewcolorful , blog: https://itsewcolorful.wordpress.com and fb page: www.facebook.com/itsewcolorful
---
Hello ladies, Inge from Belgium here, the Gemma is such a diverse pattern. The use of fabric makes this shirt match your style, I like to say I'm a kind of a rock chic so I went for a leopard print for my back knot. I haven't wore it yet but the comments on my pics are great, they all love it. I will wear it on a black ripped jeans and heels for that extra funky look, just the way I like it. Do you wan't to see more of me, just check my https://madamestof.wordpress.com, IG https://www.instagram.com/madame_stof/ or my Facebookpage https://www.facebook.com/madamestof/.
---
My name is Synthia Lee Gerritson, I am from Central California. I made both the front twist and the back twist Gemmas. I do plan on making more Gemmas casual wear and for going out. I made a white front twist Gemma for casual wear, and a back twist in a black semi sheer fabric for going out. When people saw me wearing the Gemma, they were amazed at the twist and how it was possible, they loved both my Gemmas. The trick to sewing the twists on the Gemmas is to follow the illustration and instructions step by step, don't over think it. Fantastic design Ann Grose.
https://sewsynsewn.blogspot.com/2018/08/designer-stitch-gemma-twist-top.html
https://www.facebook.com/Synthia20000
---
Kim Bailey ..A sewists from Melbourne and lucky enough to be one of Ann's students! The Gemma was fabulous to sew and my first time using a twin needle and now don't know why I was so nervous about it. I made 2 for my tween daughter and she loves it. I have now made one for a friend as a birthday present. Another awesome on trend Designer Stitch pattern. Thanks
---
I'm Stacey Clements from the south coast of England.
I originally loved the concept picture that Ann posted of the twist front top, but when I saw the twist back top I loved the lines it created so much, I decided to make that version first. But I will definitely sew up the front twist version too!
I have worn my top loads already – to a party, to work, and just for general day to day wear.
I have had lovely comments from friends and family, who love the style of the top and say it's very flattering.
I think fabric choice is key when sewing this top – the drapier the better – rayon or viscose jerseys are perfect.
https://allsewnupbystacey.blogspot.com/2018/08/new-designer-stitch-pattern-gemma-twist.html
https://www.instagram.com/all_sewn_up_by_stacey/
---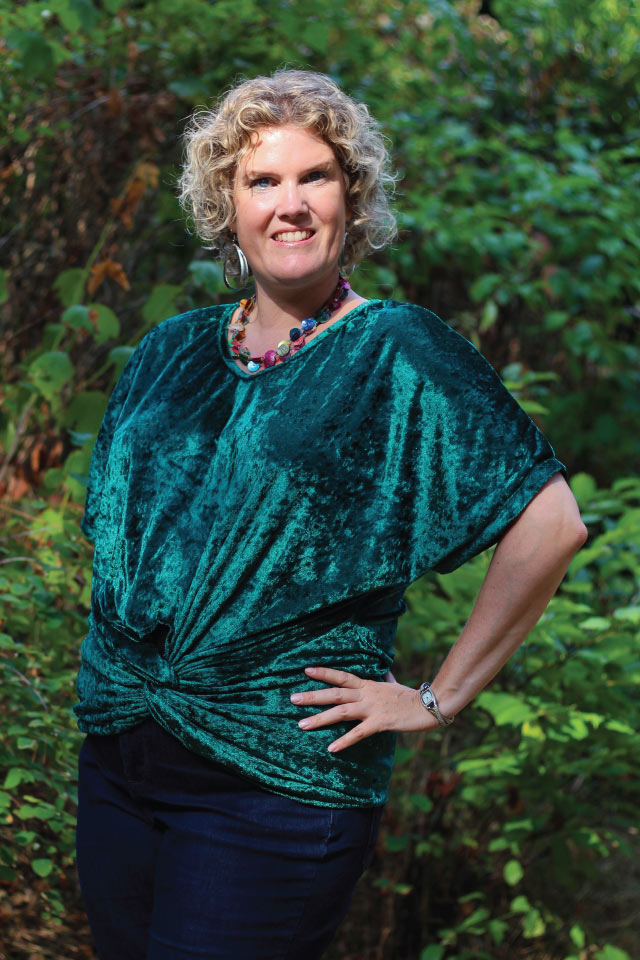 Hi there! I am Manda and I live in the Netherlands. I had the pleasure to test this Gem(ma) for Ann, and it was love at first sight. I chose to make my two Gemma 's with the front twist, because I love that view and because the summer is slowly ending. For next spring I will definitly sew up a Gemma with the back twist.
This versatile top can be worn to any occasion. I have worn mine to a birthday and when I went camping. There always is a reason to dress fabulous, isn't there? And it pays, because people have told me they loved my top more then once!
My advice when sewing the Gemma would be: "Don't freestyle, just follow the instructions and enjoy". I hope to see your Gemma soon!
Blog: sewingambi.wordpress.com
Insta: www.instagram.com/sewingambi
---
Allison Falkey from Milwaukee, Wisconsin. I choose the twist front Gemma top and made two of them right away. I do not plan to make the twist back. It is really cute, just not my personal style.
In my photo I am wearing my twist front top at Bender Park on Lake Michigan . Then I packed it and wore it at the beach in Fort Myers, Florida. It is a perfect top for hot weather. Light and breeze!
My tip is make sure your fabric is appropriately drapey. Then follow Anne's directions.
---
Becca Olson Northern Florida here! So far I have only made the twist back version of the Gemma. But that will soon change. I need the front twist and another in the back.I made mine with a slinky metallic so it is amazing for date night.
Which is when I wore it. Hubby LOVED it and told me to make more! I looked amazing with black jeans and heels.I got a lot of WOW you made that from just about everyone who saw it. Greatest feeling in the world right there. The Gemma is an amazingly fast sew even though it doesn't look like it would. I would definitely recommend not overthinking the twist. It WILL come out perfect if you follow the directions. You can see my Gemma here! https://turtletraxtoo.blogspot.com/
---
I'm Diane Cullum and I live in Phoenix Arizona. I chose the back twist because it is different and interesting. I'll have to remember to wear my long hair up so the beautiful twist will show! I love that style so much, that all three Gemmas are the back twist view. I wore one out to dinner with my family. I'm have no co-workers any more, so it's a good thing my husband is generous with his complements to me and the clothing I sew and wear! The back twist is the easiest twist top pattern I've ever sewn. The instructions for this top are so clear and easy, that my only tip is to follow the directions. (Oh, and choose the right fabric😜). It really is faster than sewing up a basic t-shirt!
https://sewingwithd.wordpress.com/2018/08/26/gemma-is-a-gem
instagram: https://www.instagram.com/twochicklets/
---
Hi I'm Angela from Australia. I made the twist back top in some fancy jersey for a night out. I definitely plan on making the front twist version and dare I say I will be making more than one of each style to add to my wardrobe. This style of top is very on trend and the instructions make it an extremely uncomplicated sew. Check out my blog at https://tinkerandstitcher.wordpress.com/
---
1. Caroline, Waiuku, New Zealand
2. Front twist and yes I'll make a back twit.
3. At home after work
4. Mum wants one too
5.IG https://www.instagram.com/caros_time