A Friday hello to you from Australia and thank you for coming over to read Part 2 of the Shakti Jersey Pants  Tester round-up.
I have loved sharing with you my series of posts in the past few days. If you have missed any of them be sure to check out yesterdays post – Shakti Jersey Pants Tester Roundup Part 1 or the previous post – Shakti Jersey Pants Inspiration and Influences
The Shakti pants are so stylish and easy wearing and are such a big fashion trend at the moment.
The finer details : On Sale for a limited time only – $8.00 (US)
multi-sized pattern :
(AU/UK) 6 – 26
(US) 2 – 22
(EU) 34 – 54
Advanced Beginner/Intermediate Sewing Level.
Kind Regards. Ann at Designer Stitch
---
I'm Patricia from the sunny BC Interior in Canada.
I made the drawstring Shaktis; one pair to ankle length and one to knee length. I used grommets for the ankle length pair, but sewed little buttonholes to thread my ribbons through for the shorter ones. The fabric is lighter and I wanted something a bit more delicate. I hate making shoestring 'straps' so I use ribbon whenever I can; a quick and easy cheat. I have the same fabric in my Indu pants and now have winter and summer pants in the same fabric.
I call my short pair my 'modesty pants', and wear them to the Chiropractor. They are commented on each time I wear them out. These are such great patterns it is easy to see why.
I've already been asked where I bought them and if I'd make them to sell (I won't). I haven't worn the long green stripe pair yet as it's smoking hot here currently. I suspect both will be heading to San Fran this week.
Like sewing all knit fabric but especially lightweight ones, it's good to start sewing an inch in to ensure the fabric doesn't get eaten by the machine. I virtually made mine on my serger, but I do use a triple Stitch for the crotch seams.
You can find my (occasional) blog at www.sewfarnorth.wordpress.com
---
Hi, I'm Ilse Lemmens from Belgium. I chose the side ruched version and this blue printed jersey was perfect for it. These weeks it was so hot in Belgium so I didn't wear the pants yet but my husband really likes the Shakti and that means a lot to me. Use best a lightweight jersey to get the best drape and the side rushing would perform the best with it. Do you want to read more?
Go to my blog at https://sewsewilse.wordpress.com/2018/07/29/the-shakti-jersey-pants-my-all-day-pants/
My instagram : https://www.instagram.com/sewsewilse/
---
I'm Ana Inês Barros and live in Lisbon, Portugal.
I choose the drawstring Shaktis with regular waistband. I just started my summer vacation and they are a must have during these days. Those who have seen my Shaktis are jealous 😘 they are comfy, stylish and absolutely gorgeous so of course they have to be jealous
They were simple, easy and so quick to sew. I can't remember any particularly trick and strongly believe any beginner could sew them.
https://www.facebook.com/PontonoibyInes
https://www.instagram.com/ponto_no_i/
---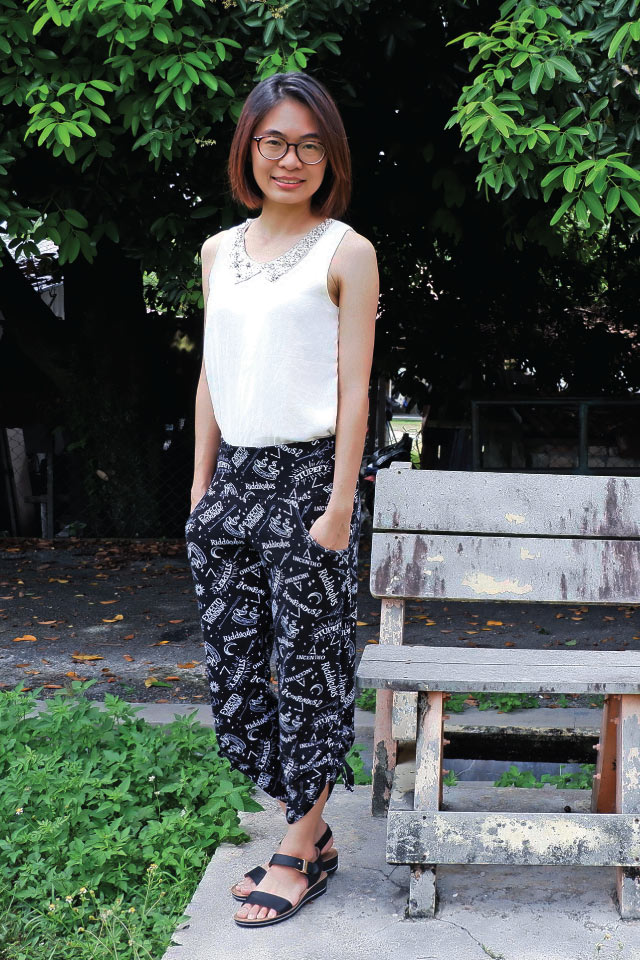 Hi, I'm Yin Ying from beautiful city of mountains in Ipoh which located 180km away from Kuala Lumpur, Malaysia.
2. I sewed up 2 pair of the Shaktis pants. One in cotton lycra and the other in a jersey knit fabric. I was assigned to test drawstring and I made second pair with side ruched both in normal waistband and pockets. Love both so much as they are so comfortable and stylish.
3. Basically I wear them everywhere
4. My husband think Shakti pants look fancy while my mum ask me to make a pair for her!
5. Use the right needle when sewing with knits. You can use buttonhole instead of grommets for your drawstring option but don't forget to add a little piece of interfacing to stablize the fabric.
6. Visit my instagram www.instagram.com/leeyinying
---
My name is Jenny Bowen and I live in Canada. I knew that the Bell legs with the yoga waistband would be the ones I would HAVE to sew first! They are so comfortable and very stylish so they can be worn almost anywhere which is an important feature in choosing a pattern for myself. I have had many people remark that this style was made just for me and suits me to a "T".
You can follow me on these online at www.EmbraceEveryday.com, on Facebook at https://www.facebook.com/Embrace-Everyday-177190708665/ and on Instagram at https://www.instagram.com/othersideofthegarden/
---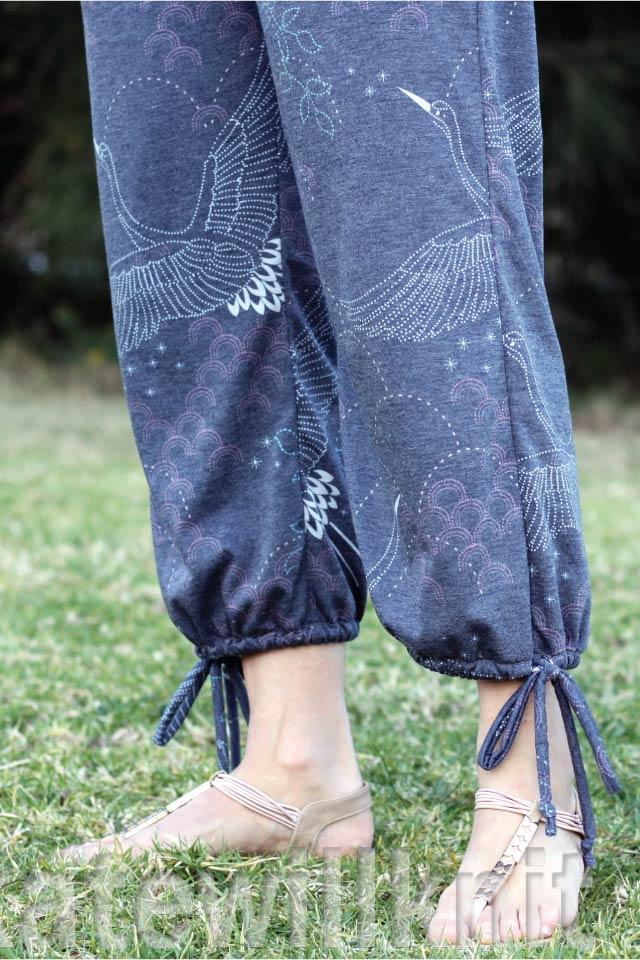 Hi, I'm Kate from Australia.
I chose to make the 7/8 length drawstrings with a ruched yoga band and pockets. The fabric I found was a rayon blend and I wanted to make the most of its drape.
Unfortunately I haven't worn my Shaktis since I took photos. It's not quite warm enough hear to wear that length. But I can't wait to wear them on weekends when I need something stylish but comfy, or even of an evening instead of pyjamas.
Having pockets, they're going to get worn a lot as I'm chasing the kids around, but I won't need to get changed if we decide to head out for dinner (winning).
My husband doesn't normally notice my clothes unless I point them out, but he commented on these when he saw them. They officially "look good".
When adding the eyelets for the drawstrings, I added interfacing and an extra square of fabric to help stabilise the material around the eyelet. On my blog I have some tips on making the drawstrings.
If you want to find me on the Web & social media I blog at http://katewillknit.blogspot.com
instagram at www.instagram.com/katewillknit
And Facebook www.facebook.com/katewillknit
---
1. I'm Katie from Southern California.
2. I sewed up the straight leg and the ruched side leg versions.
3. I've been wearing them around the house, out shopping, to baseball practice, all over! They are practical pants that I feel and look great in!
4. Friends and family have mentioned how stylish and comfortable they look. I love that they are easy to grab and pull on but the look is elevated.
5. I like to use wonder clips on the very edges of slippery ITY to stop the raw edges from curling and keep everything even as I serge.
5. https://www.instagram.com/kak513/
---
Kim Bailey Sewist from Oz!
Loved sewing these for my tween daughter. She choose the standard tie bottoms in a shortened length so just below her knee. She has worn them to dancing and said were super comfy. I am jealous of them so off to find super awesome fabric to make myself a pair (or 2!)
---
Hi, I'm Kiran from Singapore. I wanted something casual yet edgy for my Shakti sew and I decided to go with a Capri length using my long-hoarded distressed knit. Initially I was apprehensive about how the distressed knit would work for this pattern, but looking at the end result, I'm so pleased with the Urban Chic vibe it has. I'm going to tell you how many Shaktis I have planned, don't panic! LOL Currently, three on my cutting table and two more that I've ordered Fabric for and are on the way. When you have this pattern, trust me, the sewing won't stop. They're so wearable and comfortable. I love the techniques used in the tutorial, and you will too. Ann has every detail covered.
From Pilates class to school runs to weekends at the park, my Shaktis are my go-to for comfort and style. Follow me on my sewing adventures at www.instagram.com/gloopygoo
---
Hi there, I am Manda and I live in the Netherlands. I was so pleased that I got the chance to test the Shakti Pants, because a great pants pattern in jersey is hard to find.
I made two Shakti's. For the first one I chose a 7/8 length, with the sides rushed and a rushed waistband. I can dress this pair up and down and wear it for any occasion. I use this pair mostly when I go out, and dress them up with shoes, a nice top and some accessories. I get lots of compliments and my family and friends have a hard time to believe that I made my Shaktis instead of buying them. My second pair is the straight Shakti with standard waistband in a grey glitter knit. I love to wear these at home while cleaning or watching a movie. They are so comfy! But again, you can dress these up as well.
The Shakti is a fast sew. While making the drawstrings for my rushed side version, I used a loop turner to turn the drawstrings. This tool comes in so handy to turn them fast. I hope you enjoy making your own Shakti's and I am exited to see how you wear yours!
Blog: http://sewingambi.wordpress.com
Instagram: https://www.instagram.com/sewingambi
---

Hi, I am Nabilah from Malaysia. I was so excited that i got the chance to test the Shakti pants. I choose to sew standart straight. I can wear this pants for any occasion. I get lots of compliments from my family and friends.Thank you so much for this awesome pants !!.
---
Hey! My name is Jenn Williams and I live in North Carolina! I chose to make the straight leg, yoga waist Shaktis and I love how they fit. I wore them to work already and out running errands and they are so comfy – especially for my growing belly. The yoga waistband really sits in a nice place and will be so comfortable all through my pregnancy. When sewing them, just make sure you take into account your crotch length compared to the patterns for the best fit! I had to lengthen my crotch and they don't ride up in the front or back! Score!
Facebook: https://www.facebook.com/jgarciameitin
Insta: https://www.instagram.com/thecubanthimblecrisis/
Blog: www.thecubanthimblecrisis.com
---
Hi, I am Barbara Annette Beavers. I live in Northeast Mississippi in the USA. For my version of the Shaktis, I chose the bell bottoms, with ruched waistband. I used a medallion stretch crushed velvet fabric to get a 70's groovy look. All of my friends and co-workers loved these hippy Shaktis! I plan to wear these velvet Shaktis this Fall and Winter when the weather here is much cooler. When making the ruched waistband, make sure to use chalk or pins to mark each area where you will place the elastic.
https://www.instagram.com/ninjabreadgirl61/
---
Hi, I'm Inge from Belgium. I sewed the standard straight option of Shakti. My first thought was great looking home pants but sewing Shakti I changed to Sporty Chic/Street Style and I love it. Due to a hot summer in Belgium I haven't worn my pants yet but the comments on my final pics are going from 'stunning' to 'I need this' :-). The pattern is designed for jersey knit and that can be tricky but when you use a stretch stitch and do not pull or stretch your fabric you are good 2 go!  You need more styling tips, go and have a look to all the beautiful woman that are a member of the testers group but I will warn you… Do not blame me if you can't choose… If you want to get social, you can find me on https://madamestof.wordpress.com or visit my IG https://www.instagram.com/madame_stof/.
---

Hello! I'm Shalini and I live in Northern Virginia. For my first version, I chose the bell bottoms with standard waistband. I love that Ann provides all the measurements necessary to make a great garment. I especially love the crotch measurement for pants. I had a great result with the first pair and then proceeded with the drawstring pair which I love even more! My kids think I'm so cool in those drawstring pants. I want to make at least 1 of each option! It's such a great pattern and a great value!
Insta: https://www.instagram.com/shalinimunjal/
Blog: http://cropaway.blogspot.com/
---
1. Rachel Nagy from Kansas City
2. I made the bell Shaktis with a ruched waistband.
3. I've worn them out a few times and plan to wear them to work in the fall.
4. Friends are loving them so far. I haven't worn them to work yet.
5. I used a more structured knit for my final pair as I wanted a more fitted look and a pair that I could wear to work. The structured fabric and the ruching worked great to disguise my mom tummy.
6. Www.instagram.com/whenagingersnaps8
---
1. Tiffany Turner Atlanta, GA
2. Straight with the standard band
3. I'll be wearing these super comfy pants everywhere
4. A coworker said she really like these pants.
5. No
5. Http://tipstitched.com
Http://Instagram.com/tipstitched
Http://facebook.com/tipstitched
Http://youtube.com/c/tipstitched