A Friday hello to you from Australia and hasn't the week flown !!!
A BIG thank you for coming over to read Part 2 of the Gemma Twist Tops  Tester
Round-up.
As you will have read in the past I love having a good old chat with you all and the best way to reach my friends around the world is via these blog posts…. If you have missed any of them be sure to check out yesterdays post – Gemma Twist Tops Tester Roundup Part 1 or the previous post – Gemma Twist Tops Inspiration and Influences.
The Gemma tops and all of the pattern road tester "posse" photos show how absolutely gorgeous these combo of tops really are.
The finer details : On Sale for a limited time only – $8.00 (US)
multi-sized pattern :
(AU/UK) 6 – 26
(US) 2 – 22
(EU) 34 – 54
Advanced Beginner/Intermediate Sewing Level.
https://designerstitch.com/shop/gemma-twist-tops/
Kind Regards. Ann at Designer Stitch
---
My name is Aimee and I live in Plano, Texas. I made the twist front during testing and can't wait to make the twist back. I'm wearing my Gemma to work since it looks great with slacks and a jacket or blazer. I've worn it to work and received many compliments. My tip would be to take your time with hemming. Https://thesewingscientist.blogspot.com www.facebook.com/sewingscientist and www.instagram.com/sewingscientist
---
Hello from Belinda in Adelaide!
I made both variations of Gemma because they are so different from each other. My twist front Gemma looks great with my red blazer (still a bit cold here to wear it without a jacket). This is a really quick top to make so start pre washing fabric now because 1 won't be enough!!
You can see my Gemma Twist Front Top on IG https://www.instagram.com/bcolesk
---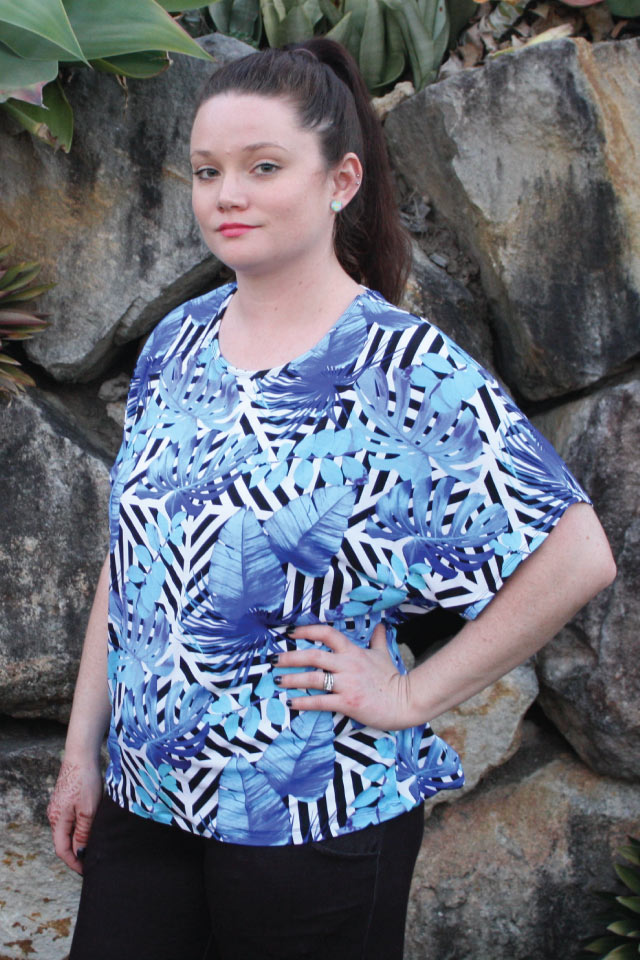 I'm Casey from Brisbane Australia. I made the back twist version and have plans for many more back twist tops now! I've been wearing Gemma as a slightly fancy casual wear teamed with jeans and boots. Hubby commented on the fancy back and I totally let him believe it was super tricky. My tip is to go slow and read through the instructions and trust the steps. Don't overthink the twist!
www.facebook.com/lioncubcouture
www.instagram.com/lioncubcouture
---
Hey there, my name is Brittany Lowery. I'm from Fayetteville, Arkansas. I chose the back twist version of the Gemma twist top. I made two versions, one in a sweater knit, and one in a lightweight woven. The sweater knit is so comfy. I wear it while I have my morning coffee, and for lazy Sundays. The woven top I like to wear with a pencil skirt. That's what I love about this pattern. You can choose a fabric to fit your style, whether it be dressed up or casual. One tip I have for sewing the Gemma is to Serge all raw edges before topstitching. It makes topstitching so much easier! For my next Gemma I will use a lightweight interfacing on the ties to give them a little more structure.
www.instagram.com/fabergehen
---
Hi! I'm Dora from Portugal and I've been testing for Ann for a year now (and very proud of it 😉 ). Gemma is the kind of tee that I absolutely love. It doesn't need much to shine. It stands out on its own. Its cut, pattern style looks great with any good drapey fabric. The one with the knot at the back had my name all over it. I envisioned it in my had: it had to be blue because I wanted to add some discrete lace ribbon that has a bit of satin too.
I'm thinking of making a full outfit based on Gemma… don't want to spoil the surprise, but you'll have the chance to see it in my blog or on Designer Stitch Facebook group… soon!.
I've been wearing Gemma quite a lot and getting lots of compliments. Yesterday a friend asked me to make her one.
My advice to you when you start to make your Gemma would be "Don't think about it!". Just follow the instructions and trust Ann. You'll get there!
You can follow me on my blog www.sew4five.wordpress.com or on any of my social media:
www.instagram.com/colourbymim
www.facebook.com/colourbymim
---
My name is Genevieve Lynne Grossmann and I live in Johannesburg, South Africa. I chose to make the Front Twist for my Gemma. As soon as I saw Ann's drawings, I knew that I definitely wanted that version first. As soon as I put it on, I loved everything about it. I am definitely going to make the back twist too though. I must say that I felt like I was doing magic, as I watched the knot come together. A most satisfying sew. My advice is to follow each step. Ann walks you through the process so beautifully. I am on Instagram at https://www.instagram.com/gegiegrossmann
---
Giorgia, Stuttgart, Germany
2. What style did you choose for your Gemma and will you be making the alternate style: The back knot. I probably won't make the front knot for myself just yet – I am too obsessed with the amazing back knot right now. I'll make the front knot for my sister in law though.
3. And where are you wearing your Gemma ? Work, nights out, grocery shopping – I reach for my Gemma top constantly!
4. Tell us how many friends and work colleagues have commented on your Gemma and what they have said: Oh easy! My colleague will be getting one for her 30th, after mentioning how much she loved it – multiple times (I can take a hint 😉 ). All the colleagues know I sew now and this top was a particular hit – they liked that is pairs well with skirts and pants (I may have worn it multiple times over the last few weeks) and loved the "surprise back" – as mine looks like a relaxed t-shirt from the front. I also plan to make a few as Xmas presents after my Sister in Law (who's a yoga instructor) thought it would make a lovely top for her for work.
5. Any sewing tricks or tips you have for sewing the Gemma ? To make it a T-shirt in the front, party in the back, widen the neckband a little.
5. Social media URLS
Blog: www.gsewssometimes.wordpress.com
Facebook: –
IG: https://www.instagram.com/gsewssometimes/?hl=en
---
Hi, I'm Ilse from Belgium and when Ann presented these two styles from the Gemma I really wanted to make them both! I already wore my back twist Gemma when we had a meeting with friends. They really loved it! Do you want to read more on my blog. Visit it here: https://sewsewilse.wordpress.com
My Insta : https://www.instagram.com/sewsewilse/
---
Hi, I'm Joanne, born and raised in Philippines but currently living in the Middle East. I chose the back-twist for the test and definitely making the front twist too. I'll wear my Gemma everywhere! At the mall, park, at work (layered with cami), or if I just want to be sexy at home. Many of my colleagues complimented my Gemma, they love it and so do I. Tricks? Just follow the instructions carefully! You wont go wrong.
Instagram.com/ar.JCcouture
---
Hello, my name is Johanna and I live in Fort Lauderdale, FL. I chose to make the Gemma twist back version. I liked the back twist version because it's so unexpected. The front looks like a regular T-Shirt and the back is a surprise. I want to make another one with lace trim. I received so many compliments when I wore my top. I even have a friend who wants one. Sewing this top was very straight forward. If you follow the instructions to a T, your top will come out perfect!
Blog: www.soveryjo.com
Facebook: www.facebook.com/soveryjo
IG: www.instagram.com/soveryjo
---
Hi, I'm Kiran from Singapore. I chose to sew my Gemma in tie-back fashion in both woven and knit. I love knit fabrics but I have a zillion yards of wovens, so it's exciting that this top can be sewn in woven as well. The moment it was announced we could attempt wovens, I jumped into my fabric stash (lol) and picked out a border ethnic print that I thought would make a cute, beach-worthy outfit. Next on my cutting table is the tie-front version of the top. Don't you just love a pattern with options! ?? Look our for more of my sewing escapades on my IG account at www.instagram.com/gloopygoo
---
Barbara Annette Beavers, Northeastern Mississippi, USA. So far, I have sewn 2 front twist and 2 back twist. I've worn my Gemmas to work with shorts, and with jeans to an evening get together with friends. This is a great top to be dressed up or down. Several of my friends and co-workers have requested that I make Gemmas for them also! Sewing tip-use 1/4″ Wonder Tape on the front and back hems. It helps to keep the hems even. https://www.instagram.com/ninjabreadgirl61/
---
My name is Laura and I live in Washington state. When I first saw the Gemma, I was sure I would be doing the front twist. But then I decided I wanted something fancy that didn't require specialty lingerie so I chose the twist back.
I will be wearing my sequin Gemma to a concert coming up. It is so comfortable and shows just the right amount of skin for a night out.
I have requests already from friends for their own Gemmas the upcoming holidays. One of the hardest things is to buy an outfit for a holiday party!
My biggest tip I have for sewing the Gemma is to follow the directions ?? I am notorious for trying to streamline steps. This is the time you want to to each step in order, it will come together so fast. In less than a couple hours, you will have a finished Gemma to wear out and about.
http:/instagram.com/dkrainier
---
Hi, I'm Saar from Belgium. I made the front twist Gemma first and I'm definitely making the back twist also! I plan to wear my Gemma for a girls night out with friends and a parent/teacher meeting next week. A friend has asked me to make matching Gemma's for her and a friend to go out dancing. One twist front and one twist back in the same glittery fabric ??
When sewing this garment you have to trust Ann's instructions and follow them step by step for an awesome result. Depending on fabric choice you can make all the Gemma's for every occasion!
---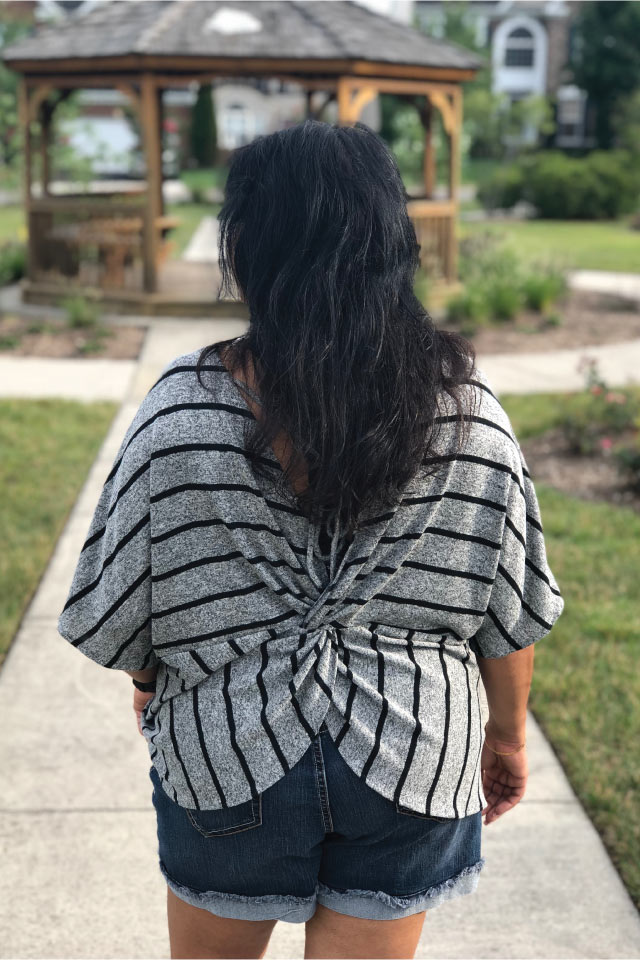 I'm Shalini and I live in Northern VA. I made the Gemma twist back top in a stripe sweater knit fabric. I always love playing with stripes and matching them to make different style lines. For the Gemma top, I cut the stripes horizontally on the body and when the twist was made in the back, they ended up vertical! I just love the way the back of this top looks! I finished the top and wore it to show my husband and kids who were watching TV. I stood in front of the TV and struck a pose like I always do when showing them something new. They were like…nice top. THEN, I turned to the back. Their reactions were ooohh.. aaaahhh.. this is NICE!! Sexy! It looks like a butterfly! LOL!! They are my favorite audience ever 🙂
My tips for sewing the Gemma are fabric fabric fabric. Choose a fabric with very nice drape, choose solid if you want an elegant looking Gemma, add trim if you want to spice it up a bit, choose stripes or chevrons if you want an extra hot and spicy top 🙂 Have fun!!
Blog: http://cropaway.blogspot.com/
IG: https://www.instagram.com/shalinimunjal/
---
Sharon Aguilar from North Texas. I made the twist front and will be making the twist back as well. My husband thought I looked smashing in my Gemma so I will plan to wear it on a date with him. I think this is a great pattern for a beginner who may be new to sewing knits, and my tip is just to follow the instructions. They are so well written. My blogpost is http://www.sweetmamalife.com
My IG is www.instagram.com/sweetmamasharon
---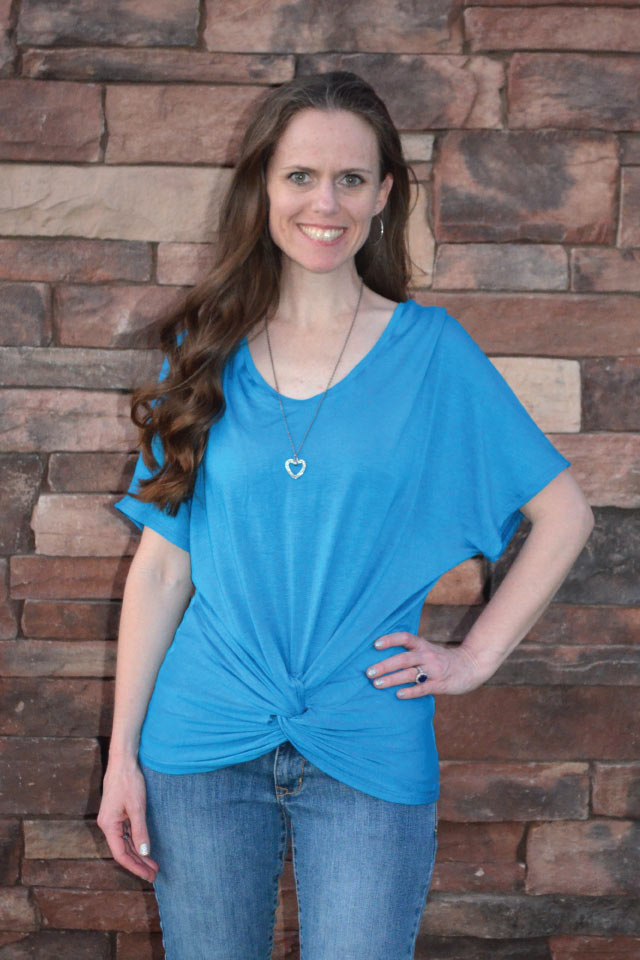 My name is Jennie Lindstrom and I live in Las Vegas, Nevada in the United States. I made both the twist front and twist back versions of the Gemma. My twist front is a gorgeous bright blue rayon spandex, and for the twist back I used a woven cotton lawn. My Gemma's have currently been taken by my 15 year old, so I'm not sure when I'll get them back. So this pattern is great for women of all ages! My tip for sewing the front back Gemma, is that you have to manipulate the knot a bit to get it looking perfect. Move it around until you have it exactly how you want and then add a few hand stitches to hold it in place. Trust me, you won't be able to make just one Gemma, and you will love this pattern!
I blog at: www.stitchedbyjennie.com
FB: www.facebook.com/stitchedbyjennie
IG: https://www.instagram.com/stitchedbyjennie/
---
Ashlee Aisenson from Southern California here, and I made the front twist Gemma. I've been wearing my Gemma top with my jeans out and about for a comfy and trendy everyday look. The best tip I could say is don't over think sewing it up, follow the directions and you'll end up with a beautiful top that was deceptively easy to sew!