Greetings my lovelies and welcome to Part 2 of all things glorious Greta Dress – featuring our ever-wonderful Rock Star Roadies – aka pattern testers for the new Greta Dress. 
And isn't she just a BEAUTIFUL DRESS. Make in a metallic jersey, stretch velvet or sequined fabric the Greta is a dress that will reflect each of your wonderful personalities. 
And prepare yourself to receive lots of attention. The Greta Dress is elegant (and easy) wearing and the style certainly shout that to the rooftops and beyond. 
You will feel all of the feels – confident, sexy, sophisticated, stunning, glamouress,  – the list is really endless. 
The key to the Greta Dress is the rouching – it turns your fabric into a flattering contour that hugs and flatters all of your gorgeous curves.
And I urge you to make your Greta with the back ruching – it is sexy as!. Trust me – everyone who has made it this way has said "YES" !
And I must extend a big thank you for the resounding reception that the Greta Dress has received. 
She is truly a wonderful dress that will make you look POSITIVELY WONDERFUL.
So lets continue my friends with Part 2 of the Greta Dress Pattern Testers Roundup. 
They would like to share with you the following.
1. Your name and where you live ?
2. What fabric combinations did you choose and where did you purchase.
3. What sewing tips can you share when sewing the Greta ?
4. What was your style choice for the Greta ?
5. What fit alterations did you have to make to the Greta ?
6. Have you worn your Greta – and if not what plans do you have for your dress ?
7. Any plans for future combinations of the Greta ?
And if you haven't caught up please visit yesterdays post for all things fabulous – Part 1 of our Greta Dress Rockstar Pattern Tester Roundups
And the finer details; (AU/UK) 6 – 30 (US) 2 – 26 (EU) 34 – 58
On Sale for a limited time only – $9.85(US)
Very Confident Advanced Beginner and Above Sewing level
Greta Dress
---
Hello I'm Ashley R a sewist from Central London, England, UK.
I'm excited to share with you the amazing new Greta dress pattern! If you want to feel amazing this is the dress for you.
I used a sliver stretch knit and a blue diamond stretch knit from Jo-Ro Rags Group they are a UK base.
I always say never use your best fabric first, use something old to get the fit right for your body. I'm only 5 foot and always have to shorten the bodice and length of skirts. I styled my long Greta with heels as it's the perfect party outfit. My short blue dress and paired with black ankle boots and gloves giving it a more rock chick look. Love how both turned out.
I will be wearing my Greta to my work christmas party and can't wait to show it off.
IG: https://www.instagram.com/madebyashleyriley/
FB: https://www.facebook.com/sewashley.co.uk
---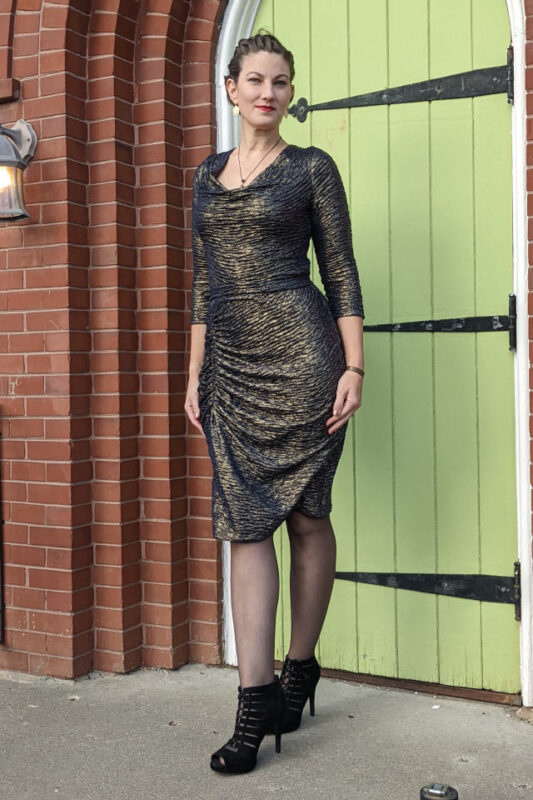 Good day everyone! My name is Kaitee and I live in South Dakota. I love the way my Greta came out! Do Not skip the elastic. Or the bra stays. Both are essential to this beautiful pattern. The only adjustments I had to make were adding some length as well as a sway back adjustment. I did the knee length version with the straight back. I think the optional belt really tied it together for my fabric, try all the options! I have a full length version planned for a cruise and the knee length for holiday parties. I am on Instagram https://instagram.com/goatislandsewing if you would like to follow all my makes from Designer Stitch.
---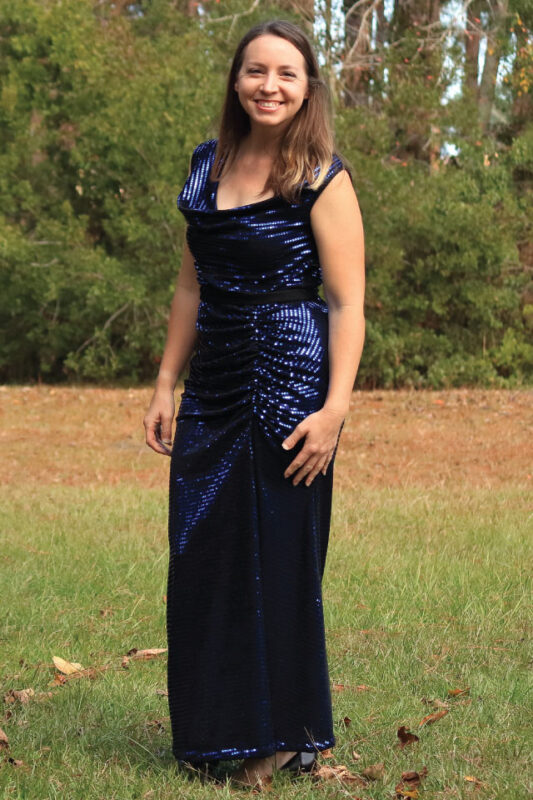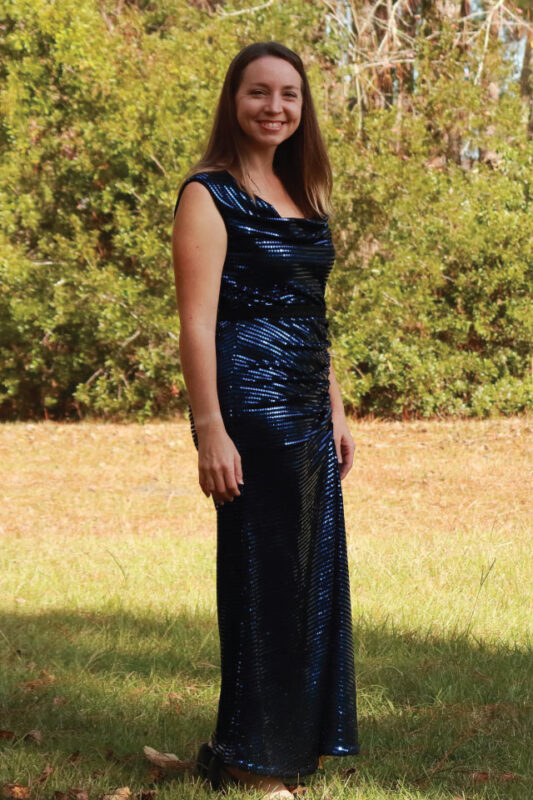 I'm Carmen from Georgia, USA, and I can't wait to tell you about the glamourous Greta pattern which will surely steal your heart this holiday season. The Greta is a fabulous pattern with beautiful rouching on the left front thigh and an optional lower back rouching. Rouching is so flattering. It lends a three dimensional look to the fabric and emphasizes the contours of the wearer. The rouching can be striking and turn a garment into quite a masterpiece. Everyone can rock a ruched dress because it hugs curves and conceals imperfections at the same time. I made three Greta dresses but my favorite was the final. The final fabric I chose for Greta was a black lurex with royal blue mirror sequin. The fabric is beautiful but tricky to work with. I feel so sophisticated and beautiful in the Greta and the fabric from kikiTextile on Etsy was a big reason why. The fabric was exceptional and the customer service was amazing.
I had a small fight with my machine while sewing the dress. My machine had trouble picking up and carrying the fabric through the feed dog. It bunches, it skips stitches, and generally makes sewing lurex a lot more stressful than normal. I used a walking foot, tried a tear away stabilizer, and used different size ball point needles to figure out the problem. In the end, I asked the advise of my fellow testers and tried a stretch needle. Success! I was so relieved! My advice: If at first you don't succeed, try, try again. You won't regret it.
My only other obstacle was removing the mirror sequin from the seam allowance. Sewing through the sequin wasn't an option because it left holes in the sequin and the sewing needle was jamming. I painstakingly removed the sequin one by one.
For the fabric belt I would suggest using a safety pin to bring the raw edges together to hand sew and also make sure it's not twisted.
My final dress was a sleeveless full length with lower back rouching. It is a close second to my favorite DS pattern, the Dita, in figure hugging appeal. I made a few alterations as I do with every DS pattern. I shortened the skirt and bodice and made a sway back adjustment. These alterations together made a perfect fit for Greta. You can find me at http://www.instagram.com/carmen_in_the_end
---
Hi I am Synthia from Central Ca. I just love this Greta dress, in both versions, knee length and long. The knee length is made from a stretch velvet and my long version is made from a shiny-fluid- stretch jersey fabric. I did need to alter the back by making a sway back adjustment, shortening the length by 3″, and grading down the hips. Tips for this dress, take very accurate measurements. I haven't worn my Greta dresses out yet, but when I went to take my pics downtown, I received so much attention and compliments, it was fun, lol. I just love how the dress flows across the body and accentuates the body. What a beautiful dress Ann Grose, great job., everyone looks like a million bucks in their Greta dresses. https://sewsynsewn.blogspot.com  https://www.facebook.com/Synthia20000
---
Hi, I'm Christine from the Netherlands. I made my Gretadress in my favourite colour RED and shiny velvet and I think it's my dress turned out perfect ❤
Make sure you make it in the right size, because it has to be exactly right.
I made the kneelenght dress, because I want to wear it to a wedding in januari and for Christmas ofcourse.
For me the sizing in all of Ann's patterns is 4C
I think a cotton knit long dress is going to be perfect for summernoghts.
I'm posting all my makes on https://www.instagram.com/stienmakes
---
Hi!! My name is Lianne and I live in Singapore. For my version of the Greta dress I used a red lurex which I had bought 2 years ago from taobao (Chinese equivalent to AliExpress) for the Lana dress but on receiving realised it wasn't structured enough. I actually tried to destash it as I had no idea what to make with it until this test for the Greta dress came along. I made a sleeveless, floor length version with a normal back (but I think the ruching version would've added to the glamour of this dress). I made a 2b with grading to 3 at the hips. The sewing tip I have is to just go for it and sew this dress up -it looks amazing but it is really a simple sew and you'll be surprised how fast it is to make. I haven't had an opportunity to wear this amazing dress yet but I think my next one will be a shorter length which I feel will be more versatile and appropriate for more occasions.
You can see more of my makes on www.instagram.com/thetravellingcrafter
---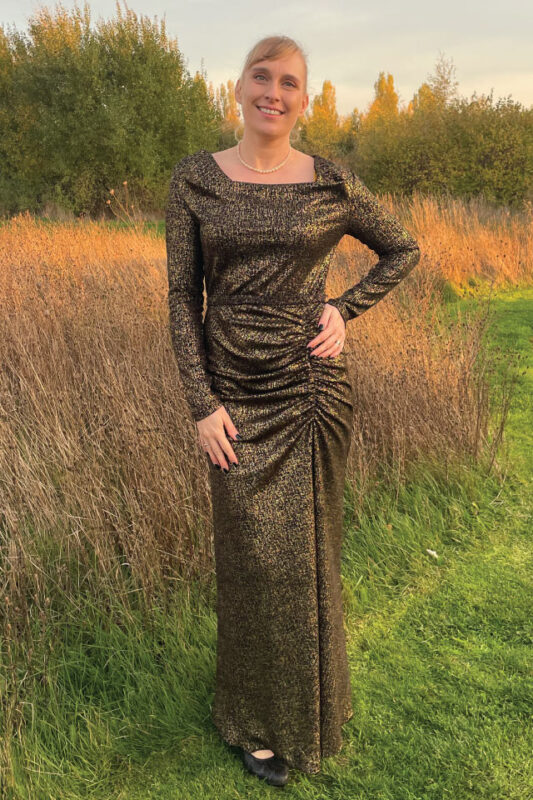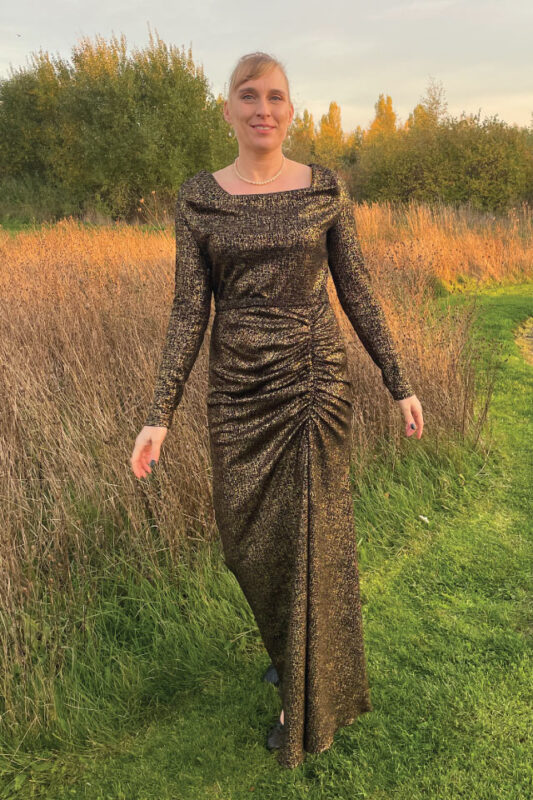 I'm Mieke from Belgium.
I used a golden glitter jersey that was in my stash already 2-3 years 😅 I bought it in Veritas.
My tips: after measuring, just follow the size table for a perfect fit.
I was wearing a pearl necklace, earrings with a pearl and a festive comb in my hair. I put some sparkling black pumps under my dress.
I didn't do any alterations to the pattern because it's just perfect!
I plan to wear my dress on New Year's Eve and my husband who was making the pictures was totally flabbergasted.
https://www.instagram.com/sewista_mc
---
Hi all! I'm Sandra from the Netherlands. Sometimes you see a dress… and you fall immediately in LOVE. Even more special is when your DREAM dress turns out even more beautiful then you can imagine! I can say that this is the most beautiful dress I have ever made.
I made 4 dresses so I could do all different options. First one I made was from black lurex fabric. I made the shorter length with rouches in the back. Second one I made from gold lurex with large length and no rouches at the back. Third one, I made from black velvet, short length, no rouches. And last one…. I made with paillet fabric, long length, rouches in the back and sleeveless. I also lined the fabric. I love all dresses. You see so many different dresses due the fabric choice. So I have now 4 completely different dresses. The black velvet I think I can just wear to work too.
I didn't do any alteration.
I didn't wore it yet, but I let some people see my beautiful dresses and received so many compliments ❤️.
I have one word for this dress… LOVE. I think every woman NEEDS this dress!!😍😍
My Instagram is: https://www.instagram.com/sandra_wilbrink_sewing
---

Hi everybody, I'm Shardee from the netherlands.
I made my Greta's in stretch velvet, a perfect hollyday season fabric 🥰.
I bought it from royal stoffen and megastoffen, both Dutch online fabric stores.
Sewing the Greta is very quick and my tip for sewing this beautiful dress is take your time to divide the gathering so perfect as possible
Both dresses are waiting for me to shine on Christmas 🎄
Do you want to see more of my work, follow my Instagram www.instagram.com/Sewing_Shar
---
Hi! My name is Sonia and I live in SW Missouri in the United States
For my Greta I used a flat sequin knit where the sequins were sewn and adhered to the fabric so it made sewing easy! This was purchased at a local fabric shop that unfortunately doesn't sell online. The biggest tip I can recommend for sewing the Greta is to make sure you take the time to anchor your rouching with the twill or cotton tape. As the pattern mentions it will help keep your rouching in tact.
I chose the longest length and because I'm 5'1 I shortened a few inches.
When taking my photos I received some really nice compliments.
I have another Greta almost finished that is going to be a great addition to my Holiday wardrobe!
You can find me on the following social media platforms:
Www.facebook.com/sewonandsowforth
IG: www.instagram.com/sewsowforth
My Blog
Www.sewonsowforth.com
And now on YouTube!
Www.youtube.com/@sewsowforth
---
Hello, DesignerStitch community. My name is Taryn and I live in Cape Town South Africa. I have been holding onto this gold and black spandex for over a year. It was purchased from Sadelle Fabrics, a favourite local Facebook business selling fabric. Like most of Ann's patterns, I am not sure there is anything I can lift as a top tip other than to say trust the pattern and follow the instructions. It is not difficult to achieve this showstopper of a dress if you do. I chose to do a sleeveless maxi version of Greta with a ruched back – because, that back ruching is everything and the perfect complement to the front so that they both shine. I am sure to measure myself ahead of every sew and grade across sizes as required. No other changes were made. I have not yet had an occasion to wear my Greta and sadly don't have any red-carpet parties scheduled in the immediate future but looking forward to the possibilities arising over the festive season. As for future Greta's, I do think a shorter version with all the ruching front and back is a must-sew to add in a beautiful jewel-coloured fabric. I have a beautiful black and red sparkle fabric I picked up recently but as there isn't enough meterage for the full dress, I am on the lookout for the perfect solid match for a contrast bodice/skirt option.
Interested to see what I get up to – feel free to follow my sewing and other creative adventures at
https://www.facebook.com/creatazzly
https://www.instagram.com/creatazzly/
---
My name is Camilla and I live in Sweden. Was so excited when Ann took me in as a pattern tester of the stunning Greta Dress. My main dress was made in a stretchy lurex fabric from my own little online fabric store here in Sweden, So Sew Me (web address www.sosewme.se). I chose to make the shorter version with back ruffles and sleeves. Size 4 fits like a charm and no alterations where done on the pattern. I also made one in the same model in glitter velvet in a larger size for my best friend, she was so happy since it was a perfect fit for her and she had been having trouble finding a nice fitting dress for her 40th birthday party. She ended up wearing it both on the birthday cruise with her husband and the actual party, where I wore mine as well and felt stunning. I am also planning to wear it for New Year's Eve, but I am also planning to make the long version of the dress. The dress was easy to make when following instructions, a ruffle foot for the domestic sewing machine was really handy when making the ruffles, that saves a lot of time.
Amazing model, the dress I made is really one of the nicest ones in my wardrobe right now! As soon as I have the time I'll try one in viscose jersey or Apela jersey for more laid back but still dressed up look. All in all this is a model that fits different shapes and sizes and really brings out the goddess in everyone wearing it 😍🙌🏼