Hello my lovelies !!….and welcome to the first in a 2 part series of the Harper Pants Pattern Tester Roundup.
I am sure you will agree with me that the tester versions of the gorgeous Harper Pants are pretty damn FABULOUS !!!…and what I love about the pant is that they look so GOOD on everybody.
The Harper Pants have had a wonderful reception by all of my international sew'ist community and so I would like to send you all a very big and LOUD shout out plus a big Australian THANK YOU XXXX
The Harper Pants are all about contemporary tailoring. These pants are refined and sharp looking yet with the added comfort of a Yoga fit. So they can easily transition from a corporate environment through to a casual lunch or an easy relaxing afternoon.
So lets start the Harper Pants Tester Roundup Part 1 – and a round of applause to all of my amazing testers. Love you xx
And they would like to share the following with you all :
1. Your name and where you live
2. Your choice of style for the Harper and why ?
3. What fabric did you choose and where did you purchase.
4. What alters did you have to do for the fit of the Harper.
5. Have you worn your Harper yet and what compliments did you receive.
6. And how are you styling your Harper's ?
And don't forget the Harper Pants is on its release sale price of  $8 US and is a
multi-sized pattern :
(AU/UK) 6 – 26
(US) 2 – 22
(EU) 34 – 54
Cheerio and Kind Regards
Ann at Designer Stitch
Hello! I'm Belinda living in Adelaide, South Australia.
I chose the straight leg option with pintuck down the centre front and faux pockets on the back. The reason for my choice is that I'll do anything to make my legs look longer and for my body shape, this is an optimum style.
My fabric is a nice, thick ponte and I was pleased that the fibre content percentages matched the specifications outlined in the pattern. This is critical because no one wants saggy knees and bum!!
Alterations were minimal, I took them in a little at the waist only; they are super quick n easy to sew.
I've left them on the long side and plan to wear them with heels and a tux jacket. Something about the pintuck on the front leg for me lends itself to this kind of styling. I may also wear them with an oversized white shirt.
If you'd like to visit my IG page to see what other sewing activities I'm working on you can find me at https://www.instagram.com/bcolesk/
---
Hello. I'm Bernice and I live in the San Francisco Bay Area in California. I made the slim leg faux pocket version of the Harper Pants. I made my first pair in ponte from Joanns Fabrics and my second pair from a thinner and stretchier ponte from Fabrix in San Francisco. In my second pair, I shortened the front and back rise by 2″ and shortened the legs by 4″ for both pairs I made. My Harpers are very comfortable to wear and my favorite way to wear them is with a closer fitting top, a cardigan to layer and heels. I am on Instagram as https://www.instagram.com/sewbee73/
Thank you for letting me test the Harper Pants!
---
Hi, I am Camelia from the Netherlands. As much as I love dresses and skirts, pants are always easy, but they must be comfortable! I know how the Designer Stitch pant block is fitting me so this was the perfect chance for the perfect pant pattern. I choose the slim leg for the Harper as I like that silhouette. I had a piece of great quality ponte in my stash, kept for the perfect pants and that is what I used. The stretch of the fabric is maybe the most important thing when fitting this pattern and you should make your test garment in a very similar fabric as your the one you will use for the final item. I love these pants, I am on the hunt for more suitable fabric to make more, so comfortable and ease to style. You can find all my Designer Stitch adventures at http://calcedoniasewing.blogspot.com and on Instagram https://www.instagram.com/calcedoniasewing/ my video reviews are on my YouTube channel https://bit.ly/2PRY92b
---
Hello, I'm Gabz Jefferson from New Mexico, USA. I sewed up slim legged Harper with faux welt pocket. I love the detailed style of this pattern. It is so challenging and very fulfilling to make this option. I am proud of the project I made.
I used ponte knit from an online store. It is really thick kind of ponte knit. I'm glad I didn't need to do serious alteration. This momma is a little short, all I altered is the length of the leg pattern piece. I already showed my Harper with friends and they said these pants are so flattering. I wore them with Eleni.
If you want to see more of my designer stitch wardrobe, please check out www.facebook.com/itsewcolorful or my blog, https://wordpress.itsewcolorful.com , you may also follow me on ig www.instagram.com/itsewcolorful
---
My name is Genevieve and I live in Johannesburg, South Africa. I chose the slim leg Harpers because I needed a new pair of skinny pants. I used the heaviest Ponte I could find but it was also beautifully soft. I bought it at one of my local fabric shops, where I buy most of my fabric. I ended up not having to alter my Harpers at all. I made my muslin, which I literally basted together but I didn't add in the waist elastic, just basted on the band. Once I added in the elastic is was a game changer and I had the perfect fit. I love that the Harpers can be styled to be both casual and all dressed up. My favorite styling is with my Eleni Top. I also love them with my Gemma Top. My Instagram is https://www.instagram.com/gegiegrossmann
---
Hello! I'm Ilse Lemmens from Belgium. I chose the slim leg with functional jeans pockets because I wanted slim legs to pair with boots in fall and winter. I loved that snake print double ponte for my Harper and I bought it on an online store. I shortened the legs and altered my crotch (flat seat adjustment).
I paired my Harper with a black top and my friends said it was stylish. So now I really need more black Harpers.
My Instagram : https://www.instagram.com/sewsewilse/
My blog: https://sewsewilse.wordpress.com
---
I am Jennifer Krach from Michigan, USA. The Harper pants were fun for me to sew, with a tailored look, but as comfortable as leggings. I chose the slim leg with functional jeans pockets in the front and faux welt pockets on back. The finished seams and mock fly give a smart professional look. I am 5'4", so I shortened the leg length by 3 inches, and also shortened both the front and back rise by 1 inch. My fabric choice was a bit unconventional, a floral scuba fabric with a touch of gold, with appropriate vertical and horizontal stretch. I purchased the fabric at JoAnn fabrics. The pants turned out even better than I had hoped, and I received so many compliments when I wore them! I paired them with a metallic knit long sleeved, banded dolman top.
I'm planning to sew more Harpers in ponte – stylish and warm – perfect for the cold weather! Great pattern! Https://www.instagram.com/JenLynnK/
---
Hi! I am Jenny Bowen and I am from Canada. For my Harper's, I made the standard leg with the functional jeans-style pocket. I used a Super Ponti that I purchased from my local fabric store. I added a wedge to the back pattern piece to give some extra height in the back, as this is a standard adjustment I have to do. This is actually a technique that I learned from Ann…she is the best! I love that I can custom fit to my body shape.
I have worn my Harper's so much and I can wear them with so many things in my wardrobe. They are so versatile! You can follow my adventures at www.EmbraceEveryday.com or on instagram @othersideofthegarden
---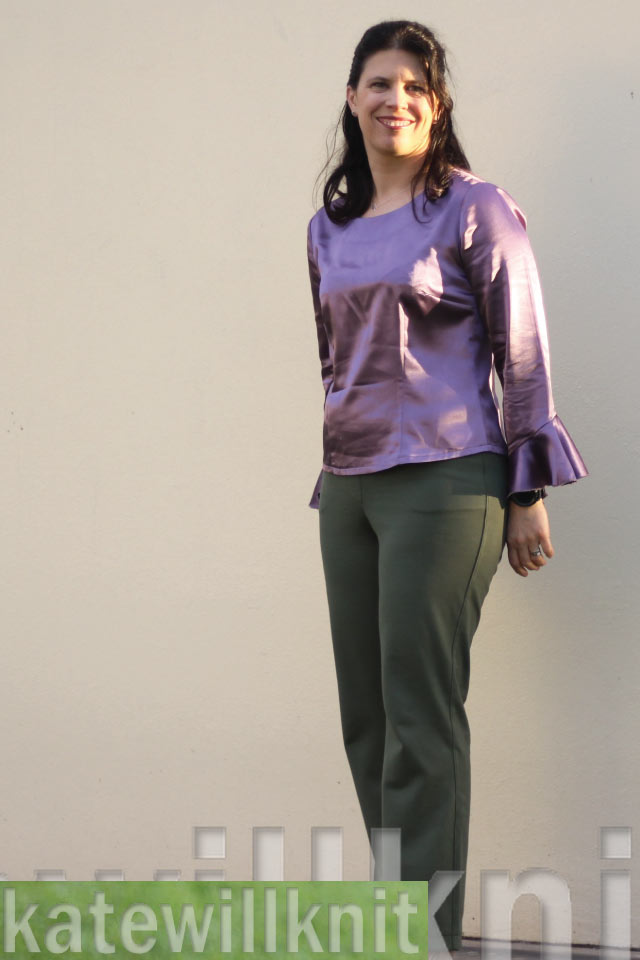 Hi I'm Kate and I'm from Australia, near Sydney. For my Harpers I made a standard leg with faux welt pockets, and real front pockets. I rarely pass up the chance to include pockets in something I make (especially when it' clothes for myself).
My fabric is a 320 gsm olive green ponte. I bought it online, and unfortunately, it's no longer available. It has a decent weight, and the right amount of stretch. I ended up with the olive green, because it's nearly impossible for me to pass up a nice green colour. I also have some royal blue ponte, and double bonded crepe knit stashed for my next two pairs (courtesy of https://theremnantwarehouse.com/)
To adjust for fit, I took a wedge out of the front crotch curve of my pants. This shortened the rise, and removed some extra fabric that was looking rather unfortunate. For my next pair I will also shorten the rise a little more. I also removed 5-6 inches of length in the legs – easily done using the details provided in the pattern.
My husband has been a big fan of my Harpers, and their nice fit. They pair nicely with my Bridget tops (also by Designer Stitch), and other button up shirts I have in my wardrobe. I like that by adjusting my top and my shoes I can have something suitable for a day at work, or a day chasing after the kids.
I blog at http://katewillknit.blogspot.com/
My Facebook page is https://www.facebook.com/katewillknit/notifications/
And you can follow me on Instagram at https://www.instagram.com/katewillknit/
---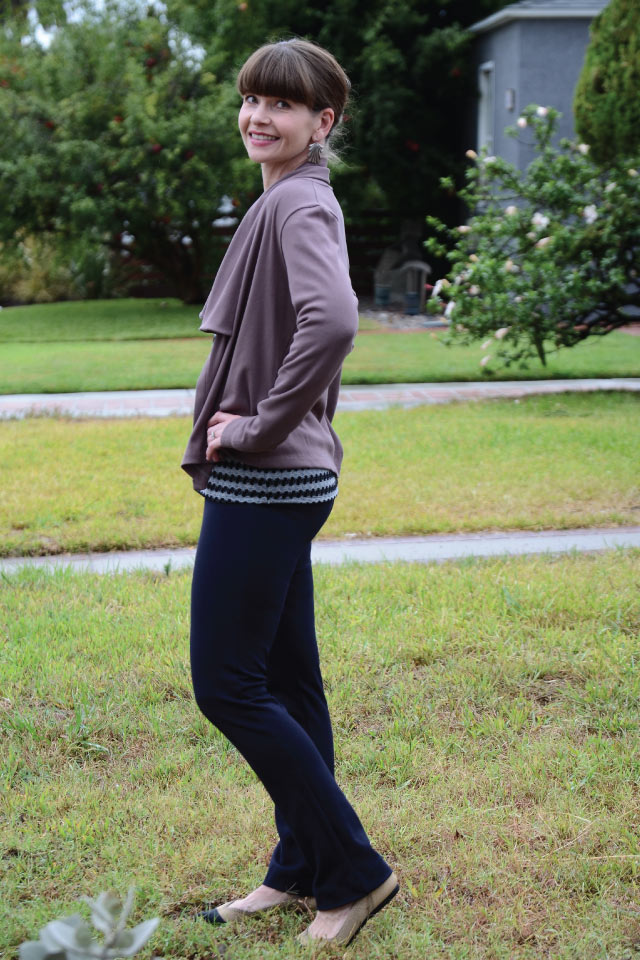 Hello! I'm Katie and I live in California. I opted for the Standard Leg version of the Harper Pants to start out with. I made both my pairs in a nylon/rayon/spandex ponte and they feel amazing to wear! They fit so beautifully, all I needed to alter was the length of the inseam to suit my height. I've been wearing mine even more frequently than I thought I would! They look great with slip-on shoes and a cute top – perfect for school pick ups and running errands. You can see my Harpers on IG at https://www.instagram.com/kak513/.
---
Hi, I'm Barbara from Northeastern Mississippi, USA. I chose the slim leg Harper with faux welt pockets for a casual office look. I used a plaid poly/rayon/spandex thick Ponte fabric that I received in a monthly subscription fabric box. To get the perfect fit, I added a wedge to the back and shortened the leg length. This pair of Harpers were worn to the office with a long sleeved twist back Gemma top and received many compliments. https://www.instagram.com/ninjabreadgirl61/