Greetings my friends and a big Aussie hello to you all today. I hope that you learnt a new fitting technique from the previous post  How to Lengthen Your Back Rise in relation to the new Harper Pants Pattern.
For today's post I am going to share with you the method on shortening your front rise – or front crotch length – to enable you to get rid of that pesky extra length in the front that makes you look like your pants are too long for you – essentially you look like you have extra "storage" room in the lower front. And I would like to thank my lovely Kate who blogs at Needles to Say who's photos are featured in today's post.
Love to you my friend. xx
Lots of factors contribute to the need for a front rise alteration – similar to the back rise adjust – your pelvic floor height, pelvic frame, your skeletal stance and also if you have a pronounced sway back. Generally those that have a pronounced sway back need extra in the back length and generally have to shorten the front rise as the picture above indicates..
As  detailed in my previous post – once you work out what you need to do – and how much you have to alter in Designer Stitch patterns – then this alteration should be an automatic thing in all of my pants patterns going forward for your future sewing.
As I use the same fitting blocks for each of my styles you will get the same general "fit" from each style that you purchase. Given that please keep in mind that an alter on a knit pattern will not be the same as an alter on a woven pattern.
Okay – so lets have a look at what we have to do to shorten your front rise or front crotch length.
The above picture shows that the CF is sitting way below the natural body shape and you can easily see that it would be easy enough to grab a wedge to get rid of this extra length. This wedge is essentially a type of horizontal dart that is then folded out of the pattern.
THE INCORRECT WAY TO ALTER YOUR FRONT RISE FOR EXTRA LENGTH.
The method above is incorrect where it advises you to shave off or shorten the top waistline where is intersects with the CF – essentially dropping the waistline down.
By shortening the front at the waistline point the whole CF line/front rise has to drag itself up to sit at the waistline resulting in drag lines or possibly even fabric folds on the front area.
I also see this above alteration recommended as well. This alteration will only result in the front fork of the leg being dragged into the inside leg and does not take care of the extra vertical length of the front rise.
THE CORRECT WAY TO ALTER YOUR FRONT RISE TO ELIMINATE LENGTH.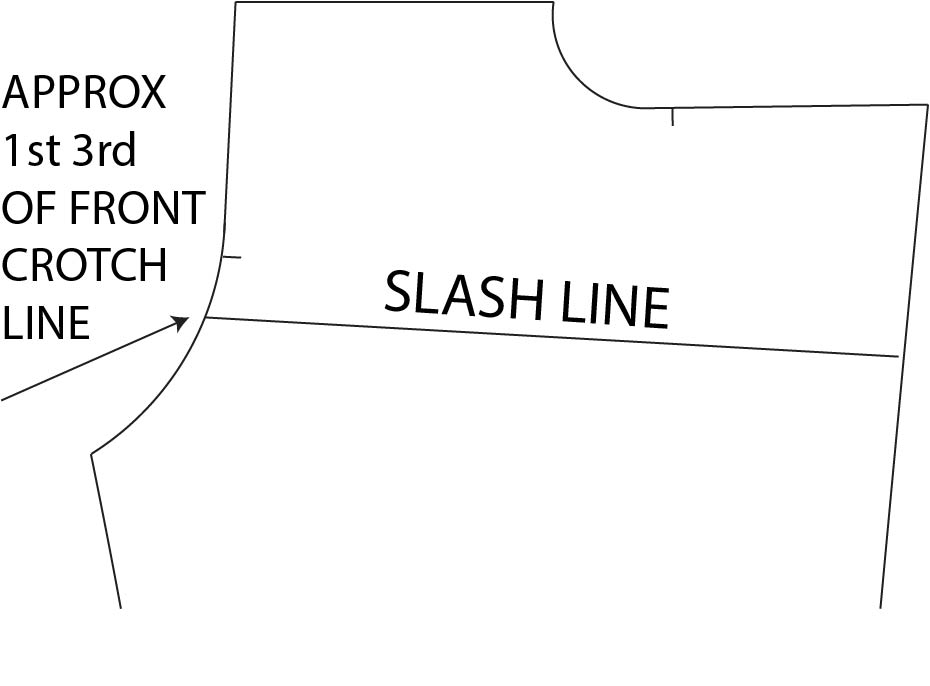 Step 1 : Working on your front pattern piece draw a line at right angles – perpendicular – to your front cutting edge and square across to the side seam. The position of the slash line is approx 1/3 up from the front fork – just make sure you are out of the front curve of the fork area. The Harper Pants only have a 6mm (1/4″) seam allowance but if you were working on a woven pattern with 1cm (3/8″) or 1.5 cms (5/8″) seam allowance you would also mark on your pattern your stitching line.
Step 2 : Slash along this entire line to divide the pattern into 2 pieces.
Step 3 : Pivoting from the side seam you can now pivot/fold out/decrease the required amount. If you have a large seam allowance in play you would measure the amounts at the stitching line – not the cutting edge.
On occasions the front curve can also be scooped out slightly – amounts can vary between 6mm (1/4″) to 1cm (3/8″)
The easiest way to determine how much to pivot/reduce your front rise length is to toile your garment and physically pin out a horizontal wedge in the garment as you are wearing it. The above pic is our Kate wearing her toile of her Harper pants with her front horizontal wedge pinned out.
Remember – as I have explained above – a lot of factors contribute to how much is to be added. It is worthwhile to make up your first toile as I recommend – work out how much alteration you need – and then proceed with the pattern alter. Then you are sure of the amounts and there is no guess work.
Step 4 : With a pencil line blend your cutting edge with a smooth continuous line.
WHAT IF YOU DON'T HAVE EXTRA LENGTH BUT A BIT OF BAGGINESS BETWEEN YOUR LEGS.
If you find that you don't have extra length in your front rise but you still have slight bagginess where crotch curves to between your legs the above alter can be made. This alter will make the inner leg wrap into the body more – but be careful you don't shave off too much as your front leg will create drag lines.
Done !!!….and wasn't that Easy xx
I hope that you can add this to your sewing and fitting repertoire.
And don't forget the STUNNING new Harper Pants.
Cheerio
Ann at Designer Stitch.
And why not visit our other blog tutorials for a step by step photo guide on the
Harper Pants Back Rise Adjustments
Or how to create the Harper Pants Faux Back Welt Pockets.