Greetings my lovely sew'ist friends and I write this on a day in Melbourne Australia with a forecast of 30degC…. but this morning was glorious with a slight breeze and it was so so peaceful in my local park.
Today I am featuring the Harper Pants Road Tester Roundup Part 2.
If you have missed any of them be sure to check out yesterdays post – Harper Pants Tester Roundup Part 1 or the previous posts in the Harper Pants Pattern Release series –
How To Sew a Faux Welt Pocket , How to Lengthen Your Back Rise and How to Lengthen Your Front Rise.
The Harper pants are a shape and fit that – with a bit of fitting – will look amazing on most figure types and shapes.
The finer details : On Sale for a limited time only – $8.00 (US)
multi-sized pattern :
(AU/UK) 6 – 26
(US) 2 – 22
(EU) 34 – 54
Advanced Beginner/Intermediate Sewing Level.
Drum roll please – here is part 2 of the amazing tester roundup. xx
Kind Regards. Ann at Designer Stitch
---
My name is Synthia Lee Gerritson, I live in Central Califoria, U.S.A., 45 minutes from Garlic country. For my Harpers I made the standard leg with the faux front pocket and side top stitching. I used Ponte De Roma fabric with 320 gsm weight, great fabric. My fabric was sourced from StylishFabric. I did have to shorten the overall length and raise the front and back rise. I have worn my Harper pants out for the day, they were very comfortable to wear and I did not have to worry about any sagging after all day wear. My friends had said these pants are by far the best fitting pants they have seen me wear, very flattering. I styled my Harpers using a Chelsea cropped sweater and the back knot Gemma twist top,love the over all look.
Thank you Ann Grose, for all you do in helping me look stylish with your fabulous designs. xoxo
https://sewsynsewn.blogspot.com
https://www.facebook.com/Synthia20000/
---
Hi, I'm Ana Inês Barros and I live in Lisbon, Portugal. I match my Harper Pants with my Chelsea Cardigan for "magazine look" :p.
I used the same ponte fabric. I love the coulor, the touch everything.
Oh yeah I used my Harpers already and let me tell you… I haven't received many compliments….but my bum did 😀
Facebook – https://www.facebook.com/PontonoibyInes
Instagram – https://www.instagram.com/ponto_no_i/
---
hi hi! I'm Boon Kuan from Singapore. Harper is the 1 pattern I was really really eager to get started on. I used Ponte from https://www.etsy.com/sg-en/shop/NekonekoFabric… ,
and it was just the perfect weight n comfort. The pattern fits great, with just personalization of the length needed. I made total of 4, 1 being an extremely wearable muslin, as I only wear pants for work. But it's so comfy in knit, casual yet smart looking, So Harper is now my To-go-to pattern for pants!
Follow me on my sewing journey at www.instagram.com/limbksews
---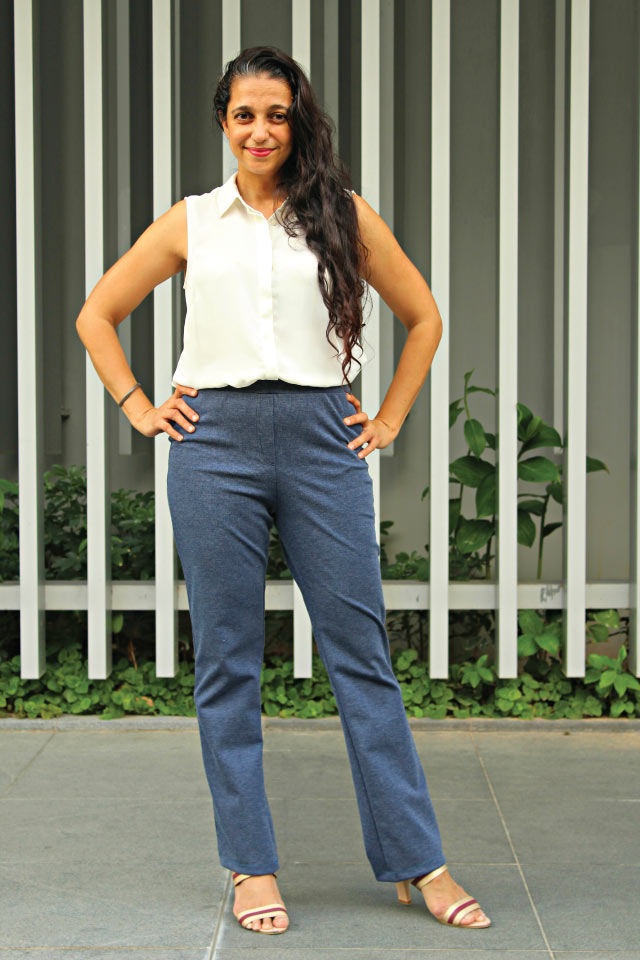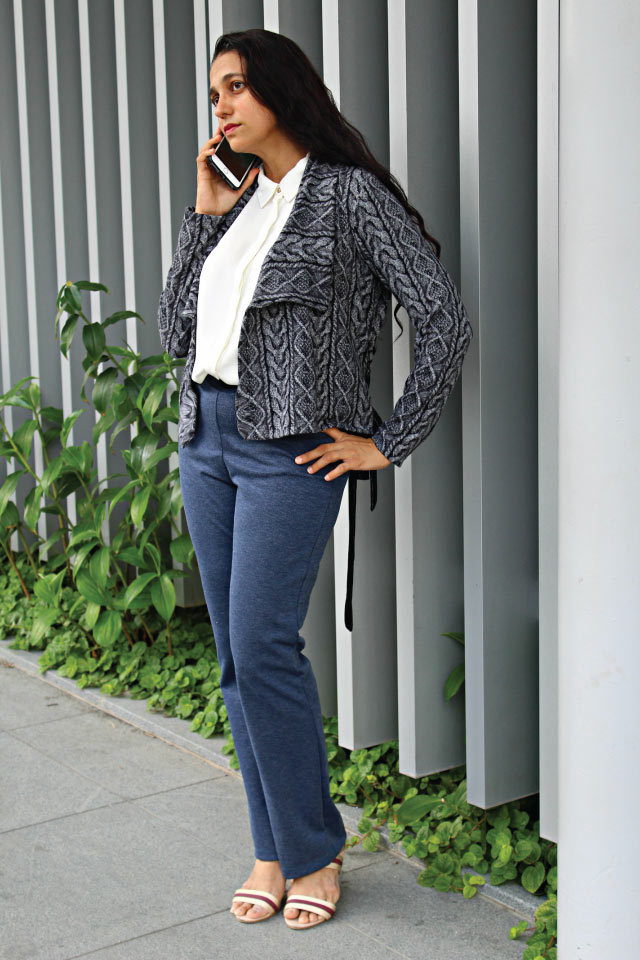 Hi everyone! I'm Kiran from Singapore. If you're reading the tester round-up, you already know how amazing the Harper pants are.
Smart and sassy for work, or comfortable for after work drinks. It's a win-win! My Harper pants are the basic version without pockets. I tend to carry a bag so I thought I'd preserve the svelte silhouette of the pants by keeping them simple.
Heavy Knits are not usually a fabric I have on hand because of the humid tropical weather here, so this test had me out on a hunt. How exciting to learn about a new fabric type and get to shop! I ended up deciding on a lovely ribbed double knit after checking and double checking the required stretch. (Be sure to do this coz it's integral to your final fit).
The sewing process was easy peasy. You'll be amazed when you end up with a brand new pair of pants in about two hours from print to hem(and that's a conservative estimate with chocolate, KUWTK and coffee breaks).
Im so pleased with this sew, I've already got my next pair on the cutting table. It's so easy to style and so comfortable to wear. I know I say this of all my DS makes, but it really does embody effortless style. Hats off to you Ann Grose! ??
---
Hi! I'm Joanne Castillo. I live in The Middle East with family. I chose the fitted leg with faux side pocket in ponte fabric from a local fabric shop. I need to remove a little bit on the front rise. I wore them a work, at the park, at home, everywhere. These are just the comfiest pants I ever made.
www.instagram.com/ar.JCcouture
---
Hi, you all! I am Manda from the Netherlands and I was one of the lucky galls that got to test the Harper Pants. I picked the faux front pockets with a faux zip and for the back the welt pockets, because I liked that look a lot on the dollies. I made my pants in double faced ponte that I've order online.
For a perfect fit I adjusted the front and the back rise of the pattern. I shortened the front and lengthened the back rise. I have worn my Harpers on several occasions and they fit like a glove. People find it hard to believe that I have made them myself. The styling is easy, because it goes with everything that I have tried: a leather jacket, a blazer, a lace blouse, a shirt, etc. Needless to say the Harper Pants are a great addition to your wardrobe and can be dresses up and down as you wish. Hope to see yours soon!
Blog: HTTP://sewingambi.wordpress.com
IG: HTTP://www.instagram.com/sewingambi
---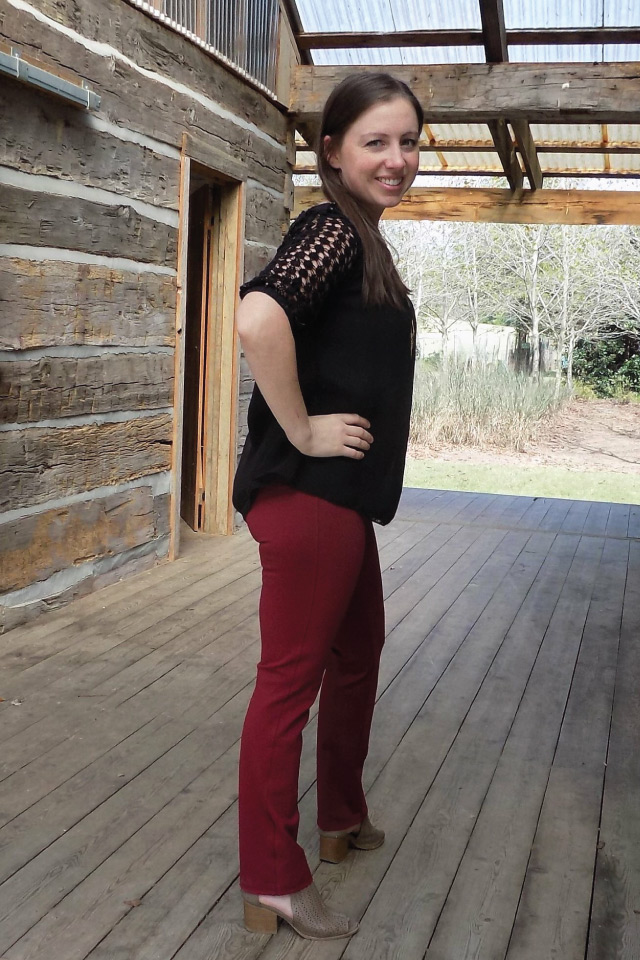 hi! I'm Molly from Chattanooga, TN. I chose the straight fit style of the Harper pants because they are so classy and easy to pair with any top or shoe. I chose a burgundy Ponte from Joann Fabrics. The only alteration I had to make to my pants were the length. (I'm only 5'2" ??)
I've worn my Harpers several times, and they are one of my favorite to wear to church or meetings. So many people have complimented me on them and told me they look like expensive designer pants! I typically style my Harpers with a cute, comfortable top. As a mother of 3 young kids these pants are fabulous because I can be stylish yet super comfortable at the same time ??
my Facebook page is With Love by MJ and my instagram is @withlovebymj
---
Hello, I'm Saar, I live in Belgium.
I made the slim leg Harpers with faux pockets and the faux welt pockets. I usually wear pants without pockets because when I put something in a pocket it makes me look even more 'curvaceous' than I already am ??.
I used a double knit ponte that I bought in a very small shop in my multicultural neighborhood.
I had to grade between a few sizes to get the perfect fit for my apple shaped body but no other alterations were needed, I have this pattern now tweeked to fit my body perfectly so it sure is a wardrobe builder!
I have worn my Harpers a lot and have received many compliments. Most people were amazed that they were 'me-made' because of the professional finished look. Also a lot of people asked me if I lost weight ??.
I usually wear them with a loose, a-line or cross-over top.
Greetings from Belgium
---
Hi, my name is Shannon and I'm from California.
I was lucky enough to test the Harpers. I chose the slim leg with jeans pockets, since that style goes with literally everything! I used a plaid ponte from So Sew English fabrics (US based online store). I did shorten the legs a bit and slim the legs just a tad more just for my own taste. I've worn my Harpers many times already, including a long travel day and a 15 hour shift and they are still just as chic and comfortable in the end as they are when I put them on! I like to pair mine with a tucked in top or bodysuit and a skinny belt to highlight my waist. Thanks to the amazing fit of this pattern, I feel confident showing my curves all day long!
You can find me on Instagram at instagram.com/ahhhitsshannyn
---
Hi, friends! I'm Stephanie. I live on the coast in Virginia in the USA. I did the wider leg style of the Harpers. I wanted something that felt like leggings, but looked more professional for work. I used "Refined Ponte" from JoAnn's. It fit the fabric specifications and came in some solid colors I knew I would wear. I've had people comment on how cute they are. One friend asked to touch them, because she thought my stretch fancy pants were amazing. I wear my Harpers with "work" shirts – button downs, woven tanks and sweaters. Really though, they go with everything.