A sunny afternoon to you all my lovely friends. xx It is always an exciting few days when we release a new pattern – and the new Jasmine Dress is no exception.
Let me just say – it is a fabulous shape, a fabulous design and even more fabulous is that is looks AMAZING on everybody xx.
The Jasmine is an easy to sew garment and is also a quick make. Offering a fabulous size range along with cup size choices the Jasmine is a garment that suits everyone.
The Jasmine offers a choice of styling options:
• Sleeveless.
• Elbow Length Sleeve.
• 3/4 Length Sleeve.
• Long Sleeve.
• Princess Seams
• Welt Pockets
• Centre Back Seam
All of the above styles are completed with choice of:
• 50 cms (19 3/4″) Length.
• 55 cms (21 3/4″) Length.
• 60cms (23 3/4″) Length.
Make it in ponte, scuba, liverpool or a stable cotton spandex.
The finer details : On Sale for a limited time only – $8.75 (US)
https://designerstitch.com/shop/jasmine-dress/
(AU/UK) 6 – 28
(US) 2 – 24
(EU) 34 – 56
Cup Sizes – B, C, D,and DD(E)
Confident Advanced Beginner and Above Sewing level
And now prepare to be blown away by the style, fit and overall WOW of my fabulous roadies showcasing their Jasmines….xx
I have asked each of my roadies to share with you the following:
1. Your name and where you live ?
2. Your choice of style for the Jasmine and why ?
3. What fabric did you choose and where did you purchase.
4. What sewing tips can you share when sewing the Jasmine ?
5. What was your favourite thing about making the Jasmine ?
6. Have you worn your Jasmine yet and what compliments did you receive.
7. And how many more are you making ? What plans do you have ?
8. Social media URLS
Love to you all xx
Ann at Designer Stitch. xx
---
Greetings from Milwaukee, WI.
My name is Allison. I made the Jasmine dress for my teen daughter, Megan.
She choose the 3/4 sleeve, below the knee length. As she is a teen, who knows why she choose those options. I had recently tossed a couple of her solid colored dresses because she had worn them until they were no longer wearable. I had been watching for the right thing to come along to make her some replacements.
Megan's dress is made from a lighter weight ponte, purchased from Boho Fabrics. She choose green because she has recently discovered that she looks nice in green, but has very little of that color in her wardrobe.
Tips for making Jasmine. Take your time to get the pockets right. If the concepts are new to you, practice on some scraps to get it right. Read and follow the instructions the techniques will help you get a fabulous result. Finally, make a toile! Fit is highly personalized. For instance, my teen is 5' 10". She is very high waisted, so she needs a sway back adjustment. It was simple with this dress. It just required a change to the darts.
When the dress was complete, she was unsure about it. (Remember she is a teen) But, she wore it and all her friends commented how much they liked her dress. She has worn it just as it is, with a small, square scarf at the neck and with a clunky crochet infinity scarf. Since it is winter here, she has worn it with boots, so far. But, it will be fabulous with summer shoes, too.
---
I'm An Ca and I live in Belgium. When I saw the Jasmine Dress, I immediately fell in love with it. I made the knee lenght dress with elbow sleeves. I find those sleeves very wearable for every season.
I used Ponte out of my stock for this dress and I was really surprised about the how little fabric I needed to make the dress.
My favorite part of the Jasmine dress are the pockets but they're also the most trickiest part to sew, I think. I can only advice to be very accurate when you sew them.
I can't wait to wear my dress (with my new black pumps ❤️) at least my family thought it was beautiful!
X An Ca
http://flaxfieldsewing.blogspot.com
---
Hi! I'm Arina and I live in Katwijk aan Zee, the Netherlands. The test for the Jasmine Dress came online and I immediately fell in love with the fit of the dress. Such a beautiful fitted dress, that makes every woman happy! The fabric that I used is a punta di roma from www.hollandstoffenhuis.nl As a tip I want to give you: make a test model so that you ultimately have the perfect dress. I haven't worn it yet, because there is so much storm here, but I can't wait to show it to the whole world! Nice with a cool sneaker or for a chic look, with a pump.
Facebook: https://www.facebook.com/pg/Molz-20-268550406920498/about/
---
Hi I'm Ashley from London. I made the 3/4,length sleeve on the Jasmine as a lot of my dress are short or long and wanted something different and keep my arms warm! I made two Jasmine one in ponte and the other in a light weight scuba. Both worked really well. I got my fabric from a fabric book group called Coalvillefabric. I would say to you all to practice doing your pockets to make sure you get the corners right I made 3 before I did it on my dress don't rush just take your time. My favourite thing about making the Jasmine is that I learn new things all the time mainly the pockets getting them to lay right makes all the difference. I went out for dinner in my Jasmine and had a few people ask where I got my dress from it make you feel really good to know you made it but looks like it's from the shop. I have styled this dress with heels and a little bag works so well and for cooler night a little cardigan over the top. I feel so classy in this dress and know I will be making many more 😘
https://www.instagram.com/madebyashleyriley/
---
1. Hi! I'm Barbara, from Northeastern Mississippi, USA.
2. For my Jasmine, I chose the above the elbow knee length.
3. I chose a floral scuba from my stash.
4. My sewing tip: Tailor's chalk/wax is very necessary when marking the pocket seams.
5. Making the pockets were so satisfying!
6. I've worn my Jasmine to Church and received many compliments.
7. I've worn my Jasmine with black tights and wedges.
8. https://www.instagram.com/ninjabreadgirl61/
---
Hello everybody, I am Camelia from the Netherlands and I am really happy to share my Jasmine dress. Actually, I made 4 dresses and to be honest I will make more.
I made the middle length with the 3/4 sleeve. I used a ponti knit, two were made in otoman fabric and another one in double knit. All so very comfortable and nice to wear. This dress was really easy to fit, it comes with cup sizing and having the princess seams you get extra fitting possibilities.
I love the pockets in this pattern and I think this is the only step that needs a bit of practice. I made a video tutorial and if you would like you can check it out here https://youtu.be/NsFlWjVMFr0
This is my perfect kind of dress, easy to make and wear. I can wear it with flats or heels and it is so comfortable.
If you would like to see more of my sewing adventure you can find me on
YouTube at https://www.youtube.com/calcedoniasewing or on
Instagram https://www.instagram.com/calcedoniasewing/
---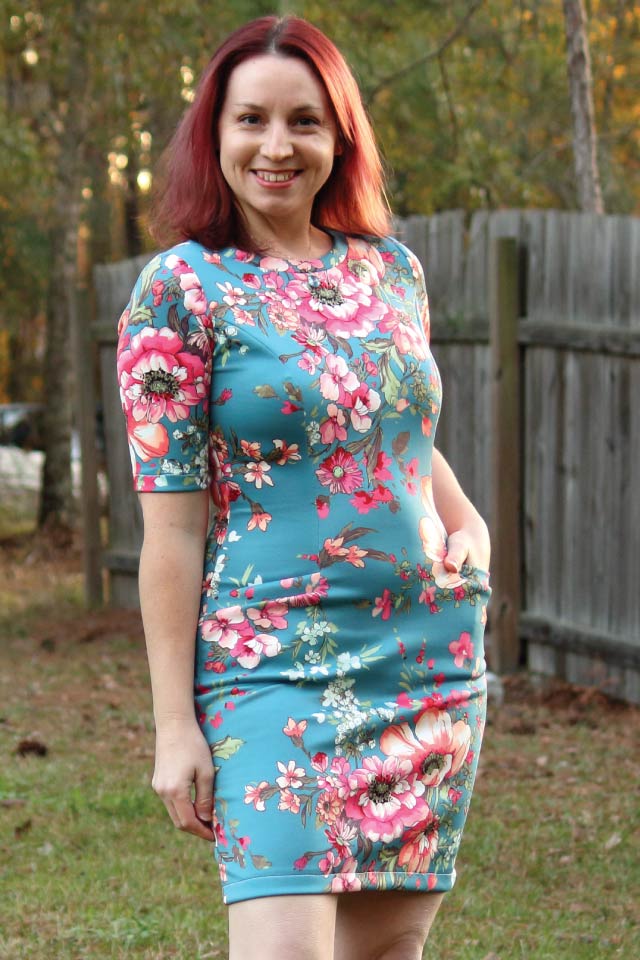 My name is Carmen, and I live in Adel, GA.
I made my Jasmine with elbow sleeves and made the shortest length which is the most flattering on me.
I used a floral techno scuba from Amazon with 96% Polyester/4% Lycra Spandex. This fabric has 40% stretch across the grain and 10% vertical stretch. This unique knit is perfect for creating knit dresses like Jasmine and Madison. I just love the fabric and it comes in a burgundy/grape and pink/mauve for more color choices.This was really the perfect fabric for the dress.
The Jasmine dress is not hard to sew, however the pockets are tricky. Make sure to take your time with them. Practicing the pockets on scrap fabric will really help you get it right. I also pinned and marked the seams to make sure I had it perfect.
My favorite thing about the dress are the pockets. The pockets on my first toile were not perfect to say the least but after pressing it was a little better. Taking my time really paid off on my final because they came out wonderful.
Another thing I had to do with the Jasmine was fine tune the fit of the princess panels to fix some strain lines on my toile.
You can visit Ann's blog to read about it here: https://designerstitch.com/fitting-for-bust-projection…/ This dress is so flattering!
I styled my Jasmine with some ankle boots and decided to keep the rest simple.
---
Hello, my name is Debbie; I live in Southern California.
I decided I needed a sleeveless Jasmine because of the warm weather here. I chose a crepe back polyester double knit with beautiful drape and 4 way stretch for this dress in navy blue from So Sew English Fabrics https://sosewenglishfabrics.com/.
My suggestion when sewing this dress is to take good measurements and grade your pattern according to the sizing chart included with the pattern. If you follow this tip you will get a perfect fit. I absolutely loved how easily this dress went together. I love the retro vibe this dress has. Everyone that has seen it so far has loved it's simple elegance. This dress can be dressed up or casual. I personally can't wait to wear it with a little white and navy scarf for a nautical look.
You can follow me on Facebook https://www.facebook.com/debbie.lafrenz
Or Instagram – ldebbie63
---
My name is Elise and I live in Queensland, Australia. I made a sleeveless Jasmine as we are in the middle of a long hot summer. I used Ponte from Spotlight, I think it is the perfect material to use for this dress has the right level of structure. The biggest tip I can give is to read the instructions carefully and you should not have an issue with the pockets, they were easier than I had expected. I love this dress because I feel so confident wearing it. I usually don't go for this silouette because it is hard to get the fit just right but Ann has again worked her magic and the fit is amazing and easy to grade. Because I have used a beautiful loud floral I am an styling it very simply. I can't wait to make another and already have black Ponte ready to make one with sleeves for winter.
---
Hi, my name is Genevieve and I live in Horsham, in the United Kingdom. As I have only been living in the UK for 12 weeks, I made a long sleeve Jasmine that I could wear in a cooler climate. My winter wardrobe needed some new pieces and Jasmine was a perfect addition. I used a Jacquard Knit from Driessenstoffen.nl, which is warm and beautiful. When sewing the pockets, follow each step and use your iron to get them perfect. My favorite thing about the Jasmine dress are the pockets. I have worn my dress styled with boots and a cardi and it majes a perfect winter outfit. Https://www.instagram.com/gegiegrossmann
---
My name is Jennie L and I live in Las Vegas, Nevada in the USA. I made two Jasmine dresses so far, and both are the sleeveless version. I used a black and white ponte de Roma for my first dress, and a custom athletic knit for my second dress. The sunset/mountain athletic knit is available for preorder here: http://bit.ly/2phccTQ
I love using wash away tape in my sewing. It really helps to keep things in place, especially when matching stripes or other patterns. This tip helped a lot on the sunset/mountain dress. My favorite thing about making my Jasmine dresses, was how much easier the pockets were the second time I did them. Practice makes perfect!
My husband loves my new dresses and he defines gave me tons of compliments, and so did our girls. I love how this style can be dressed up or casual, depending on styling. I add stilettos and some jewelry when I want to be more fancy. A jean jacket and some converse shoes can switch to a more casual look.
Blog: www.stitchedbyjennie.com
IG: www.instagram.com/stitchedbyjennie
---
Hi, I'm Kim from Melbourne Australia and lucky to be one of Ann's past students. Having the opportunity to test this amazing dress for Ann was awesome. I did the short sleeve and mid length Jasmine in a beautiful quality black Ponti Fabric which I splurged on and ordered from MOOD Fabrics. I have been hiding it in my 'stash' for perhaps a couple of years. So glad I saved it for something special and the Jasmine is the perfect new DS pattern for this fabric. My favourite part of sewing with the Ponti fabric is the edges don't need to be 'finished' so No overlocking all the seams, hence this was a quick and easy sew which for this time poor working mum is perfect! This dress got a massive tick of approval from my husband and lots of lovely likes from friends who have seen the photos of me in it. I styled it with my gorgeous new shoes from Mi Piaci new new fav shoe store. Thanks Ann Grose I cant wait for more tests. https://www.instagram.com/sewwith2pins
---
Hi! I'm Kim from the Netherlands. I made the Jasmine with long sleeves. I usually make elbow length sleeves, so I can wear a dress in autumn and spring. Now I have a lot of autumn/spring dresses and nothing for winter, so this one had to be long sleeved! I used a jacquard jersey with the same weight as ponte, bought at driessenstoffen.nl (a Dutch webshop). I loved sewing the pockets! The design is super clever and neat on the inside. I watched an instruction video Camelia made and my pockets turned out great on the first try! My sewing tip would be to take your time and watch that video 🙂 I wore my Jasmine to work with tights and black boots. My coworkers told me they didn't believe I made a dress with pockets, so that was a nice compliment!
---
Hi everyone, I am Kiran from Singapore. My Jasmine dress is the 50cm length and it's sleeveless ❤️ Just because it's so hot where I live.
My fabric is Ponte Knit from Spotlight Stores. There wasn't much of a selection, seeing as tropical countries aren't the best places to wear Ponte knit. However, I've always loved olive green and the sleeveless version makes up for the thicker fabric type.
Are there any sewing tips for the Jasmine. Yes! Fit is essential. This is a fitted dress and as such, please make sure to do your necessary sway back, full bust, small bust or whatever adjustments. It's critical to the end result. Great news is that Ann has all the info on her blog. Yes, just click here to learn more. https://designerstitch.com/blog/ plus there is also the DS pattern group over on Facebook where you could post your questions.
I just happen to have one more Jasmine in the works. Wanna see it?
Hop over to my Instagram page at http://Instagram.com/sew_kiran_sew