Hello my lovely sewing friends and welcome to the JoJo Top Tunic and Dress tester Roundup part 1.
Here in Victoria Australia there is a real autumnal nip in the air and I know my friends in the northern hemisphere will be starting to feel a little "spring' in the air – so the JoJo Top Tunic Dress is just the ticket for fabulous transseasonal wearing.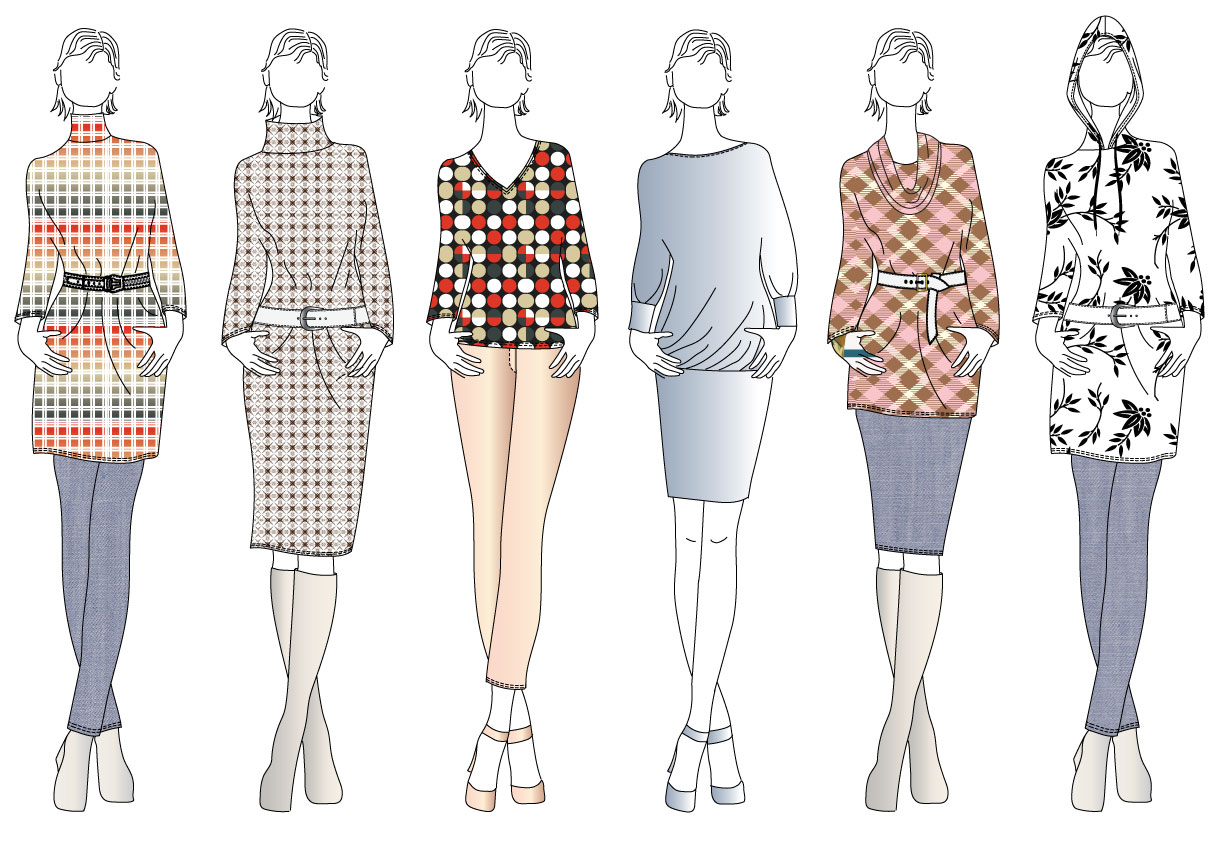 The JoJo offers a number of styling options and combinations.
1. Square Box Length
2. Thigh Length
3. Tunic Length
4. Full Dress Length.
5. Thigh or Tunic Length with attached Lower Skirt
All of the above styles are completed with choice of
1. Wide Open Turtleneck
2. Standard Turtleneck
3. Deep Cowl Neck.
4. V Bound Neckband
5. Hood.
With 3 sleeve lengths – ¾, ⅞ and full length including option of separate cuffs to attach to sleeve at ¾ and ⅞ lengths.
The finer details : On Sale for a limited time only – $7.95 (US)
(AU/UK) 6 – 26
(US) 2 – 22
(EU) 34 – 54
Confident Beginner and Above Sewing level
https://designerstitch.com/shop/jojo-top-tunic-dress/
So Woop Woop !!! – lets get the Party started –  Part 1 of the JoJo roundup.
I have asked my beautiful "roadies" to share with you the following;
1. Your name and where you live
2. Your choice of style for the JoJo and why – did you make more than one ?
3. What fabric did you choose and where did you purchase – make sure you add affiliate link to fabric seller if you are able
4. What was your favourite thing about making the JoJo.
6. Have you worn your JoJo yet and what compliments did you receive.
7. And how are you styling your JoJo ?
8. Social media URLS
Cheerio my friends.
Love to you all. xx
Ann at Designer Stitch.
---
Hi all! Aileen here from Pittsburgh, Pennsylvania!
While I plan to make a million more JoJo's, I made the hooded tunic length version during the testing. I paired it with some knee high boots.
I chose a beautiful plaid hacci sweater knit from Knitpop for my JoJo tunic.
My favorite part of making the JoJo is how quickly it came together! I also love the relaxed fit.
I've worn my JoJo quite a few times so far. I paired it with jeans to go run errands, then dressed it up with a pair of tights and boots for date night.
www.instagram.com/labeenababy
---
I am Andrea from Annapolis, Maryland, where we are currently experiencing a cold winter. Which is why I made my JoJo out of cozy sweater knit from Mily Mae Fabrics. My style is casual so jeans, boots and JoJo go very well together! It was the perfect outfit for my most recent book club get together.
https://www.instagram.com/andreashpuntoff
---
Hey y'all! I'm Barbara and I live in Northeastern Mississippi, USA.
My first JoJo was a hip length, wide turtleneck to match my flared Harper pants. I have since made 4 other variations!
For my JoJo's, I used a Leopard print Ponte de Roma and a Floral sweater knit both from Knitpop Fabrics. For my daughter's Box Top Hoodie, I used a cabled knit from Surge Fabric Shop.
My favorite thing about JoJo is that it's a capsule within itself! It is a wardrobe builder!
I have worn my JoJo's everywhere, styled with pants, boots, and skirts. I've received many compliments, my friends can't believe it's the same pattern!
https://www.instagram.com/ninjabreadgirl61/
---
I'm Becca Olson from Northern Florida…It was very hard for me to choose which style JoJo I wanted to make. This pattern is absolutely my style and I want one of each style! So to start I made one in the Hip Length. I had a super soft grey sweater knit that I knew would be perfect. We were having a cold spell here in Florida and I wanted something warm and comfy. It is exactly that! My second I wanted to make something to remind my hubby I was NOT just a wore out Nana for our 31st Anniversary. Pretty sure I succeeded on that with a burgundy burn out velvet.Both fabrics came from Joanne fabrics.
I can guarantee that I will be making more JoJos. It was such a quick and easy sew but to look at the finished garment it is so stylish and beautiful on each of the testers. A pattern like that is a keeper for sure!
I have worn both my JoJos and I love hearing "you made that?" To have a unique piece of clothing that makes me feel beautiful, but then to have others tell me they love what I am wearing is a wonderful feeling.
You can find me in Instagram as turtletraxtoo and Sewing Portfolios
https://www.sewingportfolios.com/me/becca-olson
---
Hello from sunny Adelaide! I'm Belinda and I chose the turtle neck style in a lovely viscose jersey from Tessuti Fabrics. Last week I traveled interstate and wore my JoJo on the plane; super comfy and soft and I really liked it layered with a long line tank underneath. It's a versatile pattern and I am really happy to have added it to my capsule wardrobe this season.
---
Hi, I am Camelia ( Calcedonia Sewing ) and I live in the Netherlands.
I think with the pattern the hardest was to choose which version to make first. So finally I chose the dress length with a cowl neck version in a ribbed sweater knit and as a second garment, I chose the thigh length with an attached skirt made in a jacquard jersey.
Love how easy to make is and having all the versions in one pattern is great. I wore both of my dresses with tights and boots, perfect for the cool winter days.
I have a small action video that you can see here on my YouTube channel
All my other Designer Stitch makes are here https://calcedoniasewing.blogspot.com/ or on Instagram https://www.instagram.com/calcedoniasewing/
---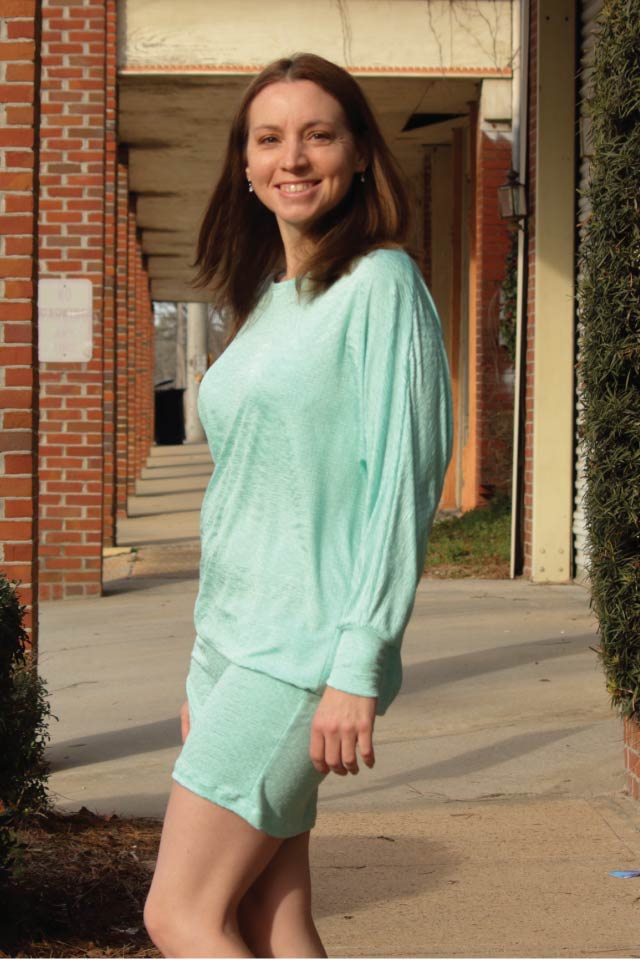 Hi, I'm Carmen from Adel, Georgia. I cannot tell you how fabulous the new Jo Jo pattern has been! I've made two and I already can't wait to cut out another one. What really makes this pattern so amazing are the many options and the ability to wear a different look for every season. The first Jo Jo I made was the box top with banded sleeves and cowl neck. The ribbed knit fabric I chose was from Walmart of all places. So for $2 I have an amazing top I'm proud to wear. The second Jo Jo I made was a sexy mint green dress length with tub skirt and a simple band collar. This version is my favorite because it's stunning on most body types and really feels empowering to wear. Both of the Jo Jos I made were from a drapey fabric and I feel this a good choice for me.
---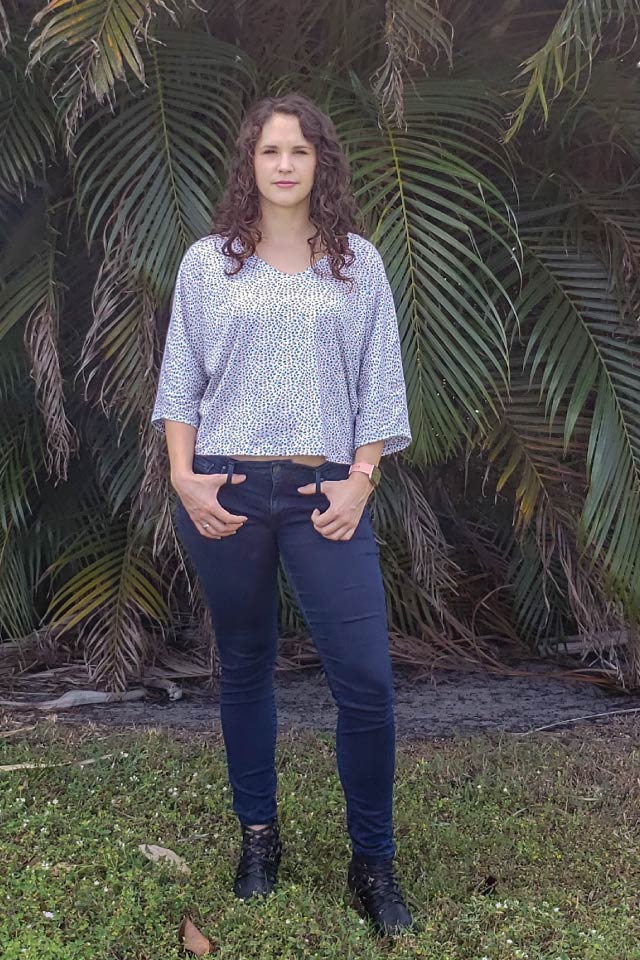 My name is December O'Sullivan, and I currently live in South Florida. For the JoJo, I chose the box length with 3/4 sleeves and v-neck for a more casual look. I haven't made a 2nd yet, but plan to make a ton of the turtleneck options when we move to a colder weather area (which will be soon, we hope!). Also inspired to make an ITY v-neck dress version for Summer by one of the other roadies!
I used a jersey knit fabric by Boho Fabrics for mine and it is super comfy!
Referral code: http://rwrd.io/wq1mepf
My favorite thing about this pattern is the ease of construction and how quickly the beautiful results can come together. I style this JoJo with jeans and booties or even with leggings once or twice.
IG: https://www.instagram.com/decembwar/
---
Diane from Phoenix Arizona. I chose to make a tunic to wear with some orphan leggings and knew right away that I wanted to make the V neck and long sleeves. Ann added the cuffs during the test and I love the look even more with them added. I chose raspberry jersey from my stash and don't remember where it's from. I've worn JoJo and love the comfort. People think it's cute. I styled mine with wild leggings and boots, although
I will also wear it with my Alyce Pants.
http://sewingwithd.wordpress.com
https://www.facebook.com/diane.cullum.1
https://www.instagram.com/twochicklets/
---
I'm Gabz Jefferson from New Mexico, USA. I made the Tunic version with huge turtle neck for mine using thick interlock knit from fabricmart. I really love this fabric because it makes the collar stand nicely. It is actually my favorite part to sew. My friends told me that I look amazing wearing my JoJo, I do agree because this garment is like a masterpiece. You don't know how much I've been eyeing for this style in Pinterest. I'm so glad Designer stitch made this pattern. It is so perfect for my thigh high boots.
If you want to see more of my Designer Stitch projects, you may follow me at www.instagram.com/itsewcolorful or read my blog at https://itsewcolorful.wordpress.com and you may also look for www.facebook.com/itsewcolorful
---
Hi, my name is Genevieve and I live in Johannesburg, South Africa. I made a turtleneck, top length, 3/4 sleeve,a hooded tunic length, long sleeve and a cowl, skirt, long sleeve Jojo. Yes, I made 3 different options. I made them to try out some of the options and I loved that I got 3 totally different looks. Casual to smart to athletic. I used different fabrics for each from French terry to sweater knit to Ponte. All were sourced and bought locally here. I loved making my Jojo's because they are quick and fun to sew and there are loads of options, so each item is totally different from the one made before. I have worn both my tops so far, I'm waiting for cooler weather for my dress. I've received so many compliments and I feel fantastic wearing them. I love to wear my top length with jeans and either sneakers for an informal look or heals for evening. My hoodie, I pair with my Harper Pants and this mommy feels great and put together at school sports events.
Https://www.instagram.com/gegiegrossmann
---
Hello, my name is Ilse and I live in Belgium. Out of all the options from the Jojo I chose the tunic with cuffs so I could wear it over slim pants. The Jojo is such a quick sew, I love that! I did wore it a few times and styled it with my Obi Belt from the Ilse Vest. Like this it accentuates my waist. I really need some more Jojos, but where can I buy some time!
https://sewsewilse.wordpress.com
https://www.instagram.com/sewsewilse
---
Hi ladies, Inge from Belgium, my JoJo choice was initially the dress version but eventually went for the tunic, I made 1 version but basically living in the JoJo I need to make more 😉. I choose for a soft knit with lurex, bought it in a local store. I loved making the Jojo, it's easy and fast sewing with a big result. As I said, living in the Jojo I worn it a lot with jeans, heels or sneakers. It's so easy to style and people love it. You want to see more? www.madamstof.wordpress.com or my IG https://www.instagram.com/madame_stof
---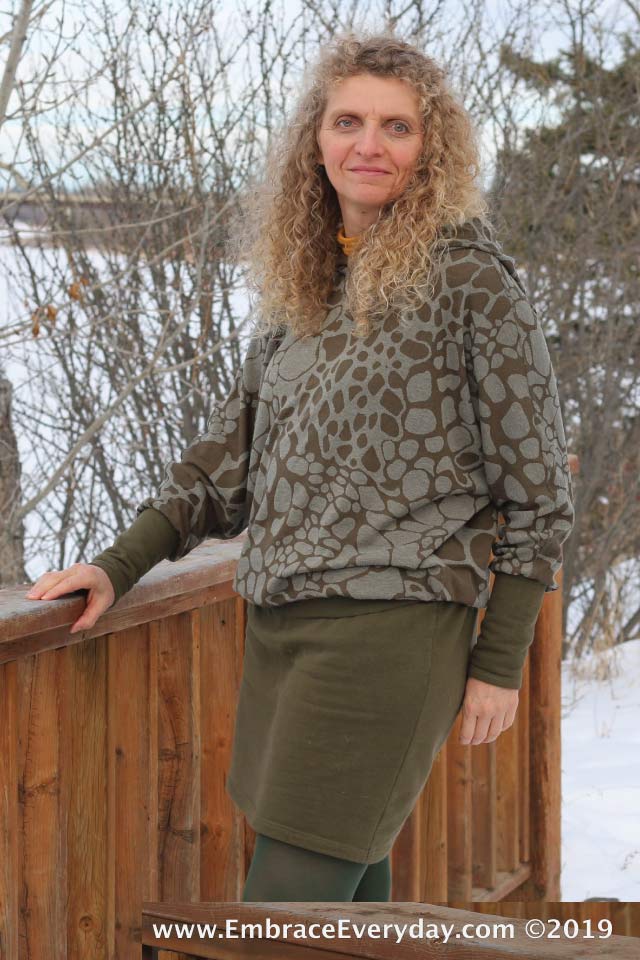 Hi! I am Jenny and I live in Canada. I made the hooded JoJo at thigh length with the attached skirt and cuffs. I used an animal print for the top and a coordinating fabric for the skirt and cuffs. I love the creativity that comes with a pattern with so many options. I was originally just planning on making the top but things quickly evolved! I have worn my dress a few times even though the temperatures have been quite frigid here…throw on a pair of tights and this dress is perfect! And you may even turn a few heads!
You can find my blog at https://embraceeveryday.wordpress.com/
or visit me at instagram https://www.instagram.com/othersideofthegarden
---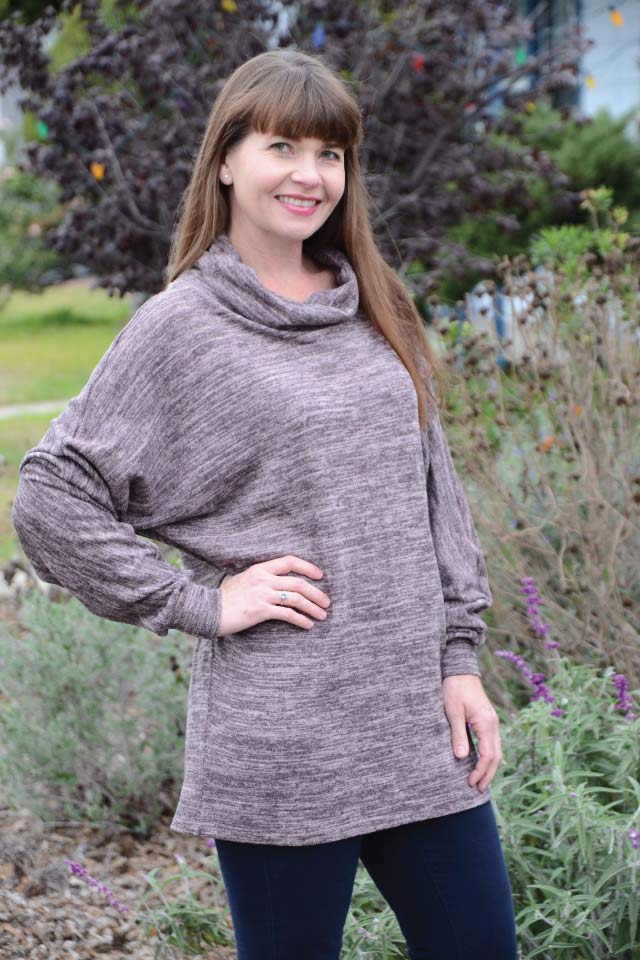 Hi! I'm Katie and I live in Southern California. JoJo is such an incredibly versatile pattern, I couldn't resist trying a few options! I sewed a v-neck dress in ITY, a cowl tunic in brushed hacci knit, and a boxy top with a wide-open turtleneck in a stable wool blend. I found planning my JoJos so much fun – the options are seemingly endless and you could really fill your closet with different versions! You can view all my versions posted here on my Instagram: https://www.instagram.com/kak513/.
---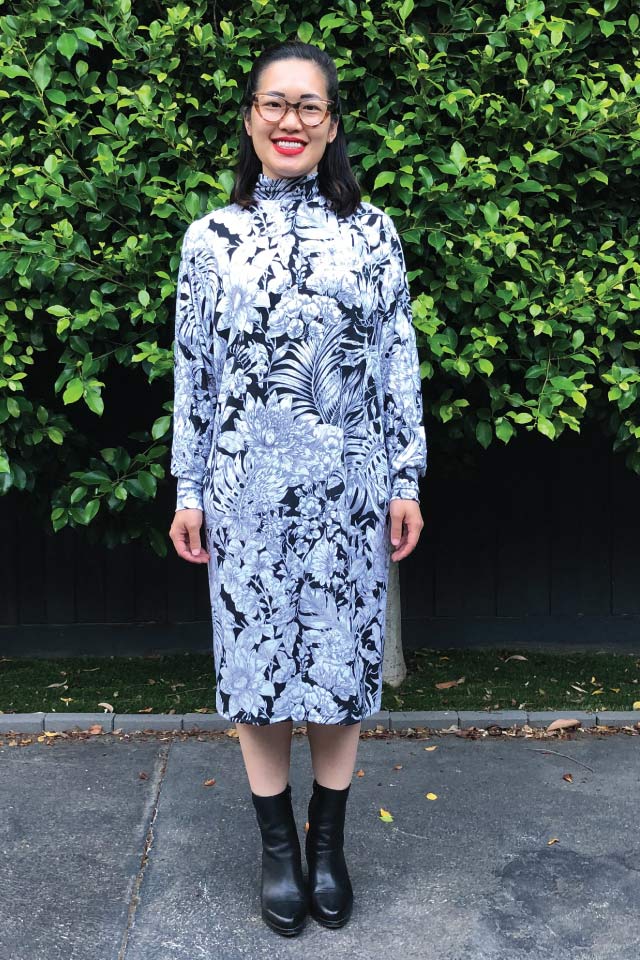 Hi there! My name is Kee and I'm from Melbourne, Australia. As I am one of Annie's sewing students, I was privy to this pattern from it's humble beginnings as a wide necked jumper, of which I had made two. I then wanted a dress with a longer neck, so that's how the cowl neck started. So when Ann added on the normal turtleneck, I couldn't resist!
My fabric is jersey from Fabric Deluxe in Footscray.
I have worn my Jojo to work and everyone loved it!! It also felt so comfortable the whole the day – like wearing a nighty – but looking tres chic!! As I've been wanting more winter clothes, I style my Jojo with leather ankle boots and a black leather jacket. You can find more pictures of my me made goodies and my cat, Rom rom from https://www.instagram.com/thekeetoacraftylife
---
hi I'm Kim, one of Ann's students (well if she starts up classes again soon!!!??) I sewed the JoJo for my daughter in a tunic version which is great as a short dress in summer and then over leggings in winter. I picked up the great fabric from spotlight and did a contrasting hood.
---
I'm Lieve Deduytschaever. I live in Belgium, in a town called Zwijnaarde. I made the dress ad-on because she is so stylish. On my schedule is also a nice sweater version. The beautiful knitted tricot comes from Toverstof in Destelbergen. I thought it was fantastic that the dress was ready so quickly. I wore the JoJo at a housewarming party and immediately got the question what pattern it was. I wear the dress with a brown leather belt and with my beautiful Italian boots. Instand glamor!
You can find me on https://www.instagram.com/girlsinuniformblog/ and https://girlsinuniformblog.com