Hi Ho my sewing friends. I hope today find you all happy, healthy and sewing of course !!
As we have re-released our Kat Top – Weekday and Weekend – it means that I can highlight our ever wonderful roadies and all their glorious makes. 
The Kat Top was one of the first patterns ever released by Designer Stitch and has had a steady reception over these many years.
Many sew'ists have coined the Kat Top – both the Weekday and the Weekend – their TNT garment – aka their – tried'n'true garment. 
This re-release has added two new sizes into it – DS 12 and 13 – plus cup sizes – C, D, DD.
The original fit of the Kat Top is still classed as a B cup so we still have our cup choices that Designer Stitch is well known for. 
So without to much talk today I would like to introduce to my ever so fabulous rockstar roadies who tested the Kat Top.
I am sure you recognise their faces as all feature heavily in my roadies roundups.
And I am sure you will all agree with me that their makes – each roadies roundup – are just ever so perfect.
And our roadies would like to share the following with you all :
1. Your name and where you live ?
2. Your choice of option for the
Kat Top
 and why ?
3. What fabric did you choose and where did you purchase ?
4. What alterations did you have to make to your
Kat Top
 toile ?
5. What sewing tips can you share when sewing the
Kat Top
 ?
6. What was your favourite thing about making the
Kat Top
?
7. Did you make more than one combo of the
Kat Top
?
8. Have you worn your
Kat Top
 yet and what compliments did you receive ?
And the finer details; (AU/UK) 6 – 30 (US) 2 – 26 (EU) 34 – 58
On Sale for a limited time only – $9.75(US)
Very Confident Advanced Beginner and Above Sewing level
---
This is
Allison
and I made the Kat top for my teen daughter, Megan.
I made her a couple of different tops. One was a cotton fabric with the plaid printed in a way that makes it appear to be on the bias. The Kat top is not cut on the bias. This top is super comfortable to wear.
The other top was from a black silky fabric with a small, scattered feather print. This one was her favorite one to wear. The cut and design felt trendy to her.
Both of them she paired with a Designer Stitch Dickey (another fantastic wardrobe addition) and a skirt.
I did not make any fit adjustments to this top. Be sure to measure and use the guide to get the correct bust size.
This top has a wide range of wear opportunities, all depending on your fabric base.
I think the simplicity of this top let's one get creative with their fabric to use for great prints.
---
hi, this is

Brenda

from The Netherlands and I'm delighted that the Kat top got an update and is getting re-released.
I've made both versions and one where I borrowed the long sleeves of the Monique jumpsuit.
All 3 are in heavy rotation because they are so easy to combine. They wear easy and comfortable but are style nevertheless.
I'm not sure anymore where I got my fabrics, but I think that's driessenstoffen.
I do plan on making a few more, but I'm not sure yet on fabrics so I am still debating on that.
Do you want to see more of my sewing? You can follow me on Instagram: https://www.instagram.com/fabricfairybrenda/
---

Hi, it's Beck from Melbourne. I sewed a Weekend Kat top using the DD cup size and graded up for my waist measurement. I just love the classic shape of this top. I used a light embroidered cotton from Spotlight and have had lots of wear from this wardrobe staple.
---
I'm Carmen from Georgia. I choose a polyester blend fabric which is very soft and flowing from my local fabric store. A sewing tip I'm happy to share would be to press the fabric as you go for a ready to wear finish. This top is fast to make and very functional for work and casual wear.
I chose to make the Weekday version of Kat and it is really a lovely top.
I made a few fit alterations as I always do. I blended two sizes to accommodate my hips and shortened the top. I have worn the top several times since making it and love how easy it works for most occasions. If you would like to see more, visit https://www.instagram.com/carmen_in_the_end/
---
Hi everybody, it's Christine M from the Netherlands. The Kat-top is a basic everyone should have. Especially the bust sizes makes it so nice to wear. I made a chambray denim one with sleeves and a sleeveless red dotted one in peachskin. Both were leftovers from previous projects. And that's another reason to purchase this pattern: you can make one in every colour in you fabric stash. I'm making one at the moment, so I'm hoping to have it done in time for the realease day. This time I'm using it for a leftover to go with pants in the same fabric, so I can wear it as a faux jumpsuit. I had to lower the bustdart with 1.5 cm so my advise would be to check out were your apex should be in the pattern. I've worn mine several times, so i'f you're curious about that have a look at my instagram profile: https://www.instagram.com/stienmakes/?hl=nl
---
Hello my name is Elise and I live in Queensland Australia. I love the Kat Top both the Weekday and the Weekend, but I do think the Weekend might win out for me because it is so darn easy. I have lost count of how many I have made, I have even extended the length and made a dress. They are so comfortable, easy to wear, fast to make and if you use a fun print, can be a real statement piece for your wardrobe. I pair mine generally with pants for outings to the park or other family activities. I have used all sorts of cotton fabrics to make my Kats Rayon blends, Linen blends or even quilting cotton, it just depends on the look you want to achieve. It does not take much fabric so I have used reminents to whip up something fabulous.
---
Hello everyone, Kelly from sunny California here. I'm so excited that the Kat has been re-released with extended sizing and cup options! I made the Week Day Kat in this super fun woven print. I had to make a few tweaks to my toile to get the right fit for my shape, including bringing the whole neckline in so the neckline would not gape on me and for the shoulder seam to sit in the correct place. Don't skip a toile, you may also need some tweaks before cutting into your "good" fabric!
I paired my Kat with some jeans and a pair of heels. It also looks great with a Dickey collar as well.
You can find me on Instagram where I like to show off all of my Designer Stitch makes! https://www.instagram.com/kellygonthierart/
---
Hey, I am Girl in Uniform Lieve from Ghent, Belgium. For my version of the new and improved Kat Weekday, I chose a nice jersey in shades of blue. Because the Kat is an oversized t-shirt, I graded from size two at the chest to size one at the waist. That way the Kat is still fashionably wide, but I feel like it fits better on the hips. I already wore the t-shirt on different outfits: on slim fit jeans with heels for a party, in a wide skirt for a weekday or combined with shorts and sandals for a summery Sunday. Want to see more? You can find me here: www.instagram.com/girlsinuniformblog and www.girlsinuniformblog.com
---
I'm Lindsie from the Philadelphia area (USA). The Kat is my FAVORITE basic woven top pattern. It's amazing, and you should make it. I made my first Kat in a double gauze (from Joann's, I believe?), and a subsequent version in a viscose from Sew Anonymous. For both tops, I chose the weekend version, because I love a grown-on sleeve. I did not need any fit alterations for my busty frame! I plan to make more Kats once I'm no longer pregnant, as this is my favorite work shirt, though I'll likely need a full bust adjustment on my next go to accommodate the post-pregnancy boobs.
You can find me (and the whole Sew Busty Community) at sewbusty.com, instagram.com/sewbusty and facebook.com/groups/sewbustcommunity
---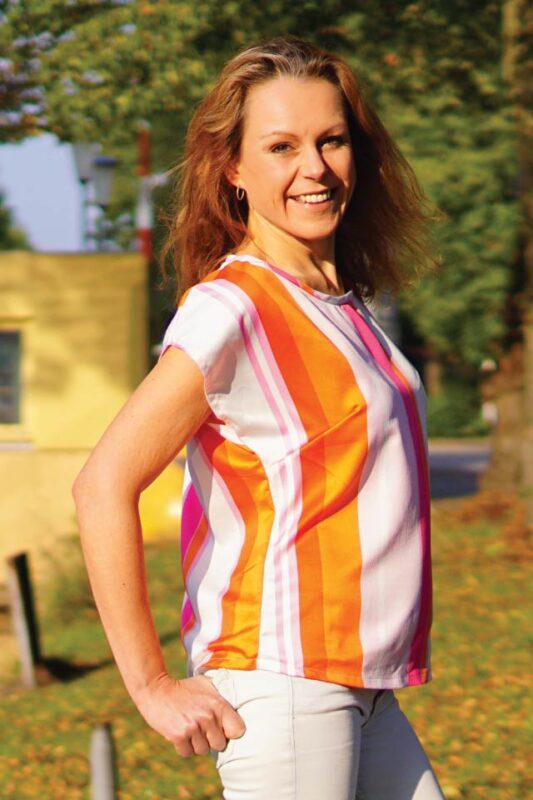 Hello everyone, here is Marieke from the Netherlands.
As you all might know- I love every design from Ann so much; the dresses, the Vintage look, underwear, nightwear etc etc. But don't forget about basics.
The Kat top is an easy and perfect woven basic tee and depending on your fabrics, wear it as eye catcher on your denim or with a blazer, a skirt and so on.
Needless to say that the fit- with cupsizes- is the one you need for everyday.
I made both looks and wear them weekly more then once- just on a jeans or as I said earlier with a blazer or a cardigan.
My fabrics are pretty eye catching already so I keep the rest of my outfit simple.
It's an easy sew and just take your time for your personal fit and you'll sew many gorgeous tops in a blink! ❤
---
hi, I'm Shardee from the Netherlands.
The kat top is a quick one to make, even quicker than washing 🙈🙈
I bought this beautiful viscose fabric at a markt in Rotterdam, it's twice a year ( stoffenspektakel)
The kat top is a basic top, you can style it with everything you wanted. From skirt to skinny jeans. It's always a hit.
With a blazer over it, you can even wear it at the office 😉
If you like to see more of my sewing work, follow my Instagram on www.instagram.com/sewing_shar
---
Hi I'm José and this might be my most basic make of all my DS makes 😂
But how I have had such a great use of it!
I did both versions of the Kat top, with normal sleeves in a rayon woven, which I cut on the bias.
It makes the top lay so great I love it to pieces.
It really skims your shape! Just beware it kan be stretched out of proportion very easily so handle with care.
My grey leopard Kat is kinda basic too right?
It's a bit stiffer satin type of fabric so it makes the cut sleeve pop! It's another out of laundry blind grab for me!
I'm sure it is a staple pattern go to for you too!
You want to see more?
Hop over to my Instagram: https://www.instagram.com/jose.vernooy