Hey Ho my friends. I hope you are all travelling well and are happy and safe.
Today I am sharing with you a small re-mix – also known as "hack" – in the sewing world.
We have just released the fabulous new Peta Top and Dress sewing pattern and in the pattern testing phase I had 2 of my roadies who needed to alter their top to accommodate their pregnancy. 
It is a relatively easy technique – quick to achieve – and the garment easily accommodates a growing tummy.

So lets start. I would like to shoutout to both our Shardee VD and Lindsie R who I am featuring here on this post.
They are both fabulous and dedicated roadies and I just adore them both.
Plus I was happy and honoured to show them an easy pattern alteration for their own Peta Top that they could add to their sewing repertoire. 
So Lets Talk DARTS.
Darts are an essential part of fitting a garment. You can't just ignore darts – as they are used to shape and fit a body – but you can use them to create fullness in garments.
Fullness can be in the form of flare, gather, pleats etc. Darts are discussed in more detail here – Darts Are Essential Shaping Tools
Using Darts to Flare the Hemline.
The above image is the front of the Peta Top. You will see that it has a side bust dart. We are going to use this dart to create fullness in the hemline of the top.
Step 1. Using the above image as a guide divide the hemline into 1/4's and draw a connecting line up to the tip (apex) of the bust dart.
Slash along each of these lines to the dart tip. Your pattern is now divided up into portions.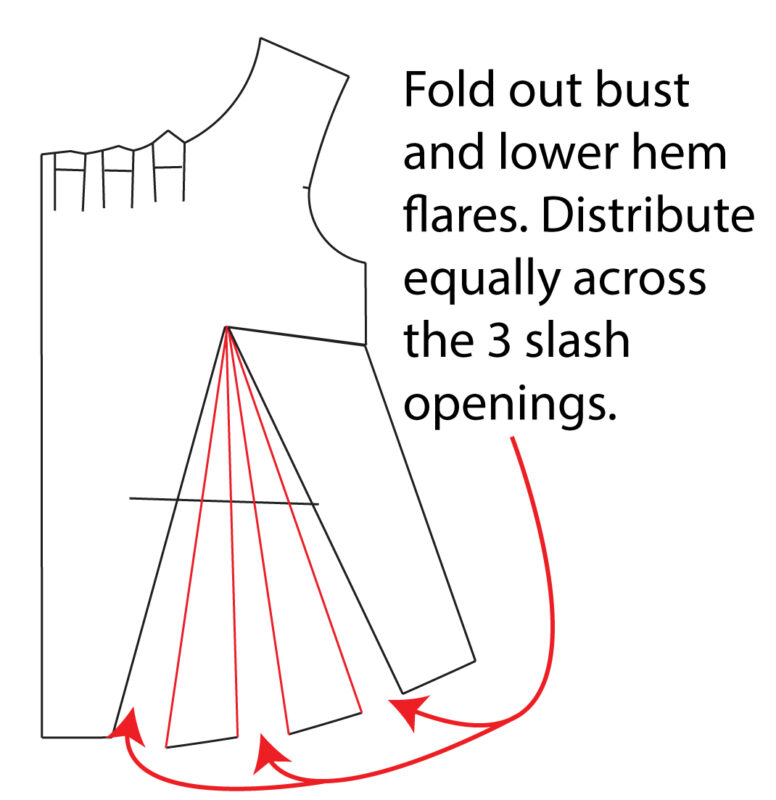 Step 2. Using the above image as a guide fold out the side bust dart and you will see that the side part of the front swings over to create a wedge of extra fullness.
We don't want this fullness to be concentrated in just this area – hence why we had divided the pattern into a few portions. 
Swing each of the portions so the fullness – opening of the lower pattern – is equal in each of the slashed openings. 
You will see in the above image that each portion has been opened (swung) to be equal with the others.
Place some scrap paper behind the open area and using adhesive tape stick down to hold and to fill in the gaps. 
Step 2. The final cleanup of pattern. Straighten off the side seam and curve the lower hem making sure the CF hem is squared off and the curve meets back at the side seam junction. 
And that is it. A very easy and quick pattern alteration for maternity. DONE xx
I will now post some real time photos of both out Shardee VD and Lindsie R real time Peta Top pattern alterations. 
Shardee VD Pattern Alterations.
These are images of Shardee's pattern alteration following the above steps as I detailed.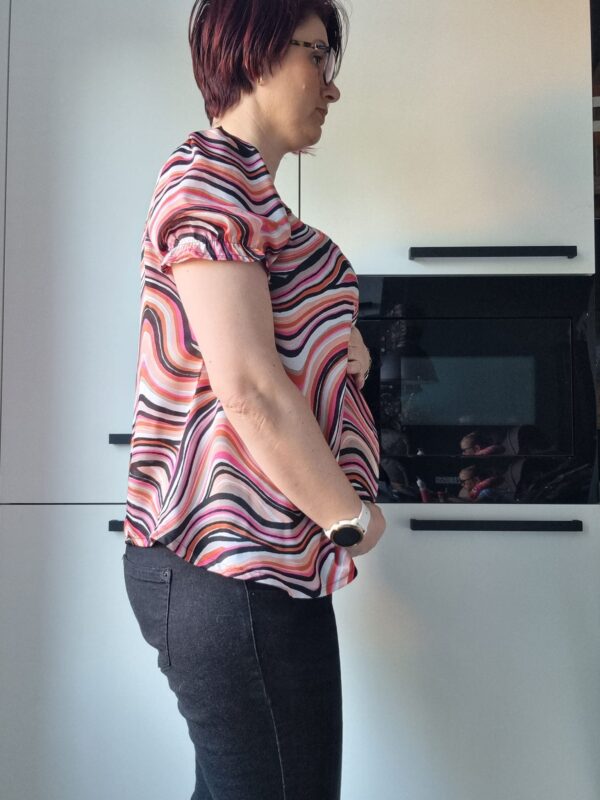 And our Shardee's finished Peta Top.
Lindsie R Pattern Alterations.


Our Lindsie's pattern alteration for hem flare for her Peta Top.
Lindsie also had to complete an extra step as she needed a larger cup size for her fit so she also completed a FBA.
And our Lindsie's finished Peta Top.
Thanks everyone for reading. And I hope this blog post has helped you with any flare adjustments that you may need in your garments. 

Lots of love to you.
Cheerio xx
Ann at Designer Stitch.