Hello to everyone around the world. Here in Australia we are experiencing gorgeous autumnal weather – very much a late "indian" type summer while I know the northern hemisphere has started to show signs of gorgeous spring weather.
I hope you enjoyed reading my post yesterday – Kate Vintage Tea Dress Influences and Inspiration post.
So now I would like to welcome you all to the showcase of the Kate Vintage Tea Dress Combo – Part 1 of the  Tester Roundup.
Each new pattern release I always showcase my pattern testers – or "roadies" – they are the heart and soul of any new pattern that is part of the Designer Stitch catalogue.
And these ladies are amazing at what they do – true professionals and artisans. xx
So for this roundup I asked them the following questions so they could all share their thoughts with you.
1. Name and where you live ?
2. What your initial thoughts on the Kate Dress were and how you thought you could "make" it your own ?
3. Why did you choose the option that you did ?
3. What fabric did you use and was there any tricky sewing involved.
And don't forget the Kate Vintage Tea Dress Combo is on it release sale price of  $8 US and is a multi-sized pattern :
(AU/UK) 6 – 26
(US) 2 – 22
(EU) 34 – 54
Advanced Beginner/Intermediate Sewing Level
https://designerstitch.com/shop/kate-vintage-tea-dress
Cheerio and Kind Regards
Ann at Designer Stitch
---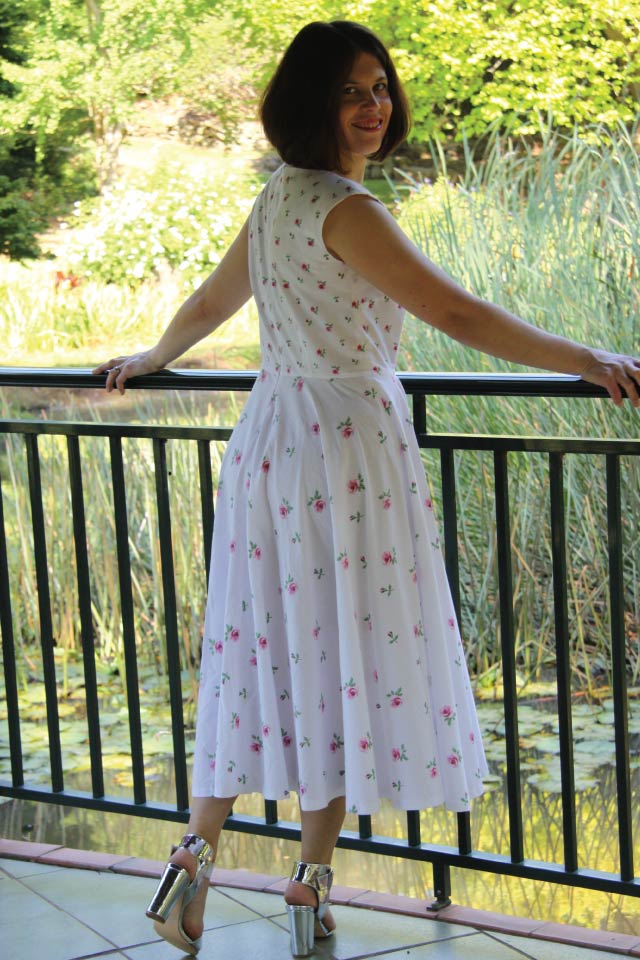 My name is Kate, and I live in Wollongong Australia.
The Kate dress is pretty special to me, as it was named after me. What an honour! I made a full length version when it was originally released in Vintage Made Magazine. For that version I used an Ikea doona cover and matching pillowcase. The print was just so pretty, and there was plenty of coordinating fabric to work with. I always received so many compliments whenever I wore it.
For my second version I wanted something a bit less romantic, and more flirty. I found the butterfly brocade on sale at Spotlight, and it was love. The shorter length in this fabric has more of a cocktail dress vibe going on, and with the 3/4 circle skirt, it still looks great over my generous hips (I'm definitely a pear shape). I also took a close look at photos of the original, and added a small sway back adjustment to my second.
The brocade was pretty easy to sew with. I overlocked all my exposed raw edges to prevent fraying early in the piece, so I didn't have long bits of fluffy threads going all over the place. Next time sewing with this fabric I'll try using a microtex needle, as I think the standard one I used was snagging some of the fibres, making seams a little visible. The only other problem was that the fabric was very narrow, so I needed more like 4m than 3m to get all the pattern pieces.
http://katewillknit.blogspot.com.au/
https://www.facebook.com/katewillknit
https://www.instagram.com/katewillknit/
---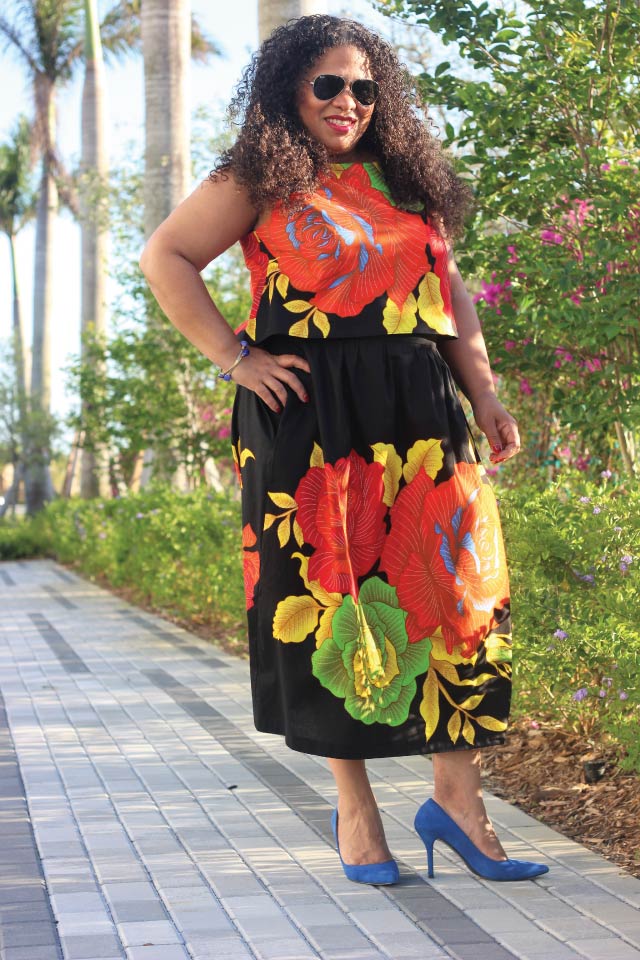 Hello! My name is Johanna and I live in Fort Lauderdale, FL.
As soon as I saw the Kate dress I knew I wanted to make it. Kate is so classic and chic looking. I was even more excited when I saw that there were additional options added. Kate now had a circle skirt or gathered skirt option and I could also make it as a top and skirt separates. I decided that I was going to make the top and gathered skirt option, for my first one. I want to try the circle skirt option in the feature as well as the complete dress. I chose to make the skirt and top because I figured I would be able to wear the pieces more often as separates as opposed to a dress. I can pair the skirt with a nice blouse and I could were the top with some slacks or jeans and some heels or sandals.
I had this amazing Ankara African print fabric with giant flowers on it that I thought would be perfect for this project. The flowers are placed on the fabric in panels. I did have to do some pattern matching while cutting out my pattern pieces. I wanted the flowers to be in the center of my skirt and top so I had to make my pattern placement was just right. I think it worked out pretty well. So there was tricky fabric cutting, but not any tricky sewing involved.
Blog www.soveryjo.com
Facebook www.facebook.com/soveryjo
Instagram www.instagram.com/soveryjo
---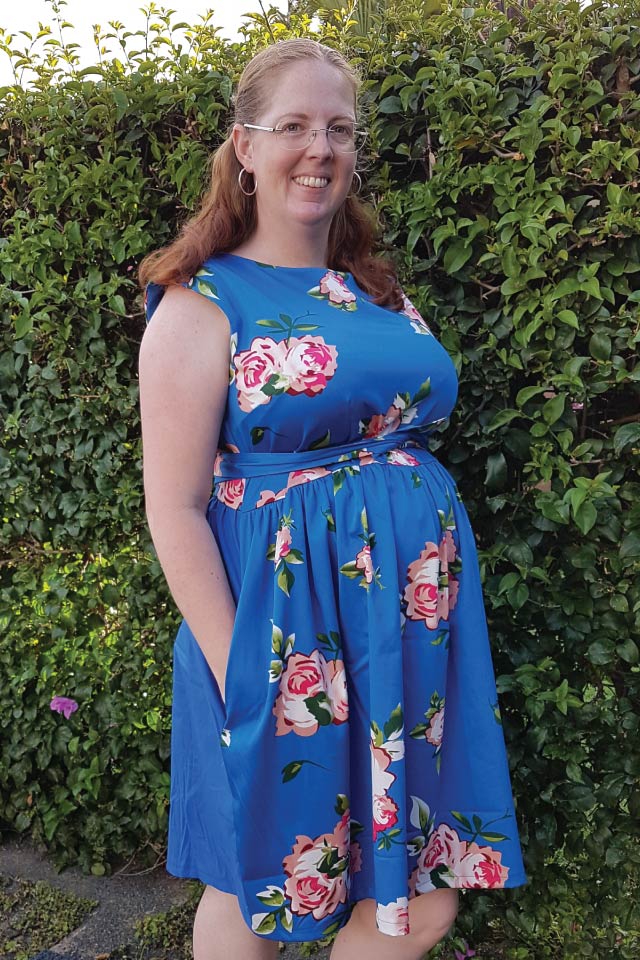 Bec Munro, Queensland, Australia.
The Kate dress spoke of elegance and a bygone era to me. I was so excited to see that I could use crepe backed satin to make it, but when the time came to cut my fabric I just didn't love the colour I'd chosen.Initially, I chose to just test the top. My muslin turned out so fabulously, I was eager to try the dress. Ann graciously allowed me to shorten the bodice to accommodate my (then) 17 week bump. I used cotton sateen. I was thrilled to discover I'd cut a size 6/7 tea length dress out of only 2m… until I started sewing and realised I'd only cut out one back skirt ?? So the back skirt is plain cotton in a similar colour.
https://facebook.com/bec.munro.9
http://spiritnbadger.blogspot.com.au
---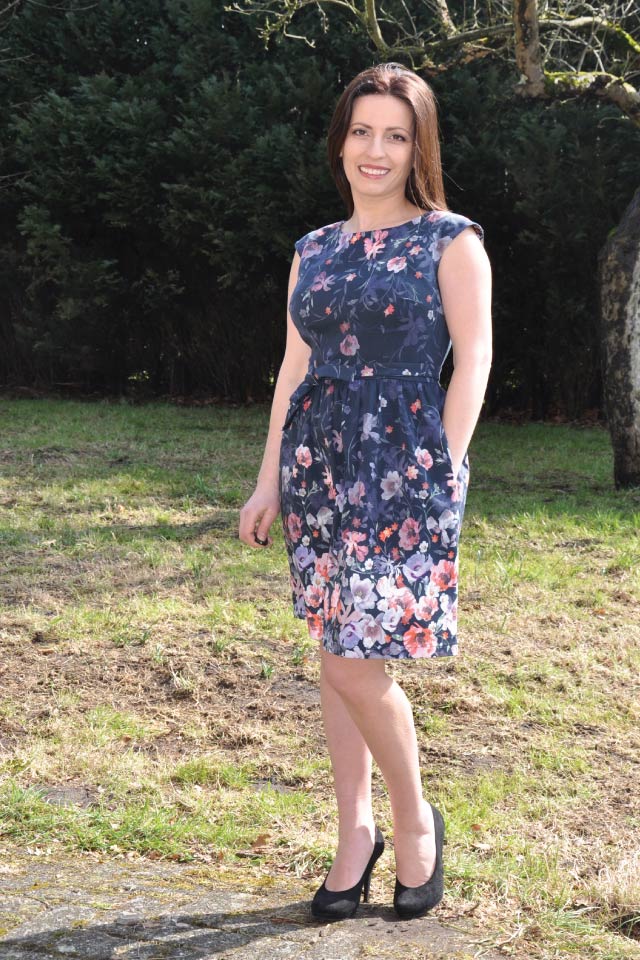 Camelia, from the Netherlands, originally from Romania.
I don`t wear dresses a lot but I do love to make them and my stash is full with dress fabrics. So a dress pattern from Designer Stitch , which I know is great drafted, cups sizing and great instruction the decision was quickly made. First fabric I had in my head for this pattern was a border print I had, so Ann was kindly enough to put the gathered skirt option on the pattern to make it suitable for border prints. I made a total of 3 in a week. This is actually a pretty fast make if you use an easy fabric. I used cotton stretch on my versions and that was really easy and enjoyable to make.
Blog: http://calcedoniasewing.blogspot.nl
Facebook: https://www.facebook.com/calcedoniasewing/
Instagram: https://www.instagram.com/calcedoniasewing
---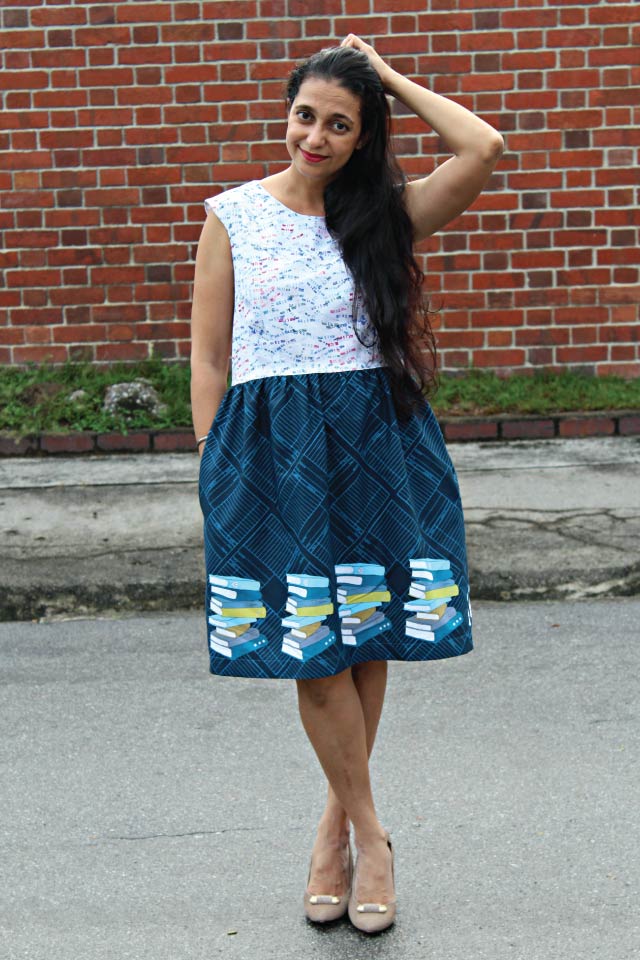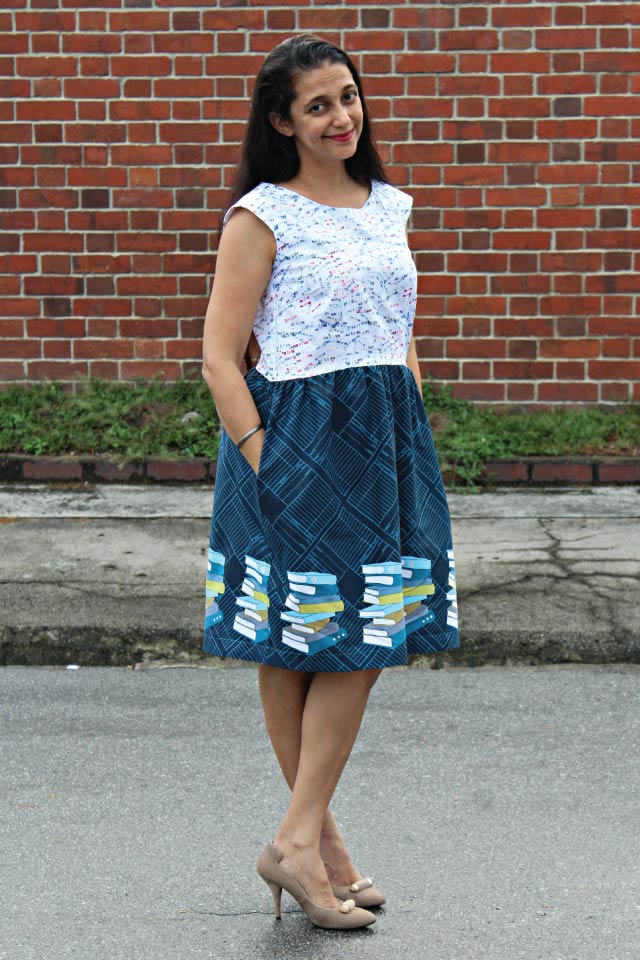 Hello, I'm Kiran from Singapore. I am honoured to have been part of the crew that tested the Kate dress by Designer Stitch. The instant I saw the line drawing posted by Ann, I was in love with the dress. What started off as a single dress, soon became a pattern with a multitude of options, and numerous ways to personalise your own Kate. Ann is really so generous and talented. Personally, I liked the circle skirt option the best. But I had a cute border print that had been calling out to me from my stash for a long time and I decided that this was the pattern that i would sew it with. This fabric is a quilting cotton print from the Literary collection by Heather Givans. Any self professed bookworm would go ga-ga over the bodice print (go on, take a closer look!)  This being a border print fabric meant I would sew up the box gathered skirt, and because I am petite(ish) I prefer knee length skirts compared to tea length. I was pleasantly surprised that the Kate is such a breezy sew, I completed it in one (kid-Free) afternoon.
Join me on this and other sewing adventures at www.instagram.com/gloopygoo
---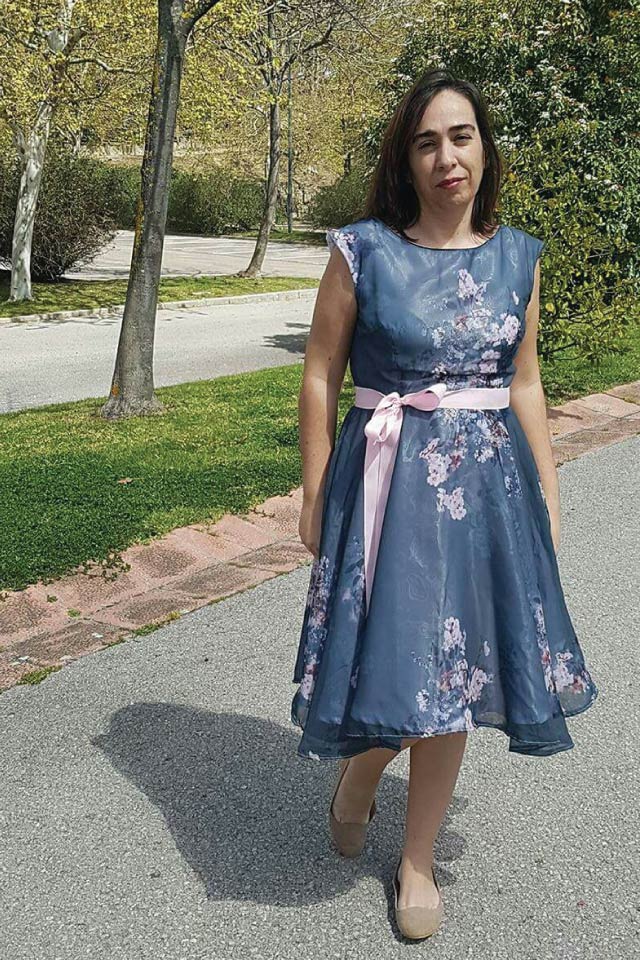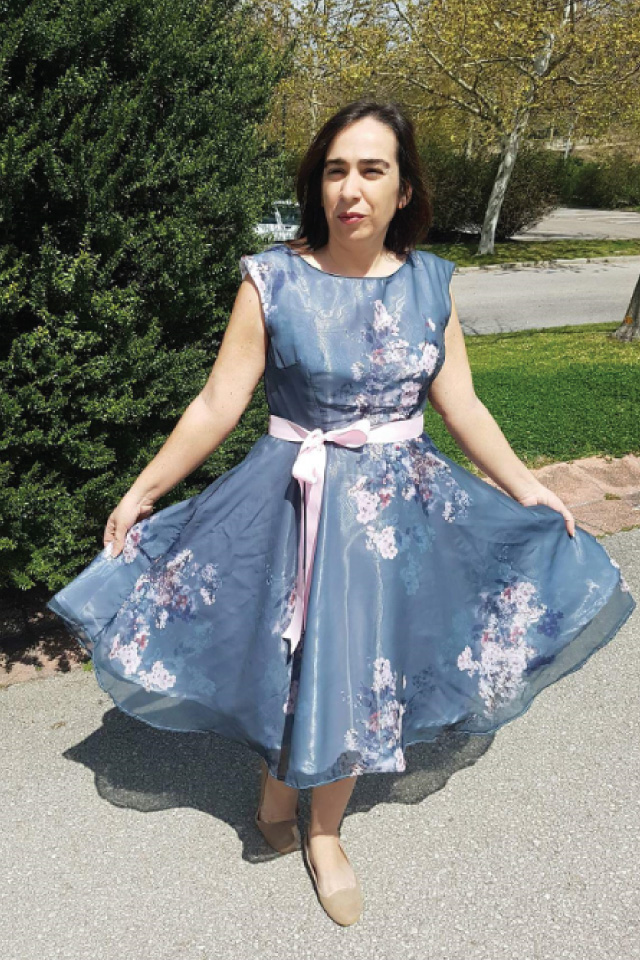 Hi! I'm Dora Serrano and I live in Lisbon's South Bay, Portugal.
When Ann started to tease us, testers, with some inspirational pics of Kate's dress, I thought "Oh Ann… no teasing needed here, I'm in already… when do we start?" 😀 I absolutely loved this dress and although there were other options (several, actually… and I loved them all), to me it was always THE dress! There was a time that I considered making also the top and skirt option, but then I realised that what I really wanted was just the dress. No other motive for this choice, just pure passion, love at first sight!
From that point onwards, I looked for some extra inspiration on Pinterest. I found my perfect fabric when shopping for other DS projects and… it was like all the pieces of the puzzle came together: pattern, fabric…
I must confess that my fabric choice scared me a little: a fragile sheer fabric that needed full lining meant extra sewing care and french seams. Although the seams did not scare me, working with this fabric did. Then again… I really wanted to do this and Ann has this ability of making me go outside the box, leave my comfort zone and go for it… so I did!
You can check on my sewing adventures and see both fabric and dress at:
www.instagram.com/colourbymim
and https://sew4five.wordpress.com
---
I'm Bec Walker from Melbourne Australia. When I first saw the Kate dress I thought it was lovely but wouldn't be practical for mum-life, as I'm breastfeeding. However when I then saw that Ann was adding options for separates I was excited as it made Kate breastfeeding friendly. It also meant that I would be able to use the pieces separately as well as together as a dress. So a great versatile capsule piece. I used a poly-cotton from my stash with a black and white check print. I picked this as we are at the beginning of autumn and I wanted something I could use in my wardrobe before spring.
Instagram: http://www.instagram.com/edgestitch.bec
https://edgestitch.wordpress.com/
---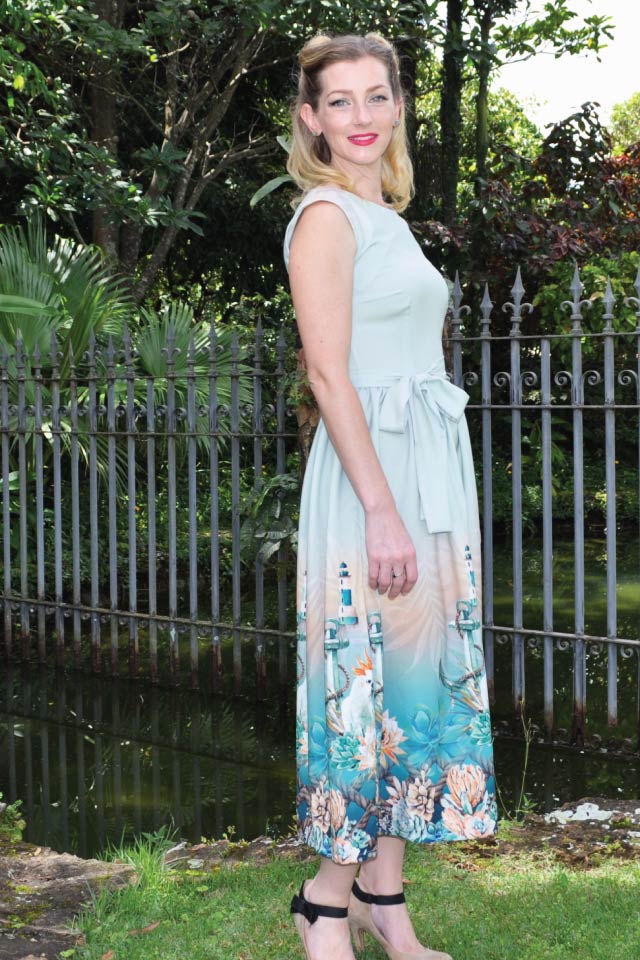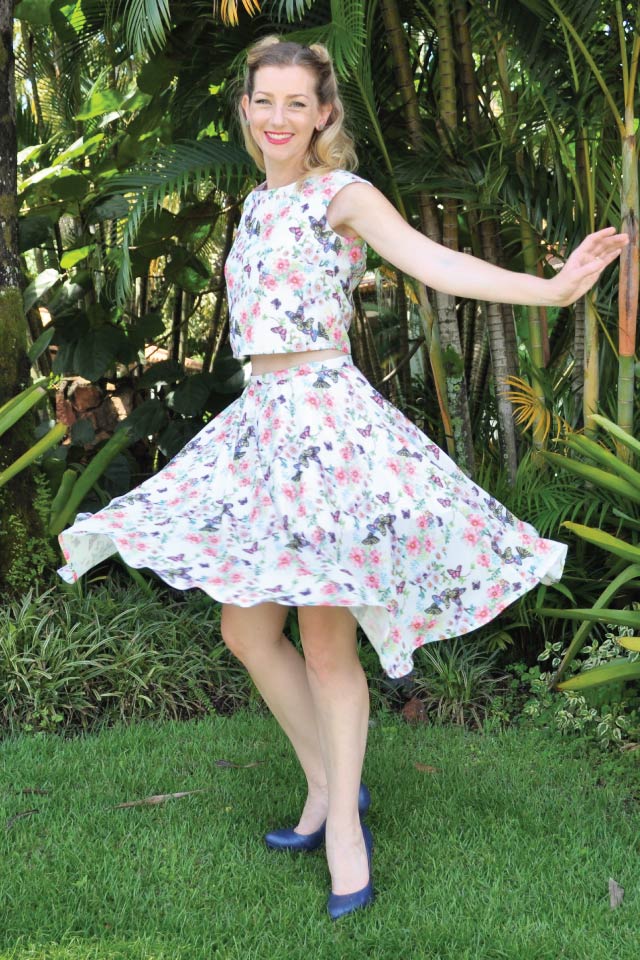 My name is Meghan Cunha and I live in Brazil. I love vintage styles so when Ann said the Kate Tea Dress was ready for testing there was no way I could say no. I knew I wanted to make the 3/4 length dress with a circle skirt, as I love me some twirl! Some horsehair braid on the hem would give it that extra floof and I couldn't wait to get started. So I headed off to the store. But the moment I walked in the door, there it was: The strangest fabric print with every on-trend theme thrown together, draped across a dress form. But it was a border print. I couldn't resist this very different crepe fabric so my plans changed to the tea length box gathered skirt. This crepe fabric was so easy to work with and I finished so quickly that I decided I had to make another Kate, this time with the knee length circle skirt. And why not the separates, with the top just barely skimming the waistband of the skirt? Yes! The fabric I chose for this version was a very light bubble crepe, which did require it to be lined. It was still a breeze to make these pieces and I am so pleased with the outcome. And yes, I got that horsehair braid on there!
If you would like to follow my sewing adventures, you can find me at
IG: www.instagram.com/emptyseasewing
FB: www.facebook.com/mtchandbags
---
My name is Genevieve and I live in Johannesburg, South Africa. I loved the first look of the Kate Dress but when I saw that it could be separates too, I was totally sold. I love vintage everything and I've been wanting a beautiful, feminine skirt and this ticked all the boxes. I was fabric shopping, nothing new and I saw this very romantic, vintage looking cotton. It really just yelled Kate at me. So I bought it to try. I had already decided that if it was too heavy, I would get something else. But I made my muslin and I totally adore how it worked. It looked exactly as I had imagined in my head. My Instagram account is: http://instagram.com/gegiegrossmann
---
Rebecca Watson and currently living in Germany, originally from the states. Next destination unknown. I was so excited to test this dress! I loved the look and how feminine it was. I adore vintage styles so being able to create one for myself was exciting. I definitely plan on more in my future. I feel like I can use this pattern to create dresses for different occasions by swapping fabrics. Absolutely love it!
I chose the dress cut to knee length since I don't own very many dresses and find knee length is perfect for my style. I used a very light weight fabric on top so I created a lining as well as a facing to give it more structure and make it opaque. For the bottom I used a medium weight denim colored cotton mix that flowed nicely.
4. Your social media URLS…
www.facebook.com/StitchedandStapled
Instagram : katbatgirl
---
Hi I am Jennie Lindstrom and I currently live in Las Vegas, Nevada in the United States. My first reaction when I saw the Kate dress was that I had to make it! The vintage design had me from the very first glance. I decided to make the boxed gathered skirt for my first Kate dress. I found a beautiful navy and floral fabric and it turned out beautifully! I wore my Kate on Easter and even made my husband a matching tie. I am already planning my second Kate dress, based on one of Ann's inspiration photos. It will be a purple dress covered in black lace. This dress is easy sew to sew and comes together pretty quickly. You can read more about my sewing adventures at www.stitchedbyjennie.com and http:/www.instagram.com/stitchedbyjennie
---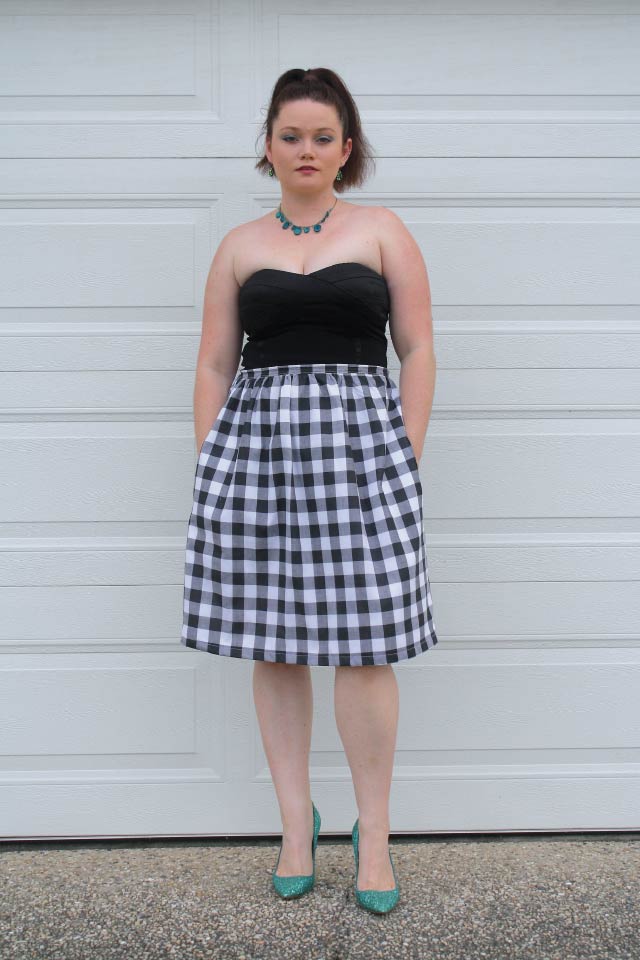 Casey from Brisbane, Queensland, Australia. When I first saw the tester call, I was THRILLED that there were included cup sizes! Ann shared a pic of a gingham skirt as inspo and I loved it! I decided to make the skirt as I am trying to build some more separates into my wardrobe. I chose a gingham fabric from my grandmother's stash and lined it with white poplin as it was a little sheer. A very easy sew, except for the part where I lost my buttonhole and had to figure out how to do it manually! 😉
www.facebook.com/lioncubcouture
---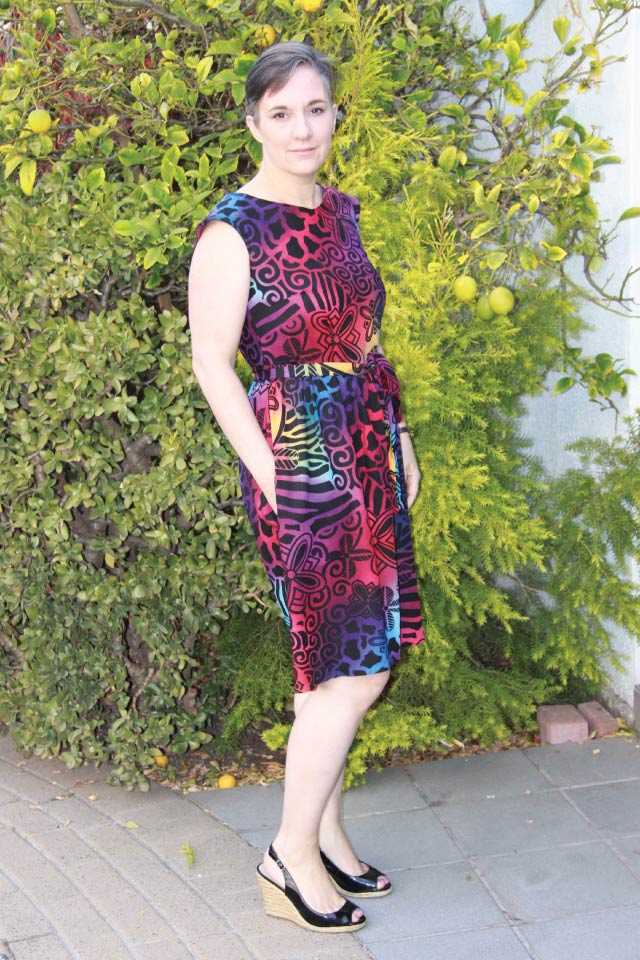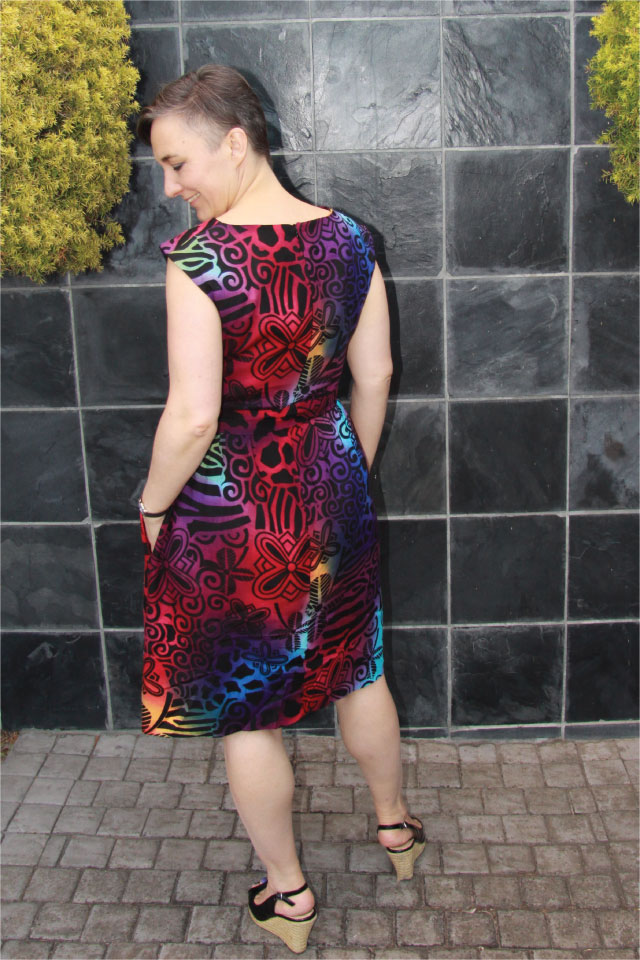 Taryn Haynes-Smart. My initial thought was that the Kate dress offered a classic feminine and flattering silhouette with enough versatility to make it a pattern that I could use over and over again. To me it offered the right balance of vintage and contemporary. I loved that it had the potential to be both everyday wear as well as something dressier depending on the skirt option and fabric selected. As for making it my own – it took me 3 days to get started after putting the pattern together because I couldn't decide on which direction to take first! I still have at least 3 versions of the Kate whirling around in my head and still to come. I chose the go with the knee-length, box gathered dress option as the fabric I had on hand best matched this option (in both quantity and suitability). I used a bright and bold viscose-type print I've had in my stash for over 4 years. Unfortunately, I did not keep a note of the fabric type at the time. I think the trickiest parts for me was trying to understitch the facing once the bodice was turned through to the right hand side and of course ensuring the back bodice waist seams lined up on inserting the invisible zipper.
Social media:
Facebook: https://facebook.com/taryn.haynessmart
Instagram: https://www.instagram.com/tarynhaynessmart/
---
Stacey Clements, South coast of England
I loved the first line drawing I saw of the Kate dress, but then loved it even more when I saw all the options – there is so much you can do with this pattern, and there is a style to suit everyone! I really found it hard to decide what option to do, but decided I would try the dress first, as it was very much my style. I really want to do a top and circle skirt combo next. I used Crepe de chine for my dress, It's a lovely fabric to sew with, but can be a bit slippy, so lots of pins help!
http://allsewnupbystacey.blogspot.co.uk/