Greetings and welcome to part 2 of the Kate Vintage Tea Dress Combo tester round-up.
I hope you have enjoyed reading my series of posts in the past few days and if not be sure to check out yesterdays post – Kate Vintage Tea Dress Tester Roundup Part 1
or the previous post – Kate Vintage Tea Dress Influences and Inspiration  post.
The Kate Vintage Tea Dress – or it separate combo choices –  can be made in a variety of fabrics and I am sure that you were WOW'ed as I when I saw all my testers post final pictures of their completed Kate. – I was so excited to see how they had each interpreted the Kate to make it their own.
The finer details : On Sale for a limited time only – $8.00 (US)
multi-sized pattern :
(AU/UK) 6 – 26
(US) 2 – 22
(EU) 34 – 54
Advanced Beginner/Intermediate Sewing Level.
The Kate is a beautiful and flattering dress that is suitable for all figure types and also offers cups sizes for fine-tuning the fit of your garment. Cup Sizes – B, C, D, DD.
https://designerstitch.com/shop/kate-vintage-tea-dress
Kind Regards. Ann at Designer Stitch
---
Inge Moreels , living in Belgium. My initial thought on the Kate Dress was that it was a beautiful and female dress but also a funky set and I loved the way Ann broke the dress up to a top and skirt. At first I planned on making it very 50's partyfeel with a soft vintage ffabric but then I would have to party al day and that is not going to happen ;-). Denim is a big fashion thing this spring/summer collection and I love stripes, so 1+1 makes for me the perfect combination. I'm not a romantic type so my fabric chooise makes my Kate personal.I choose the option gatered skirt and top because I love the style and I can wear both pieces seperated. The fabric I used was plain cotton so no tricky sewing :-).
You can find me on www.madamestof.wordpress.com,
https://www.instagram.com/madame_stof or https://www.facebook.com/madamestof
---
 Allison Falkey, from a suburb of Milwaukee, WI, USA. I made two Kate dresses. One for myself, the other for my teen girl. One with the circle skirt, the other box gathered. Both are a straight DS size 6,cup size C. My daughter's dress is made from 100% cotton. It is accented with grosgrain ribbon and decorative buttons. I took inspiration for her dress from the 1950's girls with poodle skirts, oxfords and pony tails, updated to 2018. It became a box gathered skirt accented with three rows of grosgrain ribbon each stitched with an accent color, a solid navy soft tie top stitched with pink thread, two pony tails and tennis shoes. She is in love with the dress, says it is so comfortable she never wants to take it off. Talk about good fit.
Next is my dress, now I had no desire to look like a teenager headed to a sock hop so, I went for a more classic look. The bodice of my dress is made from solid black peach skin. The skirt is the 3/4 circle skirt from an amazing, dimensional chiffon. Those black flowers are not a print, they are stitched on made from black chiffon. Nope, I did not do it. I paid the price to purchase the fabric that way. The chiffon is lined with a white lining fabric accented with black polka dots, and because it was still quite sheer there is a third layer of a nude woven with unknown content from my stash. Even with all those layers the waist fits perfect, no bunching or gathering. I had some hem issues, but that had to do with the chiffon and hanging on the bias. Other than that Kate is an easy sew. There is actually a Kate box skirt next on the agenda.
---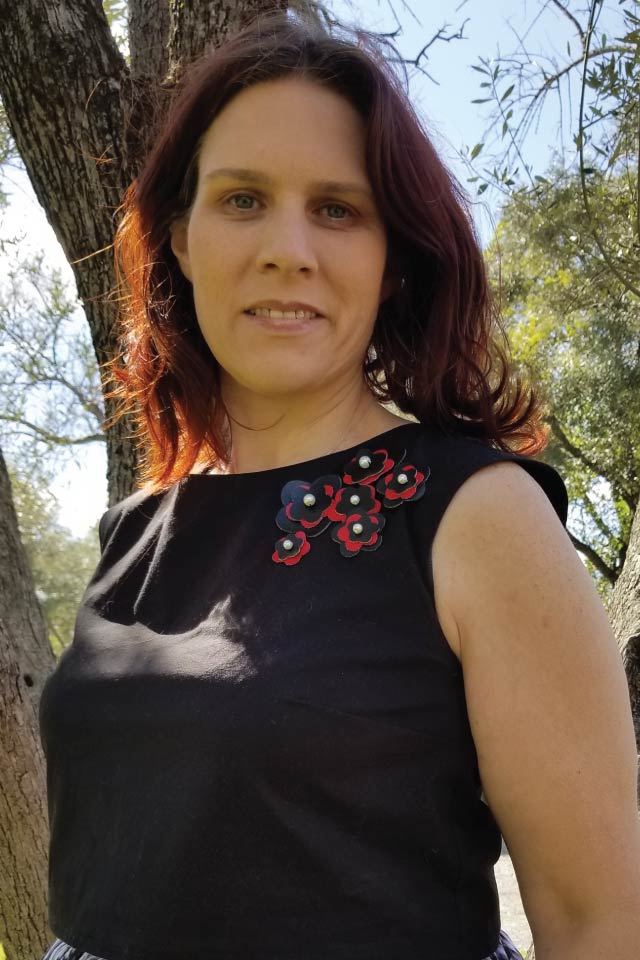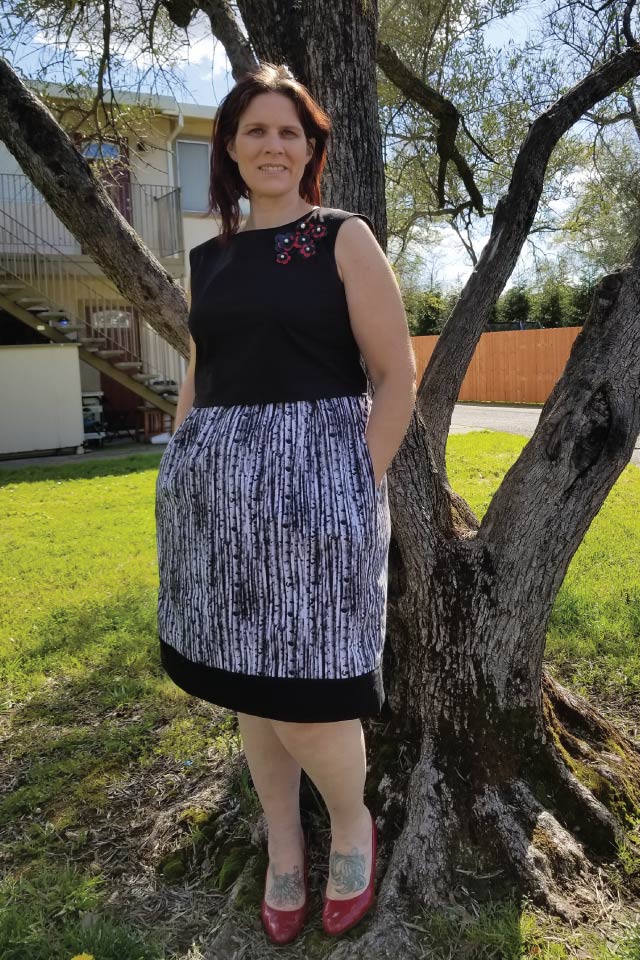 Kristen Brand. I loved the dress, but as a separate it was irresistible. Then with your sharing of another inspirational photo and your flowers used them to add them to Kate for another look. I did the separate so i could combine the top with my other ds bottoms. The skirt will go with other ds tops too when i make them in a solid color. I used standard cotton
Blog www.http://twinadoalley.blogspot.com
Instagram @stitchesandbobbins
---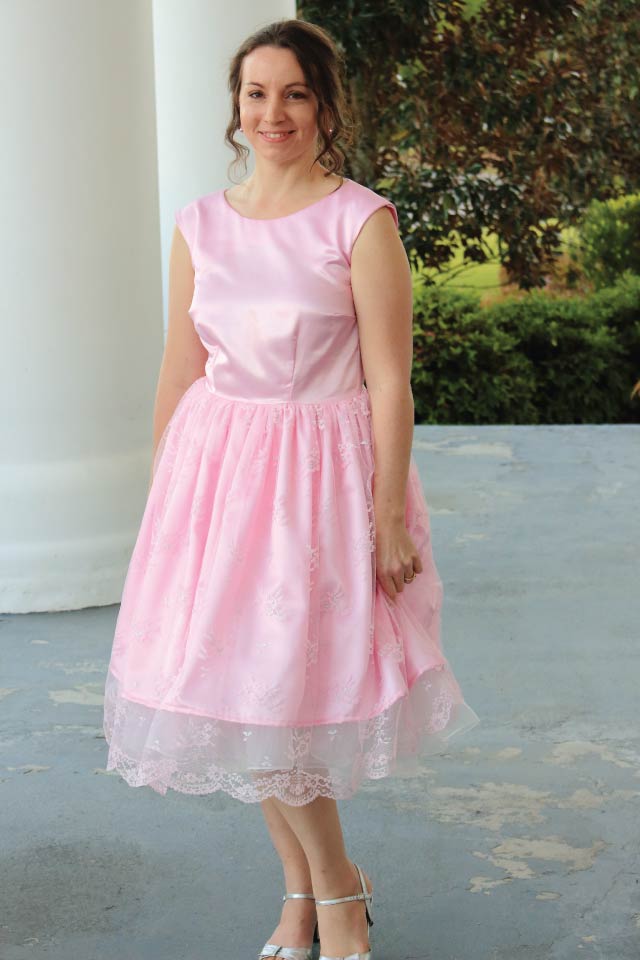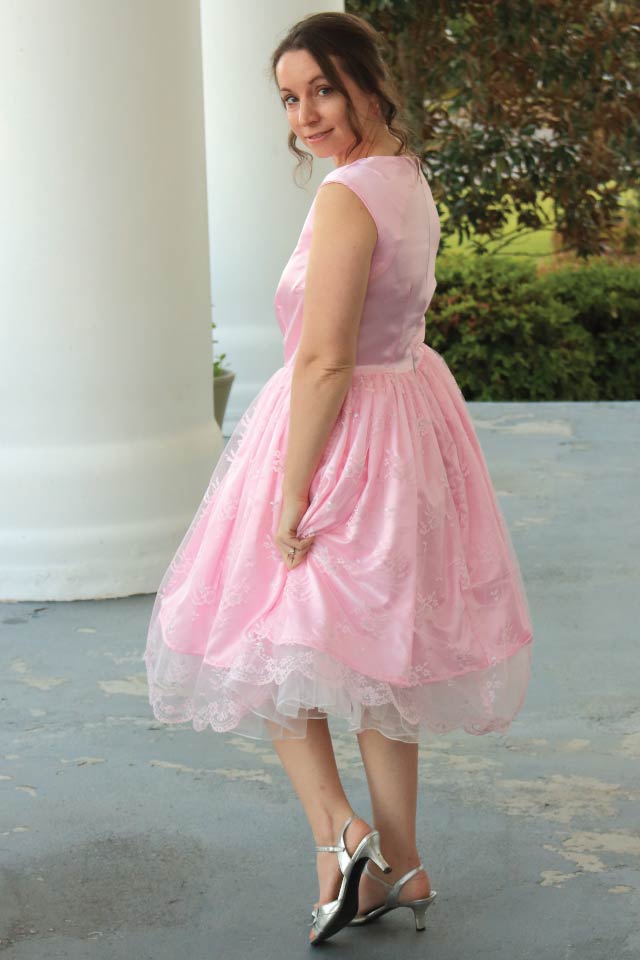 Hi, I'm Carmen from Adel, GA. I love the Kate Tea Dress and wanted to make my dress in a lace I already had on hand. I chose the gathered skirt because I didn't want to lose the beautiful scalloped edges of the lace. I cut my lace a few inches longer than my main skirt to really show off the scallops. That is my favorite part of the dress. The main fabric of my fabric is a satin and other than a delicate needle, no steam pressing, and French seams for the lace, the dress came together easily.
---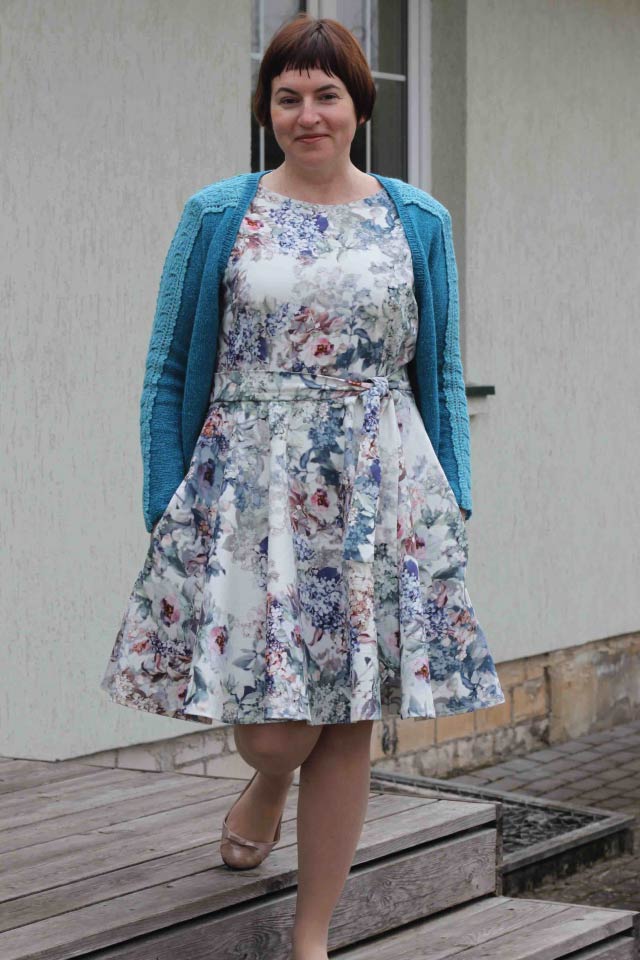 My name is Vaida, and I'm a SAHM of four from Vilnius, Lithuania. I definitely need more dresses in my life (it's so easy to stick to a jeans-t-shirt combo when you're a stay-at-home-mum) and Ann's designs are always calling my name. Kate dress is so feminine and flattering! It was a hard choice to pick the fabric, and this time I chose thick floral cotton. I already see this dress in some viscose fabric, with woolen knit cardi – perfect combo for colder weather and for everyday wear…
As I'm not tall, I shortened the skirt, and also made some sway-back adjustment – it was easy with Ann's explanations. My version is with 3/4 skirt.
Blog: http://xvaidax.blogspot.lt/
IG: https://www.instagram.com/vaidab/ 
---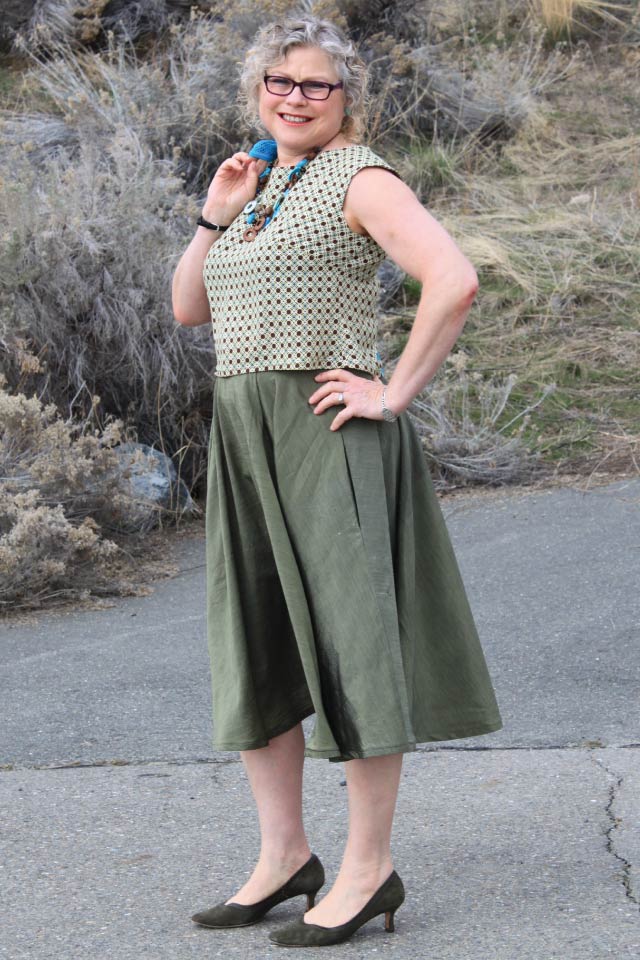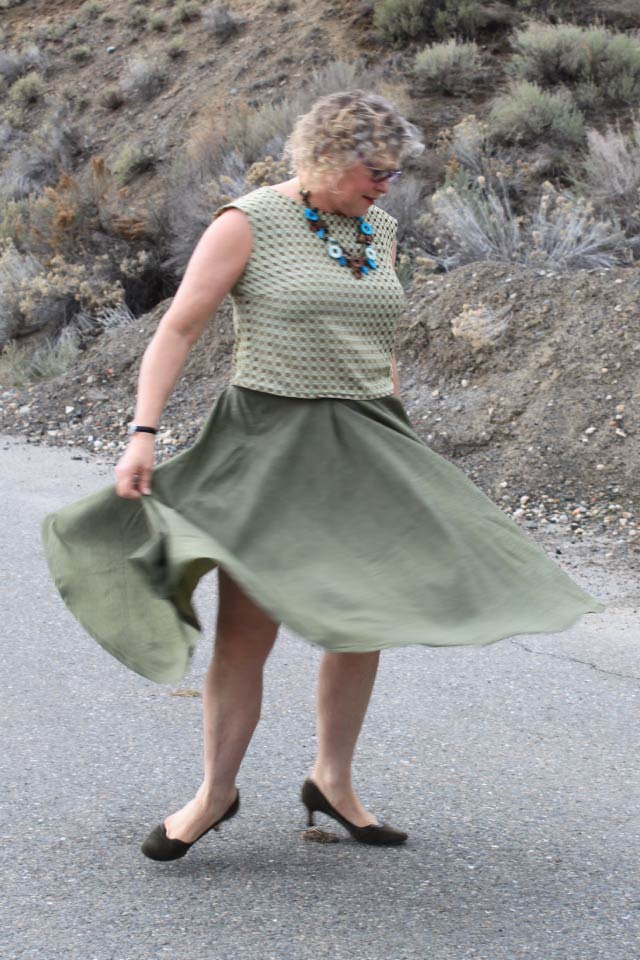 Hi, I'm Patricia from BC, Canada. I liked the idea of the separates. I was at a friend's Punjabi wedding last year and the separates reminded me of her reception outfit. I chose a light weight polyester geometric pattern for my top and a polyester taffeta for the skirt. The skirt is very airy and blows up with the least breeze, so perfect for our hot summers. I love dressing up and having 2 pieces makes the pattern hugely versatile. I actually didn't insert the top zipper as it fit over my head easily. I did have to play with the facing to make it all work – and what a great facing (as always). I also have been losing weight so added a half back elasticated piece each side of the rear skirt zipper. It fits like a dream – and will do so for a while now. I do love my DS patterns. If in doubt I can honestly say I do not think you will regret any of them!
---
My name is Andrea Shpuntoff and I live in Annapolis, Maryland (USA). When I initially saw the Kate dress, I thought it was beautiful but could not envision how it would fit my casual lifestyle. So when the skirt and top options were added, I could not resist! I chose a cotton sateen fabric which made for an easy sew.
https://www.instagram.com/andreashpuntoff
---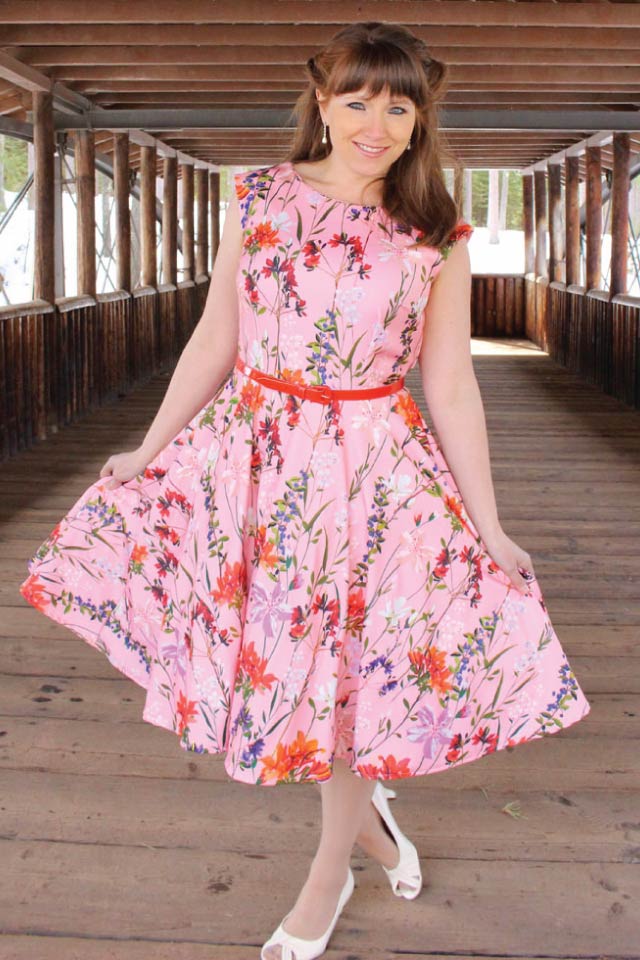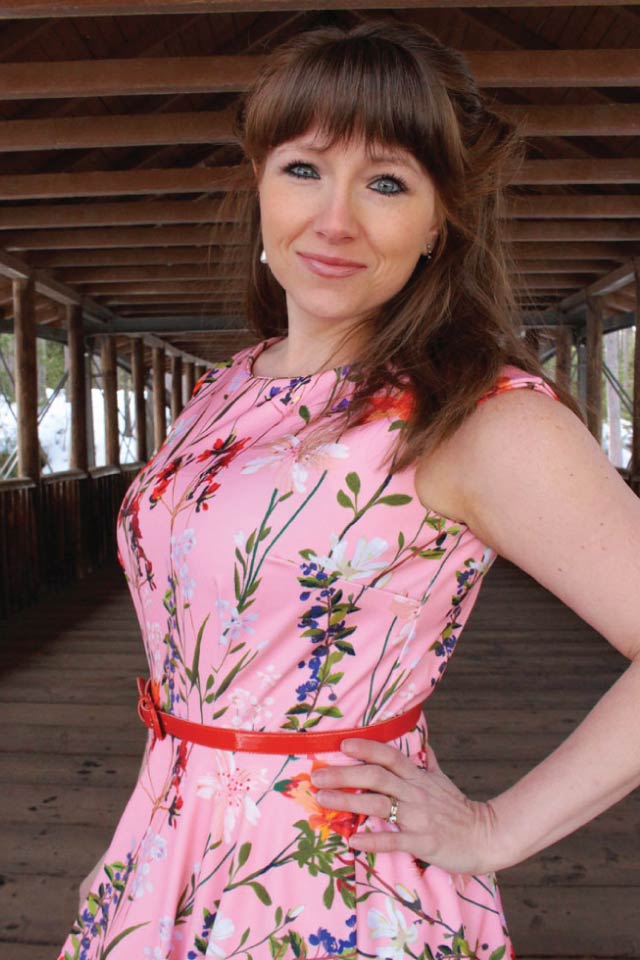 I'm Molly Stonesifer from Wisconsin, U.S. of A. I loved the Kate Dress from the moment I saw it– I adore vintage looks, and Kate was the perfect pattern for adding some of that flair to my wardrobe. I made the 3/4 skirt because I had a petticoat that had been waiting in the wings for a project like this! My fabric is a stretch crepe I found at Jo-Ann's fabrics, and sewed like a dream. You can find me at www.middleriverstudio.com.
---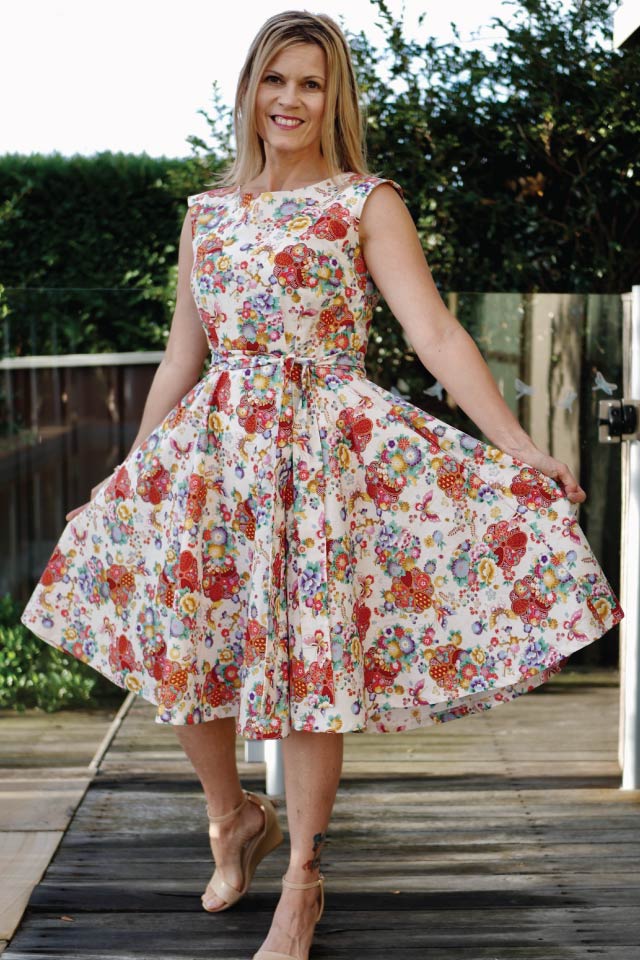 My name is Karen Mathews and I live at Camden on the outskirts of Sydney Australia.
I'm pretty new to sewing and haven't done much with woven fabric and I liked the simple elegance and the vintage look of the Kate dress. I had seen some oriental looking fabric that I thought would look great. I chose the circle version because I felt that it was appropriate for my current skill set. The fabric was a cotton that had quite a bit of structure. I like how it made the skirt sit.. the tricky bit for me was the invisible zipper. But I was given support throughout the installation process. I was freaking out and thought that I was going to run over the zipper teeth! I was glad I made a toile of the bodice. It was good practice and also ensured the bodice fit was spot on. I love the dress.
Facebook https://www.facebook.com/wildmarmaladeoriginals 
Blog https://wildmarmaladeoriginals.wordpress.com/
---
Randi Jacobs, i live in Michigan, USA
I absolutely loved the shape of the dress. Where i made it my own was my finishing options. I used horsehair braid on both my lining, and organza hems.
I love gathers! They are fast and easy when you zig zag stitch over fishing line, then just pull tight. So easy!
I used a taffeta for lining, and velvet flocked organza for the main layer.
 http://www.Facebook.com/bellebunnidesigns 
http://www.instagram.com/wildmarmaladeoroginals
---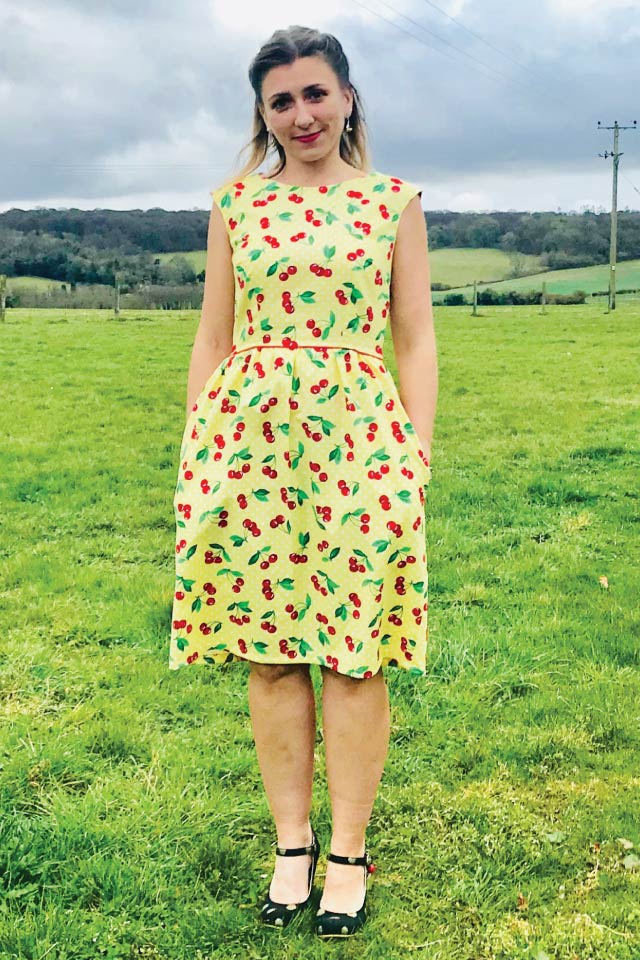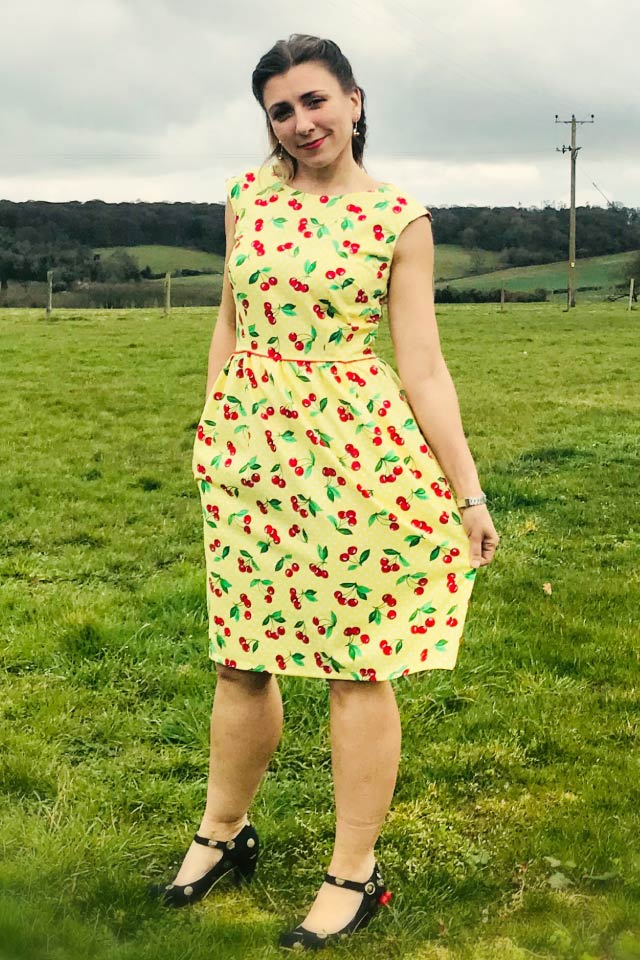 Trish Maitland-Smith and I live in the Oxfordshire countryside in the UK
I love anything vintage style as it suits my shape and instead of a belt I was keen on piping.
I chose the box gathered as I think I suit gathered rather than circular skirts
I used woven quilting cotton so fairly straight forward. Found the under stitching a bit tricky. Chose piping around the waist so the only fiddly bit was sewing it in and lining it up at the back seam/invisible zip
www.facebook.com/beautifulsummermoon
www.instagram.com/beautifulsummermoon
---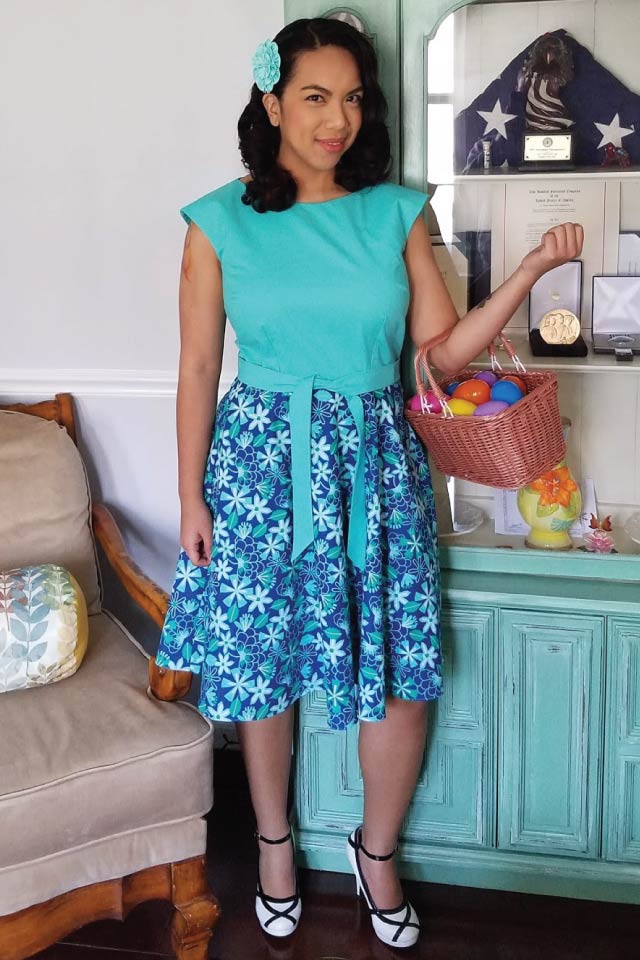 Shilyn Joy, from Virginia (USA)
The perfect retro pattern. The bodice has 2 darts that I I know I can manipulate if I want to change it up to a princess seam. The skirt is interchangeable, from gathered to 3/4 circle (though I'd make a full circle in the future!). I could see myself using this for more formal dresses as well!
I chose the dress option with 3/4 skirt, because it's something that goes well with my current me made closet. Admittedly, I never made a 3/4 skirt before, so I wanted to try that, and it's amazingly full without as much worry of it flying up like a full circle (though I don't wanna test it without a petticoat on!)
Just used regular cotton, nothing too tricky. I found it to be an easy pattern!
Instagram.com/shilynsews
---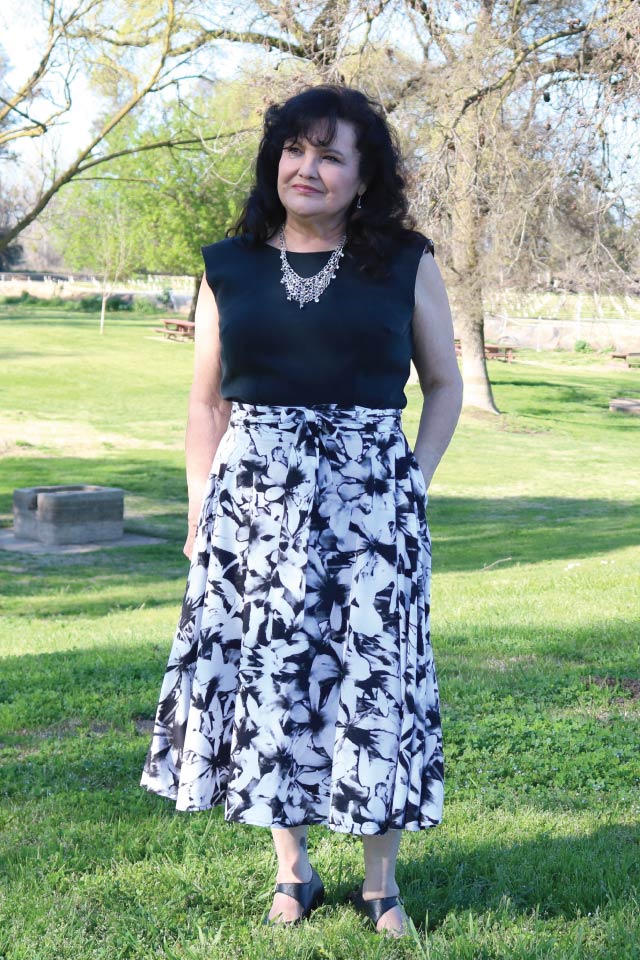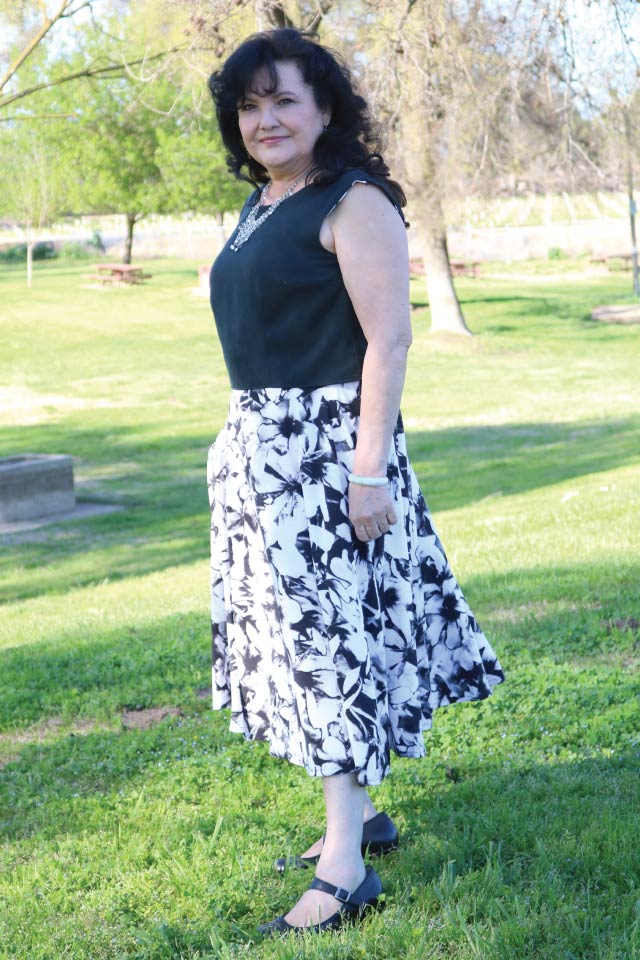 Synthia Lee Gerritson, I live in California, USA. At first I didn't think I would sew the Kate dress because I felt I wouldn't wear it. Once I picked my fabrics, then I decided to sew the Kate up. I made the two piece option with the circle skirt and tie belt. The top I made out of a silky linen type and the skirt out of a woven peach type fabric. I love the fit and the look, already wore my Kate outfit out. I especially loved how Ann Grose designed the simplicity of the facing method, made sewing the top facing so much easier. As always Ann knows what looks best. Blog https://sewsynsewn.blogspot.com/…/designer-stitch-year… https://www.facebook.com/Synthia20000/…
---
Becca Olson from Ocala Florida..From the moment I saw the test go up I knew I wanted this pattern! If I hadn't been chosen to test it would have been so hard to be patient. The cut is so flattering and so feminine..I chose the tea length because I was looking for exactly THIS dress! I needed something that was beautiful yet modest for a trip to Sri Lanka this summer. I chose a beautiful rayon that surprisingly I found local at Hobby Lobby. The weight and drape are exactly what I felt was needed for this dress. Ity went together like butter and now I want another one! https://turtletraxtoo.blogspot.com
---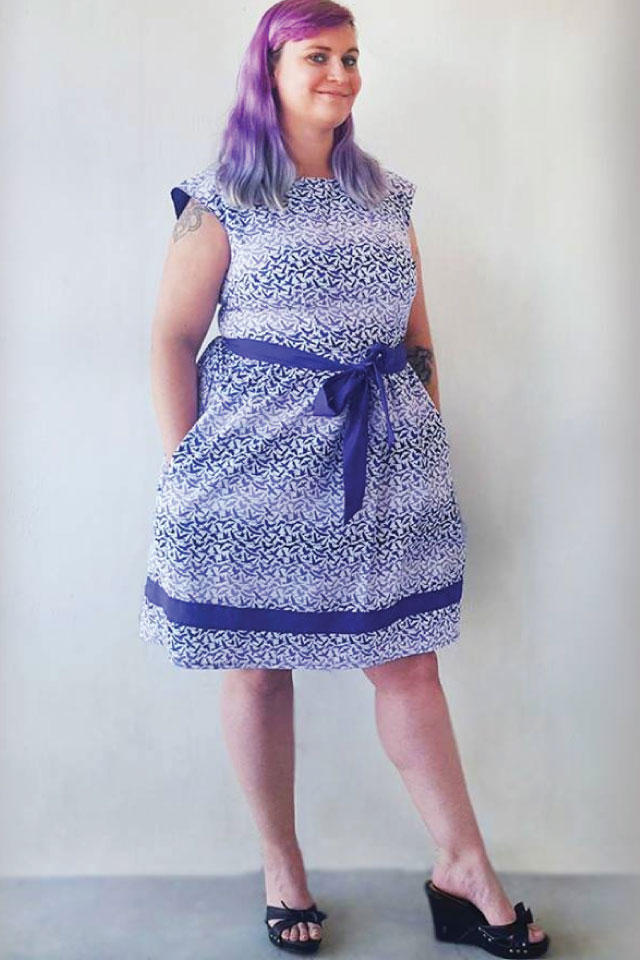 Crisstina I live in Mojave, CA
I thought it was super cute, i love the vintage style but can never find a dress that flatters my body type and the Kate worked great. I made it my own by doing a fun print and adding some purple.
I chose the knee length boxed gathered dress, although i wish i would have done the circle skirt so there would be more twirl.
Just a cotton woven. once i got the fit down sewing was fast and easy.
https://www.facebook.com/MonkeyDosBoutique/
---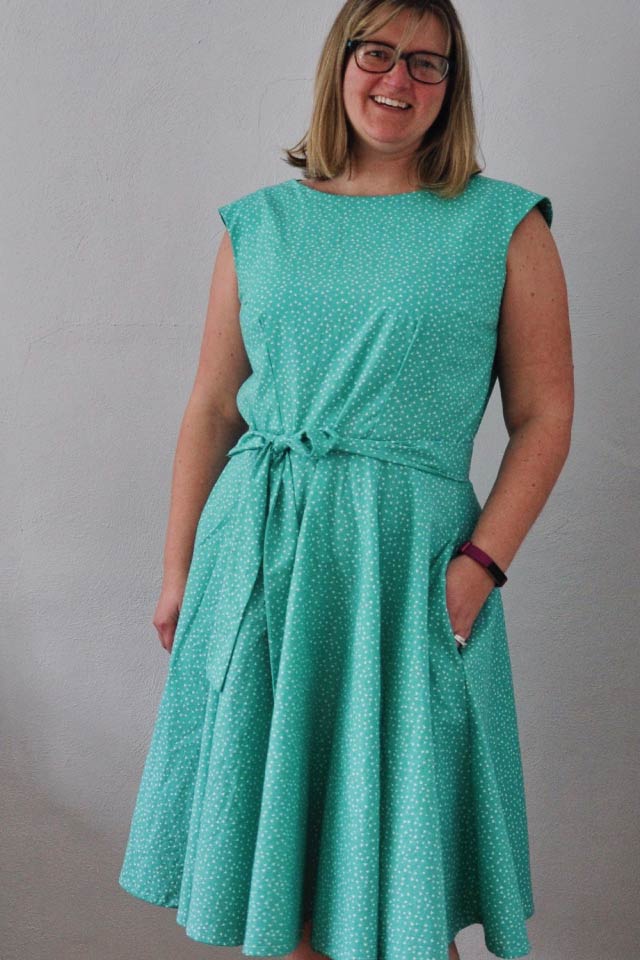 Stephanie Williams. We just moved to Virginia which is on the east coast of the US.
The Kate is a classic dress. It is a style that can always be made trendy with different fabric choices.
I made the dress with the 3/4 circle skirt. Circle skirts are more flattering on my pear shape and don't have the gathering at the tummy.
I used quilting cotton for mine. I wanted a simple summer dress that would be easy to care for in the summer months.
Instagram.com/navyfamily06