Hello my lovely sew'ist friends and it is my most favorite day – our new Kelly pattern release tester roundup !!!!
As usual the Kelly has received exceptional feedback – and again all of my customers are amazed that the dress just looks AMAZING on every single body type.
This makes my HEART SING !!
Endless styling options is the key to the Kelly Tie Front Jersey Dress – wear the cowl at the front or reverse it for some extra cheekiness.
The silhouette of the Kelly ensures fabulous comfort, flexible fit and is flattering but not clinging. The side panels and ties can be wrapped a variety of different ways depending on your choice. Tie to the front for drape and a streamlined silhouette or wrap and tie them around to the back – it all depends on your preference.
Or make the Kelly Tie Jersey Dress as a straight through sheath and team with a belt for an entirely different look.
So lets start the Kelly Pattern Tester Roundup Part 1 – and a round of Woo HOOS, FIST PUMPS and GASPS to all of my amazing testers. Love you all xx
Our roadies would like to share the following with you all :
1. Your name and where you live ?
2. The Kelly is reversible – have you a favourite way to wear it ?
3. What fabric did you choose and where did you purchase ?
4. What sewing tips can you share when sewing the Kelly ?
5. What was your favourite thing about making the Kelly ?
6. Have you worn your Kelly yet and what compliments did you receive.
7. How are you styling your Kelly ?
The finer details : On Sale for a limited time only – $8.95 (US)
And the finer details;
(AU/UK) 6 – 30
(US) 2 – 26
(EU) 34 – 58
Confident Advanced Beginner and Above Sewing level
https://designerstitch.com/shop/kelly-dress/
---
I am Allison F from Milwaukee, WI, USA.
I made a total of four Kelly dresses. Two for myself and two for my teen daughter. We have found we both prefer wearing Kelly with the cowl in the back.
For the first two dresses made for fit were the striped fabrics with the imposed florals were from the clearance bin at Walmart. The final dresses, black with plum roses and cream with mustard design, were made from fabric purchased from Surge Fabrics. All fabrics are double brushed polyester.
The Kelly dress is a super easy sew. Do make a fit before using your good fabric.
Every time either of us wears our Kelly dresses, we get a lot of compliments. Between us we have styled them multiple ways, leggings and short boots, sandals, to dress heels. It is a very versatile dress. The fabric choice with accessories determines if it is casual or dressy.
---
Hi im Ashley R from London.
I love how the Kelly dress is reversible Its gives you two different looks in one dress, my favourite way is to wear the cowl at the front its just everything!
I choose a drappy fabric to show the cowl of the dress and gives a lovely fitted look for your body. Fabric was an ity fabric very stretchy and it was from a Facebook group called Coalvillefabrics.
I would always recommend to make a fit version first to make sure you have the right size and look how the front tie is done as if its not done right the dress has a different look. Just take sure time and always ask for help if you need.
The best part of the Kelly dress is that its amazing i feel really sexy. Its a simply dress which looks amazing on.
I've not really had the chance to show it off but had a little gathering at my house and wore it and had loads of complaints on it which made me feel great knowing i made it myself. This is a dress that can be styled will heels or boots, i went for heels as im short and i feel it shows off the dress now!
https://www.instagram.com/madebyashleyriley/
---
Becky, Maryland
2. Honestly, I love it both ways!! The drapey neck dips a bit low if I bend forward, so I tend to wear that side to the back when chasing my kids around. Also, I LOVE the sexg detail of the drapey open back.
3. Lyocell spandex from Joann Fabric.
4. It can get a bit bulky with the gathering on the ties. Just go slowly so your machine doesn't skip stitches!
5. I love how the sleeve cuffs came together. I am a fairly visual persom but I just couldn't imagine how the pieces would turn into a cuff and then they did!
6. Haven't had much opportunity since we don't really go places but a few of my neighbors complimented me on the tie detail and how comfy it looks!
7. I am wearing mine with pointy toe flats and a cropped jacket.
8. Blog: http://www.squiddlysews.com
IG: http://www.instagram.com/squiddlysews
---
Hi, there! I'm Carmen from USA. The Kelly dress is wonderful for every day wear and special occassions. My favorite way to wear Kelly is with the cowl in front. I think the cowl adds even more sophistication to an already snazzy design. Turning the cowl in the back is definitely another great way to wear it. I made my Kelly for my brother's dress rehearsal so I chose an ITY fabric with a nice print. It felt comfortable to wear and didn't get too hot which is always a worry in warmer climates. I wore it for several hours and I felt great in it. Most of my family loved it and complimented me on it. I wore Kelly with a comfortable pair on heels because I didn't want my feet aching by the end of the night. I paired the dress with a pair of dangly earrings. I really like how quick the Kelly was to sew even with the gathered sleeves and cuffs. I'm really pleased with the pattern.
---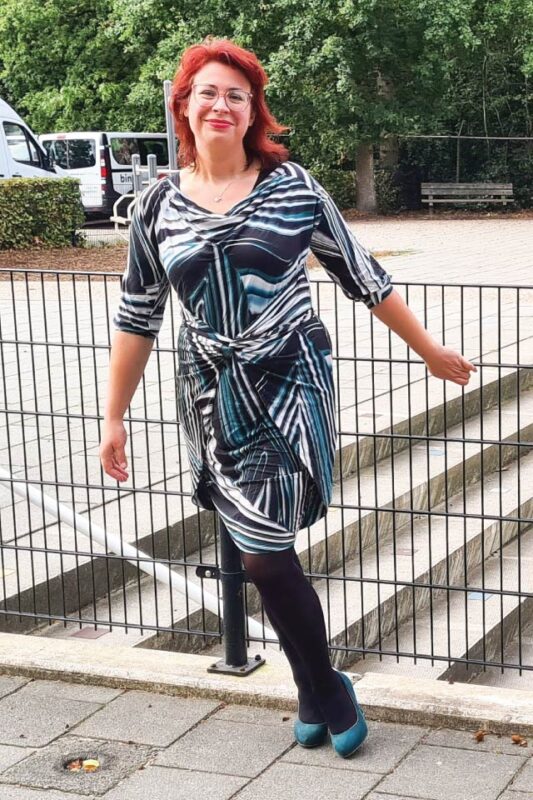 Hi lovelies!, My name is José from the Netherlands. I'm wearing my Kelly's most of the time with the waterfall neck to the front, and the wraps knotted in front. I love how this conceals my tummy. My Kelly's are from a thin and drapey (viscose) lycra. Perfect as a layering piece too. When sewing the Kelly i recommend you take your time to attach the ties to the wrap side panels. If you do this correctly and with all the seamallowances taken into account you'll have the most gorgeous dress for all body types. And it's so versatile because you can wear the several ways: waterfall neck in front or back, and ties wrapped in front or back. I really love the sleeve details with the gatherings, it's a really a smart way of construction too! I'm wearing my Kelly's with boots, pumps or lace ups. All equally nice. I'm wearing it today paired with my fake fur coat on top for the fall season. You can find all my makes over on instagram: https://www.instagram.com/jose.vernooy
---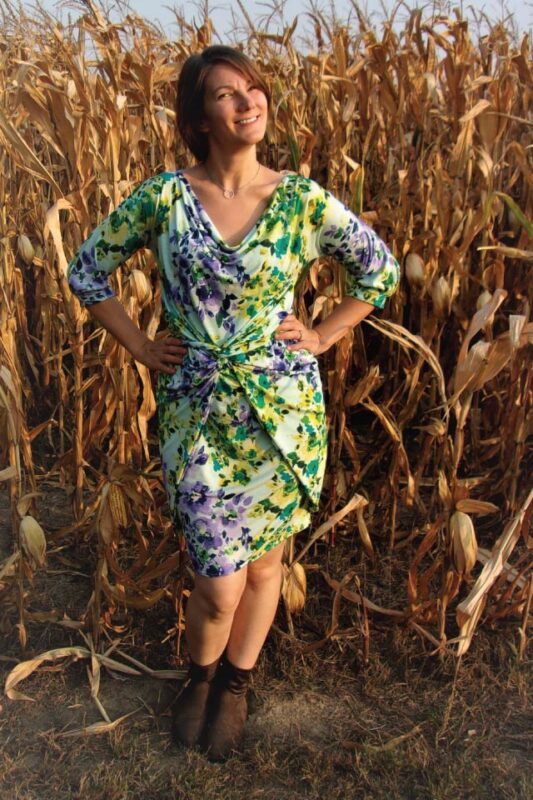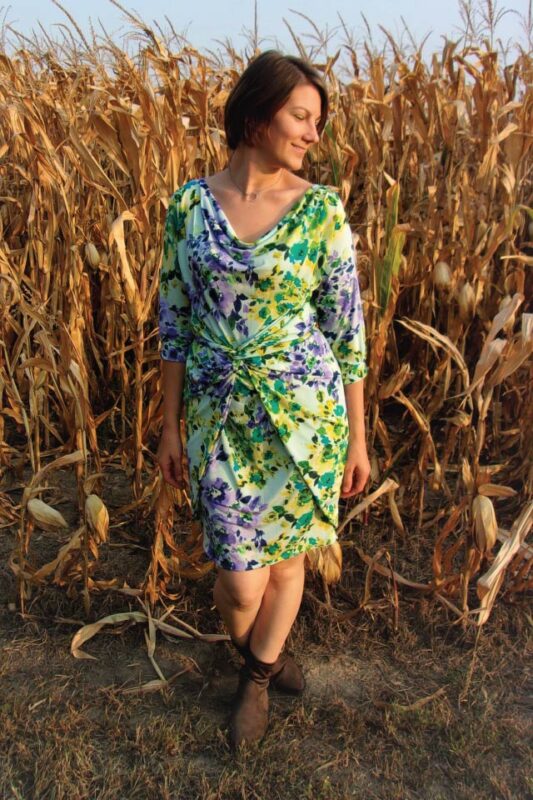 Im Kaitee from South Dakota. I used a light weight viscose knit for a super summery feel. I love the cowl in front as it makes me feel super sexy even with a small chest. I have gotten compliments on how thin it makes me look. I think the ties and the lines really draw the eyes and make one appear taller and thinner than they are, which makes me love this dress even more. I had a difficult time understanding the cowl, as this was my first, but just trust the instructions and you'll be golden. Or ask the group for extra pictures if you need more visual aids, like me 🙂 Follow me on instagram for styling idea https://instagram.com/goatislandseamstress…
---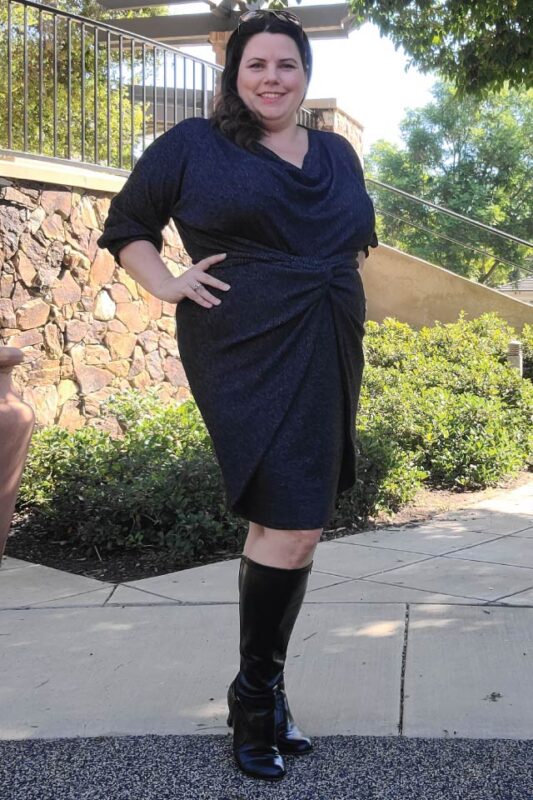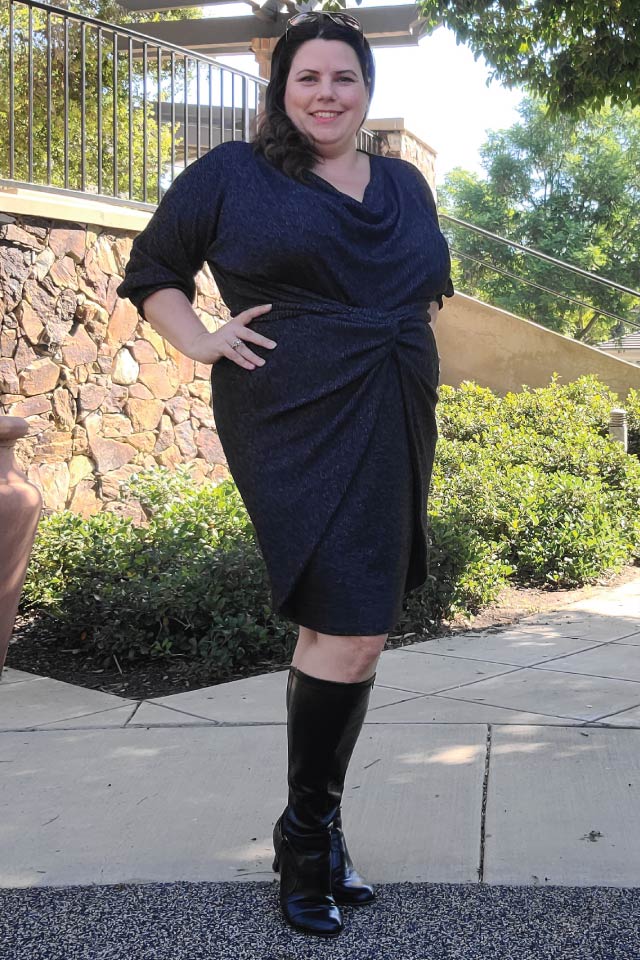 Hi everyone – I am Kelly, from sunny California. When Ann showed us the Kelly dress for the first time, I fell in love with the pattern and I know you will too!
I like to wear my Kelly dresses worn with the cowl at the front or back. I do feel very sassy with the back being a bit more exposed though!
My first Kelly was made with a lightweight knit with very good recovery. I also experimented and made my second in a lightweight ribbed sweater knit – it's going to be fabulous once our weather cools down.
Pay attention to the instructions/tutorial and you won't have any trouble sewing up your Kelly!
It is so fun to see this dress come together – the sleeves are so pretty once completed – I love them!
I wear my Kelly dresses out when I'm running errands because it's so comfortable. I have had many compliments from my neighbors as well.
I love wearing my Kelly with some fun heels or tall boots and longer earrings that show off the neckline.
You can see more of my sews on Instagram at:
https://www.instagram.com/kellygonthierart/?hl=en
---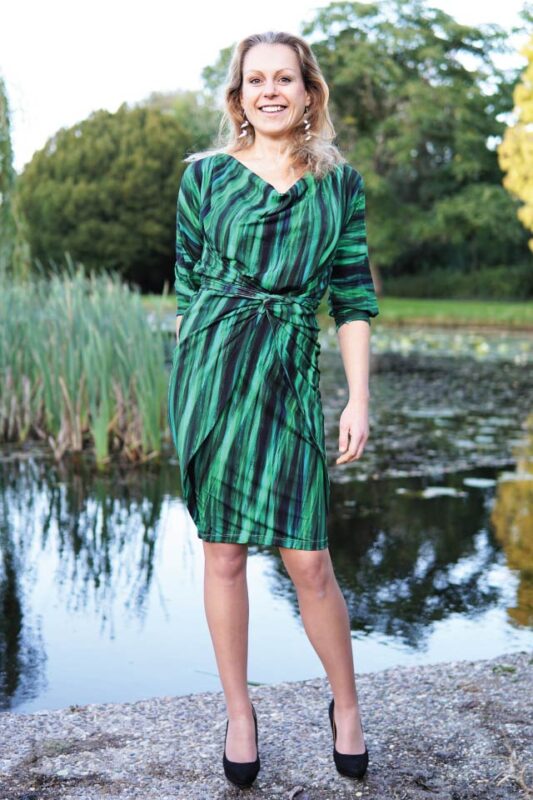 Hi, here is Marieke from the Netherlands.
Well, I ended with 4 Kelly's, 2 with ties and 2 without and since the dressed are reversible I calculated I have 12 new dresses.😂
For the dresses with ties (I only took pictures of those) I used viscose jersey fabric. Soft, stretchy, thin and with a lot of drape.
I felt in love with both fabrics and they where made for the Kelly!
I have seriously no idea which version I like the most, with the waterfall neckline to the front is so beautiful, but wearing it to the back it's classy and sexy too!
I decided when I tie it to the front to use a buckle, which gives it a little extra, like a belt.
I wear my dresses with boots, high heels, with a short jacket on it and I feel beautiful and stylish in it.❤️
My husband prefers the Mondrian colorful dress the most, but I am not sure yet. I think I have to wear them both a lot before I decide.😆
It's a fast sew, with enough details to make it a really special dress. I think the choice of your fabric is the most important from sewing this dress. Take your time to gather even and like always….measure correctly!
Have fun with making your own Kelly and till next time!😘
You can follow me on Instagram too: https://www.instagram.com/jongdesign
---
Your name and where you live ? Martha Arzu McIntosh Maryland USA
2. The Kelly is reversible – have you a favourite way to wear it ? ? Love the cowl neck in the back. Just sooo sexy.
3. What fabric did you choose and where did you purchase ? Jersey knit from LaFinch Fabrics
4. What sewing tips can you share when sewing the Kelly ? Just follow the instructions, they work.
5. What was your favourite thing about making the Kelly ? How quick and easy it is to make
6. Have you worn your Kelly yet and what compliments did you receive. Yes I have and hubby loved it for date night
7. How are you styling your Kelly ? Love it with my booties
Facebook https://www.facebook.com/garichild/
IG https://www.instagram.com/garichild/
---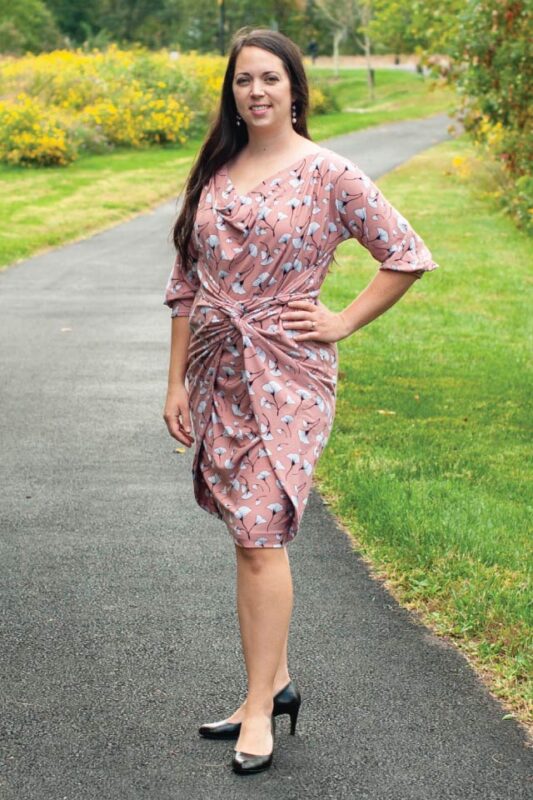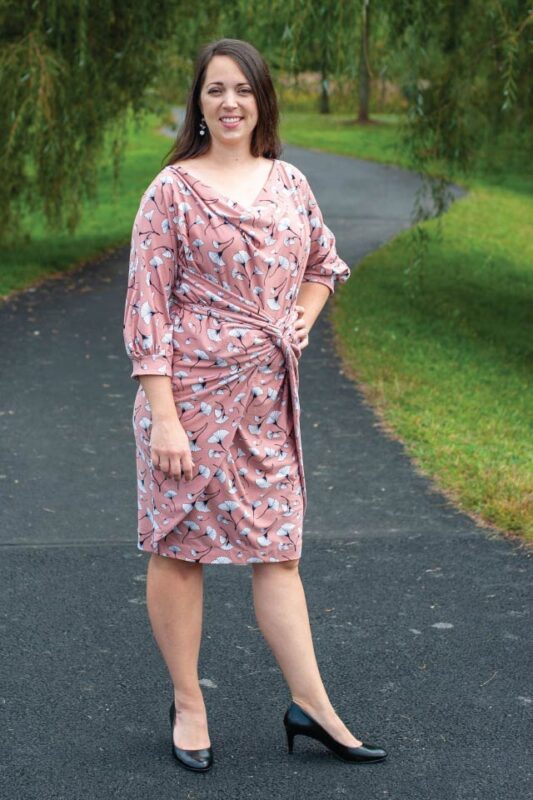 Hi everyone! I'm Monica from Virginia, USA. One of my favorite things about the Kelly dress is that it's reversible! I usually wear it with the cowl in the front, but if you want a little extra drama just turn it around and make a statement with the cowl cascading down your upper back.
I sewed my dress in a super soft double brushed poly from Joann. It is so incredibly comfortable to wear, but looks dressed up at the same time.
The Kelly dress doesn't have a ton of pieces, it's a fairly easy sew, but the extra details like the sleeve cuffs and the side wraps make it look like a more sophisticated sew.
I styled my Kelly with high heals for my pictures, but I have since worn it dressed down with flats and a cozy fall time time sweater. This design works great both ways.
If you would like to see more pictures of my Kelly come visit me at instagram.com/mwstitches.
---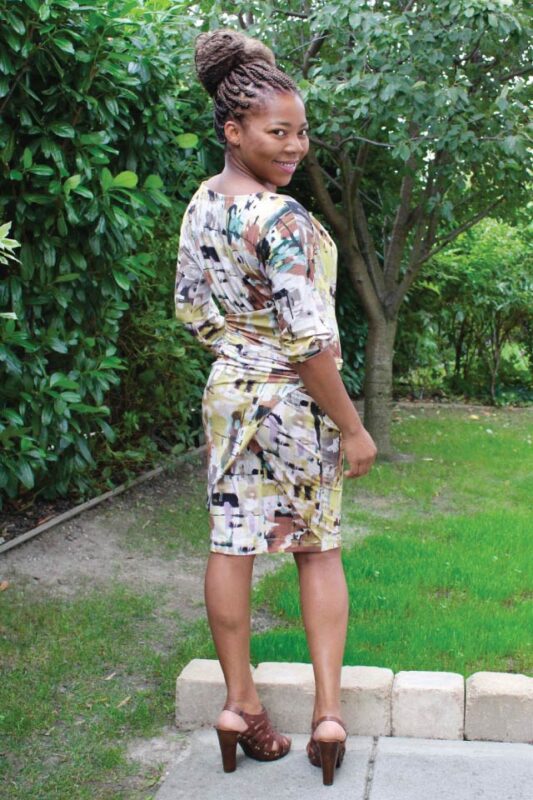 Hey there! I'm Sophie from Vienna.
I made my Kelly from this gorgeous rayon jersey I got from my favorite small local fabric store ❤️
Though reversible, I am partial to the scoop side of the Kelly! It drapes so sexy 😍
My photographer aka husband took me out to an impromptu dinner date right after the shoot and proudly told everyone that complimented me that I made the dress 🥰
This is a very quick sew and as always, with recent measurements and the right fabric, you will end up with another stunning garment from DS!
And don't skip the bra strap keeper!
Xoxo
---
Hi, my name is Synthia, I live in Central Ca. When I first saw the Kelly design, I at first felt it wouldn't fit my style and I didn't have the fabric. The more I thought about it, I went ahead and ordered fabric. I can't say enough about what a lovely design and it fits all body styles, and it's reversible. I used an itty knit fabric and loved it. My friend indicated the Kelly was flattering on me. Tip for using knit fabric, always follow the designer's suggestion on fabric. I was in Arizona when I took my pictures, my son found his spot for my pictures. Great design Ann Grose, as always, you know best. https://sewsynsewn.blogspot.com
---
Hi all happy sewists! I am Christina from Cape Town, South Africa.
Telling you how amazing the Kelly dress is is as hard as finding the good enough descriptive words, without swearing! This time Ann from Designer Stitch outdone herself (well again) but with this dress I feel she combined simple sewing, with finishes that gives boutique style detail, and a figure flattering dress. You might at first look think the fitted skirt will accentuate a less than perfect but, but learn to tie the dress and this is not the case! On this topic the fabric also makes a difference. My first dress is a mint bon-bon and definitely shows more bum lumps, the next a heavier weight black and weight "Asian" flower print which is extremely forgiving. This amazing dress can be worn both ways round – accentuating your chest or a gorgeous back, in true style still high enough to cover the bra line! My biggest piece of advice will be to make it and then PRACTICE TYING you might think the dress looks wrong the first time you out it on, but keep tying and you'll find the sweet spot. I now pair mine with sandals, sneakers, heels, denim jacket, blazer and even threw an oversized sweater over the other night when it got chilly! Every time a different occasion and every time getting a huge amount of compliments! Get yours, Have fun, feel gorgeous.
————————–