Kiran and Her Dress – the Design Concept
Kiran. The name, with its origins in Sanskrit, means ray of light. I try my very best to live up to it and sewing does help me be the best version of myself. I have been sewing with Ann since February 2017.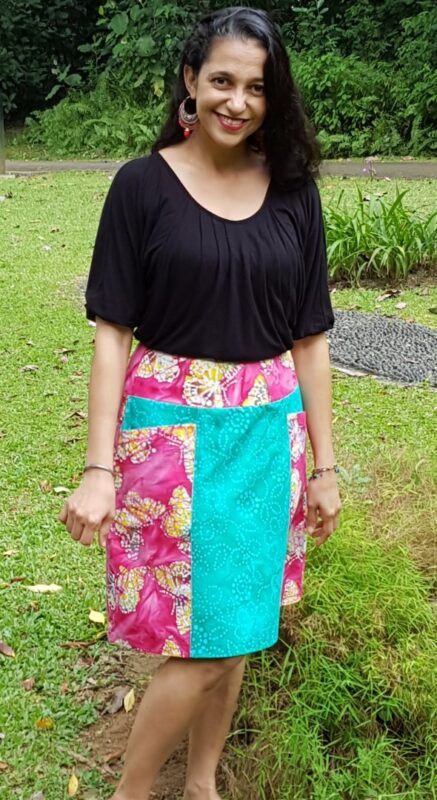 The first pattern I tested for her was the Megan Skirt and its been love ever since.
Four and a half years later, I still adore each and every pattern she magically crafts. We have a saying in the group that Ann is always right. Her years of training and practise in this business means she has an impressively honed intuition and knowledge on how to remedy fit issues.
Her blog posts on fittings are nuggets of sewing gold that shouldn't be overlooked. Needless to say, as a "self-taught sewist" I actually learnt most of my skills by hanging out in Ann's company.
Earlier this year, I told Ann I was expecting a yard of Liberty cotton from Minerva.com and needed a sleeveless shell top as I wanted to make a complete top out of that one yard.
She crafted a lovely tank which yet has to make it to the shop. If I was to tell you how many patterns she has on the back burner, your jaw might hit the ground LOL.
Shortly afterwards, Ann sent me a couple of pictures of a dress concept that just knocked my socks off. I have always loved shift dresses, ever since I was a little girl.
And I was so honoured when she asked if we could name it the
Kiran Dress
. I cannot think of a dress pattern that emulates my spirit more than a playful, timeless shift dress with POCKETS!
It's from that concept that the
Kiran Dress
was born. And this happened around the same time I was gifted a set of fabrics from Weaver Textiles, a lovely little fabric store that's local to me.
I wanted to showcase both fabric and pattern at the same time and here they are.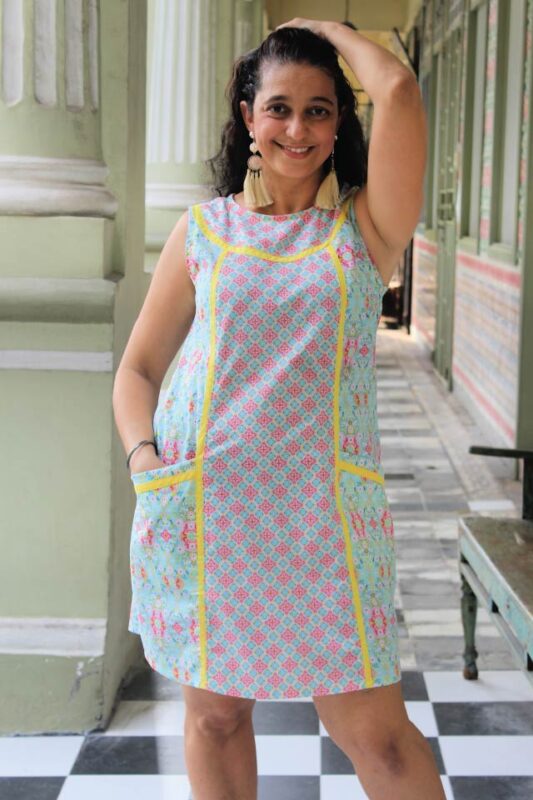 Isn't the
Kiran Dress
so absolutely gorgeous in these vibrant fabrics? The concept of the
Kiran Dress
is straightforward.
It's a panelled shift dress and within the panels are pockets.
The beauty of this concept is you can dress it up as much as you like with all the piping or you can keep it simple with monochrome panels and no piping. Kinda sounds like me. Sometimes I like to have all the bells and whistles, and sometimes, Im just down to earth 
I hope you have as much fun sewing the
Kiran Dress
as I did. Thank you for showing so much love for Designer Stitch patterns. They really are fabulous! Love Kiran 💗