The Kiran Dress and an Upcycling Idea.
As long I can remember I am a fan of Burberry. I love their collections and they are so inspiring, but at the first place I fell in love with their typical check design that you can find in the lining of their trench coats mostly- for which it is most famous.
As you also know, they are having a price, so for me, it kept by looking at it and buying fabrics with a similar pattern.
Anyways, as I am from the Netherlands, my husband is from Germany and with every relationship you are getting their family with it for free.. We not only had to get to know each other, there is also plenty of differences in the culture and the backstory from the two countries aren't that historical as should.
To be short, my husbands family escaped from the East to West Germany to built up a new life. That wasn't easy and is forming you as person.
Before I came to Germany to meet his family, my husband warned me for his grandmother. She was hard and having high standards and the best wasn't good enough. Was I scared, lol.


But before I write a novel, it turned out: yes she was hard, but she was hard for herself too. She studied, worked and raised her children as a single mother.
I actually found out we are pretty the same. The same interests and our love for beautiful things.
Three years ago she passed away and left me her Burberry trench coats. I don't think she ever worn a different coat and she was more then proud and careful on them.
I could do with it what I wanted. I am not a hoarder that I want to keep anything I get and giving away is easy and makes fun, but that doesn't mean I have to give away everything!
Of course I tried the trench coats on, but they are absolutely not my fit. 
One coat had a seperate lining and when I saw the Kiran Dress from Designer Stitch…I knew what to do! Well, I was hoping I knew what I did, because there was a slight chance I was short on fabric. I am never scared to cut into fabric, but this time I had to sigh a couple of times first..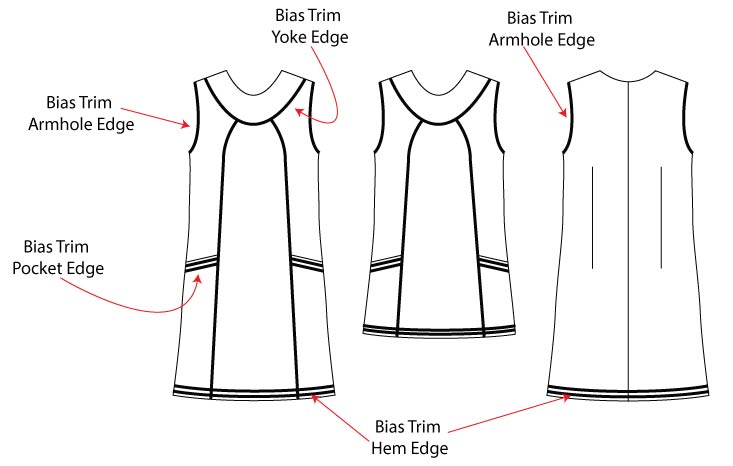 Luckily this design is made for color blocking so the next big question was ?: With what fabric am I going to combine this! I layed out every kind of fabric in every possible color against it and seriously nothing was looking good. Ow well, that was a kind of a disaster! 
But with being in the upcycle mode I digged into my denim stash and found an old jeans from my husband. I am still not 100% sure about the color, but I am 100% satisfied because of the combination and who it belonged too, to mix it like this. And with a white turtleneck from Mimi G. and some boots I am ready for fall! My next step is taking out the trench coat, re-cut it and make it mine too.
So, a trench coat from over 50 years is now being worned on a whole new way! The whole lining is being used; as dress, the bias tape as accent and the satin lining is used for the pockets.
Omi M. (as we called her) would never ever have worn it like this, but she would have laughed and be more then satisfied when she saw how happy I am with my new dress.
I am going to take good care of it and looking forward to make something new from the other coats and make her proud.
Love Marieke. 💗