Hi. It is Ann here from Designer Stitch. I trust that you all very well and happy.
I always keep and eye on what is happening on international catwalks with all the major couture houses as I love to see their explosions of color and especially a hot trend when it comes to style and shape. And I am always excited to see how I can translate this into a new design for you all.
Many weeks ago I watched the new Valentino collection being un-veiled and I saw that it was strongly influenced by Ruffles – on the edges of their garments – necklines, armholes, CF edges and the like.
My inspiration for the Kristen dress was directly influenced by this catwalk trend.
The Kristen is a beautiful and flattering dress that is suitable for all figure types. Designed with a princess style bodice the Kristen offers cups sizes for
fine-tuning the fit of your garment. Cup Sizes – B, C, D, DD (E).
multi-sized pattern : (AU/UK) 6 – 26, (US) 2 – 22, (EU) 34 – 54
Add a choice of ruffles at neckline, centre front and armhole with the added option of a soft flared sleeve, the Kristen
dress will flatter and enhance with its soft and flowing pleated flared skirt.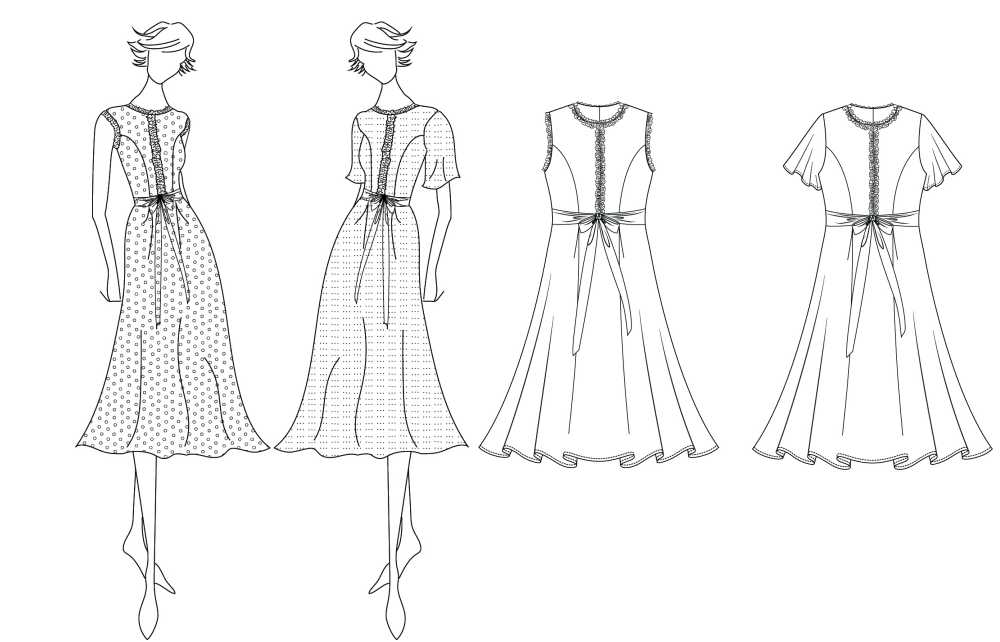 On Sale for a limited time only – $8.95 (US)
Advanced Beginner/Intermediate Sewing Level.
https://designerstitch.com/shop/kristen-dress
As part of this blog tester round-up I asked my lovely ladies if they could share with you all –
1. Where do you live.
2. What fabric you used for the Kristen and cup size please plus any hints on how to handle the fabric if it was tricky.
3. Where are you going to wear/or have worn the Kristen dress
Tadah !!!! – here are my beautiful women. xx
Cheerio. Ann at Designer Stitch. xx
---
Marie Fleurine
I used a very flowy viscose crepe. Take care while cutting your pieces, the fabric is shifty! Interfacing the back seam thoroughly is advisable, too, since the thin fabric has troubles supporting the zipper.
I made the smallest size, b-cup, and graded out one size at the waist.
I haven't worn my dress yet, but I'd wear it for a birthday celebration, the theater or anything were you're supposed to be dressed a little  nicer than usual!
Blog: www.sewmariefleur.com
Facebook: www.facebook.com/sewmariefleur
Instsgram: www.instagram.com/mariefleurine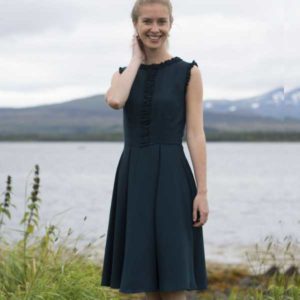 ---
Elizabeth Farr
I live in Colorado, and I made a B cup bodice from a heavy rayon challis. Because my fabric was both heavy yet slippery, I had to be careful with the ruffles. I found it best to mark the center of each ruffle. Next I measured the final length of each ruffle and drew a rectangle the finished length on paper as a guide. Slowly, I pulled on my bobbin threads and worked the gathers towards the center until the ruffle was the right length. This proved to be the best way to get the ruffles even especially at the ends where the ruffles wanted to slip out completely. The ruffle twisted a great deal too, so I hand basted it before stitching it in place. My blog is elizabethmadethis.com
Oh, I forgot to say where I'd wear my dress (darn my writing in my sleep!). I will wear my Kristen to church and when I go out on Mommy daughter dates.
YouTube: https://www.youtube.com/channel/UCQ8EXoVywtkSX5MMkzginpg
Instagram–https://www.instagram.com/elizabethmadethis/
Facebook–https://m.facebook.com/elizabethmadethis/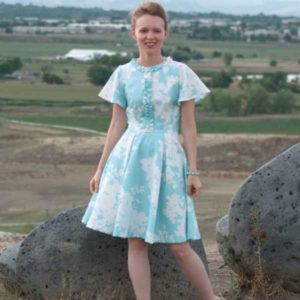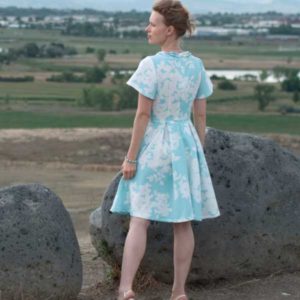 ---
Jane Bredkjær
I live in Aalborg in Denmark.
My fabric is chiffon, size 5/6 and cup C.
I loved sewing the dress, it was a therapy for me.
http://blog.bredkjaerpedersen.dk/2017/09/04/kristin-dress-how-feminin-it-is/?fref=gc&dti=234251930240346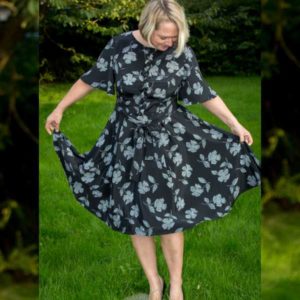 ---
Kiran Grewal
Hi there, I'm Kiran from sunny Singapore. The weather here is mostly warm, all year round.
Perfect weather for a dress like the Kristen. Mine is a B cup version sewn up with flowy rayon, which is just gorgeous to accentuate the beautiful curves of this dress.
Rayon can be a tricky fabric to work with. My tip would be to take your time and not rush the cutting process.
Check out the layout according to the pattern, coz Ann really does plan it out to make best use of your fabric length.
In my pictures, I am wearing my Kristen dress at the heritage building which houses the Diocese of Singapore. My son attends kindergarten there and we were celebrating his birthday on that day. And i've worn it numerous times since. This dress is so versatile, i can see myself making so many more of it.
Check out where i wear my Kristen dresses at http://www.instagram.com/gloopygoo
---
Elizabeth Holt.
I live in the US in Alabama.
I made a C cup and used a dobby crepe (with a liner). I've already worn it on a night out with my husband and got so many compliments!! 🙂
http://wp.me/p7TjRR-Ur
https://www.facebook.com/ThatsSewLilyBlog/
https://www.instagram.com/thatssewlily/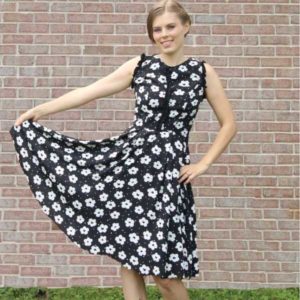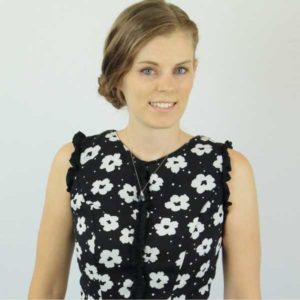 ---
Stephanie DoctoraBotones
I live in a town surrounded by vineyards and next to the beach, near to Barcelona (Spain). To sew my Kristen I used a crepe satin matte with a floral print on a gray background, slightly bright when it gives the light directly.The fabric is really slippery so it was necessary to fix the pattern well with pins to cut it accurately. I love my new dress so I will wear it to go to the cinema, to dinner, to a meeting with friends or to work, the day that wants to go something more arranged. I am planning to sew another one with a more casual fabric!
https://doctorabotonesblog.wordpress.com/
https://www.instagram.com/doctorabotones/
---
Ana Inês Barros
I'm from Portugal. I made the smallest size b-cup with 5/8" seam allowances in a crepe. The hardest part was sewing the tiny ruffles 🙂
I'm not a dressy girl but you can really make like to wear dresses Ann Grose. I love the way I look with it and the way it fits me.
My facebook page is : https://www.facebook.com/PontonoibyInes/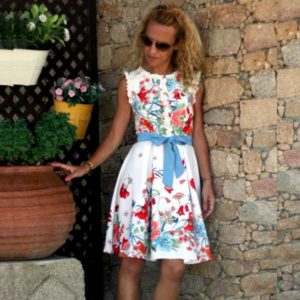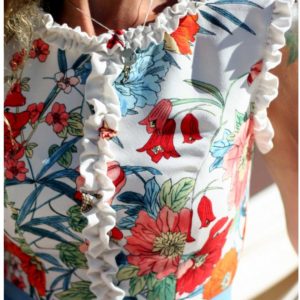 ---
Shalini Tahiliani
1. I live in Washington DC.
2. I used a gorgeous georgette crepe fabric by Sincerely Riley!
3. I wore it to friends party on labor day. Lots of compliments received 🙂
4. My blog post is here http://cropaway.blogspot.com.au/2017/09/kristen-ruffle-dress.html
---
Gabz Jefferson
1. I live in New Mexico, USA. 2. I used lightweight flowy woven kind of fabric. This fabric wasn't hard to handle for me.
3. I will be wearing this lovely dress for formal occasions like weddings or night dates to a fancy restaurants.
4. https://itsewcolorful.wordpress.com
---
Stacey Clements
I live in the UK and used Rayon for my dress which is a rayon.
My fabric was a bit slippy, so my advice would be use a lot of pins and take your time!!
I plan to wear my dress to a wedding this weekend 🙂
My blog is http://allsewnupbystacey.blogspot.co.uk/
and www.instagram.com/itsewcolorful

---
Vaida Balaseviciute
I live near Vilnius, Lithuania. My Kristen dress is made of light viscose fabric – I really liked sewing it, as the fabric is easy to handle and has a nice feel and drape.
My dress has size B cup. I've already worn it twice – to meet my friends and for a shopping day with my tween (and she said I looked great).
My blog link: http://xvaidax.blogspot.lt/
IG feed: https://www.instagram.com/vaidab/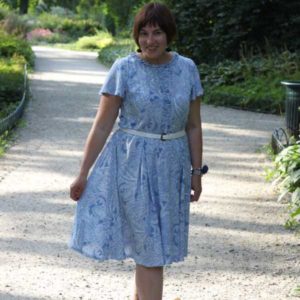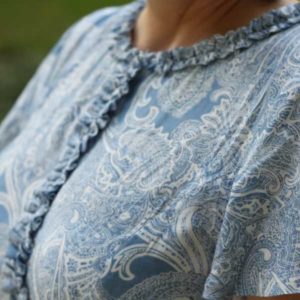 ---
Jennie Coffman Lindstrom.
I currently live in Las Vegas, Nevada, although we move often with the US Air Force. My dress is made with a crepe back satin, and I used the "wrong" side for the ruffles and belt. I made sure to sew very slowly since my fabric was slippery. I will be wearing my Kristen dress to the Air Force ball.
I forgot to add that I used the B cup, and used a 5/8″ seam allowance instead of the 3/8″.
My blog post is at: http://stitchedbyjennie.com/index.php/2017/09/03/the-kristen-dress-from-designer-stitch/?fref=gc&dti=234251930240346
My instagram: https://www.instagram.com/stitchedbyjennie/
---
Naomi Hill Branxholme, Australia.
I used a midweight stretch satin. It performed perfectly as it was not too lightweight. Lots of pressing helps!
I have worn to church with jacket and boots and will wear lots when it warms up!
My page https://m.facebook.com/SticksandStones85/?ref=bookmarks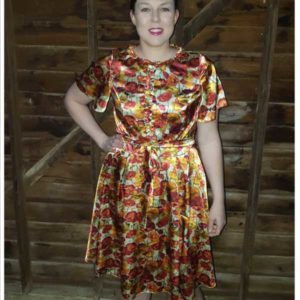 ---