Greetings from Australia my friends. Welcome to Part 2 of the tester round-up for the Kristen Dress.
I am sure you all enjoyed reading part 1 – if you missed it here is the link … https://designerstitch.com/kristen-ruffle-dress-tester-round-part-1/
Todays installment is the second group of testers that made the Kristen dress – and yet again they excelled themselves in both the make, fit and fabric choice for this dress.
Just recapping – The Kristen is a beautiful and flattering dress that is suitable for all figure types. Designed with a princess style bodice the Kristen offers cups sizes for
fine-tuning the fit of your garment. Cup Sizes – B, C, D, DD (E).
multi-sized pattern : (AU/UK) 6 – 26, (US) 2 – 22, (EU) 34 – 54
Add a choice of ruffles at neckline, centre front and armhole with the added option of a soft flared sleeve, the Kristen
dress will flatter and enhance with its soft and flowing pleated flared skirt.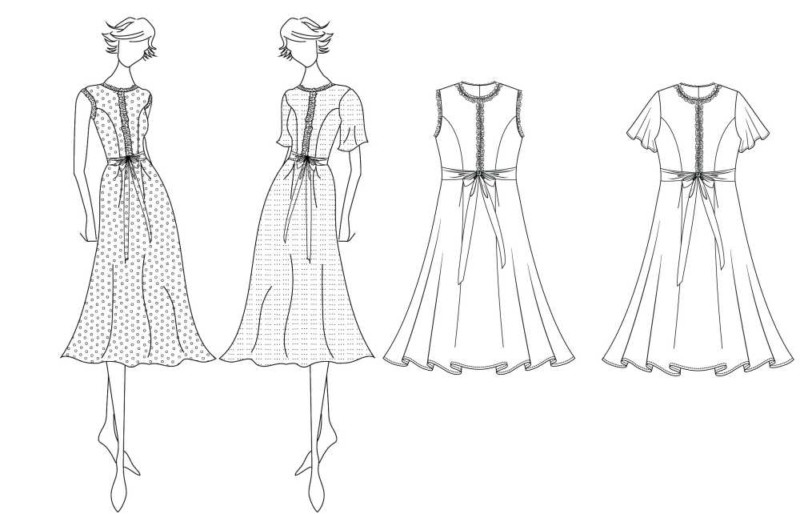 On Sale for a limited time only – $8.95 (US)
Advanced Beginner/Intermediate Sewing Level.
https://designerstitch.com/shop/kristen-dress
As part of this blog tester round-up I asked my lovely ladies if they could share with you all –
1. Where do you live.
2. What fabric you used for the Kristen and cup size please plus any hints on how to handle the fabric if it was tricky.
3. Where are you going to wear/or have worn the Kristen dress
So again for the 2nd installment  – here are my beautiful women. xx
Cheerio. Ann at Designer Stitch. xx
---
Inge Moreels
I live in Belgium, made a size 3 B cup. Love to wear the dress at the office and for this moment I'm on holiday and the dress is in my suitcase ??. I used a heavyweight crepe.
Will blog late this afternoon.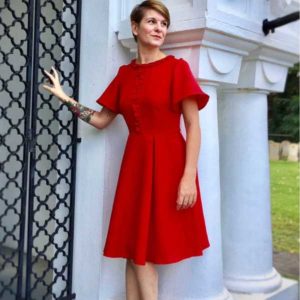 ---
Katrina Dingley
Townsville. I used printed rayon. I have worn to work and plan to wear on Melbourne Cup day.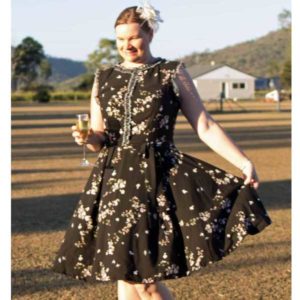 ---
Allison Falkey
I live in Oak Creek, Wisconsin, USA, a suburb of Milwaukee. I used a fabric I raided from my mother's stash while visiting on vacation. I had purchased and packed different material, but fell in love with the colors on the fabric I used. She did not know the fiber content, would guess there was some rayon. The fabric was a nice mid-weight, with silky finish. I used a smaller needle and lots of pins to keep it from sliding around. Size 7, B cup, but my seam allowance was closer to 4/8 out of habit of a 5/8 seam allowance. I still plan to make my original fabric into a Kristin, with a sleeve modification, would prefer a more fitted sleeve, so I can add a jean jacket. Wisconsin fall days are unpredictable and layering is key.
---
Lone Thomsen
I live in Aarhus, Denmark
I used a lightweight woven rayon with a good drape. Size 5 with a B cup. Rayon is always a bit tricky, but too worth it.
I have already been wearing my Kristen for both work and out for dinner. I would be perfect for a party too.
https://sewnbylone.wordpress.com/2017/09/04/the-very-feminine-kristen-dress/
---
Amanda Neu
I am in Perth WA,
I used a cotton polyester blend that I purchased from Textile traders.
I wore my Kirsten dress out on a dinner date with my husband! It was perfect for feeling put together without feeling over done at a restaurant.
I made a size 4, with a C cup and needed to make zero modifications.
---
Carmen Statham Adel, Georgia.
I used a peachskin for my Kristen and love the amazing drape. I made a B cup.
I plan to wear the dress to church and maybe on a date with the hubby.

---
Veronica Leigh
I live in Kissimmee, Florida, USA. I made a size 3 B-cup. I used a lightweight woven, and it was a breeze to work with.
I will probably wear it to church for the first time! ?
This is my Facebook page…https://m.facebook.com/sewveronica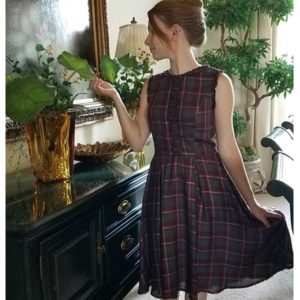 ---
Karina Trinidad
I live in Bolivia but I'm from Chile. I used viscose for my dress and made the C cup bodice. I had no issues with fitting or construction.
I will wear this dress to church.
https://www.instagram.com/liftingpinsandneedles
https://m.youtube.com/channel/UC2kL6RgBMYqRXjOKrH1GK8w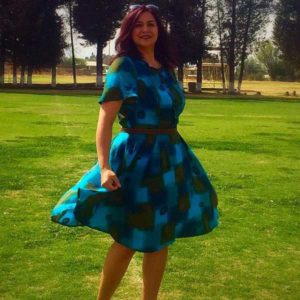 ---
Synthia Lee Gerritson
I have been sewing for many years and been testing garments for 4 years, for various designers. I have been testing for Designer Stitch over a year now.
I have thoroughly enjoyed my "Road Trip" testing the "Kristen" dress, which I used a woven peach skin fabric. On this road trip with Ann Grose, I have learned a lot about sewing beautiful garments with woven fabrics and have been given the opportunity to be creative with fabrics and trims using Designer Stitch patterns.
One FUN Road Trip for sure. The Kristen dress, one of my favorites to wear.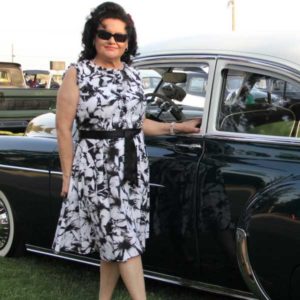 ---
Krisha Chiu
I live in Washington State. My dress was a size 2 graded to a 4 at the waist with a B cup for the bust. Sewn in rayon challis.
Make sure you prewash and pull it out of the dryer quickly to minimize wrinkles.
I'll probably wear it out to dinner with my husband and I'm definitely pulling it out for Thanksgiving this year.
You can find me at https://buttercupthreads.wordpress.com/
https://www.instagram.com/buttercupthreads/
https://www.facebook.com/buttercupthreads/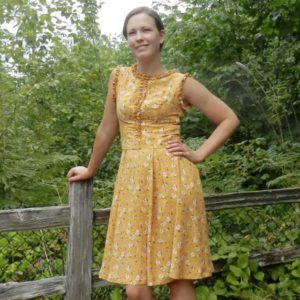 ---
Patricia Garnham
I live in Kamloops, BC, Canada. It's the beautiful BC Interior
I used a very light and flowy 100% rayon. It didn't have any indication of what type of rayon, but it handled like chiffon and kept shape shifting; as such I treated it like chiffon for the most part. To stop the shape shifting I handle it as little as possible, had to cut some of the pieces in single layers (fortunately I had tons of fabric), , and used washaway interfacing on the zipper seams. I also used seam binding on the shoulders to prevent distortion. I made a D cup, and really like how the princess seams sit. I am very weight / figure aware and don't wear as many dresses of late as feel quite blumpy. I felt a million dollars in this though! To add to the skirt swishiness sewed 'horsehair' braid to the hem (all 3.5m or so of it). This made hemming the circular skirt a breeze. To give it a bit more structure I pressed the skirt with Best Press spray starch before my photo shoot.
I wore it in the graveyard for my photo shoot! I love wearing dresses and will wear it when the weather is cooler here. Its still 32c +
My blog is With Love in Every Stitch https://sewfarnorth.wordpress.com
---
Livia Jonker-Yamada
I am a Brazilian living in the Netherlands
I used a silky satin that was a bit of a pain to cut. Just had to use lots of clips, pattern weights and a whole lot of patience! Cup size B.
I'll definitely wear Kristen for Christmas Eve Dinner in Brazil!
http://www.instagram.com/livia.jy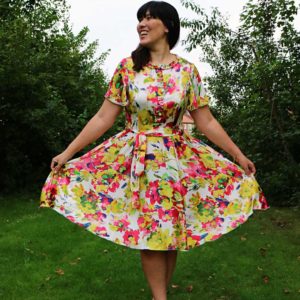 ---
Rachel Maxwell
I am from Werribee, Australia. I made D cup Kristen out of Georgette with a cotton lining. The Georgette was surprisingly easy to work with but I still took my time especially when cutting out the pattern. I am looking forward to wearing it to our monthly business training events as the weather warms up.
My Instagram page is https://www.instagram.com/rmaxwell86

---
Kee Lin Lim
I live in Melbourne, Australia. I used a heavy jacquard material for my Kristen which meant that I couldn't add the ruffle component of the pattern. As the material was quite thick and somewhat slippery, I had to be extra careful in pinning the pattern pieces together, especially the pleats. I am a size B cup. I'm planning on wearing my dress to my friend's wedding in Dandenong Ranges in Spring, so I'm glad I chose a more formal looking material! My instagram page is https://www.instagram.com/keelin90

---
Genevieve Lynne Grossmann
I live in Johannesburg, South Africa.
I used Rayon Challis and made a B cup. I think that the main thing is to work slowly and follow this instructions, especially pressing where indicated.
I am going to wear mine to my youngest son's First Holy Communion.
You can find me at http://www.instagram.com/gegiegrossmann
---
 Nieves De Francesco
1.   I live in Sydney
2.   The fabric I used was like a tight crepe, it did unravel when I was handling it, but I had no trouble cutting it, and it was beautiful to sew with.  I used a size 3, standard cup size.  I found the ruffles a little difficult because the fabric seemed thick to me when I was trying to gather it up.  I did two rows of long loose stitches for all ruffles, which I did not remove till garment was finished.  I think it would be helpful to have a sewing buddy for fitting the bodice, but apart from that it was easy,  I was worried about how hard this was going to be,  I wasted a bit of time procrastinating as I did not want to ruin it.  I would make this again, I see it as a very versatile pattern, as I think that you could make it plain without ruffles with a printed fabric if you wanted.
3.   I will be wearing this to any formal or cocktail event, which is perfect for me as I tend to dress up.  Ladies lunch if going somewhere special.
4.   My instagram is @Nievesozz