Hello on this beautiful temperate Friday my lovely sewing friends.
Thank you for coming over to read about my extra-ordinary collective of pattern testers – and this round was quite an unusual one from what we normally do.
Some of my testers for the amazing Lily Wrap Skirt are the most gorgeous little Tweens and Teens.
The Lily Wrap Skirt is the first in an on-going series of patterns called
"Lets Sew Together". The pattern has been designed and developed as a tool for an experienced sew'ist to teach/sew with a novice or beginner sew'ist.
Versatile and " Sew " easy to construct the Lily Wrap Skirt is based on simple pattern pieces that look amazing when cut in contrast or differing fabric prints or textures.
The Lily Wrap Skirt is easily stepped into and offers a flattering a-line effect with its interesting detail of the front cross over wraps held with hook and loop tape.
The skirt can be swung around and reversed to highlight the contrast fabric print/texture used.
The construction of the Lily Wrap Skirt is recommended for Supervised Beginners and Above Sewing Level due to:
Cutting and Sewing Tasks.
Operation of Sewing Machine.
Sewing of Seams and Top-Stitching
Final Fitting and Pocket Placement (optional).
On Sale for a limited time only – $7.00 (US)
multi-sized pattern : Women's
(AU/UK) 6 – 26, (US) 2 – 22, (EU) 34 – 54
multi-sized pattern : Tweens and Teens
6, 7, 8 ,9, 10, 11, 12, 14, 16
https://designerstitch.com/shop/lily-wrap-skirt/
So now I would like to introduce you to the most WONDERFUL women, tweens and teens who made the Lily Wrap Skirt.
YOU will surely smile when you read their stories and see their faces.
Cheerio my friends.
Love to you all. xx
Ann at Designer Stitch.
---
Kate W and Daughter Mim.
I was nervous about sewing with my daughter. I'm not always the most patient mum. We'd tried small projects before, but it usually ended up with me pushing her aside to 'do it properly'. This was different.


We worked together from the beginning to the end of the project. Figuring out grain line and how to cut the pattern pieces without losing a finger. I set up the sewing machine the lounge room, with the pedal on a box so she could reach.
The Lily Wrap Skirt has a great combination of straight and curved seams to help build confidence. By the end of the project she looked like a natural. The best bit is now seeing my daughter have confidence to have a go and make the things that she imagines. And I know she can do it, so I can let her get on with her projects without trying to help (too much).
https://katewillknit.blogspot.com
https://www.instagram.com/katewillknit
https://www.facebook.com/katewillknit
---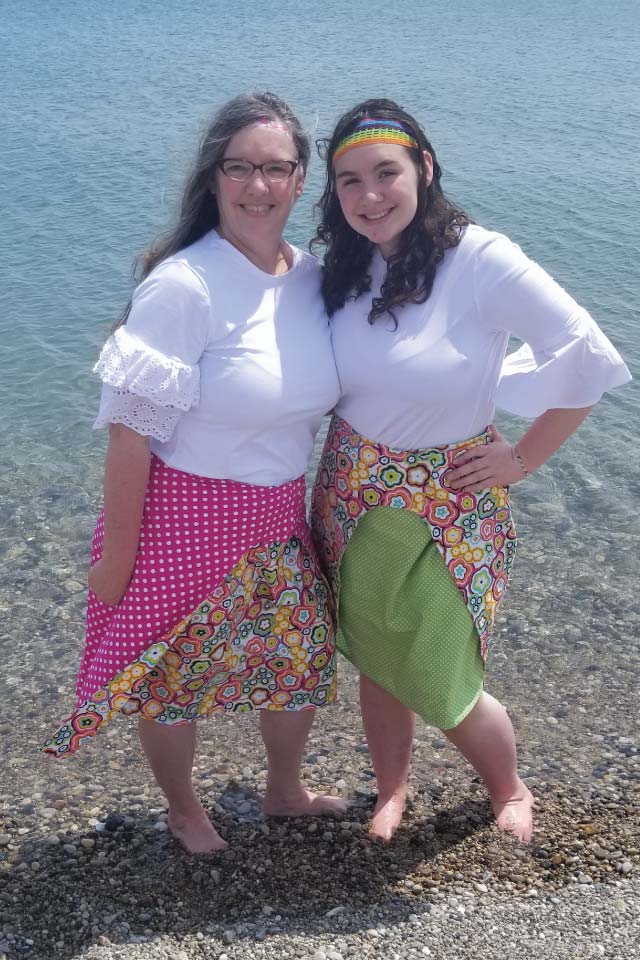 Allison F and Daughter Megan
My daughter and I had such fun picking fabrics and making our Lily Wrap Skirt. The loud colors really represent her bright cheerful spirit. Now, my baby is 14 and about three inches taller than I. So, we had to lengthen hers a bit. Our fabrics are a cotton or cotton blend. We love taking our skirts to the beach. Perfect for after a quick dip in the water to slip over a swim suit for a beach stroll.
This is Megan's first completed project. She had tried a few other little things on the machine, but nothing from an actual pattern. She plans to sew again one day but prefers me to sew for her at this time.
---
Andrea S and Jillian
When Ann put out a tester call for the Let's Sew Together project, I immediately reached out to my oldest daughter. Since Jillian lives a distance from me, I knew it would be a challenge logistically and time wise. Needless to say, I was thrilled when she agreed to the project. I am not sure whether we had more fun fabric shopping or sewing.
Jillian had done some sewing when she was a teenager and The Lily Wrap Skirt has renewed her interest.
Overall, I would call this a successful project!
My Instagram is https://www.instagram.com/andreashpuntoff
---
Belinda C
I had just moved to Adelaide and been reunited with my machines when Ann put out a tester call for Lily. Although I don't have children of my own or close proximity to my niece, I asked to join in as the Lily Wrap Skirt is indeed a style that I love to wear and as I made the skirt, I was reminded of my own childhood.
My mum taught me to sew and I did Home Ec at school. Mum is a bit of a perfectionist and taught me the value of taking your time to get it right. For ANYONE starting to sew, this is a satisfying skill building project that looks great too!
---
Camelia DB
I think this is a great idea , to get patterns to sew together with our little ones. My daughter loves my Lily Wrap Skirt and wants me to help her to make one to, how great is that?! This pattern is a perfect first step in the sewing world.
I made a small modification on one of my skirts and I talk about in my YouTube review
---
Genevieve Lynne G and daughter, Micaela is 15.
I basically make all her clothes. We usually design them together and she is definitely my muse. When Ann put up the Lily Wrap Skirt tester call we were super excited to do this project together.
We had loads of fun and laughs. She still prefers me to sew for her but this was a truly wonderful experience for us both.
https://www.instagram.com/gegiegrossmann
---
Kiran G and daughter Jugaad.
Some of my earliest (and fondest) memories center around being with my mother as she sewed on her vintage Singer sewing machine. With bags of fabric and boxes of thread for me to rifle through to keep me busy, i developed a keen affinity for sewing crafts. Fast forward thirty years and the same situation plays in my home (with a newer machine, of course *wink*) My daughters (and son) have on numerous occasions asked me if they could try their hand at sewing.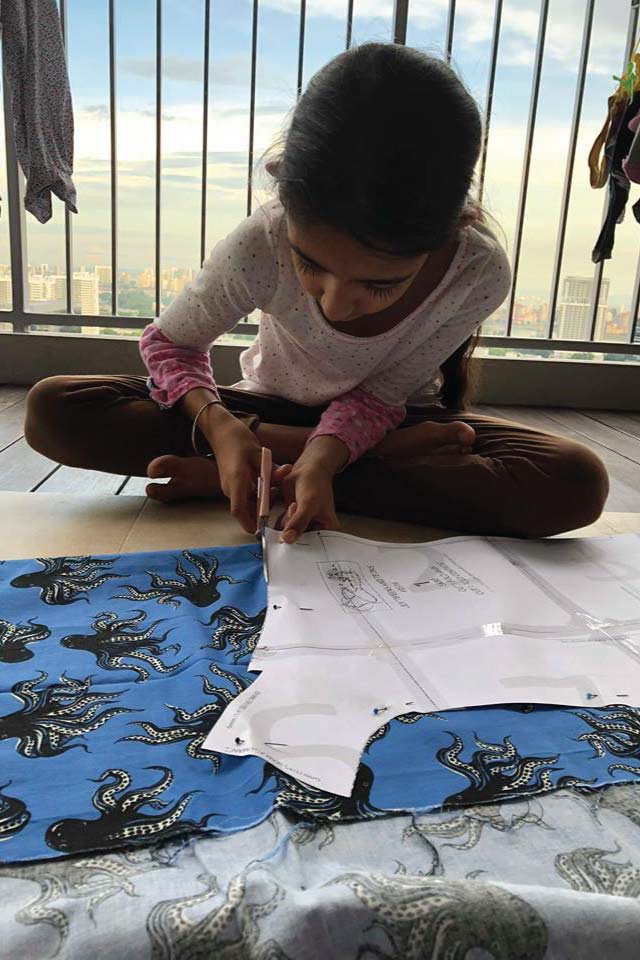 The "sew with me" series by Designer Stitch is literally the answer to my daughter's sewing prayers 😄 Thank you Ann for making this pattern so easy to follow yet beautifully wearable. Jugaad thanks you too! 😉