Hi Ho my lovelies on this amazing Easter Saturday. What a fabulous weekend to spend time with family and friends – and it is a perfect time to sew up a storm. And what a fabulous pattern the Lily Wrap Skirt is for you to do JUST THAT….lol….
And also a big  thank you for coming over to read this second installment of the Lily Wrap Skirt Tester Round Up. Isnt it wonderful to see how fabulous all the tweens and teens are with their skirts that they made with their Mums. xx
But it doesn't have to be just about them. The Lily Wrap Skirt is a quick and stylish make for you to wear as an everyday easy wearing garment. xx
If you missed yesterdays post be sure to read the Lily Wrap Skirt Pattern Tester Round Up Part 1 here.
The Lily Wrap Skirt is simple to make, easy to wear and fun – with a bit of quirkiness added in xx.
The Lily looks amazing in a myriad of differing fabrics as it can be worn showcasing either fabric.
On Sale for a limited time only – $7.00 (US)
multi-sized pattern : Women's
(AU/UK) 6 – 26, (US) 2 – 22, (EU) 34 – 54
multi-sized pattern : Tweens and Teens
6, 7, 8 ,9, 10, 11, 12, 14, 16
https://designerstitch.com/shop/lily-wrap-skirt/
So lets continue the happiness and SMILES –  here is part 2 of the amazing tester roundup. xx  .
Lets keep you smiling when you read their stories and see their faces.
Cheerio my friends.
Love to you all. xx
Ann at Designer Stitch.
---
Kim Bailey  Hi my daughter LilidhRuth is 12 and at high school so made a teen version of this fabulous Lily Wrap Skirt. That basically just means she shortened it by 10cm. She did an after school sewing class for a few terms a couple of years ago so that gave her the sewing bug. It was great to have an easy pattern to cut out and sew and make it your own in any awesome fabric combo you can come up with!
LilidhRuth did all the pinning cutting and sewing with just a few areas of help, mostly threading the machine as she used a contrasting gold thread which was not easy to thread through the needle! I think she enjoyed the modelling also in her skirt!
---
Kristen B
I have been sewing for a long time, and my daughter has always wanted to learn. This was a great opportunity to show her the step by step, from picking the right fabric for a pattern to piecing it all together. She was intimidated by the sewing machine at first, but we practiced on scraps until she got the hang of it.
Like most little girls, her favorite part about the Lily Wrap Skirt is that she can change her look mid day with only a flip of the skirt. My favorite part is she can change her wardrobe without the need of adding to the laundry pile.
With spring and summer heading our way she has asked if we can manage several more while declaring this is the only skirt she will ever need.
---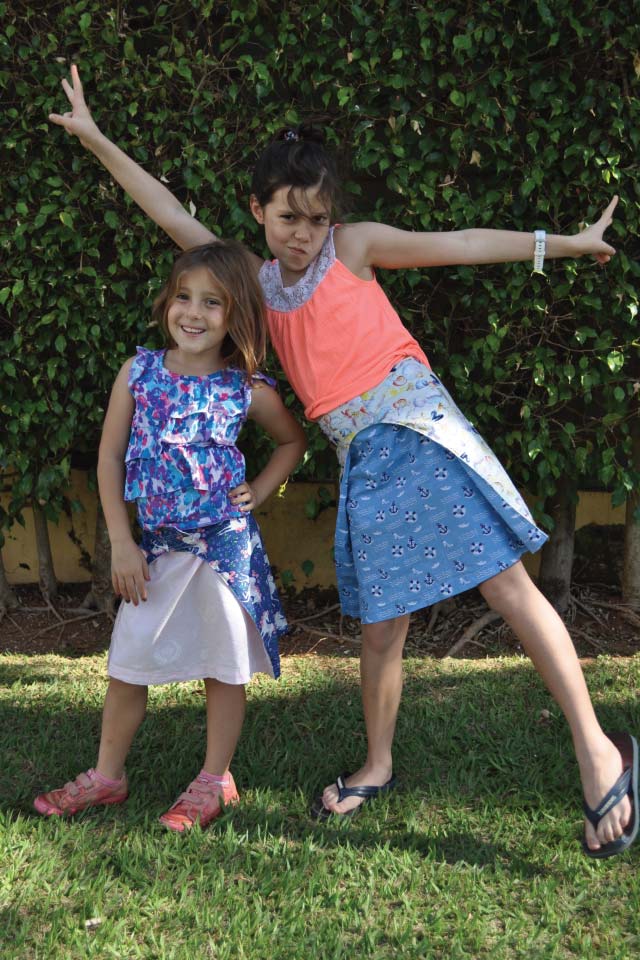 Meghan C.
Both of my girls had been interested in sewing for quite some time. My older daughter, Eva, learned when she was 7 (now 11) and got her own sewing machine and everything!
Her younger sister, Isabella, also wanted to learn but I wanted her to also wait until she was 7 (earlier trials showed she couldn't focus haha). When she finally reached age 7 we started some basic things but of course she wanted more… The Lily Wrap Skirt was a perfect project for her and Eva was excited to make something and wanted as little help as possible.
We went to the fabric shops together and the girls chose their own fabrics. Eva worked on her sewing machine and Isabella worked on my sewing machine with speed control and did great on her own, but with my guidance on turning corners and curves.
Both girls were super happy with how their Lily Wrap Skirt turned out! Isabella was so excited to wear hers to school and show everyone the cool trick of turning her skirt around to reverse the pattern. We had so much fun sewing and learning and bonding together!
www.instagram.com/emptyseasewing
Emptyseasewing.wordpress.com
---
Melissa E.
Not having a young partner to sew the Lily Wrap Skirt with, I arranged with another local sew'ist to work through the pattern together. It was fun to work with a friend on the same project and help each other along. We kept asking ourselves to look at the pattern through the eyes of a beginner and we agreed, this is a great introductory pattern to teach new skills and inspire a love of sewing.
I blog at mahlicadesigns: https://mahlicadesigns.wordpress.com/
Follow me on instagram: https://www.instagram.com/mahlicadesigns
---
Stacey C
Me and Beth enjoyed this project so much! She has always been interested in what I am sewing and is keen to get involved. We have done a few small projects together (like a simple pillow!) But this time she was really excited to be making something she could actually wear!
She picked out her fabrics and laid it all out with the pattern, she also helped me decide on my fabrics! At the age of 6 she needed a bit of help with cutting out, but she did a lot of the sewing herself with me hovering over the machine just in case!!
We were both very pleased with our finished skirts, and she often asks if she can wear the 'skirt I made myself'
https://allsewnupbystacey.blogspot.com
www.instagram.com/all_sewn_up_by_stacey
---
Synthia LG
I enjoyed sewing the Lily Wrap Skirt and I have plans on sharing it with my grand daughters when they come visit and have them sew their own Lily skirt.
I really like how the skirt wraps around and turns into a different skirt. With the design being beginner friendly, any age level will love sewing this skirt up. https://www.facebook.com/Synthia20000/
---
Tenille B.
My kids have always been keen to learn to see, there are so many interesting things in the sewing room – the machines, thread, scissors, pins, pin cushions etc.
This was the perfect project for them to get familiar with all the different aspects of sewing a garment from sticking the pattern together, choosing fabric and cutting it out, to actually sewing on a sewing machine! I was surprised to find that they had such difficulty using the fabric scissors – seriously, cutting the fabric was really hard for them! They certainly don't have any problems with cutting paper, I guess that there is a bit of a different technique to it.
The easiest part was using the sewing machine, this pattern has mostly straight lines, and one of my machines has a manual speed limiter switch, so I could set it really slow for them. The most fun part, by far, was choosing fabric,they have definitely inherited my love of fabric, I look forward to sharing an interest in sewing with them in the years to come.
www.tenille.brien.com.au
Www.instagram.com/tenillebrien
https://facebook.com/TenillesThread
---
Megan R and daughter Katanya

As Megan was sewing with Katanya she messaged me her steps and pics – this is a lovely photo journal of their experience. xx
Hullo, Ann. Day 1 of Let's Sew Together – we didn't finish the Lily skirt, but we made good progress (including a trip to Spotlight to choose contrast fabric, and then gobble celebratory dumplings). She's so excited to be making her "Mummy and Me" skirt – she told everyone we encountered today.
"I can cut it myself, Mum!"
Winding the bobbin – the bit she was most excited about.
She was sitting on my lap (she can't reach the pedal).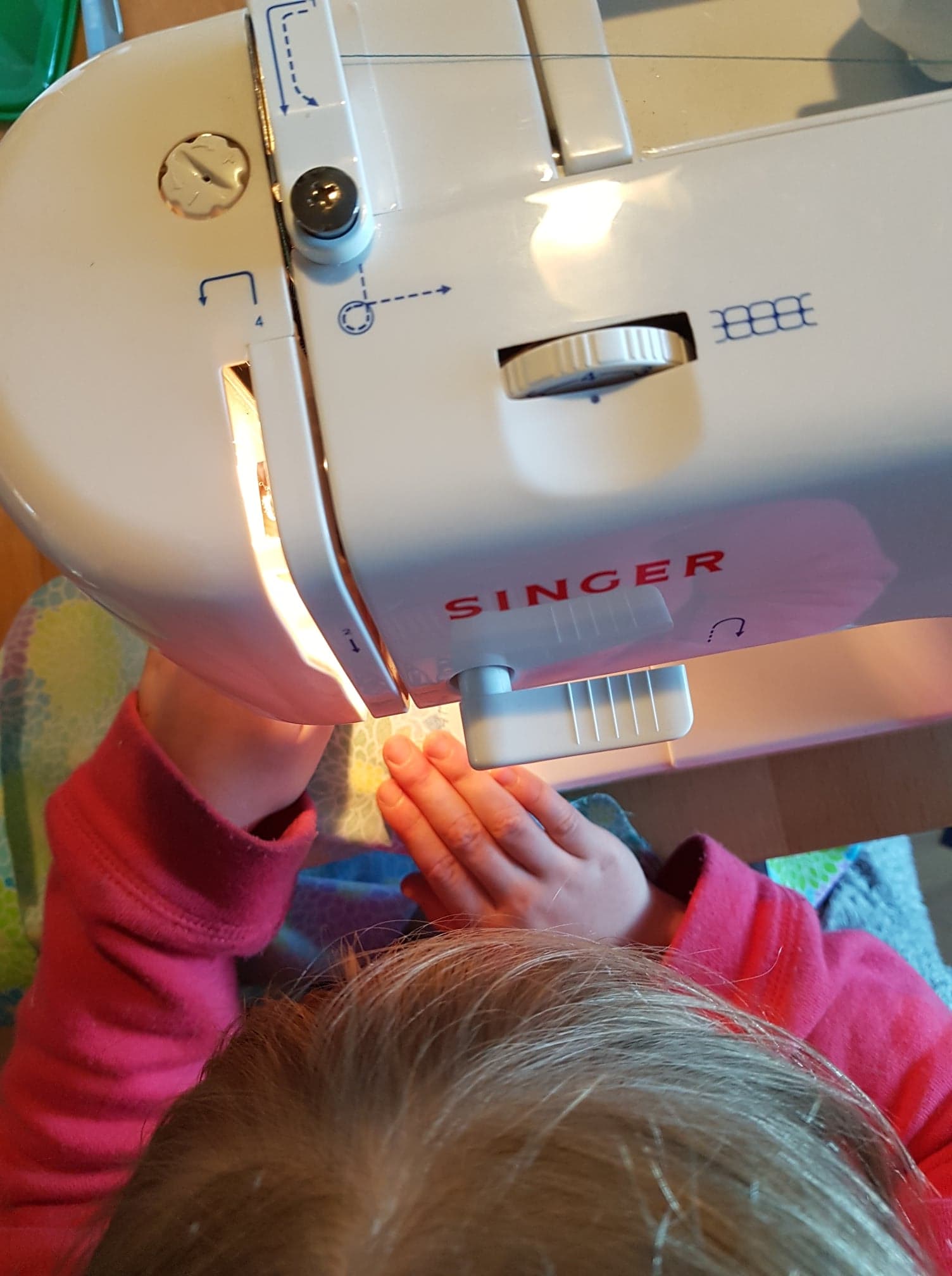 And we're at the end of step 4.
And how could I forget – here she is, well on her way to a flocking of pins!