Greetings my lovelies – and welcome to Part 2 of the Rock star roadies Roundup for the newly released
Kiran Dress
.
Or should I say the ABSOLUTLEY extraordinary Kiran Dress. 
The
Kiran
paneled dress is an easy to wear silhouette and is a perfect addition to your trans seasonal wardrobe. Offering a contemporary shape that is easy to fit on any body type – along with its handy pockets – the
Kiran
will be your go-to all occasion dress. 
And as I have said loads of times before – the roundups of our new pattern release – are a great opportunity for me to highlight our wonderful roadies. 
And tbh we have one of the best roadies family that there is in this industry. They are true friends with each other – help each other out – offer advice and guidance – and are just a close and wonderfully supportive group of sewists that hark from all corners of our wonderful world. 
So lets shoutout again for our pattern testers in Part 2 of the
Kiran Dress
. And hold on to your seats my lovelies – prepare to be bedazzled. It is LOVE 💗 
And our roadies would like to share the following with you all : 
1. Your name and where you live ? 
2. Your choice of option for the
Kiran
and why ? 
3. What fabric did you choose and where did you purchase ?
4. What alterations did you have to make to your
Kiran
toile ? 
5. What sewing tips can you share when sewing the
Kiran
? 
6. What was your favourite thing about making the
Kiran
? 
7. Did you make more than one combo of the
Kiran
? 
8. Have you worn your
Kiran
yet and what compliments did you receive.
And the finer details;
(AU/UK) 6 – 30
(US) 2 – 26
(EU) 34 – 58
Cup Sizes – B, C, D, DD
On Sale for a limited time only – $9.75(US)
Very Confident Advanced Beginner and Above Sewing level
---
My name is
Allison
. I live in the Milwaukee area of Wisconsin(USA)
My Kiran is made from gifted cotton fabric. I added black panels at the side front. Then I made the bias tape from a yellow polka dot fabric to match the design of the flowers in the main fabric.
Kiran is a lot of fun to make. The base serves as a palette for your imagination.
I have worn mine all summer long. Received many compliments about the dress and fun style. I love that it is also super comfortable and lightweight.
When making your fit, if you are unsure of your sizing you may want to leave off the bias trim. It is much easier to adjust the fit without the trim added.
I have a second Kiran in my closet already made from a gray chambray type fabric, trimmed with black bias. I definitely plan to wear it with a turtleneck top and boots this winter. Also, I have a piece of tweed in my stash that I need to pull out to see if it is enough for a third Kiran dress.
---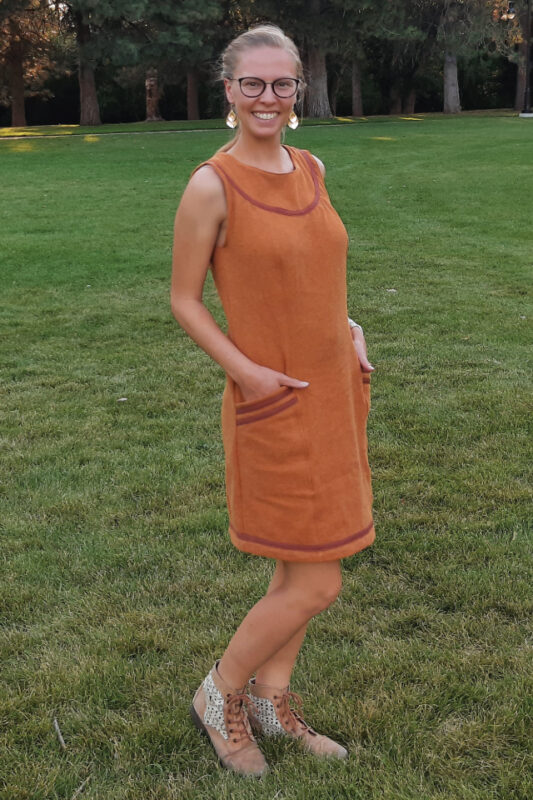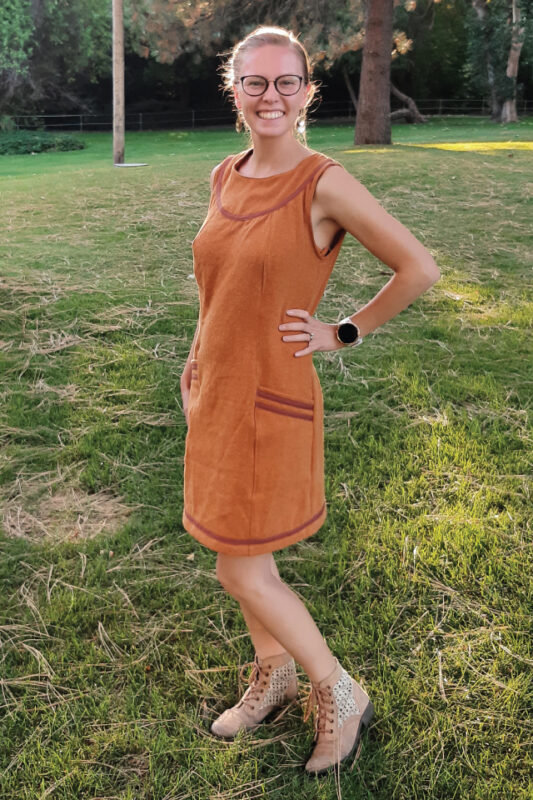 Hello, my name is
Ally
and I like in Utah! I was so excited to make the Kiran because it is just turning fall here and I chose to make the dress perfect for fall! I choose the shortest option dress so that I could put leggings or tights under it as it got colder. Also, I chose a very warm flannel as the fabric for the dress. It will.pair nicely with a turtleneck sweater come winter and definitely keep me warm. My sewing tips for the Kiran is to try it on before sewing on all the binding that way if you have to take it in you can do so evening throughout the side seams, since you have the extra seams front the center front piece. I did that several times as I was adjusting my seams to fit better. Always start with small adjustments and add more if necessary. I loved making the Kiran, because the orange flannel I chose screamed fall and with the colors on the trees changing it felt like the appropriate season to make such a dress. (You can also wear the dress in summer since it is sleeveless!!) I plan on wearing my Kiran more and more as fall continues and adding in a long sleeve and tights as the weather gets colder, such a fun dress!! I wore my Kiran out and my grandma was downright in love with the pockets, so sleek and stylish but giving you opportunity to keep pockets in a dress! I will definitely be making more, especially a more summery one come spring!!
---
Hello, this is
Brenda
from The Netherlands and I made 2 Kiran's up to date.
For both Kiran's I used fabrics that came from 3 skirts I inherited from my grandma. I combined them with a wool fabric on one of them.
I went for the tunic length because I was missing shirts in my wardrobe. The Blue/green one turned out a tat longer than I wished so that one became a minidress and the brown one I shortened till the length I wanted.
As for the bias, I bought a bias tape maker a while back, love the little thing. Totally recommended.
What makes Kiran so great is the possibilities it gives. You can go nuts with all different parts, but you can also go easy and make them all the same color. It is up to you.
---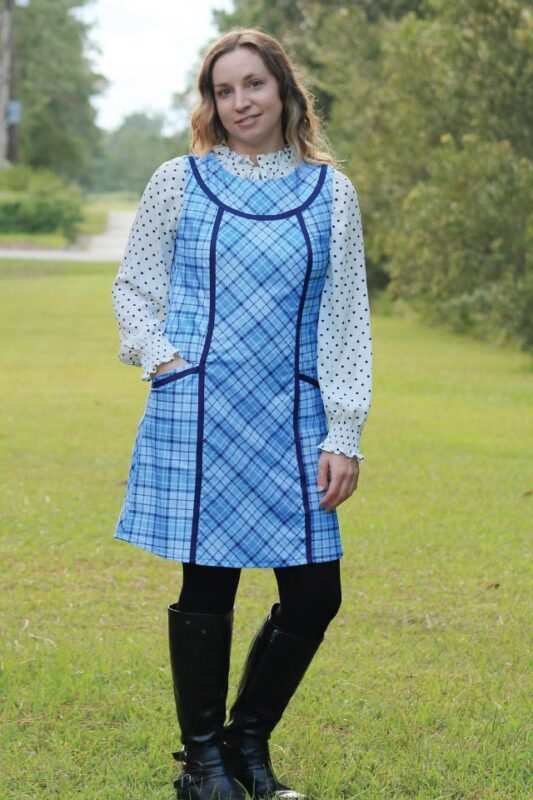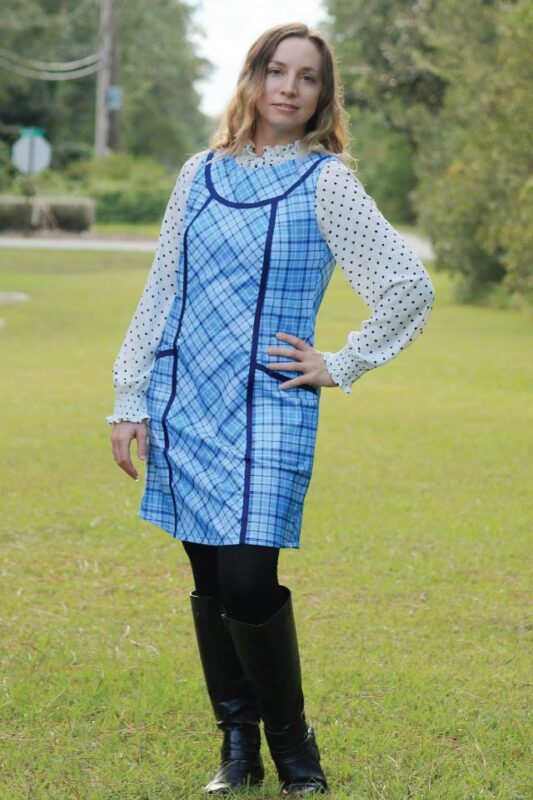 Hi, I'm
Carmen
from Georgia and I chose to cut the middle length which is 19 3/4″.
I wanted a fall/holiday Kiran so I purchased a really nice blue plaid cotton from fabric.com. The fabric had a diagonal orientation which I fell in love with. For fun, I turned the plaid and cut the upper and lower side fronts so that it was straight instead of diagonal. The back was cut the same as the front. This added a bit of retro chic vibe to the dress.
The Kiran Dress is a simple sewing project, but a tip I would add would be to ease the binding around the curves and pin every couple of inches. You don't need to pin the entire length of the dress. You can work a bit at a time as you ease it down.
The bias binding was my favorite part of making the dress. I styled the Kiran dress with a long (shirred) sleeve blouse with a ruffle collar in polka dots and a crochet slouchy hat I made myself thanks to Bonita Patterns.
---
Hi, I am
Genevieve
from Horsham. I chose to make my Kiran the middle length, as I am 5'7" and wanted it above my knee but not too short. I used the most beautiful Art Gallery Poplin, gifted to me by Minerva.com. I really love the bias binding for the pattern. It just frames the dress so perfectly, it really reminded me of a stain glass window when it was finished and I love this look!! I initially styled my Kiran for Winter, as that is where we are headed here but I love that I can wear this dress all year round. For Winter with a polo neck and tights and for summer with sandals. It is so versatile.
---
Hello Everyone! My name is
Kristin
and I am in London, Ontario, Canada. I chose the shortest length for the Kiran to go with my 60s inspired vibe. I used a buttery soft baby corduroy from my local fabric store here in London. My best tips for sewing the Kiran is so make sure to take the time to read through the whole pattern before cutting anything! Be mindful about the amount of bias tape you use on your Kiran. The best tips I can offer is to make sure to press some shape in to your bias before applying it to the front seams. It makes it much easier to shape. My favourite thing about making the Kiran was deciding on all the different bias options! There are so many different combinations you can use. I can't wait to wear my Kiran out, I just need to find somewhere fabulous to wear it!
Instagram – @kristin_grace_daley
---
Hi everyone! I'm
Hwee Ke
from Singapore!
I made 2 versions of Kiran and loved them both! These have the perfect BIG POCKETS, and the fit is not too tight so it hides the "mummy tummy pouch" – perfectly comfortable for wearing both to work and to dinner!
My first dress is made with a border print cotton woven from Brighton Accessories House in Chinatown Singapore https://brightonaccessorieshouse.com/ and I used the border for the central panel in front then rotated it so that it also lined the top and bottom at the back.
My second dress is made with Tweed from Thye Guan Textile also in Chinatown Singapore. (Support local!) https://www.facebook.com/thyeguantextile/ This one I wore to the office and had so many compliments from my colleagues. They commented how very on-trend the shape of the dress was and how they would love to buy dresses with such big pockets – of course, when they found out I made it, they were even more impressed! Designer Stitch dresses really do look so stylish!
---
I am
Luana
and I live in North Carolina, in the US.
For both my Kiran I chose the shortest version, one for summer and one for winter 😄
The fabric for the light blue one has been in my stash for a while and it's a cotton from Joann's, while the purple/pink one is a tweed fabric that I bought in a fabric destash group.
The construction of the Kiran isn't complicated, but applying the bias binding can be a little tricky. I suggest to take your time with those.
My favorite thing about the Kiran is how the binding enhances the design, and the fun of matching binding and fabrics that can give a completely different feel!
I did wear it, and my boyfriend loves the winter (pink/purple) version!
I made two versions, one for summer and one for winter since we're in between seasons 😄
---
Hello Everyone, I am
Priscilla
from Illinois. I chose to make my Kiran the shortest length, as I am only 5'2" and wanted it above my knee❤. I got these fabrics from my mother when I last visited her. The main is a beautiful pink and powder blue print quilting cotton and the side panel I used is a pink and white pinstripe seersucker, so gorgeous together. My advice is to measure twice, select the correct size and sew a muslin first. Also go slow and give ease to the binding around the curve, especially for busty girls like me( I am a DD). The bias binding for the pattern really pull the pattern together. I love that I can wear this dress all year round and this one is perfect for getting together friends, shopping. I plan on sewing one for Winter and style it with tights, knee-high boots and a wrap to complete the look❤❤❤. It's such a gorgeous and versatile pattern that can transition from summer to winter easily.
Hope you like my version.
---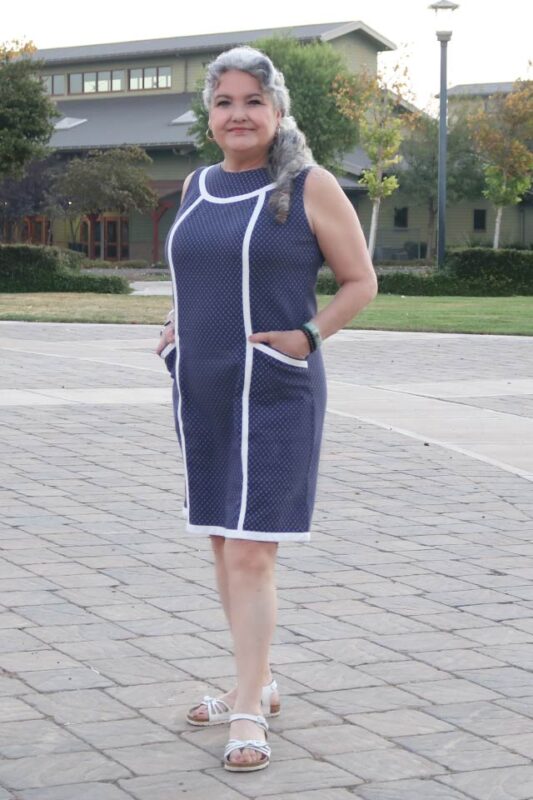 Hi, my name is
Synthia
and I live in Central California. I love my Kiran dress and the many details it has. I enjoyed sewing the bias tape to the Kiran and love the hidden pockets. I made my Kiran using a Waverly cotton fabric and it turned out nice. I did not color block my Kiran but I did use a contrast self sewn bias tape for the trim. I have worn my Kiran as a Summer dress and loved the ease of wearing this dress. My tip, be exact with measurements when cutting and making your own bias tape, sew a muslin, and iron as you go. Another great fun design Ann Grose.
https://sewsynsewn.blogspot.com
---
Hi all, my name is
Taryn
(aka Tazz) from Cape Town, South Africa. I chose the longest dress length for my Kiran hits me just about knee height. At this length, I can wear it with over-the-knee boots for a warm Winter look and as easily with a pump or sandal for warmer weather. I do personally prefer knee or longer-length skirts and dresses. I used a wool fabric which meant I could use both sides to get the contrast look. I picked it up on a local Facebook fabric supplier page. It turned out it was the perfect amount of meterage for Kiran. I wanted to compliment the neutral palette of the dress with a subtle, sophisticated pop of colour so chose to use a deep rose binding. This is not a difficult sew but does require a steady hand and eye when topstitching the binding. Take your time and don't rush it. I really appreciated the ease with which this dress goes together. My work schedule is jam-packed sadly leaving very little time to sew. But making the time to work on Kiran helped remind me why I love to sew. I really love the way the pockets are constructed. I wore my Kiran for the first time out to dinner on a recent weekend away with my family. I am looking forward to wearing it when I head back to the office too. My mom passed on some large olive/moss-hued tweed scraps (of 3 different fabrics) she had acquired and know I just need to decide how best to combine the 3 for my next Kiran which will be a tunic length version. You can see more of my creations on Instagram or Facebook. Look me up at CreaTazzly on
https://www.instagram.com/creatazzly
or
https://www.facebook.com/creatazzly
/
—————————————-
Hi, my name is
Uma
. I am from sunny island Singapore. I choose the longest length of the Kiran dress as I do love sewing and wearing dresses. Since I live in a hot and humid environment, most of my fabric choices revolve around natural fibres. I try to make better fabric choices to reduce plastic waste. It's a work in progress. For this project, I chose lightweight denim and baby corduroy (it's sold as Japanese corduroy here). I was initially not sure if it would match and suit the pattern but it did. Love the print and colours on the baby corduroy. Matched the binding accordingly. I did make a toile for fitting prior to cutting into the real fabric. Made the dress in size 3 and slightly graded it to a size 4 around the hips as I do have a wider hip. I have worn the dress out once mainly because I don't get that many occasions to go out other than grocery and school runs (thanks covid). The ones who complimented me said that they liked the fit and colour of the dress. Also it's a dress that compliments my petite body. Overall this is just a dress to make if you like pockets and like mix and matching fabrics. Minimal adjustments needed. I plan on making more in linen both plain and printed. It's going to be my TNT pattern ❤️.
You can find my at Instagram and Facebook