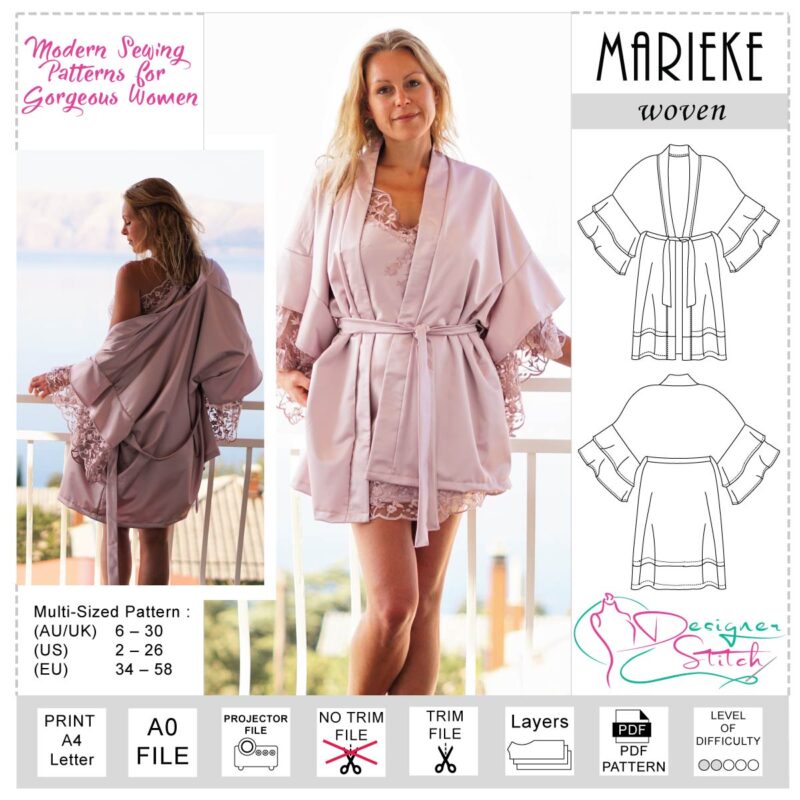 Our new Sleep Wear Sewing Patterns have released today and they are AMAZING !!!…and so our the Rock Star Pattern Roadies !!!!
The new Sleep Wear Collection – Marieke Robe, Ashley Sleep Cami/Slip and the Barbara Shorts/Loungers are all luxurious in design and will have you looking and feeling elegant every evening. Once you start wearing all of these exquisite pieces you'll never want to take them off.
The Marieke Robe offers a generous fit – in a classic multi-culture influenced style – with wide ¾ sleeves – 2 layers of gorgeous flounced cuffs – along with an open wrap front and a self fabric belt.
The Ashley Sleep Cami and Slip Dress will become a year round favourite. Featuring a flattering deep front V neckline with a centred squared back – along with adjustable straps – and gorgeous bust shaping with the aide of flattering bust darts.
And the Barbara Shorts and Lounge Pants offers a classic cut and style that are the last word in luxe. The pyjama short/lounge set takes its cues from impeccable tailoring and design and is the perfect nightwear wardrobe update.
So lets start the Sleep Set Tester Roundup Part 1 – and a round of applause to all of my amazing testers. Love you all xx
Our roadies would like to share the following with you all :
1. Your name and where you live ?
2. Your choice of leg width of the Sleep Set and why ?
3. What fabric did you choose and where did you purchase ?
4. What sewing tips can you share when sewing the Sleep Set ?
5. What was your favourite thing about making the Sleep Set ?
6. Have you worn your Sleep Set yet and what compliments did you receive.
7. And how are you styling your Sleep Set ?
The finer details : On Sale for a limited time only – $8.95, $8.95 and $7.95 (US)
And if you purchase all 3 together please use this extra special 10% discount code – bundlex3
Believe me your Sleep Set will become your new ISO uniform !!!
And the finer details;
(AU/UK) 6 – 30
(US) 2 – 26
(EU) 34 – 58
Confident Advanced Beginner and Above Sewing level
https://designerstitch.com/shop/marieke-robe
https://designerstitch.com/shop/ashley-cami-slip
https://designerstitch.com/shop/barbara-shorts-lounge-pants
---
Hello Designer Stitchers!
My name is Amie, and I live in Southern California. I made 2 sleep sets for this test.
For the first one, I made the babydoll length Ashley cami, waist high short shorts, and shorter length Marieke robe.
For the second set, I made the cami length Ashley, and the same Barbara shorts and Marieke robe.
This first set was my toile, and for my second set I decided I wanted the cami to be longer, so that's why I sewed up the cami length in the second set. For my toile set which is the blue set, I got my fabric in the LA fabric district, but for my final set (pink set) I actually got everything at Joann's Fabrics, and I love it so much!
These patterns are written so well, and come together beautifully, just be sure to read carefully and go slow. My biggest problem when sewing patterns is I read too fast, and skip important things.
I love this sleep set trio because they make you feel so feminine, beautiful, and sexy. I think most of the women felt the same, and it shows in all of the beautiful photos that the testers took.
I have worn this sleep set to bed so many times already and I always feel so decadent in it. It's so luxurious, which is probably why my cousin and her bridal party are wanting me to sew some of these up for the big day!
https://www.instagram.com/bellegracestitchery
---
Hi, I'm Barbara and I live in Northeastern Mississippi in the USA! I chose to sew a Marieke Robe, Ashley Cami, and of course the Barbara shorts for my first set.
The second set is the Marieke robe, Ashley Cami, and Barbara pants.
For my first set, I chose a floral rayon viscose from JoAnn Fabrics. My second set is a satin set. The Marieke robe is a satin charmeuse from Etsy shop MonSar. The Ashley Cami and Barbara pants are a black satin from Hobby Lobby.
My favorite thing about sewing the Sleep Set is that each piece is such a simple and quick sew. Best sewing tip: slow down and enjoy the sewing.
I have worn my sleep sets many, many times since I made them! I have several requests from my family! The Sleep Set will make wonderful Christmas gifts!
IG:https://www.instagram.com/ninjabreadgirl61/
---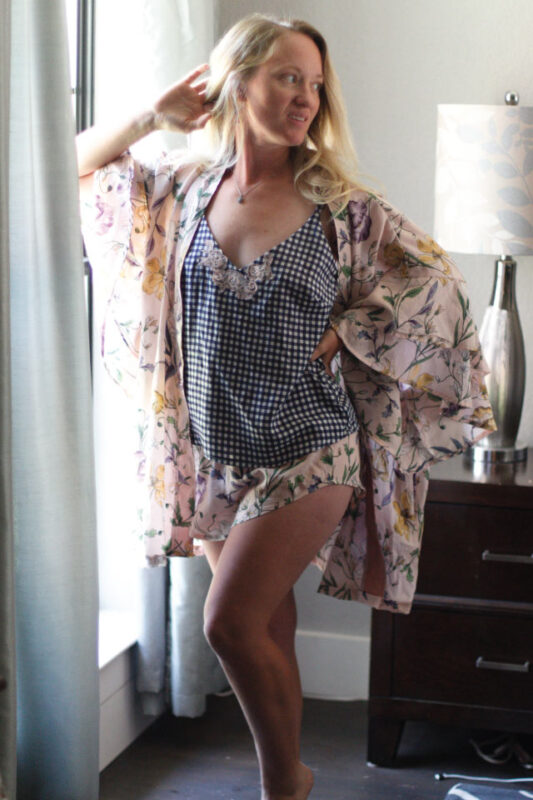 1. Hi, Claire here! I live in central Texas, aka hell's front porch 😜.
2. I chose the top length cami with shorty shorts and the shortest length robe because it's most my style.
3. I used a Joann's silk type fabric.
4. Tips for this silky fabric is to use correct needle and pins to save your fabric. Watch your iron temperature.
5. I loved picking the lace applique!
6. I wear it to bed and my hubby loves it!
7. I want to make a slip length one next!
8. Nothing right now.
---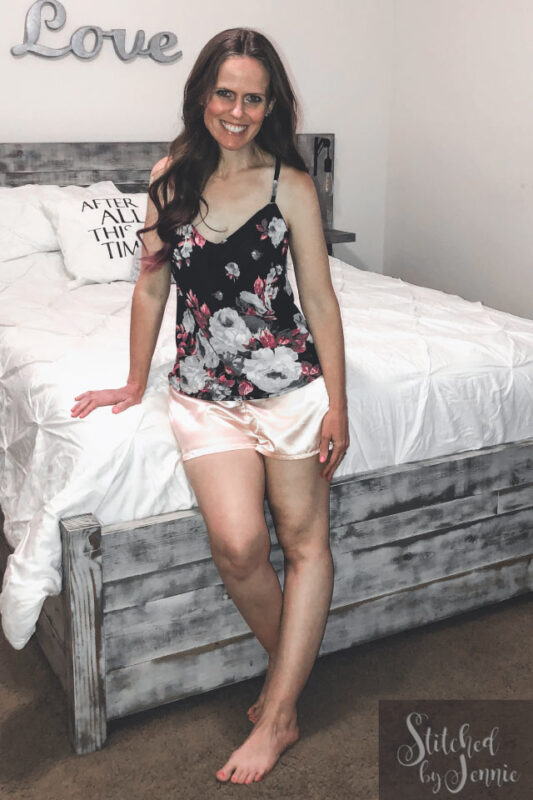 Hi, I'm Jennie Lindstrom and I'm currently moving across the United States from Las Vegas, NV to Virginia.
I chose some light pink satin for my sleep shorts and a wool dobby fabric (black with pink flowers) for the top. The wool dobby is from Surge Fabric shop, and my affiliate link is listed below.
When cutting your sleep set on the bias, you need to be careful with your fabric. Either sew a staystitch, or just make sure not to stretch out the fabric before sewing.
I really love this sleep set, and how the top and robe can also be worn as regular clothing, depending on your fabric.
I haven't been able to wear my sleep set yet, since we are in the middle of a cross country move, but I definitely will wear it soon!
IG: http://www.instagram.com/stitchedbyjennie
Surge fabric affiliate link: here
---
hi lovely people!
I'm José from the Netherlands and have I got something pretty in store for you! Ann really has outdone herself with designing the Sleepy Set. 🤩 As I'm sure you are too; I was blown away with the sleek and comfy design of the 3 pieces💖.
So what's a girl to do?! Well take it and run with it ofcourse! So that's what I did. I went to our lingerie-walhalla Kantjeboord (I believe it's the store with the biggest assortment of lace and bra supplies world wide)
I've picked up some fabulous multicoloured lace and then matched it with this fabulous crêpe silk from my newest fabric supplier, Shani. This guy has the most amazing fabric he buys from designers and it wears amazing. No sticky or sweaty fabric, but wrinkle less, cool to touch and flowy fabrics!
I couldn't decide so I went all out on the pieces: made to Marieke robes, 2 Ashley's (a babydoll length and shortest slipdress) and 2 Barbara pants (1 high cheeky, 1 full length).
I've made the marieke robes with french seams, and that looks so neat, especially on those wide sleeves. My best recommendation is to use microtex needles, because the fabric really needs this. You can end up with tiny rips in your fabric otherwise. Also, don't forget to switch your server needles too if you're using a server with this!
When the basic bodice was done I started the REAL FUN! Applying lace pieces to every section of my pieces. Don't forget to trim the fabric underneath for really fun peekaboo style.
Hemming with my favorite small hemming foot was a breeze once again.
And for pictures we had some fun times together with my friends.
People have told me they think this set is hot, sexy, beautiful, amazing and fabulous. And the compliments keep raining down on me. My husband REALLY LOVES this set too😜
So this set is something you need in your life to feel beautiful every night (or day, or whenever you feel like comfy but sexy)
Follow my other makes and many more pics of this set over on Instagram!
Https://www.instagram.com/jose.vernooy
---
Hi everyone, I'm Kelly from sunny San Diego.
I made the high cut cheeky Barbara shorts with a cami length Ashley, and a shorter length Marieke Robe. I wanted something light to sleep in, and this combo worked perfectly!
I used a beautiful bright fushia silky satin material for the cami/shorts, and a silky feeling lightweight rayon for my robe. I used a portion of some galloon lace at the neckline and the side seams of the shorts.
Plan out your lace if you'll be using any – pin it on and make sure you like where it will be going!
I really enjoyed putting the robe together – for such basic shapes, this robe has so much movement and volume.
The robe especially will be a great pattern to use for making gifts!
You can see more of my Sleep Set at https://www.instagram.com/kellygonthierart
---
Hello Everyone! My name is Kristin and I'm from London, Ontario, Canada (although currently at a lovely cabin in the northern Ontario woods).
I chose the cami length top and the shortie length shorts – I needed a cool and breathable summer sleep set, so this was perfect.
I used a buttery soft rayon blend – a solid sage for the shorts and top and a lovely print for the robe. It is so soft and comfortable! The fabric was from my local Fabricland.
A walking foot is very helpful for slippery fabrics, and also – always press your darts!
I loved making the sleeves on the robe – it was so much fun! Even with all the hemming 🙂
I've worn my sleep set many times, my mum has already requested her own robe and my husband loves the shorts! I plan on making many more, I need some sleep pants for the chilly fall that is coming. Now, I just need more fabric 😉
---
hi hi everyone 😊 this is Boon Kuan from Singapore.
Where I live is warm and humid all year round, and I love sleep sets that's comfortable and cooling.
Hence I opted for rayon for my Ashley Cami and Barbara pants. I opted for pants for modesty since I do get relatives dropping by unannounced some days 😆 .
When that happens, I have also the Marieke Robe to the rescue! I made my Marieke Robe in satin for the lovely drape and sheen. The statement sleeves made it impossible to say no to sewing this sleep set. It's absolute love.
Do come hang out with me at www.instagram.com/limbksews
---
Hi all,
I am Marit from the Netherlands! I made two sets.
For the first I went for all the works: Barabra lounge pants, cheeky shorts, a cami hiplength, a cami slipdress and the Marieke Robe.
For my second set I made an extra cheeky shorts and cami because one can not have enough of those! I used a crepe satin for the blue set and a crepe for the pink one from Shaniosdorp. Combined it alle with lace from Kantjeboord – a true candystore for lace.
The sewing set is a great sew, take your time! I drew the designs first and during the process I kept adjusting. Make sure your sewing friends are working on a set as well – it brings your creativity to the next level! Also get applique sciccors you're gonna need them 😂
My favorite thing about making the sleepy set is that it really brought my sewing to a next level, and I am madly in love with applying lace now
I have worn my sleepy set a lot! Best moment was when I asked my hubby to get me something comfy to wear after shower with the kids and he brought me the lounge pants and cami 😂😂
I am def gonna make a couple of sets more! I can really recommend satin materials they are so soft and luxureous.
Check out my instagram: www.instagram.com/modemamaprins
---
Stephanie C from NSW, Australia
Ashley, Cami Length
Barbara, Full Length, side seam pockets
Marieke, Short Length
I really wanted to create something, feminine and luxurious so I went with deluxe satin from Spotlight for the Ashley and the Barbara.
The Ashley is finished with some ivory trim from Spotlight. The Marieke Robe is made from a Rayon (from Spotlight too) the sash and neckline are both made from the left over deluxe satin.
For my Marieke sleeves I used a rolled hem foot, personally I feel it is the easiest way to get a great finish on a curve.
I loved making this set because I felt like I was making something special as apposed to just make pjs.
This particular set was made for my youngest daughter and she loves it. It has been worn everywhere (even in a film).
My other daughter has placed an order for one in blue 😊 I think I will have to make one for myself too.
http://stephaniesbeautifulcreations.blogspot.com
---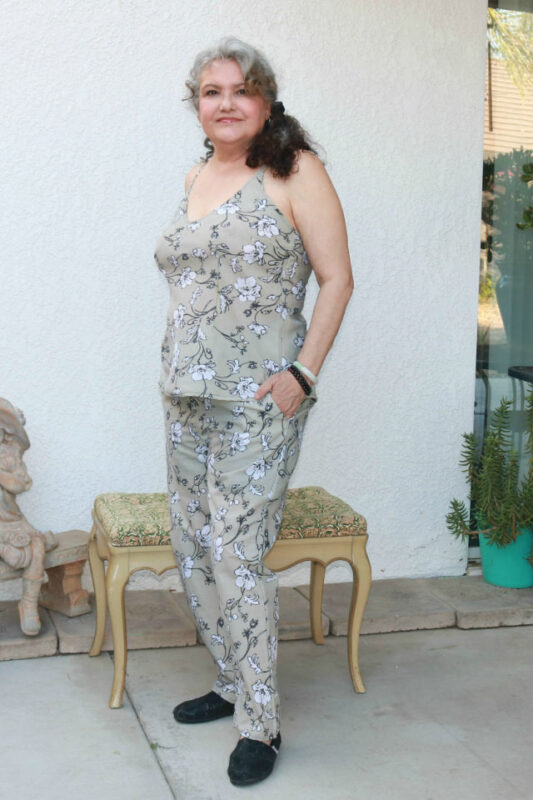 Hi, name is Synthia, I was very happy to sew up the 3 pieces, Marieke Silk Robe, Ashley Cami, Barbara Shorts/Pants.
I wanted a set that I could sleep comfortably without fidgeting during the night.
I used cotton voile for my matching Ashley cami and Barbara pants. For the Marieke Robe, I used a chiffon fabric with a contrasting front band.
I also sewed up the Ashley in a gown version using a silk type fabric, in black.
I am very pleased with my set and will get a lot of use. Always sew up muslins to get the best fit. Awesome Job Ann Grose.
https://sewsynsewn.blogspot.com
https://www.facebook.com/Synthia20000/
---
Hi everyone! I'm Lisa P and I live in North Carolina, US.
I chose the Cami length with bust darts she cut in the bias along with the regular length shorts. I had SO much fun coordinating the fabrics for the Cami and shorts with the fabric for the robe and some cute lace! I used stretch satin from fabric. com for all 3 pieces.
My tip is to go slow and be careful splitting any embellishments do you don't cut through to your garment 🙈. My favorite thing is that this sleep set got me to try something new with adding a lace trim which I've never done before.
I'm also determined to use appliqués on SOMETHING now because this project just got me so excited to do so! My mom LOVED my sleep set and now wants a whole 3 piece set!
My Instagram is Instagram.com/sewlylisa