Greetings from here in Australia my lovely sewing friends.
Jumpsuits, Playsuits, Rompers ?. What do you call them in your part of this glorious sewing world ?
Throw in the option of a Shortsuit – with the add of a 3/4 circle skirt – and you have your own new Monique.
As we have just released the new Monique  -and what a glorious beauty she is – even if I must say so myself – we are at my favourite part of any new pattern release.
Perfect for any occasion our Monique Jumpsuit or Dress features a V-neckline complete with a cropped/full length leg or 3/4 circle skirt.
Tailored to focus and flatter the waist with defined waist shaping the jumpsuit and dress is finished with a self tie belt to enhance and flatter the figure.
With a modern wide leg silhouette offering 3 lengths – along with a skirt option – plus 2 sleeve styles – the Monique is designed to maximize the impact and the timeless appeal of this on-trend look.
So Ding Ding my friends – time for some AMAZING-NESS. Part 1 of the
Monique
Jumpsuit, Shortsuit or Dress Rockstar Roadies Pattern Tester.  It is LOVE 💗
Our roadies would like to share the following with you all :
1. Your name and where you live ?
2. Your choice of option for the
Monique
 and why ?
3. What fabric did you choose and where did you purchase ?
4. What alterations did you have to make to your
Monique
 toile ?
5. What sewing tips can you share when sewing the
Monique
?
6. What was your favourite thing about making the
Monique
?
7. Did you make more than one combo of the
Monique
 ?
8. Have you worn your
Monique
 yet and what compliments did you receive.
And the finer details;
(AU/UK) 6 – 30
(US) 2 – 26
(EU) 34 – 58
Cup Sizes – B, C, D, DD
On Sale for a limited time only – $9.75(US)
Very Confident Advanced Beginner and Above Sewing level
---
Hello I'm
Ashley Riley
from London, I'm excited to share with you the amazing Monique jumpsuit pattern!
It comes with so many options, I had to make a few to show off all the styles. The Monique jumpsuit comes with different length pants and skirt option. Plus there are two different sleeves, bishop and flutter sleeve. I used a non stretch crepe from a facebook group Coalville Fabrics
My tip, a toile is much needed to make sure it sits on your waist at the right length, you don't want to waste good fabric.
My style of choice for my jumpsuit was stripes as they work really well for this style of pattern and a good pair of heels but you could also wear sandals in the summer for a more casual look. I made the full length pants and shorts which both work for winter and summer. And I added the bishop sleeves to my skirt jumpsuit which gave it a very different look but all from one pattern.
I shortened my bodice to make sure the waistband was sitting at the right length and then added what I removed from bodice to the pants to make sure it didn't look like was going you my bum. With theses little changes made my jumpsuit fit and sit it the right place.
I've not been out in my Monique jumpsuit yet but I love it so thats the main thing. The fit and design is beautiful.
---
Hi, I'm
Barbara
and I live in Northeast Mississippi, USA. I chose a rayon print Ankara that I purchased on Amazon for my Monique. The Vendor is Fabric Merchants. My tip to share is when making the thread belt loops, use button thread. It is much easier to make the loops.
The style option that I chose was the full-length jumpsuit with flutter sleeves.
I made my normal alterations which are grading the sizes, shorten the length, and a sway-back adjustment.
I have yet to wear my Monique out, and I plan to make the Monique romper soon!
---
Hello everybody, I'm
Brenda
from The Netherlands and I've made 2 Monique jumpsuits.
If you thought buying RTW jeans were hard for a tall woman like me (5'10"/1.80m) it is nothing in comparison to buying a jumpsuit. So obvious I haven't had any since my teen years. When Ann did the shoutout I jumped onto it and the result is fantastic. I now have my first 2 jumpsuits as an adult.
For the striped version I used a viscose/linen blend fabric I got at www.driessenstoffen.nl. The camouflage fabric, my favorite I must say, is from www.stoffenstraat.nl and is 100% cotton. I made 2 the same versions, jumpsuit with flutter sleeve. Those sleeves are adorable!
My tip for you is, if you are tall, or have a tall upper body, check if you need to change the rise of the pants in order to avoid camel toes.
For the Monique jumpsuit I did the alterations I usually make for the Designer stitch patterns. Lengthening bodice, small sway back, heighten rise and lengthening the pants.
For next year's summer I will make a short version of the jumpsuit for sure.
---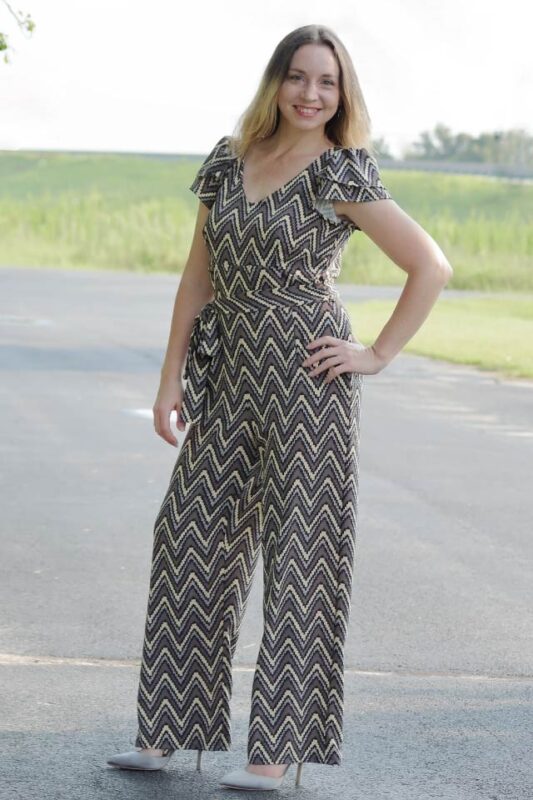 Hi, I'm
Carmen
from Georgia and I've made two Monique jumpsuits (with another on the way). When Ann announced the test, I jumped at the chance to make the jumpsuit. I love it so much because I sometimes I don't want to wear a dress and stepping into a jumpsuit would be more convenient for a busy lifestyle. I would no longer have to spend hours agonizing over matching separates. The Monique Jumpsuit has a style to suit everyone from full length trousers to shorts and a skirt. A jumpsuit can be more practical than a dress, but give the same visual impression. I love the androgynous style because you can look so glam with high heels for the evening and slid on some sandals and look casual for summer.
I made the full length (chevron) jumpsuit from a pebbled rayon which I bought from Walmart a few years ago. It was in one of those strike off bins you can find in the fabric department. The second jumpsuit was a rayon gauze. Both jumpsuits I made had the double layered ruffle sleeves but the lengths were full length and calf length.
Tip of the day: Slow down and enjoy the process.
I always have to make alterations to patterns to fit me so I took my time. I shortened the bodice and the pants because it would otherwise be too long. I also made a swayback adjustment. All of these alterations to the pattern means I can almost guarantee a perfect fit.
I have already worn my chevron jumpsuit and I felt so chic. No compliments but I plan to wear it until summer ends.
---
Hello lovely people, I am
Kiran
and I live in Singapore. I sewed my Monique in the jumpsuit view because since I sewed my Eden jumpsuit a number of years back, Ive been wanting another but never got round to making one. So here was my opportunity.
I used a double border rayon that I bought during a fabric shopping expedition on Johor Bahru, Malaysia. I remember there was a massive Hari Raya (Eid) sale happening and it was too good to pass so we hopped the border and went shopping! A thrill we took for granted now that we're border locked. If any of you are ever in Malaysia fabric shopping, do stop by the fabric chain, Jakel. I do believe there is a store in every big city there.
If you're sewing your Monique with rayon, i'd urge you to be careful because rayon tends to stretch if handled excessively. I was extremely careful to handle this, especially the bodice, carefully because the delicate fabric stretches and distorts at the slightest mishandling. So be warned. Its delicious to wear though!
For my jumpsuit, I did my usual swayback adjustment and I took a little out of the length of the sleeve too. Falling short of the draft height, I usually do have to take a slight pinch out of the bodice and the front rise.
I must admit, it was hard choosing between the long sleeve and short sleeve options. But check out my teeny tiny pearlescent buttons. They clinched the deal for the long sleeve option. Don't you agree that they're just so adorable?
---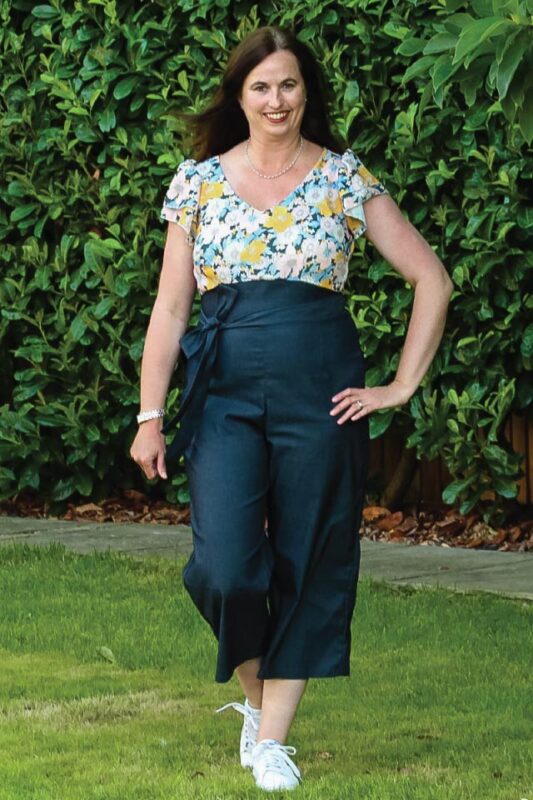 Hi everyone, my name is
Genevieve
and I live in England. I had a tiny piece of retro floral woven in my stash that I've been dying to use and so, I decided to use this for the top of my Monique and paired it with some Chambray, also in my stash. When sewing the jumpsuit, a toile is a must! You want to be comfortable and knowing where to adjust will help to make wearing your garment a pleasure. I chose to make the short, ruffle sleeve with calf length jumpsuit. I had the picture of this in my head and my final garment was exactly as I had imagined.
I did the following adjustments to my Monique, I shortened the top bodice by 1/2", I added a 1/2" to my back rise. I decreased my side seams to 6mm.
I am planning to wear my jumpsuit in Autumn with a cardigan.
I would definitely like to make the dress version next using the bishop sleeves.
---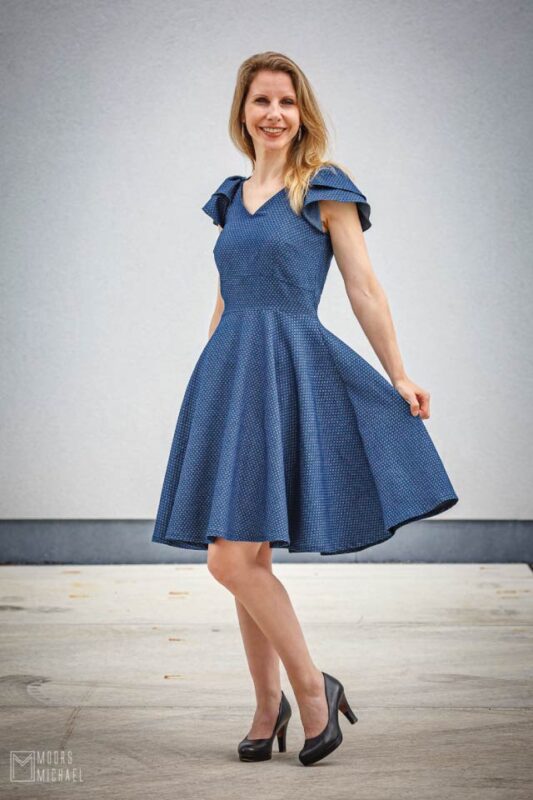 I am
Girl in Uniform Lieve
from Ghent, Belgium. For the super-feminine and elegant Monique dress, with butterfly sleeves and a wide skirt of 50 centimetres, I chose a supple jeans fabric from Minerva. Do you know how to sew a blind zip? Then you too can get started with the Monique, because it is not difficult at all. The step-by-step instructions takes you through the process in no time. As always, I had to do a sway back alternation, but otherwise I didn't adjust anything. My girlfriends are crazy about this beautiful dress that I can wear to the office, but also to a party. Want to see more of my Monique?
www.instagram.com/girlsinuniformblog
and
www.girlsinuniformblog.com.
---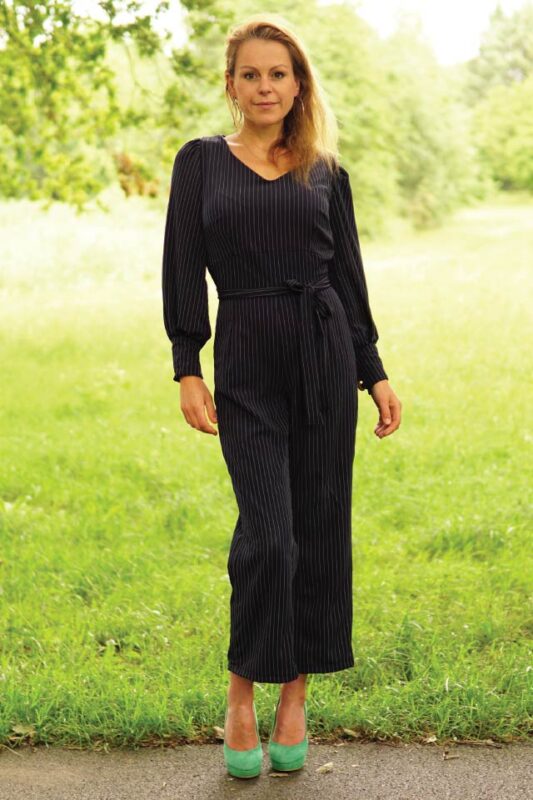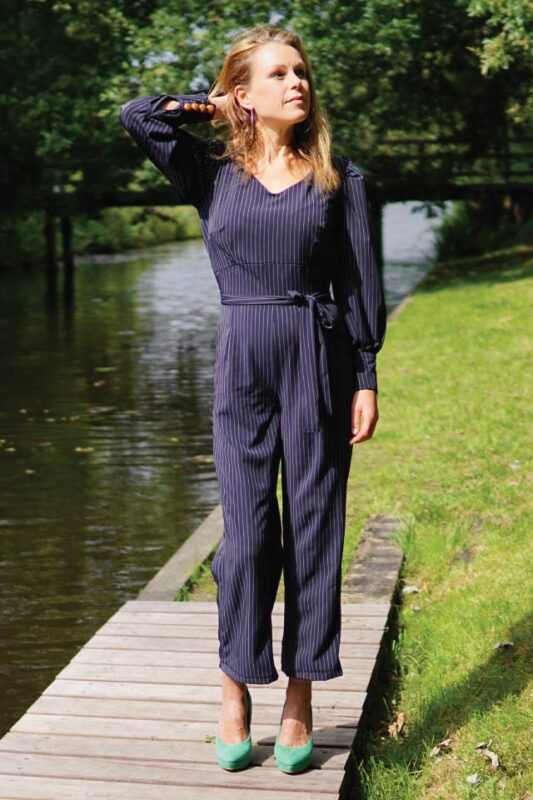 Hello everybody! I am
Marieke
from the Netherlands.
When the tester call came I already knew I wanted to have a classic jumpsuit.
And it turned out exactly how I wanted it! 🙌
I made the ankle length so I can wear all my colorfull high heels with it and now the jumpsuit ánd my shoes are visible without any of them is stealing the show.
My advice is to make a quick fit first and don't cut into your good fabric immediately.
Take your time to follow every step in the instructions and you'll notice this isn't a hard sew at all!
One thing is left: this is amazing! A woven Jumpsuit that is comfortable and good looking and figure forming- without being to tight! What else do you want? ❤️ The bishop sleeves of course! Aren't they beautiful!
Ow and I think it will look awesome with kneeboots under it too! Lol
Curious what else I made?
---
Hello everybody! I am
Priscilla
from Illinois.
When the tester call came, I wanted to do the jumpsuit but when I checked the silhouette of the pattern I really wanted a dress. So, Here is the dress I made with this amazing woven rayon from Textile Fabrics. I made the short length (21″) and was just perfect for me❤
I just love how this gorgeous pattern accentuates my waist and gives a beautiful drape, hugging at all the right curves. If you know how Ann Grose designs her patterns, she gives a very good tutorial to measure and grade properly. Follow it and you will have an amazing well-fitted dress. I made a quick fit with some muslin fabric to check fit and it was just perfect. My advice is to always measure yourself before cutting into your expensive fabrics
Did you see the double-layered flounce sleeve-so pretty❤. I also love the Bishop sleeve and plan to sew up one ASAP
---
Hi, I'm
Shardee
from the Netherlands.
And I'm in love 😍 jumpsuits are so hot right now, but a bought version I would never fit 🙈
I made my version out of cotton viscose, it's a really flowy fabric and wears fabulous.
I styled my jumpsuit with high heels and one of my favorite belts 😉
---
Hi, I'm
Sue GP
 from South Dakota, USA. I love all things denim, so I found these two pieces of denim from my stash to make my Monique. This floral denim, was purchased at https://www.fabric.com/. This is such a nice weight for this design. It's more of a mid-weight and has great drape. The solid denim is a remnant. Sorry, don't know where this came from! Since Ann's patterns are drafted so very well, I don't have a lot of tips other than telling you to not make the mistake I did with my muslin. I used an ultra cheapo fabric that stretched out of shape and gave me no real guide to how my final garment would fit. Luckily, I used the same modifications I typically do with Designer Stitch and I just love how this fits! I am calling this sort of dressy denim. I love it with my heels! The belt is such a great addition as well! Alterations to fit me include: Taking some length at the shoulder area. I made a swayback addition and also had to shorten the front rise a bit. For reference, I am 5'7″. I have not yet worn my Monique, but I know I will get many compliments. I've already had my husband gushing over it and if he likes it then others will too! I have plans to make a long sleeved cropped pant version as well as a long sleeved, long pant version. I also think this would be super cute sleeveless. I will get to the dress one day soo as well. Not only am I on Facebook, but also Instagram!
Instagram:
https://www.instagram.com/sue_glasparrott/
https://www.facebook.com/sue.parrott/
---
My name is
Synthia
and I live in Central California, USA. When I first saw the stick drawings of Monique, I knew I had to make the long sleeve/pant version. I first needed to alter the pattern itself because I am 5″ 3 1/2″ tall. I needed to graded the bodice to the hips and cut just over 5″ from the height. I used a tencel fabric from Joann's. I knew in my mind I wanted a flowy type fabric. I used half round, ivory colored buttons. It took a little work with the fabric, but I am so happy with the final result of my Monique, very happy with the design as well. My tip when using tencel fabric, surge the edges before sewing the garment together, iron the fabric before it is cut. I take advantage of the cup sizing in DS designs. Thank you Ann for such an elegant design, I plan on using my Monique for a special occasion.
https://sewsynsewn.blogspot.com
https://www.facebook.com/Synthia20000/
---
1. Your name and where you live ?
My name is Valentina, and I live in Carrollton, TX.
2. What fabric combinations did you choose and where did you purchase.
I used a polyester crape from Minerva fabrics. It's a medium weight fabric and it works very well with this dress.
3. What sewing tips can you share when sewing the Monique ?
The zipper is the most tricky part, like zippers in general. I find that after I attach one side, I line up the center backs, pin the zipper, making sure all seams are aligned, and the neckline too. Then I sew the second side of the zipper only at the seam locations (the waist seam, etc.). And then go sew the entire zipper from top to bottom. This way things aren't shifting.
4. What was your style choice for the Monique ?
I made the dress version, shortest length and flutter sleeves.
5. What fit alterations did you have to make to the Monique ?
Well none whatsoever. I made size 3, C cup, and it fit perfectly.
6. Have you worn your Monique yet and what compliments did you receive.
Not yet, but hopefully soon! Hubby likes it a lot.
7. Any plans for future combinations of the Monique ?
I would love to make the bishop sleeve version once the weather cools down here in Texas.