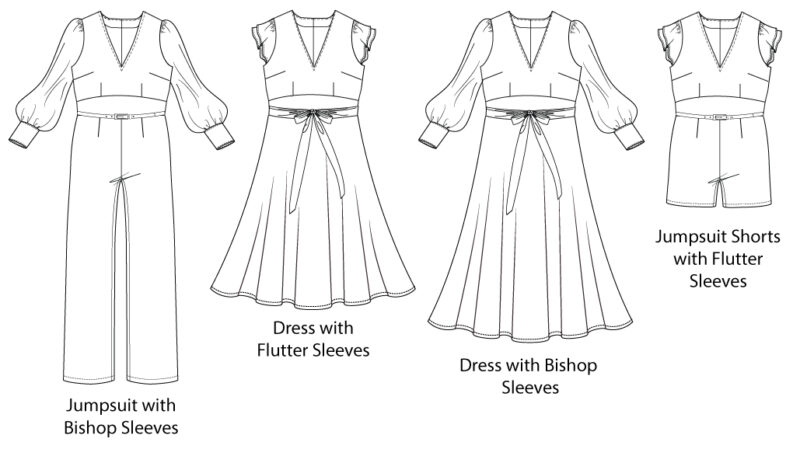 Woo Hoo my friends – Day 2 of the Monique Pattern Roadies Roundup which I am so excited to share with you. 
The Monique has been given a rousing reception – and I totally agree with all your msgs on how gorgeous the Monique is. 
Everyone is loving the design elements of the Monique and that it offers something for everyone – whether it is the Jumpsuit, Shortsuit or Dress. Something for every figure type !!
The Monique Jumpsuit and Dress offers a choice of 2 lengths:
Trouser Lengths – Shorts, 3/4, 7/8 and Full Length
Skirt Lengths – 55 cms (21½"), 60 cms (23½"), 75 cms (29 ¾") and 85 cms (33¾")
All of the above styles are completed with:
Bishop Sleeves with Buttoned Contoured Cuff.
Double Layer Flutter Sleeves.
Optional Self Fabric Belt.
CB Invisible Zipper..
So lets get the applause happening my friends. Part 2 of the
Monique
Jumpsuit, Shortsuit or Dress Rockstar Roadies Pattern Tester.  It is LOVE 💗
Our roadies would like to share the following with you all :
1. Your name and where you live ?
2. Your choice of option for the
Monique
 and why ?
3. What fabric did you choose and where did you purchase ?
4. What alterations did you have to make to your
Monique
 toile ?
5. What sewing tips can you share when sewing the
Monique
?
6. What was your favourite thing about making the
Monique
?
7. Did you make more than one combo of the
Monique
 ?
8. Have you worn your
Monique
 yet and what compliments did you receive.
And the finer details;
(AU/UK) 6 – 30
(US) 2 – 26
(EU) 34 – 58
Cup Sizes – B, C, D, DD
On Sale for a limited time only – $9.75(US)
Very Confident Advanced Beginner and Above Sewing level
---
Greetings from
Allison
in Milwaukee, Wisconsin, U.S.A.
I made the longest dress version of the Monique with the fabulous sleeves and cuffs. I ordered my fabric from Vogue Fabrics. My fabric is a lightweight crepe. I loved the striped pant version, so I found a design that would replicate the stripe design without being a stripe. The fabric is not completely opaque as a skirt, so I lined the skirt to the shortest length.
Best tip is as always, make a toile. We all have unique figures. Getting you fit right is what gives a fantastic fit.
So far, I have not worn it. We are back to having cancellations over here. When I tried it on, my family liked it. I have teens, so they can be brutally honest which sometimes just feels brutal. That makes this dress a win.
I am considering a shorter version of the dress made from a black sequined lace for the upcoming holidays with a pair of fancy heels.
My dress and other makes can be seen at:
---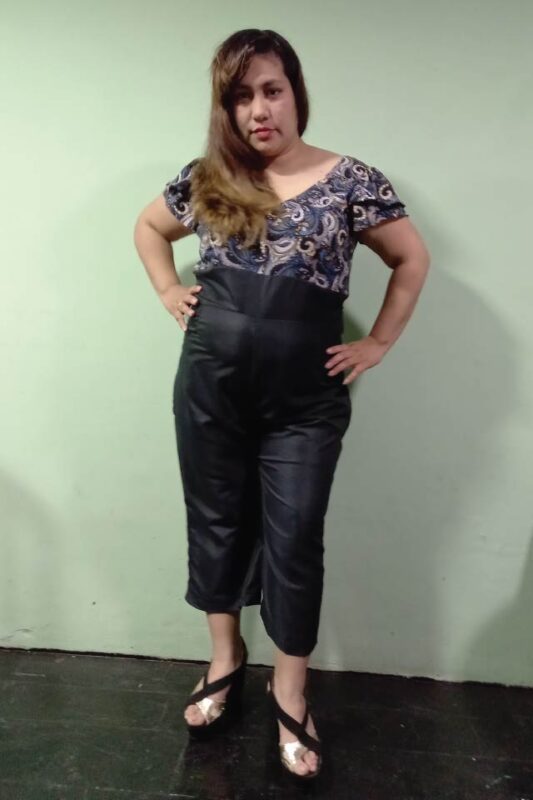 Hello everyone! I am
Anabel
from Argentina.
When the call came from the fitting room, I wanted to have a classic jumpsuit with ruffled sleeves. It would be the first because I was always a bit reluctant to jumpsuits.
And it turned out surprisingly cool!
I made the ankle length with fibranne(viscose rayon) fabrics that I had in my stash.
My advice is to measure yourself well first, do a quick seam, adjust it, and do it with the good fabric right away. Read each step of the instructions carefully and you will notice that this is a simple seam that looks great as you learn new techniques!
---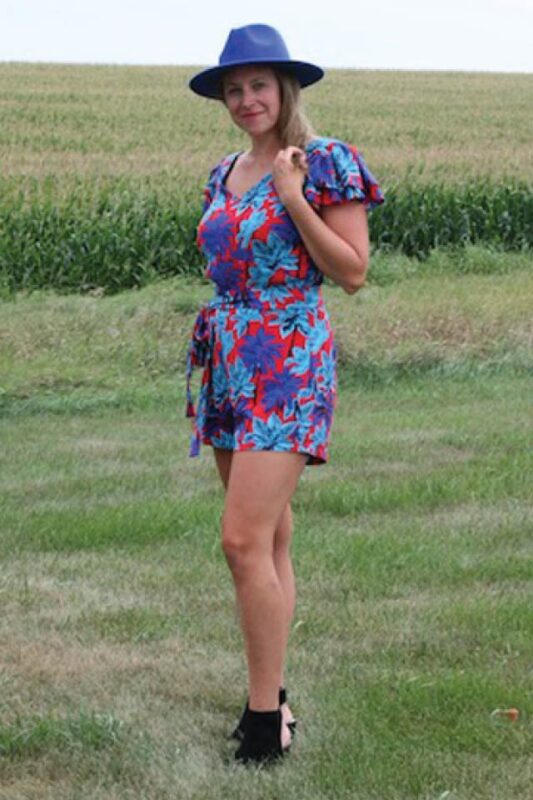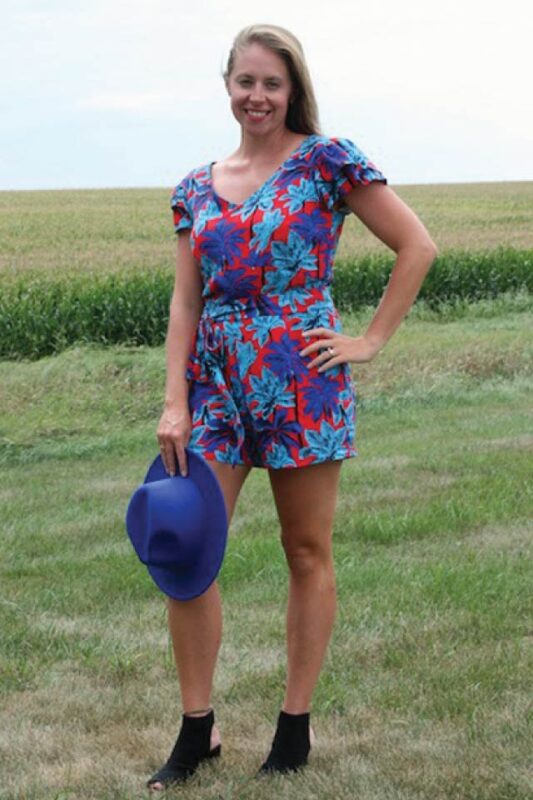 1.
Ashley A
from small town Iowa in the US
2. I used a rayon a rayon challis from Cali Fabrics.
3. Sewing with a rayon was tough since it stretched and pulled while I was cutting and sewing. The end result took time but it is soooo amazing to wear.
4. I made the shorts jumpsuit version. I opted for a shorter shorts instead of the vintage length for personal preference.
5. I sewed a straight 8 and it fit perfectly. I did shorten the back bodice a tiny bit.
6. I wore it for a short night out with my husband. He is a HUGE fan. Ann always knows the best way to fit a body and using darts to accentuate. This will be the first thing I pack for our trip to Mexico this winter.
7. I want to try hack a pants version with a tank top.
---
My name is
Christine M
and I live in Netherlands. For the Monique I used a heavy crepe and it falls beautifully. I bought it at a local market for just €2 per metre! I bought it in red too. (see my red dotted Pippadress)
I would recommend to make a toile before cutting in your good fabric. After the toile I learned I had to make a swayback adjustment. I made it as a jumpsuit with bishopsleeves, because we are going into autumn and I want to wear it asap
We had a little familyparty because my dear step dad turned 90 and that was the perfect opportunity for showing off my Monique and everybody LOVED it!!
I might be making a short version with the fluttersleeves for next summer. One can allways dream about new summers to come right!! More pictures of my monique can be found at
https://www.instagram.com/stienmakes
---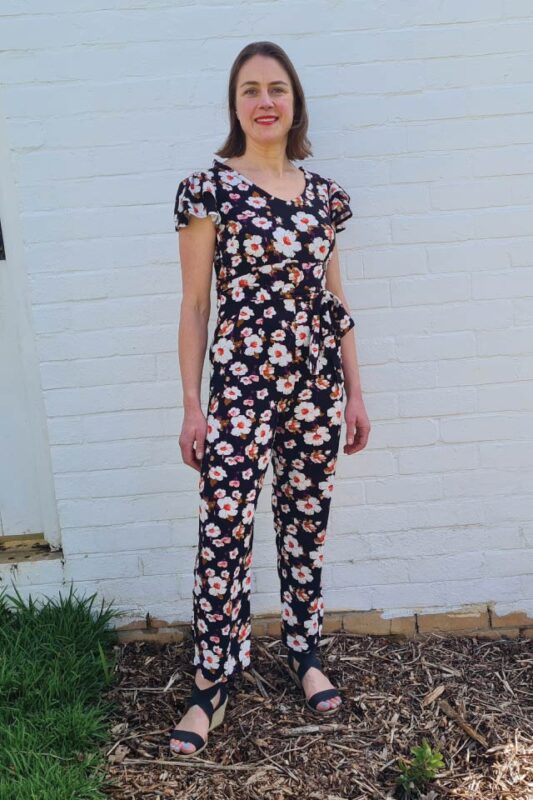 Hi all I am
Christina
from Cape Town! I used a lovely Rayon Viscose I bought at Union Rag. Ps I used a not so good quality for my toile and it shifts around bit – pick your fabric well. Making the short sleeve jumpsuit this is a easy fast sew. I hope to tackle the bishop sleeves soon and practice those gorgeous button and cuff detail.
For this pattern I had some excess fabric around the mid to upper back area- this was removed by the same way one would do a sway back adjustment, just at bra level.
Let me tell you I have never worn a jumpsuit before but now a firm addict! All the flow of a dress and able to bend and sit and do all things with the family as if I am wearing trousers ❤️
---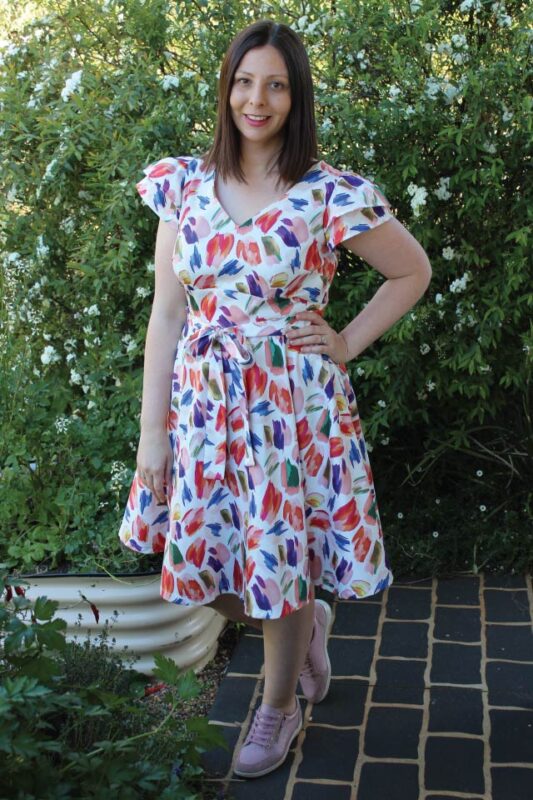 Hello my name is
Elise
and I live in Queensland, Australia. We are just coming into spring, perfect time to make short length Monique dress with flutter sleeves. I feel like as absolute princess in this dress, the twirl factor is fabulous. I used Katie Kortman cotton sateen from Nerida Hanson Fabrics, so bright and beautiful. I shortened the bodice by 2.5cms to ensure the bottom of the waist band sat on my waist. My number one tip when sewing this dress is make a toil to determine if your bodice needs to be shortened. I can't wait for the weather to heat up a bit so I can take her out for a spin.
https://www.instagram.com/seweliseium
---
1. My name is
Lindsie
and I live in the Philadelphia area
2. I used a crepe from Joanns!
3. Don't try to use a rolled hem foot for your sleeves. If you're like me, you always think the rolled hem foot will be easier. I'm always wrong on this and so are you.
4. I did the pants with flutter sleeves
5. I did a small swayback adjustment and moved the bust darts a smidge.
6. Yes! I wore my monique wine tasting and people loved it!
7. I'm definitely going to make a romper version!
8. Sewbusty.com
---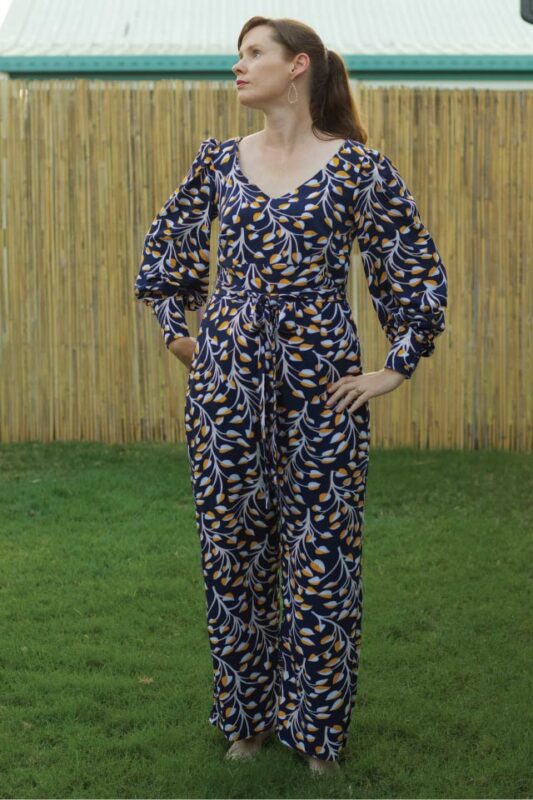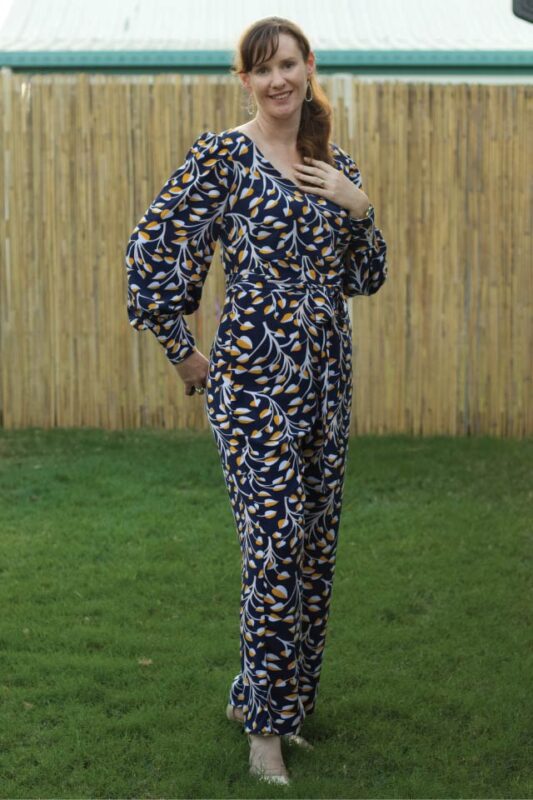 Hi! I'm
Lisa
and I live in sunny North Queensland, Australia.
I made a short sleeve, full length jumpsuit out of plain rayon from super cheap fabric and a long sleeve, full length jumpsuit from printed rayon also from super cheap fabrics. I made a sway back adjustment and shortened the pants by 4".
My biggest tip if you use rayon like I did is to stay stitch EVERY curve. I stay stitched the neckline on my toil but it still stretched on the armscye and crotch curve so I stay stitched them too on the next one which made a huge difference. Otherwise it is a remarkably simple pattern to sew and comes together beautifully.
I just LOVE both my Moniques and have had so many comments on how lovely they are when I've worn them to work and I am loving the short sleeve dress variations I've seen and am very tempted to make that version for myself too.
---
Hi all,
Marit
from the Netherlands here. Let me share with you my journey with Monique. The first jumpsuit I made was a fitting disaster. My ladybits were up to my ears, so I needed some adjustments. I measured my rises and turned out I needed to add 5 cm to the front and back!
To make for a better fit I lengthened the darts 1,5 cm. So my tip to you is: measure your centerfront to centerback first.
I made a 3/4 leg jumpsuit with flutter sleeves in a light cotton from www.kickenstoffen.nl.
I love my Monique very much, the second one is in the making and I cannot wait to wear it all the time!
---
Hi all,
Taryn
(aka Tazz to friends and family) from Cape Town, South Africa. For my final Monique jumpsuit, I knew I wanted to use a piece of fabric I had picked up last year already. I fell in love with the vibrant colours, print, and feel of the Supersoft fabric on the roll at Studio 47 Cape Gate, and thinking at the time I might make a long skirt with it, picked up 2.5m. The fabric (meterage and design) dictated my style choice – a flutter sleeve calf-length jumpsuit. If you are making the jumpsuit, and if this is the first pants pattern from DS you are making, do make a toile first before cutting into precious fabric. This will ensure you are able to get the best fit for your jumpsuit. With my toile (even though I struggled a little with the fabric as it was way shiftier than the Supersoft) I was able to work out just what adjustments to make. I also like to hand baste my invisible zipper before stitching by machine. So worth the extra time up front for a more seamless zipper installation. And if you have not yet picked up an invisible zipper foot, it really is a game-changer when inserting invisible zips. In addition to grading up for my curvier lower body, I also adjusted the rise of the pants using Ann's tutorial from the DesignerStitch blog. This adjustment gave me some needed extra length in the crotch for a comfortable fit. The weather has not really been warm enough as yet to wear my Monique out and about but my family has been very complimentary when I have worn it around the house. I look forward to showing it off as the weather warms up. I am pining after those gorgeous bishop sleeves so am definitely planning a version with the bishop sleeve – I have a really lovely piece of lace that I am tempted to use. Now I need to decide on a dress, full-length jumpsuit, or if I am feeling really brave, maybe even the shorts version. If you'd like to see how brave I get, keep an eye out on my social media – I have a page dedicated to my creative pursuits. Look me up on
https://www.instagram.com/creatazzly
or
https://www.facebook.com/creatazzly/
---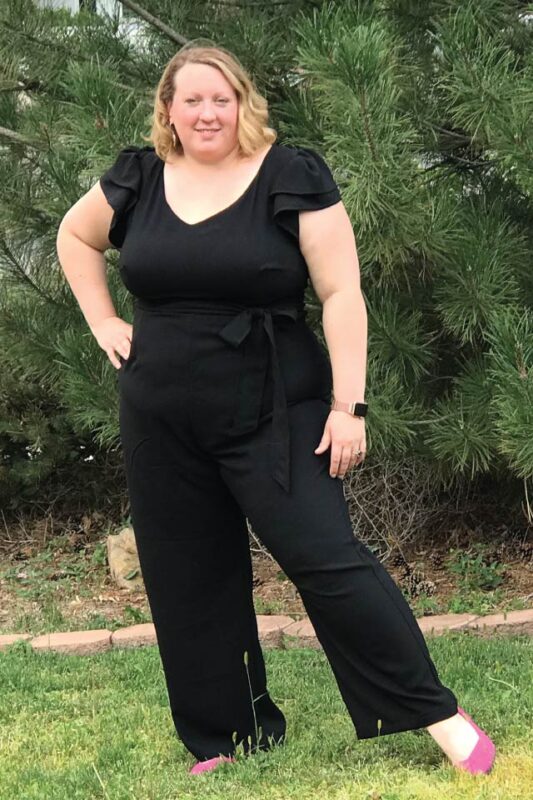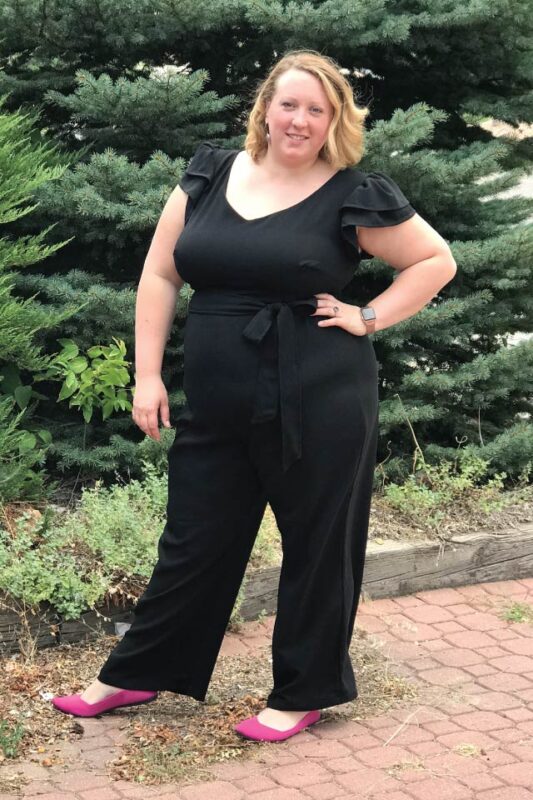 oh Ann thank you for beautiful Monique!!!
I'm
Melissa D
in Southern Colorado.
My daughter Cherish works in an office and facilitates many meetings with a board of directors, city and state officials as well as the public. She chose a lovely mid weight crepe from my stash for a summer jumpsuit. She chose the full length with the darling flutter sleeve.
The first time she wore it both ladies ask her to inquire if I'd make one for them. One said she can just name her price! Sooo I guess it was a hit!!!!!
Due to Ann's incredible teaching and patterns I have learned how to alter my patterns so well that I rarely have challenges in sewing.
My advice is to visit and read every blog and teaching moment that she shares and if you struggle ask for help🧐
As for the changes I made they were many.
Size 8 d bust, shoulder height 9, waist and hip graded to 11 . Sway back adjustment, full thigh adjustment, full tummy adjustment.
When in doubt I cut a bit large an try on inside out and pin in the adjustments to fit.
This wonderful piece will be in all my girls closets as well as my own!!! Don't forget your tie belt! It adds just the right touch.
---
Hi, I'm
Beck
from Melbourne, Australia. I used a floral rayon from Spotlight for my jumpsuit. It's light and flowy and I just love the vintage vibe of the fabric. In order to get a great fit with my jumpsuit I did a full tummy adjustment and added some length to the back rise of the pants to accommodate my butt. I enjoyed sewing the full length jumpsuit with bishop sleeves, and I have a dress with flutter sleeves planned for warmer weather
www.instagram.com/becksews
---