Hello and welcome to the first in a series of posts featuring all of my AMAZING…yes I am SHOUTING… pattern road testers. Each time a new pattern is released it goes through a good "seagull" by my fabulous group of pattern testers. What do I mean by "seagull" – when a pattern is sent to my tester group it is a final pattern – as in the design, style, pattern and grade is set in concrete. I have fine tuned my pattern over many samples before it gets to the tester stage and very rarely – once in fact over 30 patterns – is anything changed. My tester posse looks for any typos and anything that is unclear to them. So without further ado – please shout out for our Andrea S.  Andrea has been with me from the outset and the below pic is her modelling one of my first patterns – the Kat Top.
Hello, my name is Andrea Shpuntoff. I live in Annapolis, Maryland, which is located on the east coast of the United States.
SEWING.
Who taught you to sew?
My maternal grandmother taught me to sew as a child, helping me make my first maxi skirt at the age of eleven. She had a white cotton fabric with a red rose design she thought would be perfect. Thinking back, the fabric might have been an old shower curtain or sheet, but I thought it was beautiful!
Your motivation to sew? How did you develop your passion?
My motivation and passion to sew came from the summer holidays spent with my grandmother. She was always sewing, knitting, or doing some form of needlework.
What is your most/least favorite thing about sewing?
I enjoy the entire sewing process including taping PDF patterns together. Choosing fabric and making the initial cut is probably the hardest part as I tend to over think everything.
Who do you sew for?
As a teenager and into my early adult years, the majority of my sewing was for me and some for my mom. During the years while I was raising my children, two girls and three boys, most of my sewing was for the children or for the home. Lots of Halloween costumes, homecoming/prom dresses. I now do lots of selfish sewing!
Care to show us a pick of your sewing room?
My sewing room used to be the attic bedroom my daughters shared. I am still working on getting it organized–the closet space still contains items that I am storing for the girls, but I did manage to clear one section for pattern and scrap fabric storage. (Pictures attached.)
How long have you been sewing?
Hand sewing doll clothes began before machine sewing–so about 50 years.
What inspires you to sew?
I have just always loved sewing. Since discovering the online sewing community over the past few years, I have been inspired by all the amazing sewists and independent designers!
Most challenging sew?
My wedding dress. The dress itself was not difficult, but the underskirt involved about 9 yards of netting/tulle. It was the netting/tulle which ended up being the challenge!
Favorite sew?
Boxer Shorts for my boys. When my youngest son was in high school, he asked me why I was always sewing for his sisters and not him. I asked him what he would like me to make him (it was obvious he really just wanted attention) and he decided he wanted boxer shorts. Of course, making something for one son turns into all sons and then their father! They all now have a nice boxer short collection.
What are your top sewing tips?
Read all the pattern instructions!
Spray starch on light weight knits helps keep the edges from curling.
I like to use three rows of basting stitches when gathering fabric as opposed to two rows.
Silliest sewing mistake?
One of the first PDF patterns I printed was a shopping bag with a zippered storage pouch. I did not check the scaling and spent hours trying to figure out how to fit the zipper on the pouch and why my bag looked smaller than the pictures in the online photos!
TOOLS.
Favorite tool? What sewing tool couldn't you live without?
My sewing machines and seam rippers. My iron is very important too.
Tell us about you sewing machines – how many do you have and what types?
I have two sewing machines: a Singer Futura II which I bought in 1977 and a Smarter 260c Pfaff which I purchased about two years ago.
PICTURES AND STYLING.
Who takes your pictures?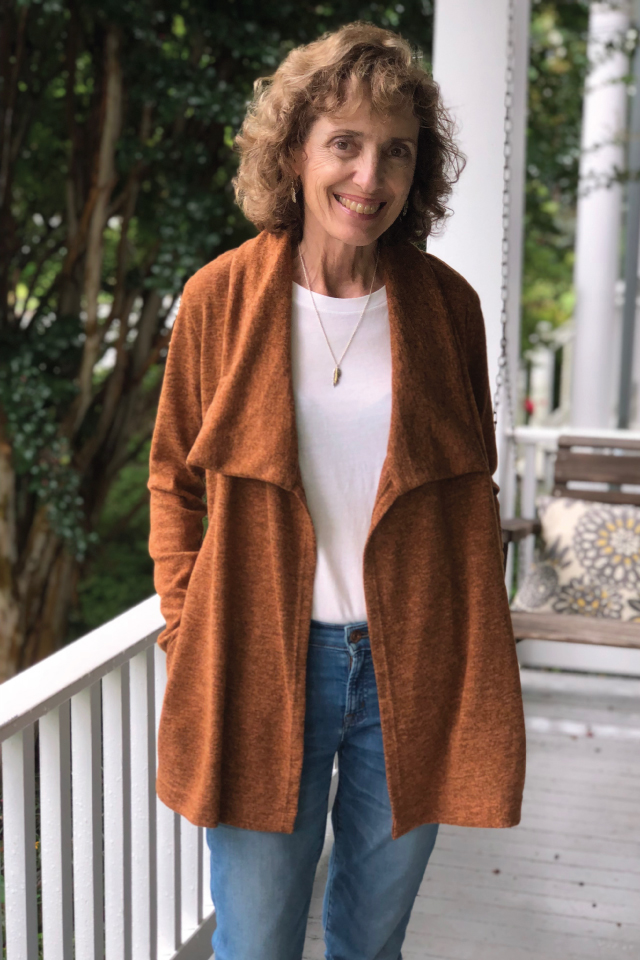 My husband is my usual photographer. When he is not available, my son who lives at home can be bribed!
What camera do you use?
Either an iPad or iPhone.
What are your tips for getting excellent photos?
Being nice to my husband!
FABRIC.
Favorite place to buy supplies?
There is a Joann Fabric store 10 minutes from where I live so it tends to be my go to store for supplies. It does not hurt that they are always sending me coupons and it is located next to my favorite grocery store.
How many places do you have fabric hidden?! Stash Size?
I have an old blanket chest I use for fabric storage. Also, there is a bit of closet space where fabric can be stored when the blanket chest has reached its capacity. So not hidden–stored!
I am always curious about favorite fabric suppliers.
About the time I discovered the online sewing groups, I discovered online fabric stores. I was initially hesitant to order fabric online because I really like touching it before I buy it, but I got over that quickly! Some of the online stores I have tried and like are: Knitpop, Girl Charlee, Hawthorne Threads, Sly Fox Fabrics, and Mily Mae Fabrics.
ROAD TESTING.
Who do you test for? How long have you been testing for?
I have been testing for Designer Stitch and Blank Slate Patterns for about 2-1/2 years.
What got you into testing patterns? What drives you to keep on testing patterns?
As my children became less time consuming, I wanted to try something fun and challenging. Testing has been a terrific learning experience and I think it has improved my sewing skills.
Tell us the good, the bad and the ugly of testing.
I have been very fortunate that the two designers I test for are very clear about what they expect as far as timelines, muslins, final product and feedback. Providing super model photos of the finished garment is the ugly part of testing!
What would you say to someone who is just starting to pattern test?
I would say have fun, do not use expensive fabric, and if in doubt ask. Having a sense of humor also helps!
GARMENTS.
Most worn item? How much do you wear the stuff you make?
I wear me made clothes every day. My usual attire consists of jeans or shorts and tops with an occasional skirt or dress. I do love making dresses, but I tend to not wear them as much as the other items I make. The majority of the clothes I make, I wear. There is an occasional item that I make and just do not like and that is usually due to bad fabric choice. An occasional bad pattern choice also happens. I consider it all part of the learning process.
RANDOM FACTS?
Favorite color?
Purple
Random or fun facts?
I have been happily married for 30 years and have five children. My oldest daughter is 27, my boy, boy, girl triplets are 24, and my youngest son is 22.
What do you eat/drink/listen to/watch as you sew?
I drink water, snack on jelly beans and listen to podcasts. Although, I sometimes find I get sucked into the podcast and do not get any sewing done!
What are other hobbies?
I enjoy reading and have been in a book club for the last 18 years. I also like gardening, knitting, needlepoint and embroidery.
What's your favorite drink?
Wine
What did you have for breakfast this morning? Seriously! I love knowing what people have for break¬fast ?? it inspires my mornings ??
I started my morning with a cup of coffee followed by a walk, and then I had a high protein nutritional drink.
Besides sewing, what do you love to do? What inspires you in life?
I love spending time with my family and friends. They are my daily inspiration.