Hello again my lovely sew'ist friends to the Chelsea Cardigan Tester Roundup Part 2.
And what a fabulous day it is today . This morning I took my 2 pups ( well they are 12 year old puppies) for our usual walk around the park and it was spectacular. Although there was a slight breeze with a bit of chill in it, I reveled in the amazing sunshine. And so did my pups.
If you have missed any of them be sure to check out yesterdays post – Chelsea Cardigan Tester Roundup Part 1 or the previous post – Chelsea Cardigan Inspiration and Influences.
The amazing Chelsea Cardigan was certainly given a "gold" showcasing by all of  pattern road tester "posse" photos.
The finer details : On Sale for a limited time only – $8.00 (US)
multi-sized pattern :
(AU/UK) 6 – 26
(US) 2 – 22
(EU) 34 – 54
Advanced Beginner/Intermediate Sewing Level.
https://designerstitch.com/shop/chelsea-cardigan
So without further ado here is part 2 of the amazing tester roundup. xx
Kind Regards. Ann at Designer Stitch
---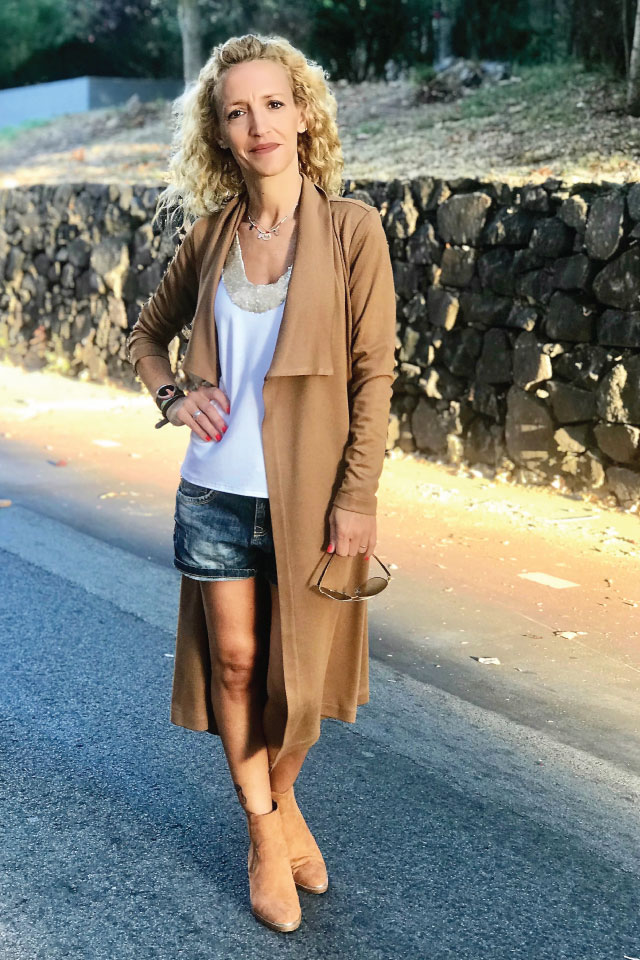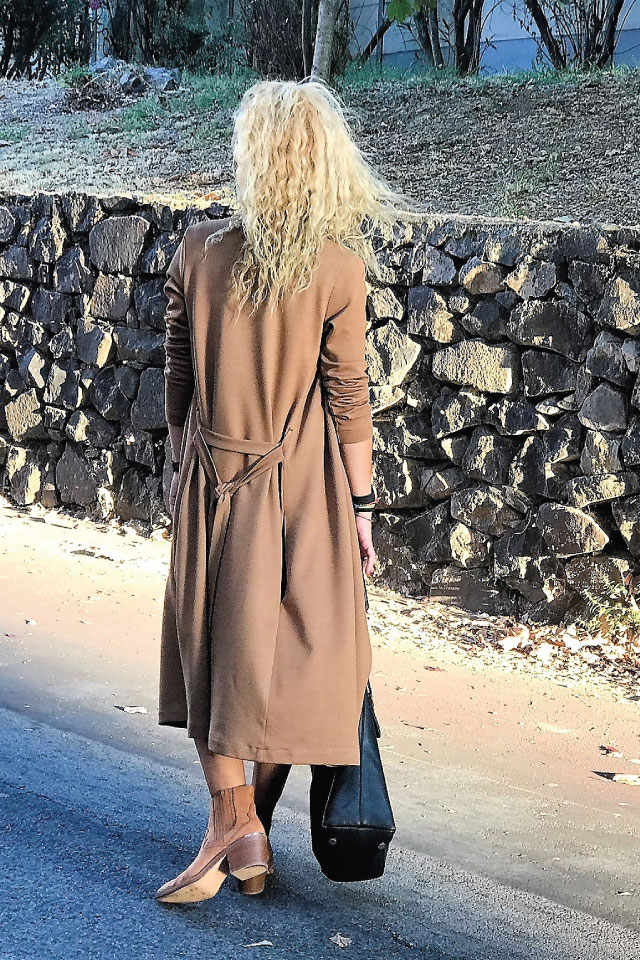 Hi there! I'm Ana Inês Barros, Portuguese girl living in sunny Lisbon.
I used a ponte knit for my long length cardigan.
This is such a quick sew but be sure to iron all the seams, that will make all the difference. The collar need a bit of handsewing and it is all worthy.
Is still to hot here so I haven't had too many chances to wear my Chelsea. But…..I worn it for a night out and let me tell you I felt like a super model at the fashion walk 😜
Facebook- https://m.facebook.com/PontonoibyInes/
IG- https://www.instagram.com/ponto_no_i/
---
Hi, I am Camelia from The Netherlands and because we are going to get colder days I chose the longest length for my Cardigan. I love to have a cardigan or a light jacket in the fall when the weather is so undecided, chilly mornings and warmer afternoons. With that in mind, I also picked up my fabrics. I made three Chelsea Cardigans, one in a light sweater knit, the second one in a very drapey faux suede and the third one in a ponti knit. My tips for sewing this pattern will be to stabilize the back shoulders and back neck with some seam tape . Also if you want to be fast you could try the bagged method to finish the collar. I am very happy with this pattern, so easy to make and wear.
My full review is also on YouTube https://youtu.be/IeBlA9Nn3w4 and on the blog https://bit.ly/2QCvEDm
for sneaks on my projects on Instagram https://bit.ly/2NfT3fE
---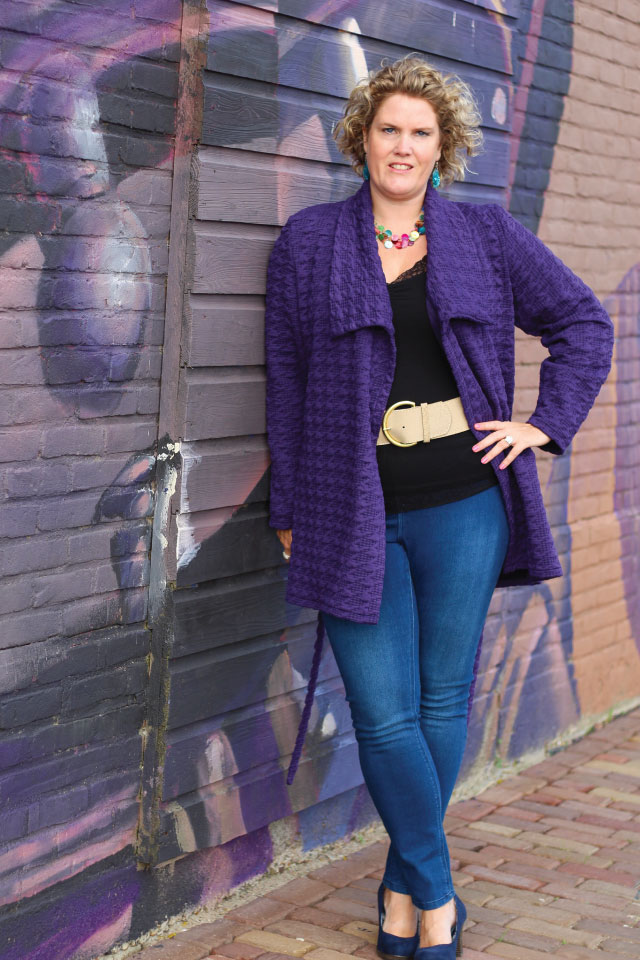 I am Manda and live in the Netherlands. I chose to make a thigh length Chelsea so I could wear it over a dress and over a shirt. For my Chelsea I used a knit jacquard with some reliëf. I really love how it has turned out, it feels so soft and cosy. And we all need some happy colors for fall!
When you use thicker fabric, make sure to press all the seams the right way. That makes all the difference!
I am wearing my Chelsea today and paired it with a Gemma and a skirt. Best compliment ever came from my husband who looked at me during breakfast: "Are you wearing a new cardigan? *uhum* And you made it yourself? *yes* I really like it! *SMILE*"
Blog: http://sewingambi.wordpress.com
IG: http://www.instagram.com/sewingambi
---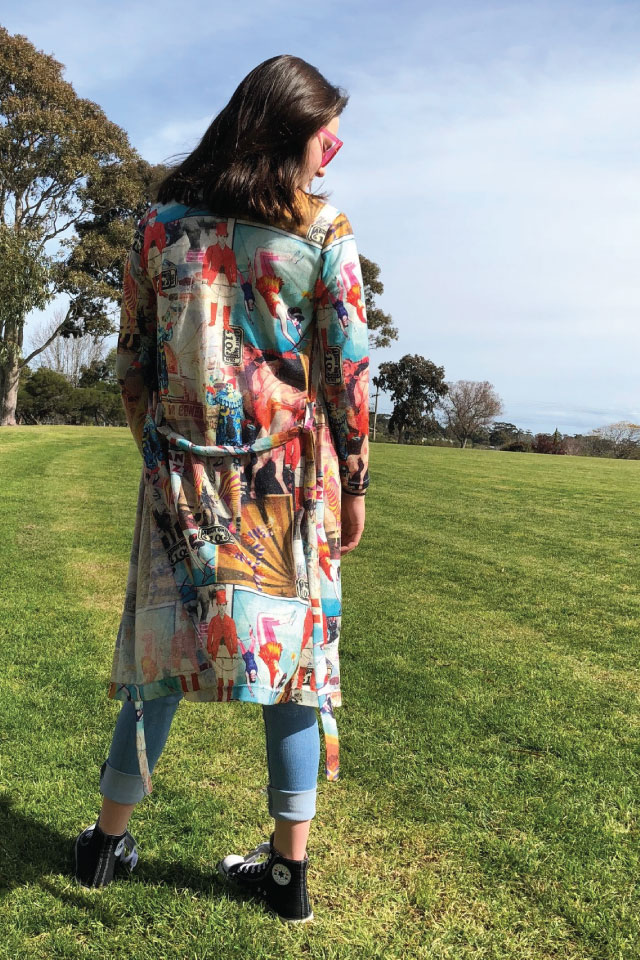 Kim Bailey I made the CHELSEA cardi in the long length for my daughter with some very soft knit fabric with a great bold trendy circus theme pattern. It was my first time sewing with it and was a little challenging since it was so stretchy and I was worried about keeping its shape. I did hand sewing at the collar and belt loops and it turn out even more gorgeous than I expected and daughter Loves it! Another fabulous on Trend DS pattern. Thanks
---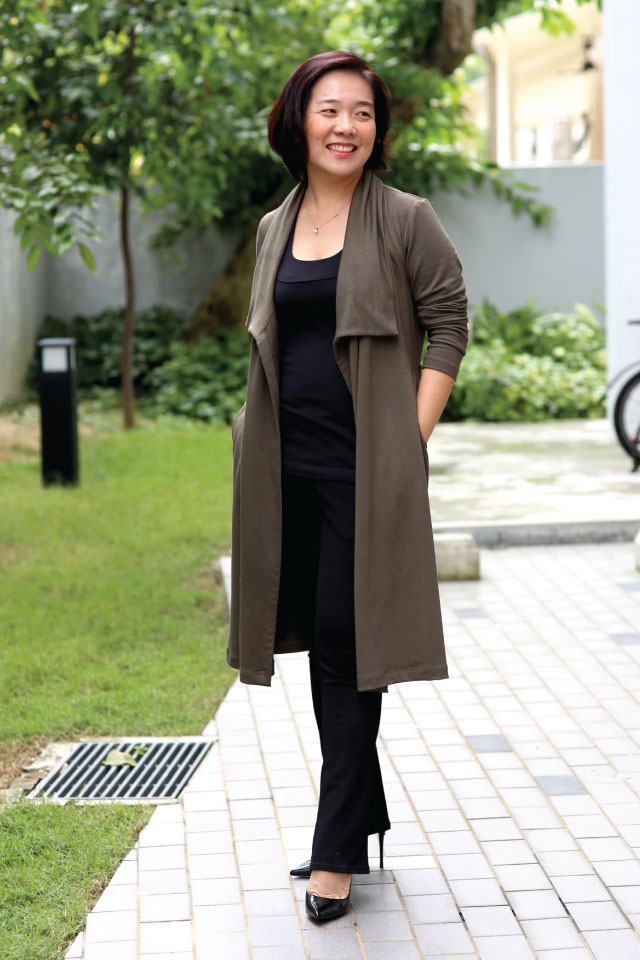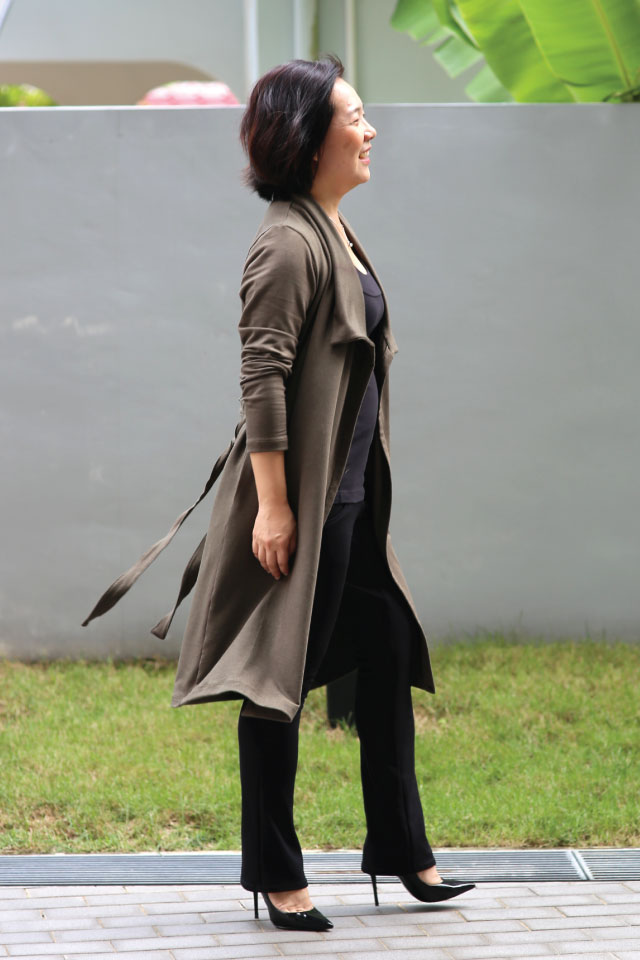 Hi! I'm Boon Kuan from Singapore where it's hot n sunny all year round. My love of travelling do take me to some colder places though, and a full length Chelsea is just the outerwear to bring along. I have this lush French Terry in a rich olive tone perfect for Autumn. ??
Come along with me on my travels ( sewing and otherwise ) on
www.instagram.com/limbksews
---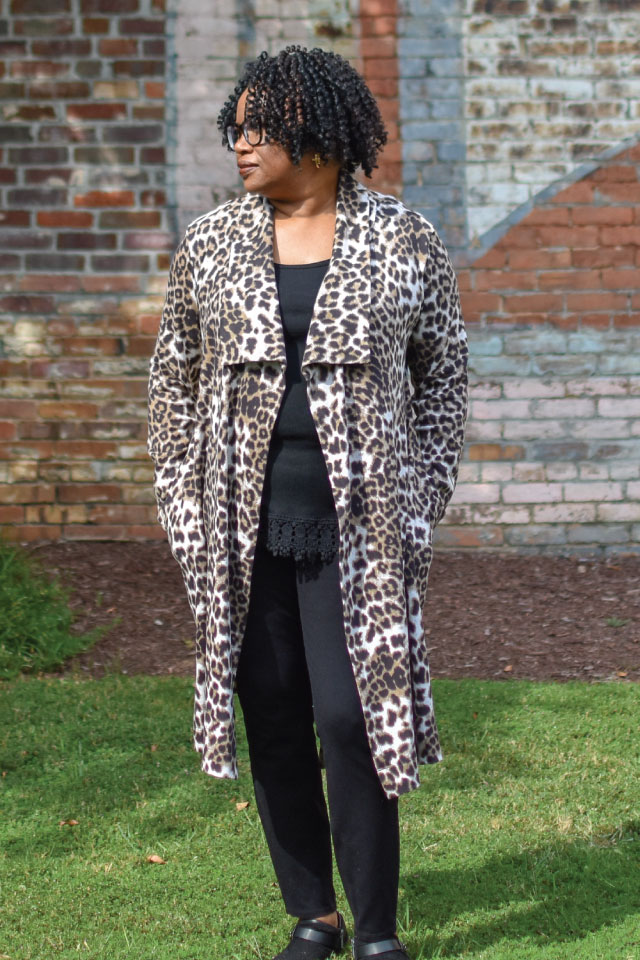 Hello, I'm Barbara Beavers and I live in Northeast Mississippi, USA.
For my Chelsea's, I selected the thigh length for casual wear and full length for dressy casual.
For the thigh lengths I chose a ribbed sweater knit and a faux corduroy knit. The full length is a cotton blend sweater knit.
It is still too warm here, but whenever the cooler weather arrives, I will be ready with my Chelsea Cardi's!
https://www.instagram.com/ninjabreadgirl61/
---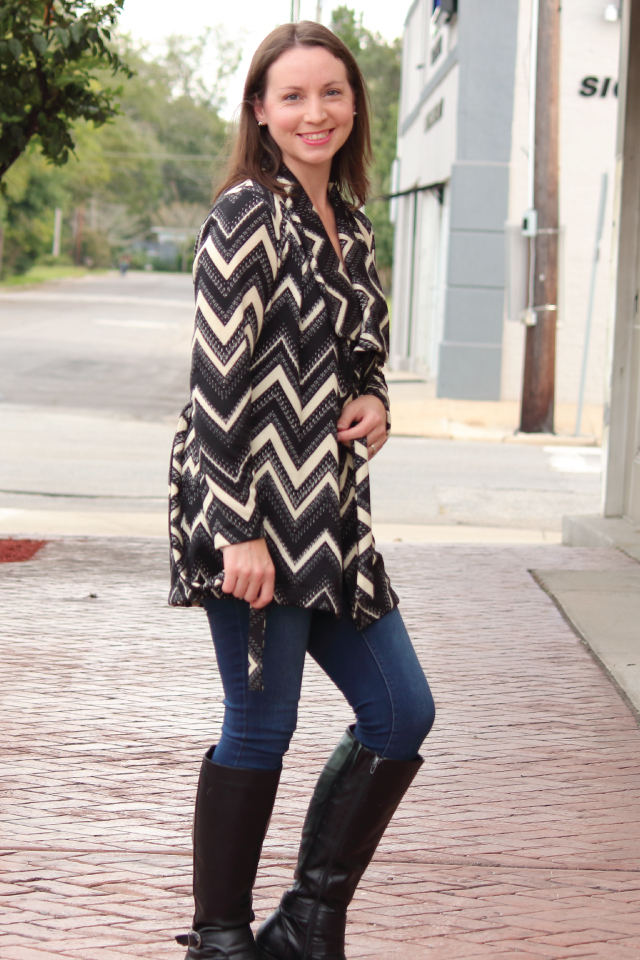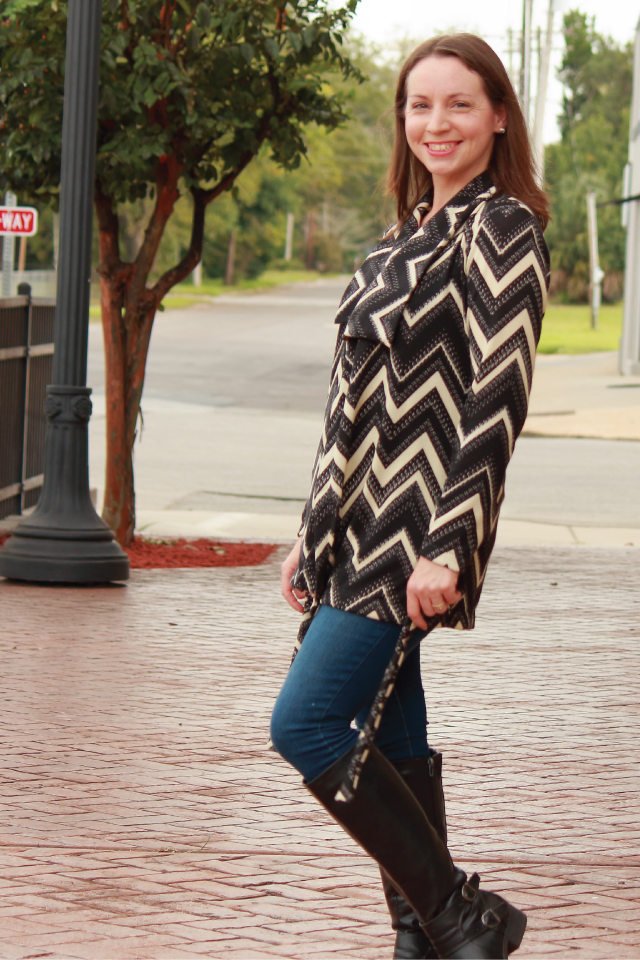 Hello, I'm Carmen from Adel, Georgia. I chose the thigh length because fall is coming and it seemed like the perfect time. The fabric I chose for Chelsea was a chevron hacci sweater knit. It is wonderful for a cardi! I feel so warm and comfortable in it. The Chelsea is a relatively easy sew with some hand sewing for the collar. I used hem tape to get my collar to stay in place before sewing it down. It was a big help.
My blog is https://happilysewnafter.wordpress.com
---
Greetings! My name is Brittany and I live in Fayetteville, AR. Despite the unusually hot September we are having, the trees are beginning to shed their leaves. This means Fall is right around the corner!
Fall is my favorite season for fashion. The knee high boots, the scarves, but mainly, the cardigans! I sewed a long length of the Chelsea in a hacci sweater knit. I hand sewed the first six inches of each side of the collar, and then stitched in the ditch for the remainder of the collar. So, I still get the hidden stitches if the collar flips out.
I changed my profile picture to my Chelsea, and had tons of people asking me to make them one. I can't wait to finish my second version from cable knit! www.instagram.com/fabergehen
---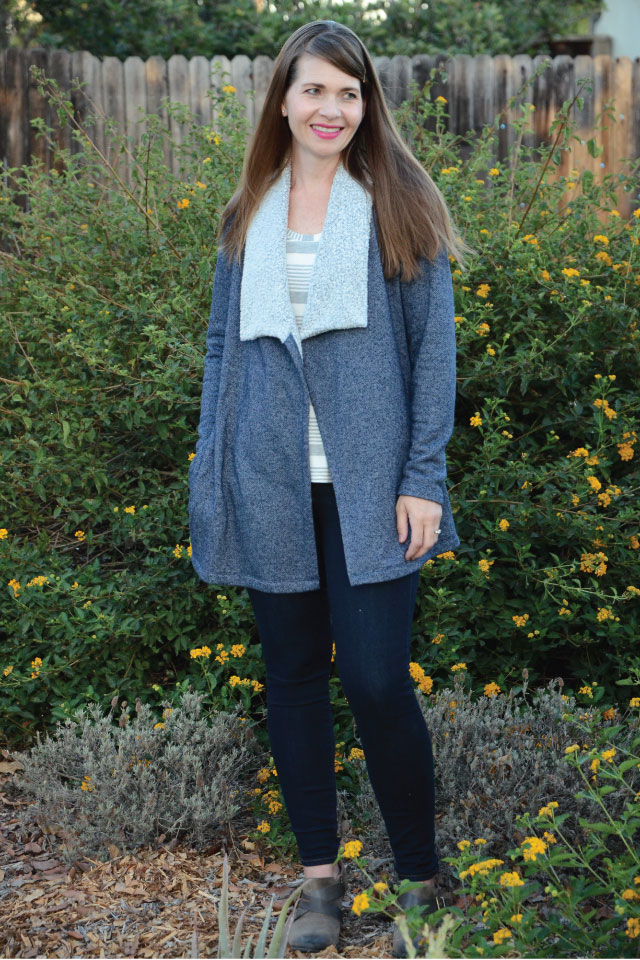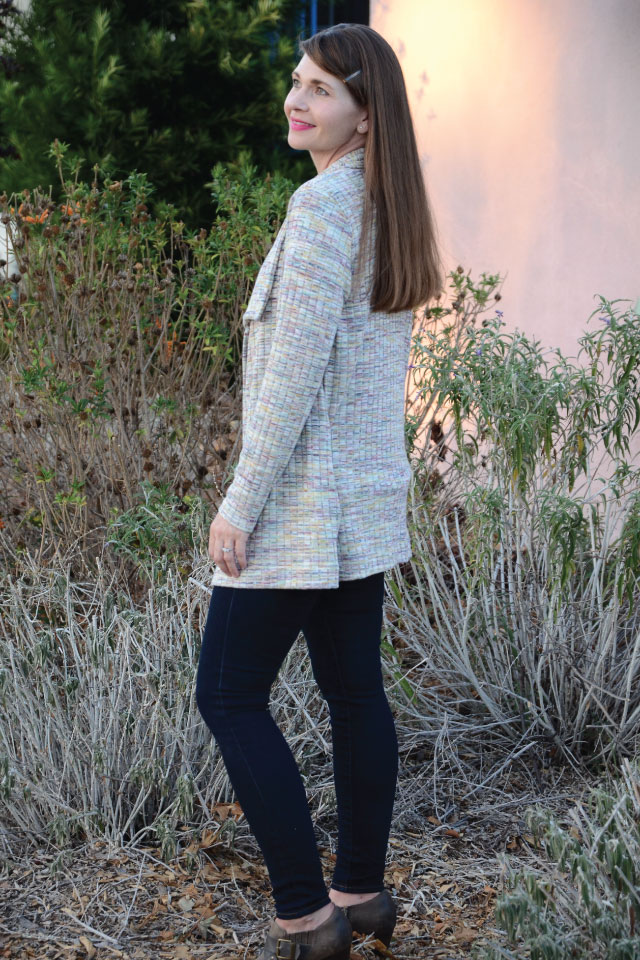 Hi all! I'm Katie and I reside in Southern California with my husband and three little boys. I opted for the hip length Chelsea because I knew that would probably suit my height and also be warm enough for our winter, but I most definitely have a full length cardigan planned after seeing the other incredible tester's versions! My first Chelsea was made from a lovely soft, stretchy sweater knit and I sewed the second with a thicker French Terry, and used the wrong side for a contrast collar since it reminded me so much of the texture of sherpa and will be perfectly cozy for fall. My husband was particularly thrilled with the latter version and thinks it has a lot of 70s flair! You can find nearly all my sewing projects on www.instagram.com/kak513/ and I occasionally blog at https://wordpress.com/view/katiesewsthings.wordpress.com
---
Becca Olson From Northern Florida. For my Chelsea I used a velvet burn out knit in hip length. I honestly just thought it would be a good fabric to test the pattern but when I finished I knew I was in total love. It so beautiful I know want the same fabric for a full length. Looking at all the other Chelsea Cardi's makes me want many more! Its warm still in Florida so I haven't had a chance to wear my Chelsea out and I am dying too. I did pair it with my favorite thigh high boots for pictures and hubby immediately told me to pull it out for a date night as soon as the weather cools off. https://turtletraxtoo.blogspot.com
---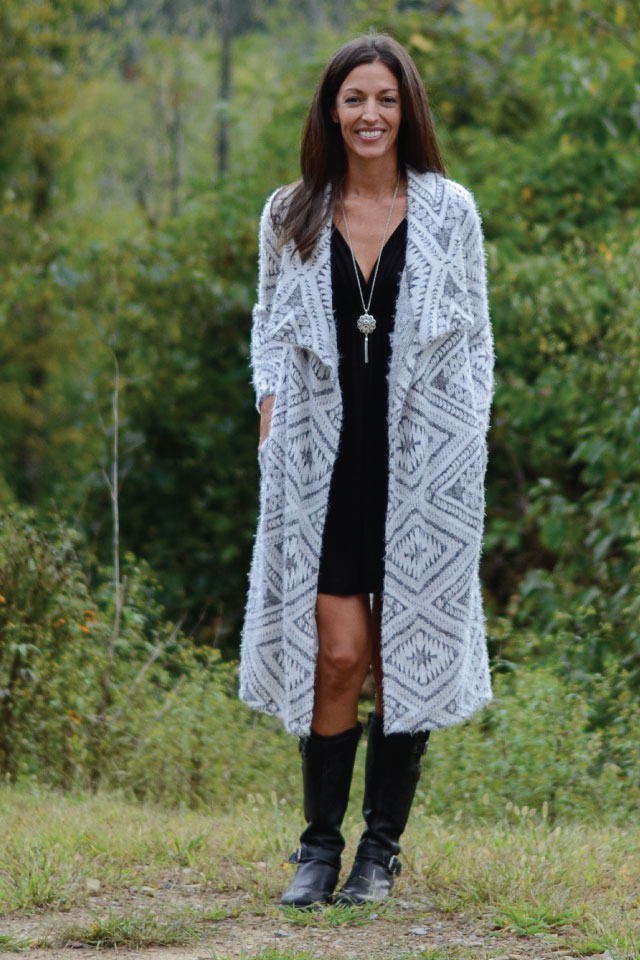 Hello, Aileen checking in from Pittsburgh, Pennsylvania!
I chose to make all 3 lengths of the Chelsea Cardigan. While I love them all, I think the high calf length is my favorite. For this version, I used a super soft, Boho Aztec print.
For my thigh length I used a striped rib knit, it has a more casual feel than the other cardis I made. Finally, the hip length, I used a checkered knit that I've had in my stash for years!
It's still very warm here in the "Burgh", but as soon as the colder temperatures arrive, I know I'll be wearing my Chelsea's daily!
www.instagram.com/labeenababy
---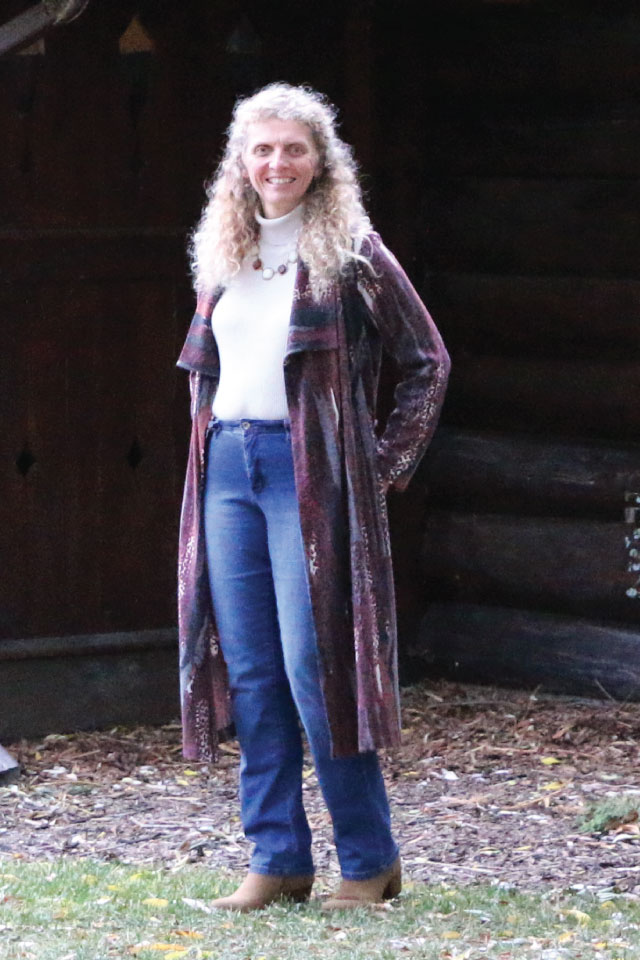 Hi! I'm Jenny and I live in Canada. I choose the long Chelsea Cardigan because I have always loved the look of a long cardigan and I find this length quite versatile. It looks just as great with jeans as it does with a dress! I used a mohair blend knit for mine that has a great blend of colours and prints in it.
https://embraceeveryday.wordpress.com
---
According to the calendar autumn begins on Saturday, here in Milwaukee, WI, USA. Not that the weather forecast concurs.
I choose to make my first Chelsea Cardigan full length, but have others planned. The full length looked so cozy and comfortable. I knew I had just the dress in my closet waiting for the cardigan. It would transition one of my favorite summer dresses into autumn.
I choose a very soft, ribbed, two tone navy sweater fabric. Is has amazing drape and is scrumptious to wear.
I wore my Chelsea for a Sunday evening church service and a funeral. So, it is definitely appropriate for a variety of venues. Several people complimented on how much they liked the cardigan.
Allison Falkek
---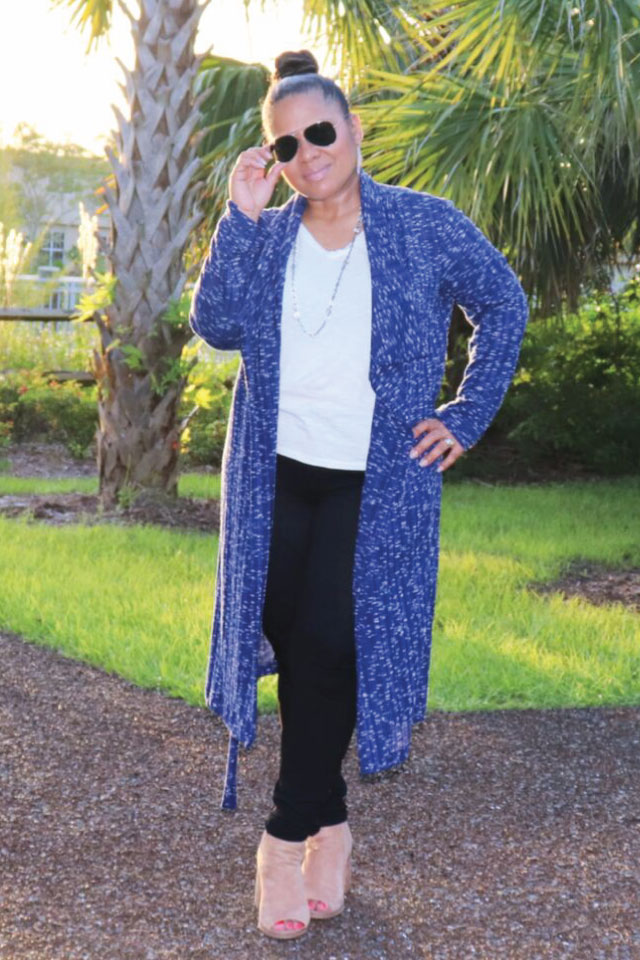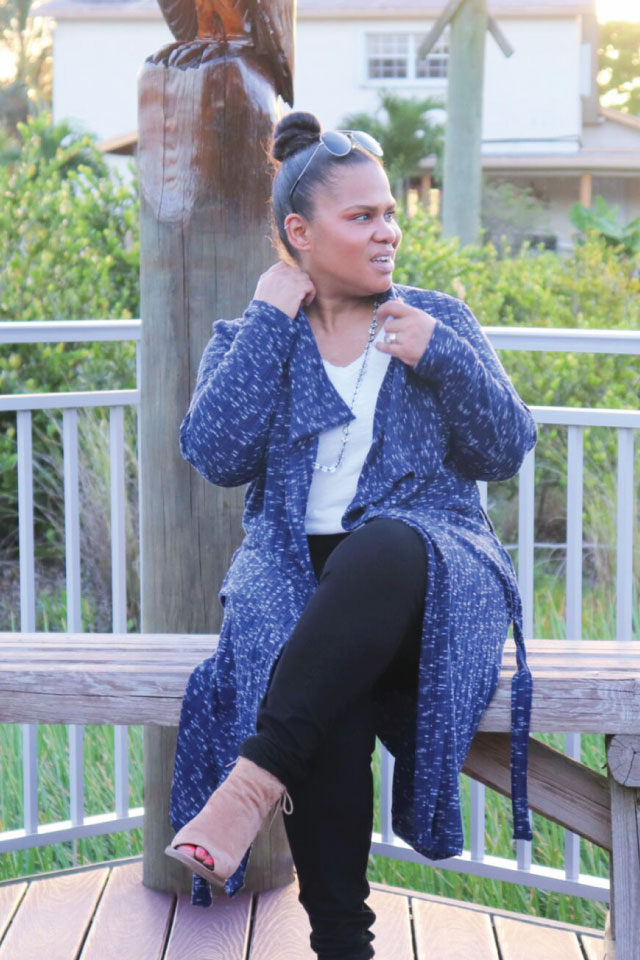 Hello. my name is Johanna and I live in Fort Lauderdale, FL. I decided to make the mid calf length because I've always wanted a long sweater and I'm so glad I chose this length. I chose to work with a navy and white ribbed knit. It was the perfect weight and I love the color blue.
I did not hand stitch the collar. SHHH I tucked in the seam allowances very neatly and I used my twin needle and top stitched the collar closed. I have not worn my Chelsea yet, but I will!
…
Blog https://www.soveryjo.com/the-chelsea-cardigan-designer…/
Facebook www.facebook.com/soveryjo
IG www.instagram.com/soveryjo
---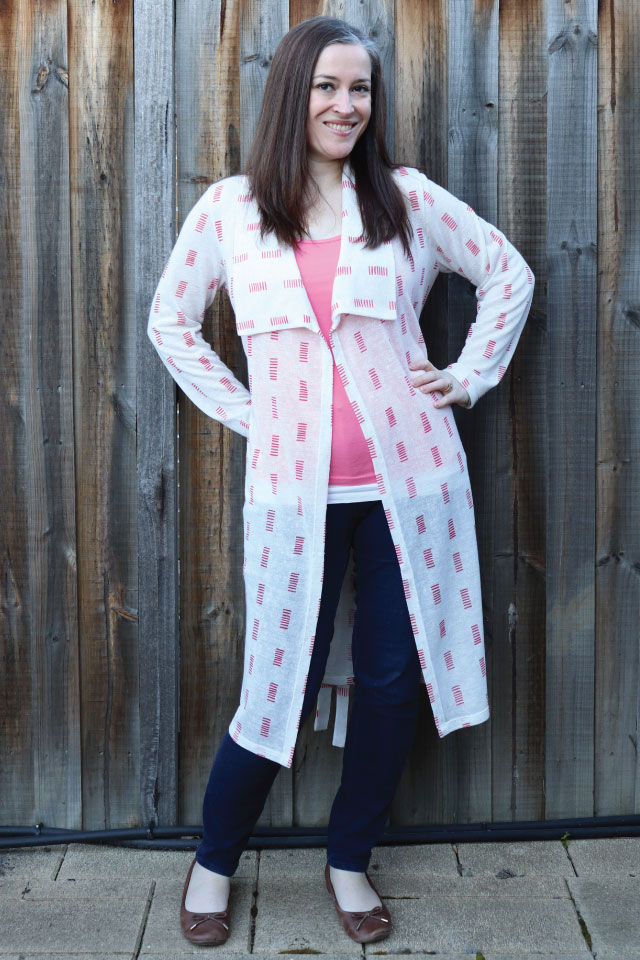 I'm Bec Walker from Melbourne, Australia. I made two Chelsea Cardis in the knee length. I chose the longest length as I thought it was really elegant. I love that I can throw them on over jeans and tshirt and look really put together as the unusual length makes Chelsea a real statement piece.
I bought two light weight sweater knits. The white and pink one was a linen/polyester blend. The grey one a cotton/viscose/elastane blend.
I used my twin needle for the facing and the hems. I turned the cut edges of the hems in to match the facing so that they look consistent.
I have worn both. The white/pink one I wore for kinder pickup with flats and jeans. My MIL wants one in same fabric. The grey one I'm wearing as I write this. They have worked well with differing weather we get in Melbourne spring!
Http://edgestitch.wordpress.com
Instagram.com/edgestitch.bec
---
I'm Samantha from Ottawa, Canada. I chose the thigh length because I thought it would work well with dresses and skirts (because who wants to make pants!!). I used a wonderfully comfy sweater knit from my stash because I'm on a fabric buying hiatus. It haven't worn my Chelsea yet because it's been ~30°C here but the cool weather is coming! You can find me at www.instagram.com/brimblebee