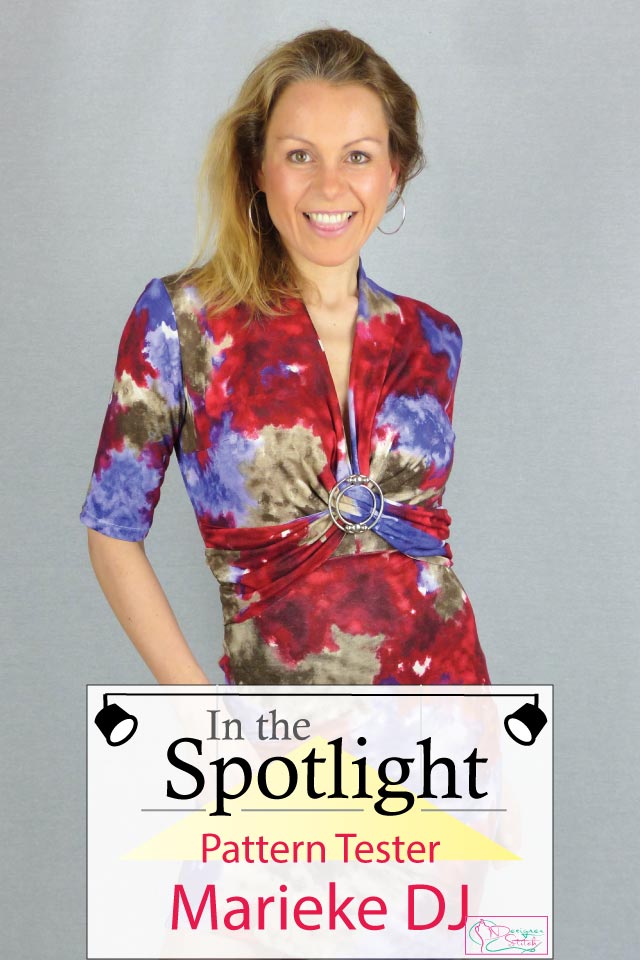 Hello my lovely sew'ist friends – thank you for joining with me today for our 3rd post in the series of "Pattern Testers in the Spotlight".
Today I would like to introduce you to our Marieke DJ who is an amazing woman, amazing pattern tester and generally FABULOUS person.
Marieke has been part of the Designer Stitch pattern roadies team for approx 6 months and I will say that she is a very valued member of our group.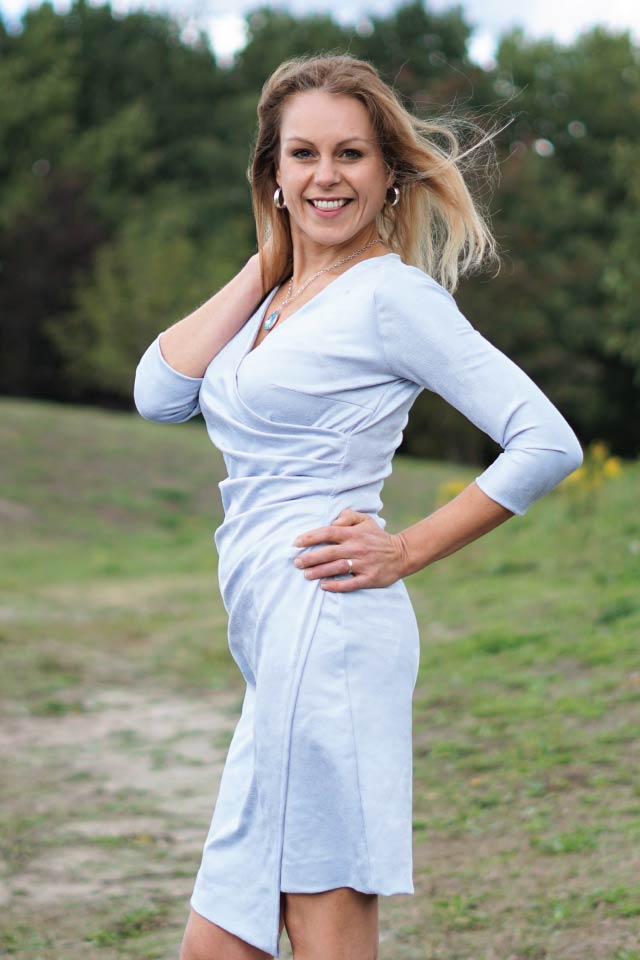 So everyone welcome xx to my interview with Marieke who shares her sewing life with you all (the pic is her modelling the Camelia Draped Jersey Dress).
Love you Marieke xx
HELLO!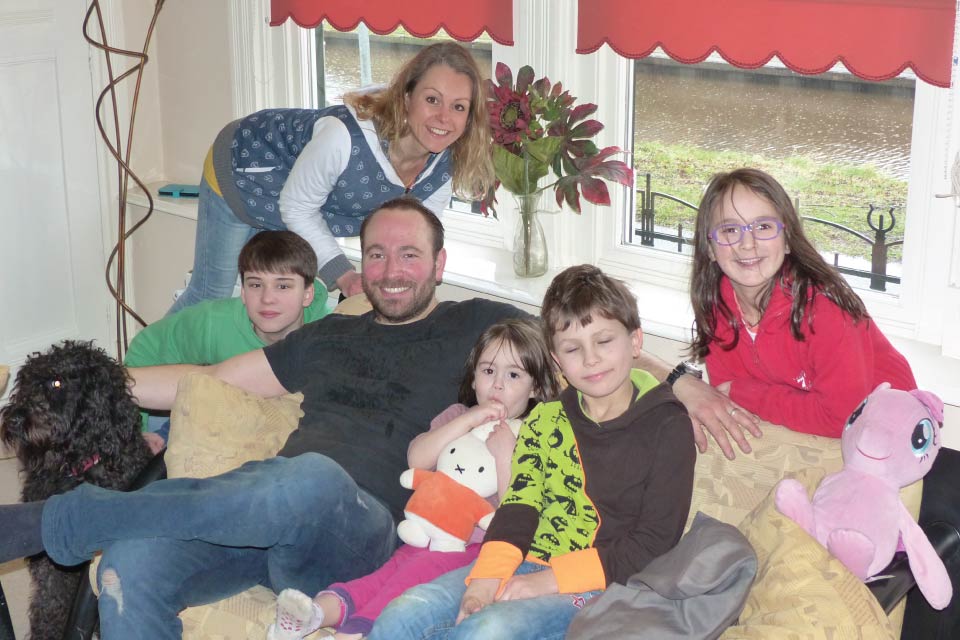 Actually my whole name is Maria Gerarda Elena, but my ´calling´name is Marieke. With four children I react on ´Mama'too. 🙂
My husband is from Germany and I am from the Netherlands.
To make a long story really short: In the beginning: he studyied for master, I had a good job, 1 child, lot of driving, second child, we all moved to Germany and lived there for 8 years. 6 Months ago we moved back to the Netherlands.
HOW DID YOU GET INTO SEWING ?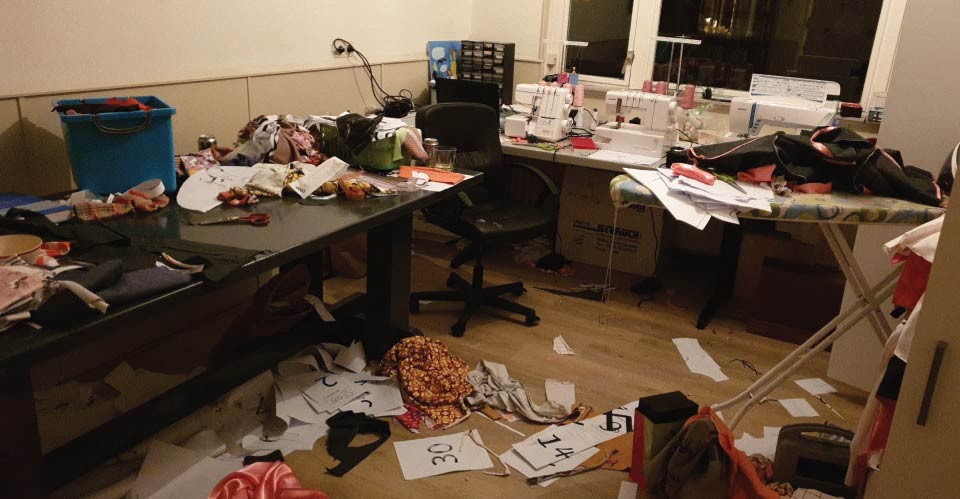 After our 4th child was born and our 3th move in Germany in 3 years I was feeling pretty lonely.
I still don't know why, but I walked into a store and bought myself a sewing machine. I found out my grandmother was a great sewist, so I think I got some help that day :-).
SEWING MACHINES ?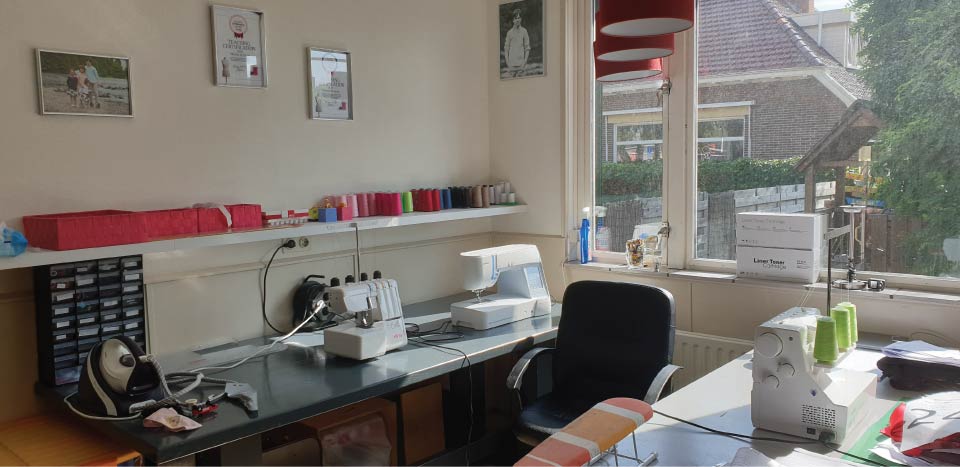 I bought myself an Elna, a basic one with 10 stitches and I only used 6 of them.
When we moved in March I bought a new sewing machine, really an upgrade but I still use only 6 stitches 🙂
DARE TO SHOW US ?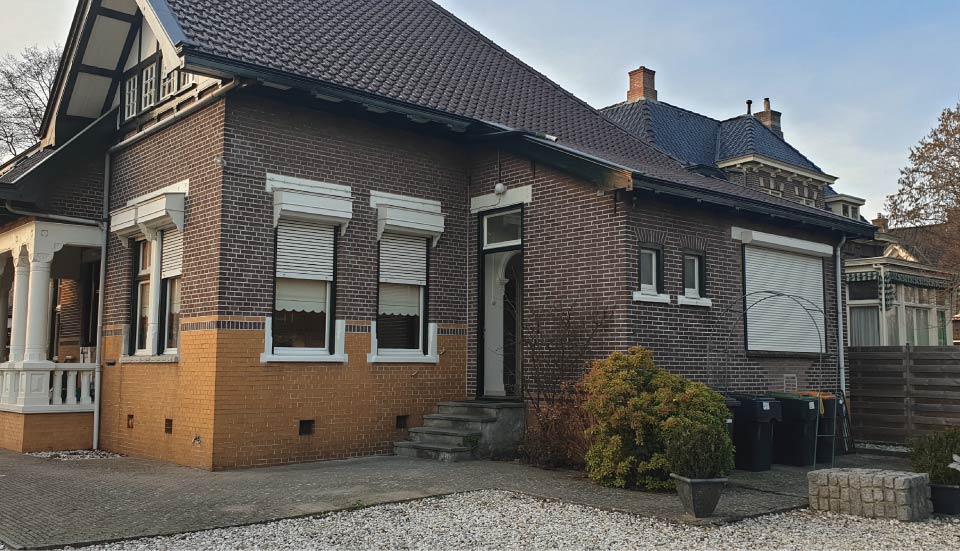 Our move to the Netherlands was a good one! We bought an old house (built in 1910) and has a lot of rooms, which means…..I have my own sewing room!
It is next to the kitchen and has a view on the garden. The house belonged to a notary in the past and has a big safe in it. Guess where my fabrics are…?
It doesn't really matter how big my room is, I can make a mess anyways. But I can clean like a boss too, my room (the whole house…) is looking like a chaotic disaster or ready for welcoming the king and queen.
WHO DO YOU SEW FOR/OTHER NON-RELATED HOBBIES ?
My husband and children had to get used to my new 'hobby' as well. They knew me as a baking-cooking-dancing-reading-sportive-handcrafting-nagging wife/mom.
Now I also added sewing and photography to it and because I sew for them too, they have to stand behind the camera as well…
WHO IS TAKING YOUR PICTURES?
But I have to give my husband a big compliment! I am the one who is taking pictures mostly and like that a lot.
But when I started sewing and found out I could test as well…I had to ask him for taking pictures of me. And he is doing a great job! He even bought a new camera recently and is watching YouTube tutorials to become a better photographer. I love him. Not only because of that of course, but also because he is giving me freedom, for example to do pattern tests.
WHAT GOT YOU INTO PATTERN TESTING ?
It was for a Dutch company when I found out about pattern testing. Actually I didn't even know it existed! Let's say I was pretty naive…. I was brand new in sewing but I applied anyways and got picked! I was soooo happy and flattered! They picked me!
WHAT DRIVES YOU TO KEEP PATTERN TESTING ?
So, I sewed my first garment for pattern testing, made the pictures and one of them became  the main picture on their website! Can you imagine how happy I was? At that time I knew nothing! And I am still learning every day.
The nicest thing about pattern testing is the interaction. I learn many things from the other testers, the designers, the discussions, the chats and I even made a few new friends. I wouldn't have had that much fun when I stayed all alone with my boughted Burda patterns.
(Although I still love to sew Burda patterns and also like it to be all by myself sometimes. But it's the best of both worlds :-))
WHO DO YOU TEST FOR ?
I stayed of course with the designer of my first pattern tests, Sofilantjes and I came to Ellie and Mac a year later, where I'am a moderator now.
But with  testing for Designer Stitch I learned about 'me'. My first test was the Taylor dress and I will never forget the PM I got from Ann:…..
"I do talk about boobs, bums and all in between….but you also must have a good understanding of how to fit yourself…..If I haven't scare you off"….
No of course not! I am Dutch! My husband is often struggling with the dutch directness, but he will survive, hahaha.
I don't have the feeling I am testing for Designer Stitch. it feels I am testing for me. I really love you Ann. I don't sew garments that are too small, to big or too short anymore. Testing for you is giving me confidence.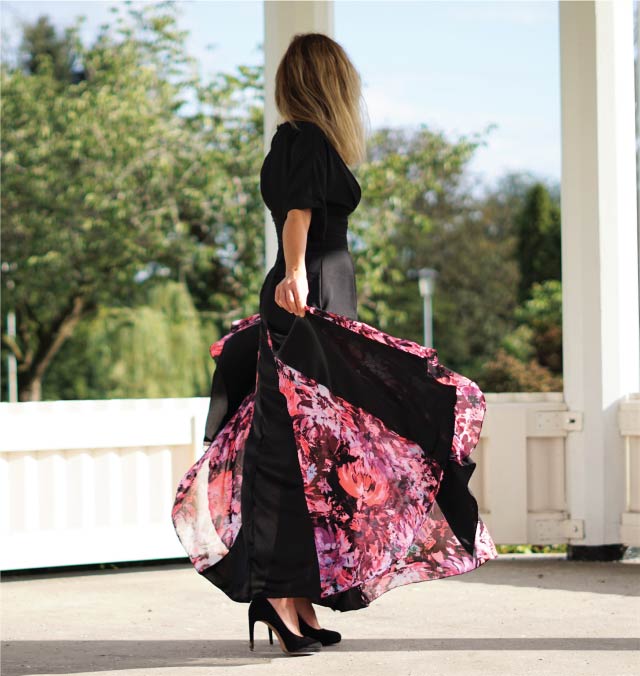 I stay with my 3 favorite designers. They have to throw me out 🙂 But I still like to test for other brands in between sometimes as well. It's the curiousity that gives me the drive. Just make sure you have the time and don't make it a job.
Right after our move I did to much and I noticed I was getting cranky and did not had time for anything else anymore. My husband works abroad and isn't at home during the week and my children and dog need me too.
So I took a week to start all over again, reorganized everything and I say 'no' more often.
WHAT SEWING MEANS TO YOU ?

But I like to say ýes' too! I am born almost deaf (I have a lost of 130db) and have a bad tinnitus and hyperacusis.
Sewing calms me and there is nothing I don't like about it. I like to watch YouTube tutorials about sewing and did and do a lot of courses at the Burda Academy.
I love sewing, to learn and to challenge myself.
YOUR MOST CHALLENGING SEW ?

Which brings me to my most challenging sew. An almost completely handsewed dress from a German designer. I tested her coat too, so I knew what to expect…
So maybe I can't call it my most challenging sew (that was my first zipper probably:-)) but it was 5.5 meters of silk and chiffon and it turned out fabulous!
MOST WORN ITEM ?

I wear something selfmade every day. I almost don´t have a choice anymore, because 80% is selfmade. In the moment my new Camelia dresses are my most worn items.
I am looking forward to wear my vintage dresses, but they are so beautiful, I didn´t even dared to wear it on my friends wedding last month. Which was a good idea, because she was wearing red and gold, like my dresses! I never go shopping, except for shoes and fabric.
FABRIC STASH ?

My fabric is in a big safe in my sewing room. I feel very lucky to have 1 place for all my fabrics. I step in it daily, sometimes for searching, sometimes for just enjoying looking at it. I don´t think there is a kind of fabric I don´t own.
I love to sew different fabrics, finding the right fabric to a pattern, or finding the right pattern for my fabric. I have the best hobby in the world!
FACTS?
– I am 38 years old
– I am actually a brunette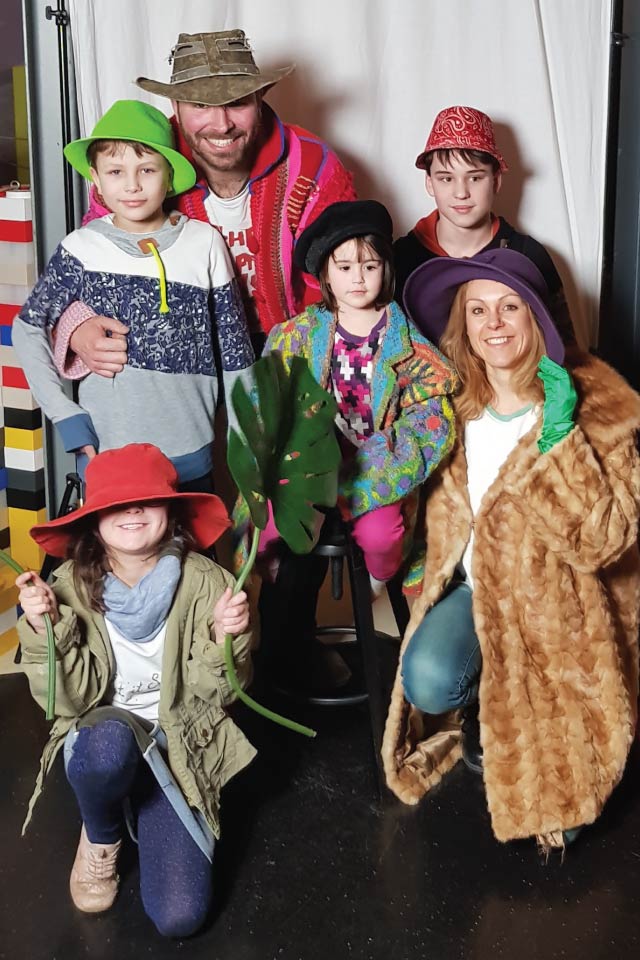 – I have 2 sons (13 and 9 years old) and 2 daughters (6 and 4 years old)
– My children knows not to enter my room when I am not there, but when the thunder rolls I know my dog is hiding herself in my sewing room.
– I always eat for breakfast 2 sandwiches with butter, sriracha sauce, raw onion, tomatoes and ham. My husband is used to it, hahaha.
– My favorite drink is whisky and tomato juice
– I only drink tea when I am sick
– I won some hot pepper contests
– I am a diver and I love sharks
– I like to draw
– I am a black and death metal fan and was a gothic girl in the past.
– I make my own umbrella's
– My favorite color is yellow and I will never buy any flowers without at least a little bit of yellow in it
– I never go to bed before midnight
– My husband likes to know what to expect. I like to live in the moment where I am now. Thats's our biggest struggle, but it's maybe also the reason we are going well together.
– I don't get angry often, but when, my eyes are spitting fire (my family is saying)
– I once broke 3 inter-vertebral discs and my back didn't like that.
– I am a great cook and baker
– I love my life
– I enjoyed this interview a lot!