Hey ho my fabulous sew'ist friends. and a big THANKYOU for stopping by for today's Part 1 of our Phoebe Top and Dress Rockstar Roadies Pattern Tester Roundup. 
And can I say – our new Phoebe is Positively PERFECT.
Channeling a vintage vibe, the Phoebe is modern, chic, on point and absolutely ON-TREND.
Offering a semi-slim fit to the body the Phoebe has darts to ensure fit in all the right places, an A-line or pencil skirt option along with 3 sleeve lengths including a bound sleeveless option.
Made in a ponte weight the Phoebe Top and Dress offers wearing comfort but retains its sophisticated and forever on-trend vibe.
Our Phoebe features a
2 Piece Shirt Collar.
Bound Keyhole Neckline.
Mock Button Wrap Stand.
So, without further ado my friends here is part 1 of our positively perfect Phoebe Top and Dress Pattern Testers Roundup.
They would like to share with you the following. 
1. Your name and where you live?
2. Your choice of option for the Phoebe Top and Dress and why?
3. What fabric did you choose and where did you purchase?
4. What alterations did you have to make to your Phoebe Top and Dress toile?
5. What sewing tips can you share when sewing the Phoebe?
6. What was your favourite thing about making the Phoebe?
7. Did you make more than one combo of the Phoebe Top and Dress?
8. Have you worn your Phoebe yet and what compliments did you receive?
And the finer details; (AU/UK) 6 – 30 (US) 2 – 26 (EU) 34 – 58
Cup Sizes – B, C, D, DD
On Sale for a limited time only – $9.95(US)
Very Confident Advanced Beginner and Above Sewing level
Phoebe Top and Dress
---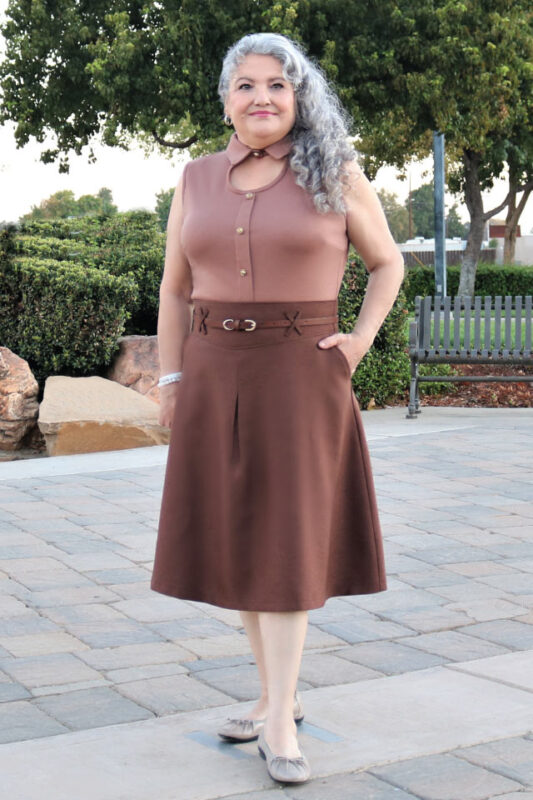 I am Synthia and I live in Ca. I happily sewed up a top and a dress for the Phoebe design. For the top I used a double-knit fabric and for the dress I used an athletic knit fabric. The top was made as a short sleeve version and the dress was made with a 3/4 sleeve and love then both I found that I needed to grade down at the shoulders and grade up for the neck. While walking to the store after my pictures, I was asked where I bought my dress, I proudly said, it's one of a kind as I made it. Tips: sew a much-needed muslin to get your correct size and fit. Great design Ann with many options. https://sewsynsewn.blogspot.com
---
Hello I'm Ashley R from London, I'm excited to share with you the amazing new Phoebe top/dress.
I used a scuba crepe and a denim viscose fabric for my Phoebe top. I also made the fitted dress in a ponte knit Fabrics is from www.jororags.co.uk . The viscose was for the collar which I feel is the main part of this pattern. My sewing tips to you is always make a fit first in old fabric to help find what adjustments you need and read the instructions over. I styled my top with a cute skirt with match buttons as the top and black boots. My dress with red boots and red belt to go with the collar. I'm only 5 foot and had to shorten the bodice by half inch and take an inch off the skirt length for the dress. I've worn my top a few time as its great to dress up or casual with jeans. I can see many Phoebe tops to come.
IG: https://www.instagram.com/madebyashleyriley/
FB: https://www.facebook.com/sewashley.co.uk
---
hello all,
This is Brenda from The Netherlands.
I have made 2 dresses and 1 top. All my Fabrics are from www.driessenstoffen.nl and are lovely soft feeling Punta. The collars on all 3 are made of scraps of woven I still had.
For the Phoebe I did all my usual alterations and it fits like a glove.
I have no plans for future Phoebe yet, since I'm busy sewing other clothes, but that can change at any given time.
If you want to see more of my sewing: https://www.instagram.com/fabricfairybrenda/
---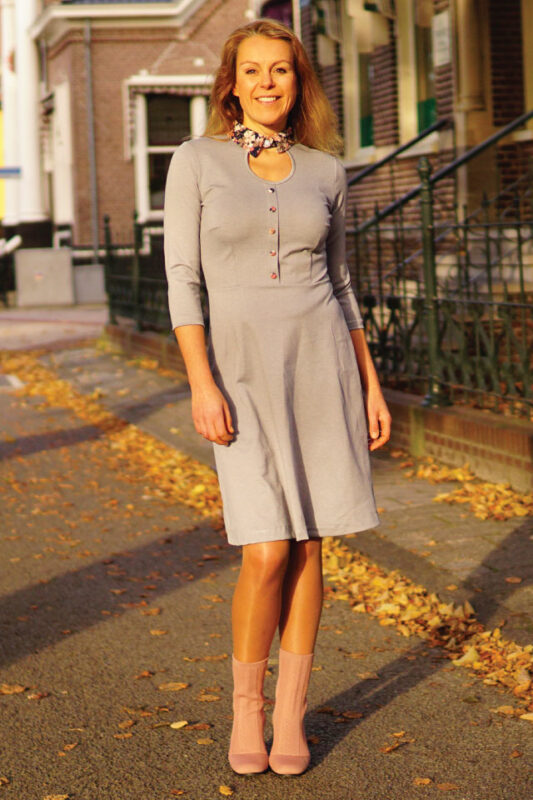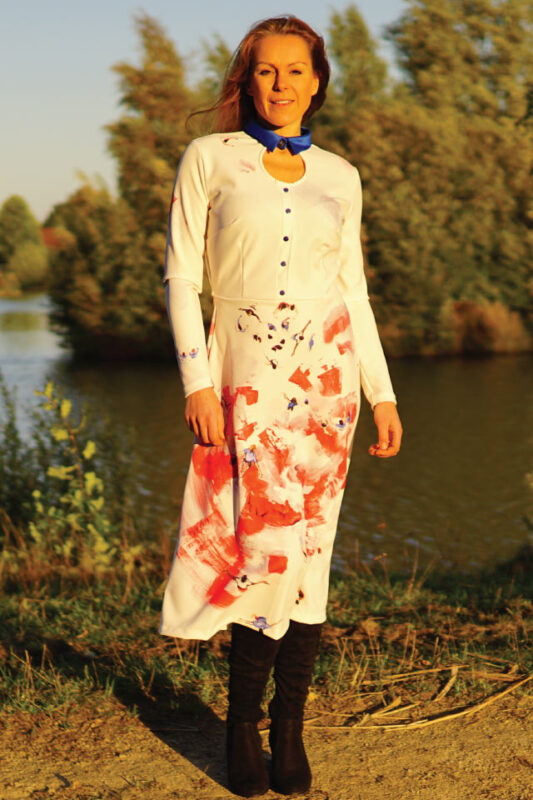 Hi everyone, here is Marieke from the Netherlands.
As you all might know I love dresses. It isn't a big surprise I love this one so much!
Actually on the first look and also the sewing it is an simple dress, but it takes less then a second and the neckline is catching your eyes.
Depending on your choice of fabric I'll call it daily elegant or party proof ^^
Anyways with all the options you can sew a ton of dresses and tops through the year and still look different everyday/night.
My first one I made from ponte and it's simple plain grey fabric but with using a pop of color at the collar and buttons it isn't boring at all!
My other dress I used a scuba panel for that. Unfortenately but lucky for me- the dress is looking so much nicer in real life. The camera wasn't able to catch all the details and colors. So you just have to believe me ^^
No matter what season you live in, there is an option for anytime of the year and so also style it like you want.
The dress doesn't need more then some nice shoes/heels or boots and a smile.
Happy sewing and enjoy your Phoebe❤️
---
Hi I am Luana and I live in Raleigh, NC (in the US).
The fabrics I used for both my Phoebe is ponte, I bought the floral one at Knitpop (#aff link https://bit.ly/3rS95f6) and the red one at Sly Fox Fabrics. For the collar, the white one is a cotton I had in my stash, while the red colored one is a scrap of silk I had from a previous project.
My best tip to sewing the Phoebe is to make sure you mark everything on the fabric (notches, darts, and folding lines) making sure that you marked them on the side of the fabric where that is needed. I even marked some on both sides just to be safe!
For my red version I went for the sleeveless version with the shortest pencil skirt, while the floral is a A line skirt with long sleeves.
I didn't have to make any alterations to the pattern.
I've got a few compliments while wearing the Phoebe, the neckline is just so pretty!
My Blog https://lmfcrafts.com/
My Instagram https://www.instagram.com/lmfcrafts/
---
1. Amanda Xu California
2. Double brushed polyester and cotton. I buy most of my fabric from thrift stores. This fabric came from The Legacy is Sebastopol, Ca.
3. When sewing always make sure you have the right needle ballpoint is key for knit!
4. Blouse
5. Anne's measurements are spot on. Be sure to grade between sizes for a perfect fit.
6. Yes! To our local Pumpkin Fest. Was told it was a lovely color with a great fit.
7. A black and white pencil dress is certainly on my to do list.
8.http:Amanda Fox Xu
---
I'm Bonnie O and I live in the suburbs of Cincinnati, OH
2. Fabric Choices: The dress fabric is a stable knit (maybe a double knit?) and the collar is a linen; both fabrics came from my stash and unfortunately, I don't recall where I purchased either fabric.
3. Sewing tips: I found it very helpful to make a muslin to check the sizing. The collar fits closely against the neck so by sewing a muslin, you can determine how it feels against your neck. I don't like things too close around my neck so I add a wee bit of length to the collar stand (maybe ½" total). Even in my final version, I chose to baste it together first to make sure everything fit the way I wanted before I surged it together.
4. Style choice: I planned for my Phoebe to be a work dress so I opted for ¾ sleeves and pencil skirt in a business-appropriate print.
5. Fit alterations: In addition to the aforementioned collar adjustment, I added a bit of width to the back to accommodate my broad back. I had to rotate the dart point upward about ¼" to point to the apex. I started with a DS size 3, with some minor increases / decreases at bust and waist.
6. I have only worn my Phoebe around my husband and he gave it an enthusiastic thumbs up (and he is always honest, aka annoying sometimes). I am looking forward to debuting it at a conference at which I am speaking next week.
7. For my next Phoebe, I would like to make a version with the flowy skirt in a stretch velvet for the holidays. I'm picturing a glittery collar.
8. Social media URLS
Blog: http://tresbonbabble.blogspot.com/
Facebook https://www.facebook.com/bonnie.deger/
IG: https://www.instagram.com/bonnieossege/
---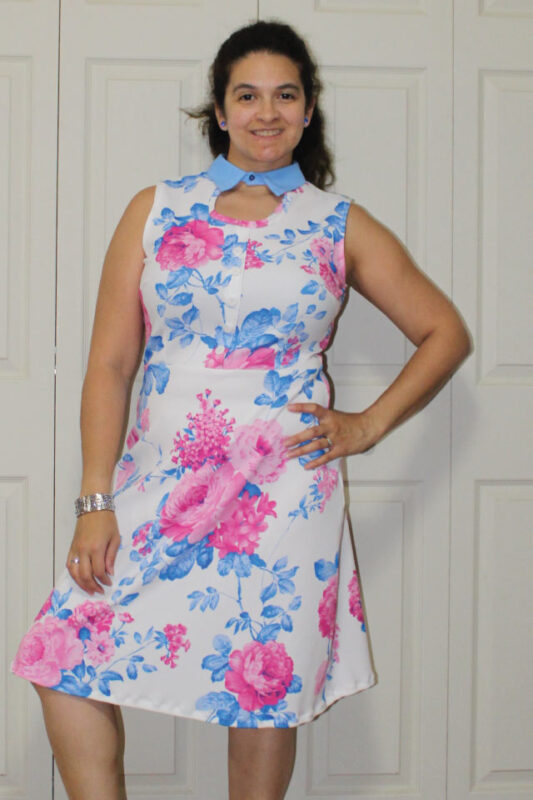 1. Carmen MB. Pennsylvania, US
2. Mystery liverpool (bullet) fabric for dress with blue canvas for collar; pink scuba from made of love fabrics for shirt version with khaki canvas collar
3. Make sure you transfer all the lines for center front and fold line!
4. I chose floral fabric with a solid collar to add contrast
5. Shortened by about 1″ for height
6. I have not worn it yet (it just got really cold), but i received compliments from those who saw pictures. They liked the interest point with the keyhole neckline.
7. I want to try it with a stretch glitter velvet.
8. Blog https://www.sew4sanity.blogspot.com
Facebook facebook.com/carmen.mills.90 and facebook.co./zumbafitnesswithcarmen
IG https://www.instagram.com/invites/contact/…