Greetings my sewing friends. Thank you for joining us for Part 2 – our pattern testers round-ups – of all that is PERFECT about our new Phoebe Top and Dress – and all the is MARVELOUS about our Rockstar Roadies Pattern Testers. 
Our new Phoebe Top or Dress is the epitome of MODERN VINTAGE STYLING but with a modern twist!
Featuring a fabulous front circular neck opening held by a 2-piece shirt collar the Phoebe can easily transition from a workday through to drinks and dinner after work.
Made in a ponte weight fabric the Phoebe is a top or dress for everyone.
Again, the Phoebe Top and Dress is Trans-seasonal Sewing at ITS BEST!!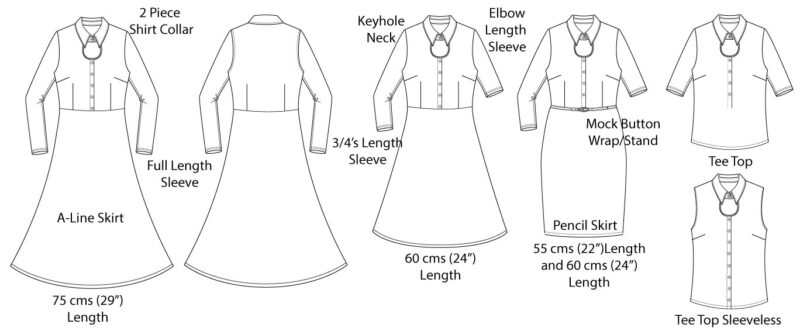 Our rockstar roadies would like to share with you the following:
1. Your name and where you live?
2. Your choice of option for the Phoebe Top and Dress and why?
3. What fabric did you choose and where did you purchase?
4. What alterations did you have to make to your Phoebe Top and Dress toile?
5. What sewing tips can you share when sewing the Phoebe?
6. What was your favourite thing about making the Phoebe?
7. Did you make more than one combo of the Phoebe Top and Dress?
8. Have you worn your Phoebe yet and what compliments did you receive?
And the finer details; (AU/UK) 6 – 30 (US) 2 – 26 (EU) 34 – 58
Cup Sizes – B, C, D, DD
On Sale for a limited time only – $9.95(US)
Very Confident Advanced Beginner and Above Sewing level
Phoebe Top and Dress
---
Hello! I'm Sandra from the Netherlands. I made 2 Phoebe dresses and 1 top. I used for 1 dress Scuba crepe fabric and the other dress and top: Jersey. I love them very much! If you also would like to use scuba crepe: please check the stretch. My stretch was not enough so it is very tight now 😛. I had no specific style: I just wanted to make nice and different dresses. I worn them already a few times and I had a lot of compliments. My colleagues couldn't believe I made them self. The patterns are so stylish and perfect feminine. I really feel beautiful in it. I didn't do any alterations.
My Instagram: https://www.instagram.com/sandra_wilbrink_sewing
---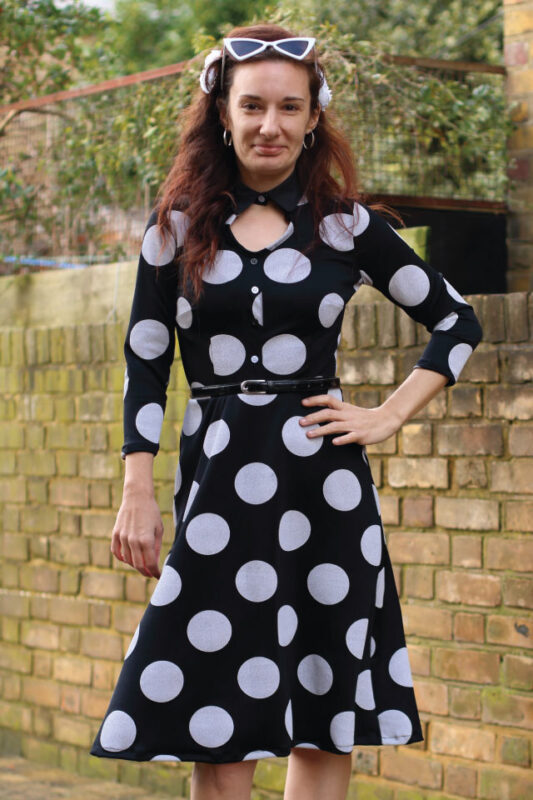 Hello, I'm Ashley R from London, I'm excited to share with you the amazing new Phoebe top/dress.
I used a scuba crepe and a denim viscose fabric for my Phoebe top. I also made the fitted dress in a ponte knit Fabrics is from www.jororags.co.uk . The viscose was for the collar which I feel is the main part of this pattern. My sewing tips to you is always make a fit first in old fabric to help find what adjustments you need and read the instructions over. I styled my top with a cute skirt with match buttons as the top and black boots. My dress with red boots and red belt to go with the collar. I'm only 5 foot and had to shorten the bodice by half inch and take an inch off the skirt length for the dress. I've worn my top a few time as its great to dress up or casual with jeans. I can see many Phoebe tops to come.
IG: https://www.instagram.com/madebyashleyriley/
FB: https://www.facebook.com/sewashley.co.uk
---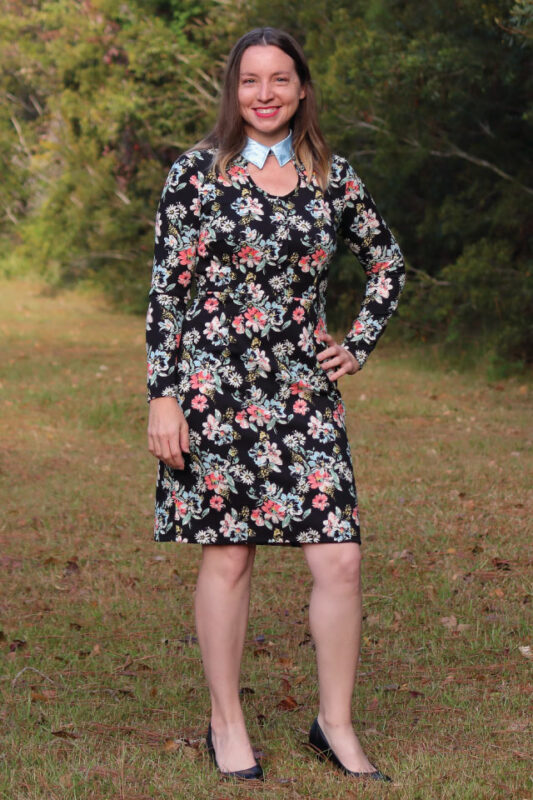 I'm
Carmen
from USA and I chose a black floral liverpool with a coordinating satin collar for my Phoebe.
One sewing tip I could give would be to always give your finished dress a nice press with an iron. The collar also needs a press. For my Phoebe I chose to sew the fitted skirt with long sleeves. I also picked out some black buttons and hand sewed them on. I made a few fit alterations as I always do for any DS pattern. I shortened the bodice and skirt and I also made a sway back adjustment. All of these adjustments are important for making a great fit.
---
Mieke M from Belgium 
I used a Punto di Roma for the dress and a cotton combined with lace for the collar bought https://www.naaimachinesstael.be
Tips: check if you print the right size 🙈
Style: autumn look with short boots, I also like the look with the collar open
Alterations: because I printed the wrong (to big) size I had to size down, but I kept the bigger collar
I only wear it for the pictures. My husband and daughter liked it a lot
I think I will wear it with open collar more then wit the button closed
IG: https://www.instagram.com/sewista_mc
https://www.instagram.com/p/Cib_w6xKjEx/?igshid=YmMyMTA2M2Y=
---
This Phoebe dress was made by me, Allison, for my daughter, Megan. We live in the Milwaukee area, Wisconsin, USA.
Megan's dress was made from a bright pink ponte. The collar was a soft floral with hand embroidery at the points. I did embroidery on the fit too, because it has been a very long time since I embroidered anything.
With leads to my tip. Measure true and honest, then make a fit version of the dress practicing everything.
This is Megan's favorite dress. The color and style really flatter. She has received a lot of compliments from both friends and strangers.
Megan wears this dress with a pair of floral print heels that coordinate with the collar of the dress
Fabulous dress, both trendy and vintage.
---
Hello I'm Tina from Southern California. For my Phoebe dress I used a Crepe Scuba Knit from So Sew English. When sewing your own I recommend using the proper needles and making a muslin and use current measurements for the perfect fit. I went with the pencil skirt style for my Phoebe dress with long sleeves perfect for our CA weather. Only adjustments I needed to make was shorten to my height. I wore my Phoebe to church and eating out, and always get wonderful compliments. Already made the top version and my next will be with the circle skirt. Happy Sewing!
---
This is Brenda from The Netherlands.
I have made 2 dresses and 1 top. All my Fabrics are from www.driessenstoffen.nl and are lovely soft feeling Punta. The collars on all 3 are made of scraps of woven I still had.
For the Phoebe I did all my usual alterations and it fits like a glove.
I have no plans for future Phoebe yet, since I'm busy sewing other clothes, but that can change at any given time.
If you want to see more of my sewing: https://www.instagram.com/fabricfairybrenda/
---
Hi I'm Brittney aka Brittalicious from BC Canada! I used Ponte De Roma from Fabricland a Canadian chain and cotton woven that I designed myself that I used on the collar.
I feel the This pattern has taught me many things being a beginner. First time collar, and learning NOT to use a fabric with to much stretch and weight.
I made this shirt with the idea I could pair it with a nice black skirt to class it up or even a pair of ripped jeans to make it more casual!
I would love to try the phoebe dress in the future having more confidence in the creation area.
Brittalicious Designs and Brittalicious Designs Patterns And Supplies Group
---
Hi ,Sjouk from the Netherlands here!
For my first blue phoebe I've used ponte and viscose for the collar. The second black one is cotton lycra and cotton for the collar!
My tip for the phoebe: Measure your placket thoroughly to get a nice result, worth the effort!
The top version is nice to combine with jeans or a high waisted skirt!
I've juggled a bit to get the right fit, I'm not there yet to be honest! First was a 5, but roomy at the bodice and sleeves. 3 is a nice fit at the bodice, but I'll use size 4 sleeves and collar next time for the best fit!
My husband liked it , which is a huge compliment and my 6y old thought I looked very slim 🤩
Check out more of my designerstitches at www.instagram.com/dutch_sjouks
---
Hello everyone! I'm Annie from Buenos Aires.
I chose a black ponte for Phoebe Top and matched the collar with red cotton fabric. I bought them at a local retailer in Hurlingham.
Phoebe is tricky at the collar, I had to measure it twice, make a toile and then choose my collar size.
I sewed the Phoebe Top Elbow Length Sleeve in size 4 for shoulders and arms, size 5 for bust and 6 for waist, collar I made a size 4, but added 1cm for the length, because I feel it too tight.
This is a beautiful Top that my friends asked me where I bought it, they loved it… and my answer was: "I sewed it"😎.
You can see more of me at www.facebook.com/Annie.CruzCivit
and my sewing work at https://instagram.com/civitana