Hello my lovelies and a big Saturday welcome shout out to you all.
The weather here at Phillip Island is very blustery – we went from over 30degC 2 days ago to just 12degC today – and expect another hot spell in the middle of this week. One thing we can say about mother nature – she keeps us on our toes. xx
Today I would like to share with you my design inspiration and influences centered around the new Raven Cami, Chemise and Slip Dress that was released 24 hours ago.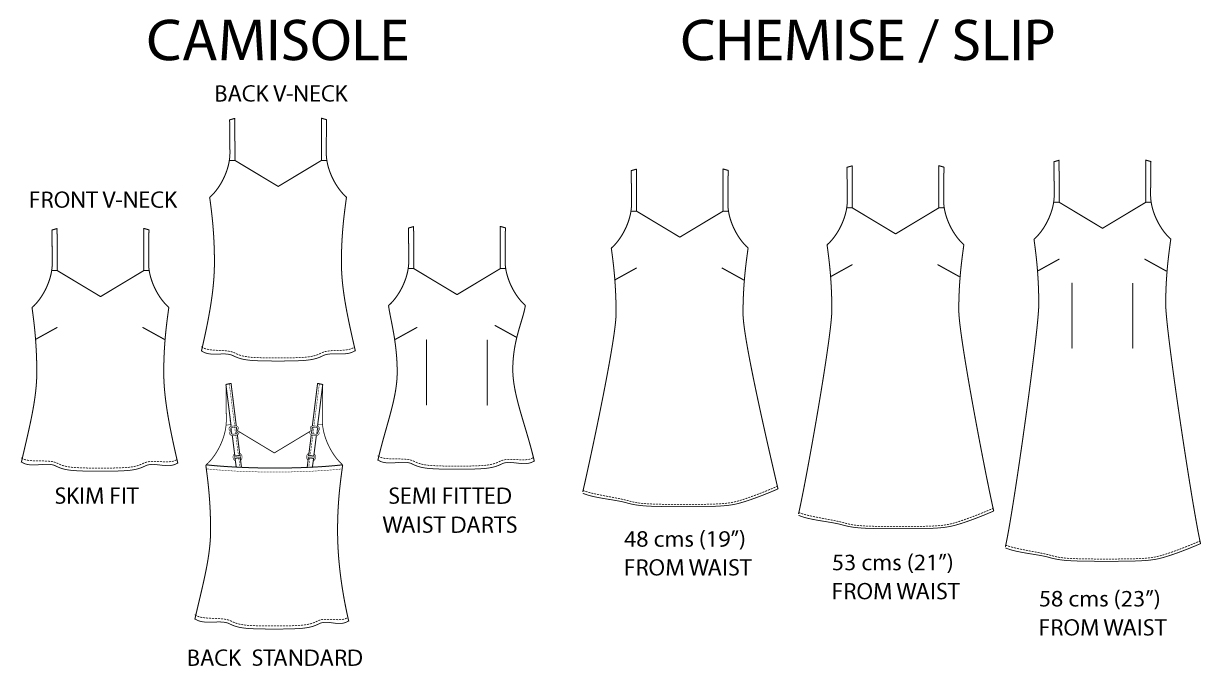 The feedback has been fantastic and everyone has been very happy that not only does the Raven pattern offer a cami shape but also the opportunity to make a longer version in chemise or slip length. And the design lends itself to underwear, day wear or even outer wear by layering.
The inspo for the Raven design was triggered by a sole pic that came up in the "whats new" feed over in Anthropologie – I spend quite a bit of time over in this on-line retailer as I like to browse around for shape and styling influences.
And I love the boho/ethinic vibe that quite a few of the garments have – a great juxtaposition of textures, colour and print.
The pic above – showcasing a silk slip at $268.00 – triggered another inspo pic that I had also saved in my fashion ideas folder.
This is the gorgeous slip dress by KowTow that is featured as a layering day wear piece over a crisp white tailored shirt.
If you have visited with me before you will know that I try to develop my designs with both hemispheres in mind. I have customers from all over the world, so while I am currently in Spring heading towards Summer the Norther Hemisphere is in Autumn, heading into Winter. So my designs and shapes have to suit all climates.
Knowing I had a great cami block sitting in my block library I looked for even more inspo to see if I could extend the design even more.
And there are tonnes of ideas of how a cami shape can be mixed up and changed for differing looks.
Let me showcase some of the looks for you.
LAYERING.
From KowTow – I am loving this combo of pants with the slip dress shape. And if you also look very closely you will see the back straps are just tied into the o-rings at the back. Love this feature !!
VELVET.
Cut your Raven out in the chemise length using a luscious crushed velvet and then add some textured lace for some surface interest.
DIAGONAL STRIPES.
Why not split your Raven pattern up the centre – add a seam allowance – and cut out both the front and back on the 45 deg angle to make use of a fabulous stripe fabric. Here is another cami from Anthropologie featuring a striped velvet.
LAYERS.
If using a soft and flowy type fabric why not layer your cami. Cut 3 layers graduating in length and stitch them as one. Great use of textured fabric in this inspo pic.
ADDING LACE.
Why not add some surface interest with the addition of lace to your cami – or cut your Raven in either it chemise or slip length for a gorgeous cute – and sexy – sleeping slip .
DAY WEAR LAYERING.
The above 2 pics are probably my most favourite look for the Raven.
I just love the ability of the Raven shape to be layered with tees, turtlenecks, shirts and the like along with slim/tapered pants along with killer heels. Adore !!!
PINTEREST.
And my lovelies – would you like to have more inspo for your own Raven – of course you would.
I have made a Pinterest board for the Raven with stacks of visuals on how to mix up your Raven to stamp your OWN signature style onto this amazing shape. I hope that all the amazing picks will really spark your imagination.
Love to you all. xx
Ann at Designer Stitch.