Well hello there !!!….and I hope you are all traveling well today my friends.
And this is my most favorite part of any new pattern release – I can showcase my AMAZING and wonderful pattern tester posse. xx
Welcome to my first installment of the Raven Cami Chemise and Slip Dress Tester Round-up.
As you will have red in my previous tester roundup posts I am amazed and humbled by my ladies talent, dedication and extraordinary skill level.
They are the bricks to our house foundations. And I am sure you also know I adore each and EVERYONE xx
If you missed yesterdays blog post be sure to go and have a read – I talk about the inspiration and influences behind the design process of the Raven.
https://designerstitch.com/raven-cami-chemise-slip-dress-inspiration-and-influences/
The Raven Cami, Chemise or Slip Dress is Sensual, Stunning, a Bit Cheeky and So On-Trend.
The shape of the Raven is suitable for all figure types and can easily transition from a layering undergarment right through to a gorgeous outer wear slip dress.
This shape is being seen on catwalks around the international fashion world and also on many social media influencers.
The finer details : On Sale for a limited time only – $8.95
(US) (AU/UK) 6 – 28 (US) 2 – 24 (EU) 34 – 56 . Cup Size – B, C, D, DD
https://designerstitch.com/shop/raven-cami-chemise-slip-dress/
So let us now get underway showcasing my amazing roadies and their equally outstanding Raven Cami, Chemise and Slip Dress
I have asked each of my roadies to share with you the following:
1. Your name and where you live
2. What fabric did you choose and where did you purchase.
3. What and if any changes did you make from your toile to your final Raven
4. What tips can you share when sewing the individual garments parts ?.
5. What was your favourite thing about making the Raven?
6. Have you worn your Raven yet and what compliments did you receive.
7. And how are you styling your Raven ?
A big WOO HOO to all my fabulous roadies in the first round-up of the Raven Pattern Roadies…
And if you have missed the previous day posts here is the link – Remi Cami Chemise and Slip Inspiration and Influences
Love to you all xx
Ann at Designer Stitch. xx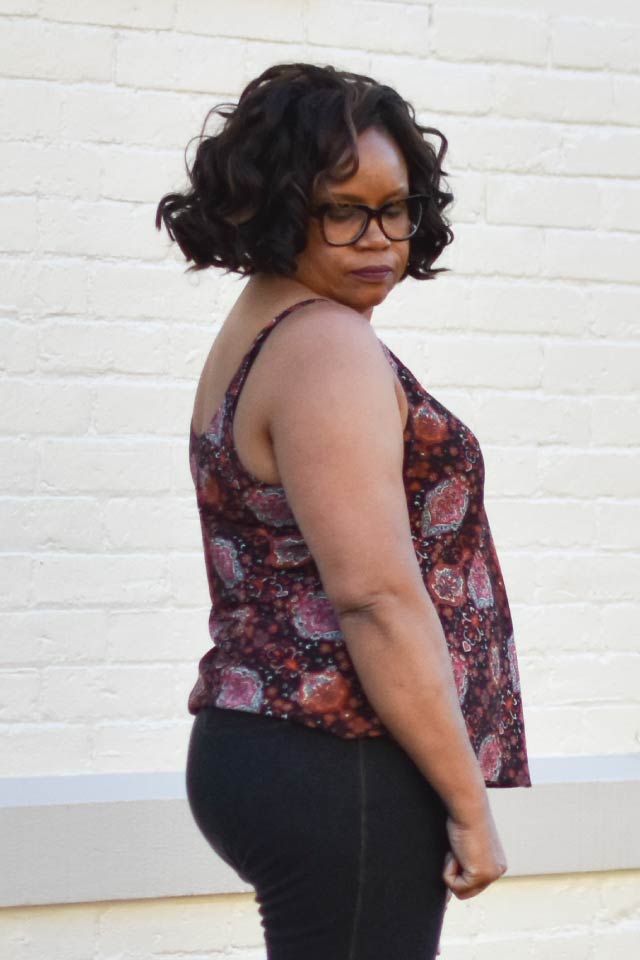 Hi, I'm Barbara from Northeastern Mississippi in the USA
I chose the Raven Camisole so that I may wear it under cardigans this fall. My fabric choice is a wool dobby that was in a subscription box that is no longer available.
I have a love/hate relationship with darts. I hate tracing the darts, but I love how the darts compliment my mature figure. I wore my Raven to work underneath a cardigan. I received many compliments. I can't wait to make the slip version to wear with a light cardigan next spring!
IG https://www.instagram.com/ninjabreadgirl61/
---
1. My name is Claire and I was born and raised in central Texas! It's a love/ hate relationship with the heat 😂
2. I chose the cami because I knew I would feel most comfortable wearing it out and about ❤️ love to show off my beautiful fabric!
3. I chose this lovely rayon, aloha spirit in bonfire from Hawthorne supply. It's art gallery!
4. For those who have a smaller frame and notice the straps falling off, you can grade the top down a size of two from the neckline to under arm. It helped my straps stay put!
5. I loved learning new techniques and perfecting my fit for my body!
6. I haven't been able to wear it out yet, but I have a wedding to go to this weekend and it will make an appearance!!
7. I love wearing it with a cardigan and some skinny jeans with booties!
8. https://www.instagram.com/landonsbritches/
www.instagram.com/clairezarella/
https://www.facebook.com/LandonsBritches/
---
Hello, my name is Genevieve and I live in Johannesburg, South Africa. I made both a Raven Top and Dress because I just had to try both. For my Top is used a very soft crepe and for my dress I used Rayon Challis. Both were bought at my favorite fabric store, down the road from my house. My best tip is to use your iron! Each time there is a note to press, do it, it makes sewing so much easier, especially when using very soft delicate fabrics. I really enjoy using soft, flowy fabric and I loved the drape of both my garments. I have worn my dress and my husband was a huge fan. As it is really hot here, Raven is perfect to just throw on with cute sandals. But, after seeing Ann's inspo in the group, I'm thinking I need a velvet Raven with crisp white shirt.
https://www.instagram.com/gegiegrossmann
---
Oh la la, what can I say about the Raven apart from its HOT, SEXY and PERFECT for layering.
I am Kiran and I'm from Singapore. I chose the Chemise length for my sew simply because I'm lazy. I'm too lazy to pair up what I'm wearing with a pair of leggings or jeans. Also, how lovely to just throw on my DS Willow over it and complete the look. The Raven pictured here is sewn up with Windham Fabrics lawn fabric and it's gorgeous to wear. This beautiful fabric was gifted to me through a sewing group gift exchange from the very lovely Falanne Kailee.
Sewing tips for this pattern? With a pattern this easy, I have little to suggest but enjoy the process. Oh and under stitch! ❤
Styling my Raven was so easy coz the beauty of this pattern really speaks for itself. I decided to throw on my Willow just for a more boho chic look, coz that's my vibe. Don't you think these two were made for each other? So much love for Designer Stitch patterns.
Check me and my sewing adventures out here at www.instagram.com/gloopygoo
---
Hi! Maria here! I'm from Barcelona in Spain. I chose the Raven camisole because I like minimal and simple garments, and I prefer wearing jeans than dresses. I also prefer single dark colour fabric instead of floral or striped so I chose dark rayon for my Raven cami that I bought in Cosercosas shop (already closed). I love that it's an easy project and also it is really a versatile one! I also feel that it fits really fine on the woman body and has lots of different versions depending on you preferred fit.
www.madebymanagir.com
http://www.instagram.com/madebymanagir
https://www.facebook.com/pagemadebymanagir
---
I'm Megan from Perth, Western Australia. I recently went to a styling workshop and a cami just like the Raven was the stylist's pick for the season. I had to make one! I chose the Raven cami with the V-back as I loved the flattering shape of the back. I made mine from silk/cotton from a local designer sale. I love buying from local fashion designers as they often have gorgeous fabrics at good prices. My tip for sewing a bias-cut garment is that I always use a very light touch and resist trying it on until all the edges are stabilised. It is so hard to resist, but worth it! I was thrilled when I finally put on my Raven and found that it perfectly covered my bra straps. I haven't worn mine yet, but summer is nearly here and I will be wearing it a lot. I like to dress up jeans with a silky cami or wear it casually with a skirt or shorts and sandals.
8. www.meggipeg.com, https://www.facebook.com/meggipeg/, https://www.instagram.com/meggipeg/
---
Hello Rachelle here, from the Toronto area in Canada.
I chose the 'no dart' version so it would be more casual, and just skim over my curves. I went with the middle dress length, mainly because the longer one wouldn't it on my fabric haha, but I preferred that length anyway, since it hit just at the knee.
The fabric I used has a bit of a back story. Last year we did a repair job for a feisty 96 year old lady. After being there a few days we got to talking about different things, and when she found out I liked to sew she asked me what kind. When I showed her some pictures on my phone she almost cried. She was so excited, and took me into the second bedroom and pulled out this large comforter bag of fabric. She said she hadn't sewn since her husband passed away 25 years ago, and she wanted someone to be able to use it. She was so chocked up and said 'ohhh you've just made my day'. Each of the fabrics are 4- 6 meters long. And several different kinds of fabric. I thought this was nice and colorful and perfect for a casual sundress. I know she'd be so pleased to know I used her fabric. So I'm not sure exactly what kind of fabric it is, but it's nice quality and had a lovely drape.
Make sure you read through the pattern first, because there are different pattern pieces to use, depending on which option you choose, so you won't need to cut ALL of the pattern pieces, so make sure to just cut the ones you need for the style you're choosing. Then make sure to follow the directions for your choice. It's a fairly simple pattern, with not a ton of pieces and goes together quickly. Also when cutting it out make sure to really secure your pattern to the fabric, since it's on the bias your fabric might want to misbehave!!!
I love how quick it was to sew, and how well it fits. I've been scared to make woven garments for myself and honestly, Designer Stitch's Remi was the first woven pattern I'd ever made for myself, I figured it would be easier with such a loose fit, so I was nervous about making something more fitted. But Ann's sizing is spot on.
I have worn it once, and people loved it, but the weather has taken a turn for the cold, so I'll have to find a sweater to go with it.
For summer I'll be wearing this with sandals and a sunhat. Still trying to find the right sweater, and possibly tights to go with it. To get more wear out of it.
https://www.facebook.com/ThatsSewVenice/
http://thatssewvenice.blogspot.com/
https://www.instagram.com/thatssewvenice/
---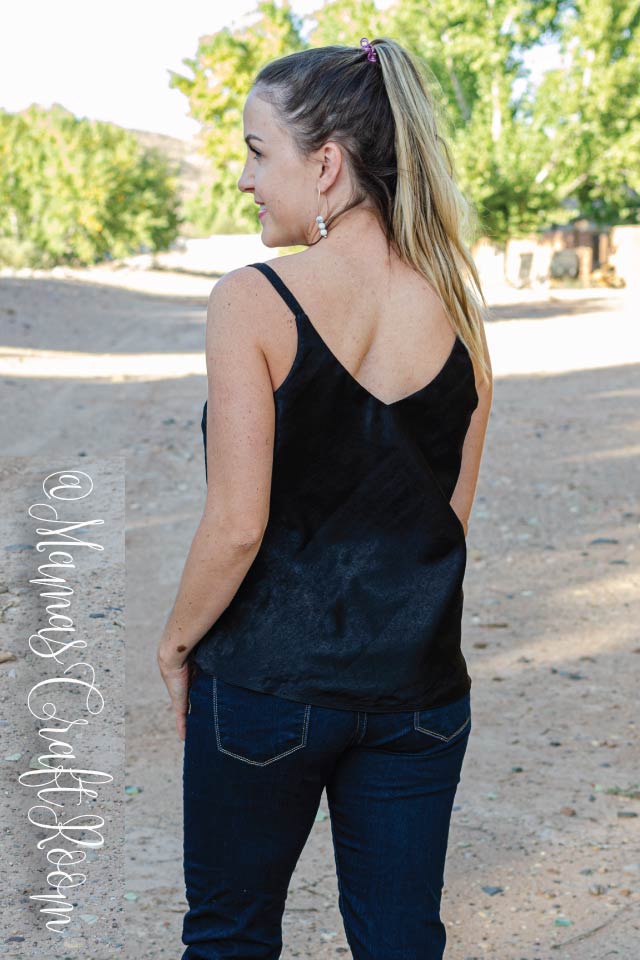 1. Sonia – Utah
2. Your choice of style for the Raven and why? Cami loose fit –
I love the relaxed and flowy fit! So classy, easy to dress up or down. I am a huge fan of this fit as it is forgiving in the shape, and it is very flattering.
3. What fabric did you choose and where did you purchase –
Heavy satin from Joanns fabric store. I love that this pattern doesn't use much fabric; I was able to squeeze mine out of a remnant so this opens up a world of possibilities.
4. What tips can you share when sewing the individual garments parts?
Go slow – use lots of pins or clips, and clip the v's! I was initially scared of the darts but this cami comes together so easily, it was a pleasant experience.
5. What was your favourite thing about making the Raven.
It is such a simple sew for such a beautiful dramatic effect! I like how versatile the style is too – this could be a great formal holiday dress or a simple cotton nighty, anything really.
6. Have you worn your Raven yet and what compliments did you receive –
just once and was grocery shopping so I wasn't conversating much haha!
7. And how are you styling your Raven or how will you be styling it in the future ?
I like wearing it with jeans as I used a satin, so it makes it a bit dressier. I also plan on making one in velvet (using satin for the facing) for a look for the holidays (perfect cami for layering). I also want to make a hacked version that has lace along the top edge for a really cute cami to wear under cardigans with leggings!
8. Social media URLS www.instagram.com/mamascraftroom
---
A very warm hello! My name is Taryn Haynes-Smart from Cape Town, South Africa. I chose to go with the Raven chemise (middle dress length/above the knee) with the standard back. I skipped the waist darts as I love the way it looks and feels just skimming the body. I used a printed georgette which I picked up in a local fabric destash as I just loved the print. The best fabric choices for this inevitably mean slippery fabric so cut carefully (I used a rotary blade to make it as easy as possible), don't skip the pins and Ann's great seam pinning advice (pin at top and bottom then middle working your way along the whole seam) is a must to ensure the seams lined up perfectly. I remember have a maxi slip dress as a teen which I absolutely loved and wore till it practically fell apart, so being able to make this style with a more professional finish of course felt incredibly satisfying. The weather has not played along as yet so I haven't quite had the chance to wear my Raven but as soon as I track down my black turtleneck tee I will definitely be putting the layered look to the test for cooler days. As for styling, I love that I can dress this up with sexy heels or strap on a pair of pretty flats for a more casual look. I love that I can add a pashmina or my denim jacket and of course, my fedora when outdoors in the Summer sun. I live, work and sew in the real world but do share the best moments and memories virtually too. Find me on Instagram and Facebook.
https://www.instagram.com/tarynhaynessmart/
https://www.facebook.com/taryn.haynessmart/