Hello my lovelies and thank you for being with me today xx !!….
I hope that you enjoyed reading yesterdays blog post and if you have missed it here is your link – It makes great reading.
Day 1 – Sedona Shirt Dress Inspiration and Influences Post.
So welcome to day 2 in the 7 day series of blog posts featuring the Sedona Shirt Dress Pattern – today is the Sedona Shirt Dress Tester Roundup – Part 1.
The tester versions of the gorgeous Sedona are AMAZING and I am sure you agree with me on that one !!!…and what is FABULOUS is that the Sedona looks STUNNING on everyone of my testers – even though they have interpreted the Sedona Shirt Dress so differently in their fabric choices and lengths.
The Sedona Shirt Dress offers an amazing choice so you can make and style it YOUR WAY 1. Shirt length
2. Tunic Length
3. Knee length dress
4. Mid Calf length dress.
5. Maxi Length Dress with side splits.
All of the above styles are completed with choice of
1. Waist darts for an option of slimmer silhouette.
2. Optional patch pockets
3. Long sleeve with tailored shirt placket and cuff.
4. Short sleeve with turn back folded cuff and tab button.
5. Elbow length sleeve with turn back folded cuff and tab button.
6. Centre back pleat. (Not to be used in conjunction with waist darts)
So lets start the Sedona Shirt Dress Tester Roundup Part 1 – and a round of applause to all of my amazing testers. Love you xx
They would like to share the following with you all :
1. Your name and where you live
2. Your choice of style for the Sedona and why ?
3. What fabric did you choose and where did you purchase – make sure you add affiliate link to fabric seller if you are able
4. Some of the sewing steps need a bit of patience – what tips can you share when sewing the individual garments parts ?.
5. What was your favourite thing about making the Sedona.
6. Have you worn your Sedona yet and what compliments did you receive.
7. And how are you styling your Sedona ?
And don't forget the  Sedona Shirt Dress is on its release sale price of  $8.75 US
(normally $12.00) and is a multi-sized pattern – including cup sizes B thru DD (E) :
(AU/UK) 6 – 26
(US) 2 – 22
(EU) 34 – 54
Cheerio and Kind Regards
Ann at Designer Stitch
---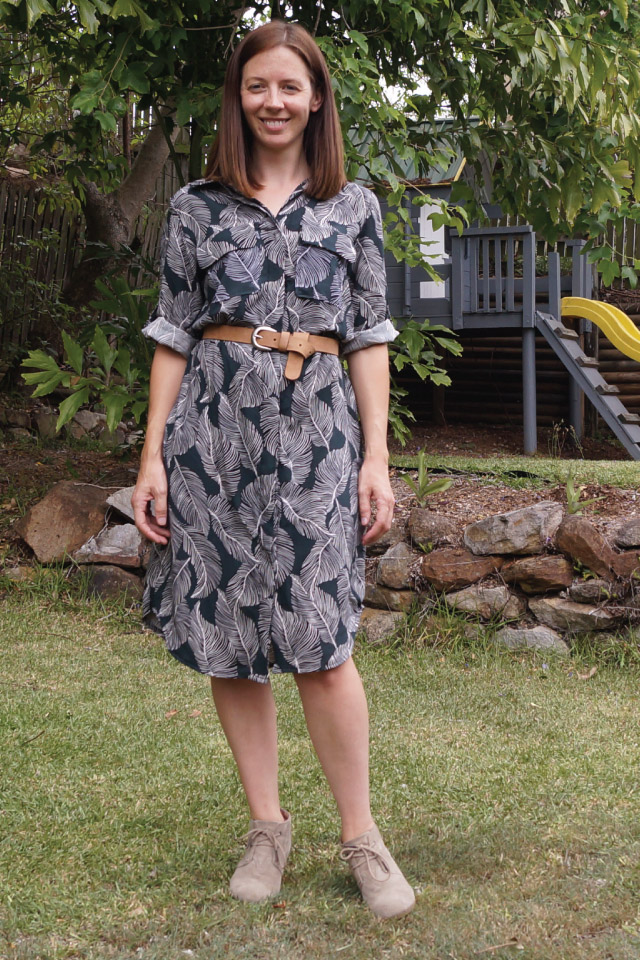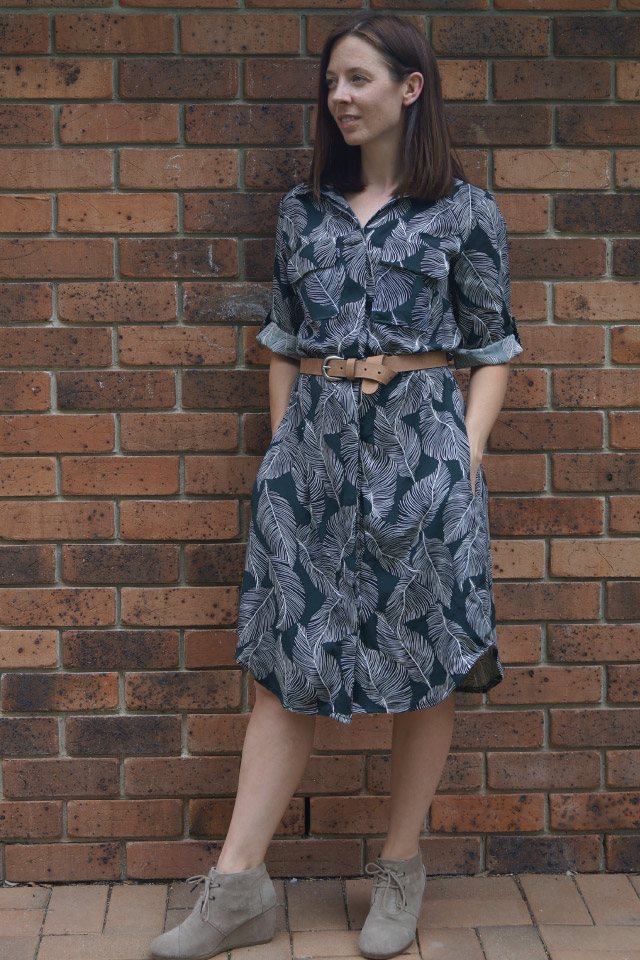 I'm Ali from Brisbane.
2. I chose the calf length Sedona with the fold back sleeves – I wanted something that transitioned from work to everyday wear.
3. This is a rayon challis from good old Spotlight!
4. Tips? Well these were my first buttonholes and buttons (I have an insane fear of loose buttons – ssh don't tell anyone); so my tip is to take it slow and BREATHE!!!!
5. Favourite thing? Challenging myself and learning a new skill AND it resulting in an awesome dress to wear!
6. My family can not believe that I sewed this dress! Especially with the buttons!!!!
7. I'm styling my Sedona with cute little booties
8. Instagram.com/the_gadsby_grainline
---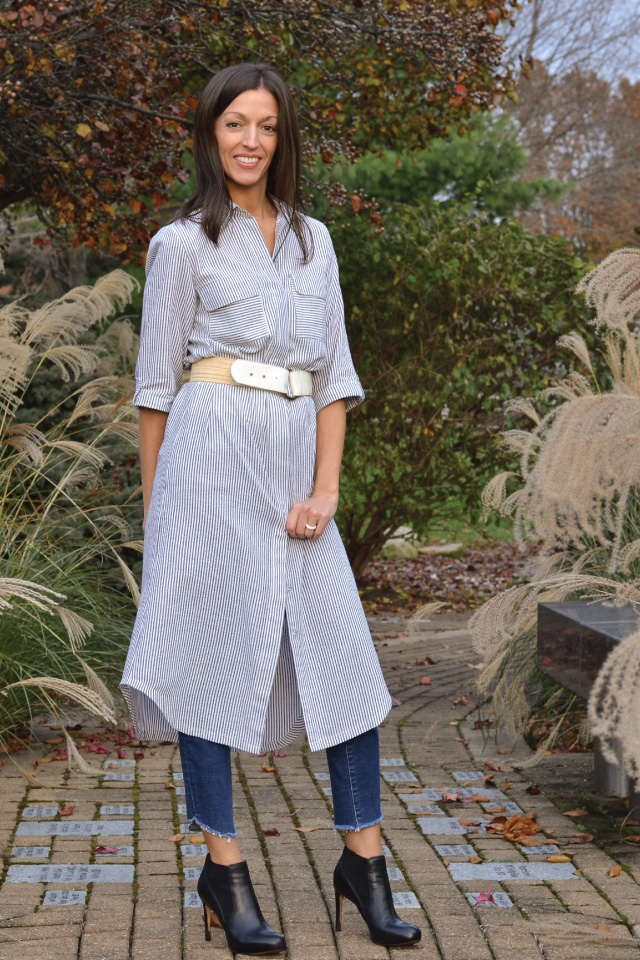 Aileen M, Pittsburgh, Pennsylvania
I chose the calf length because I don't have a single calf length shirtdress in my wardrobe. I also like that it can be worn alone for a more classic look or with jeans to give it an edgy look.
I chose a striped shirting cotton purchased at Joann Fabrics.
I printed out page 14 "Pattern Anatomy- Folding the Wraps" and cut out the sample to practice before I started sewing. This was a HUGE help as this was my 1st concealed button wrap!
Learning something new and not having to seam rip once (thanks to Ann's amazingly detailed instructions)!
6. Have you worn your Sedona yet and what compliments did you receive. I have! I had a friend ask to borrow it. 🙂
I'm really loving styling it with jeans, a belt and some cute ankle booties. Once the weather is warmer, I'll likely wear it on its own.
8. Social media  www.instagram.com/labeenababy
---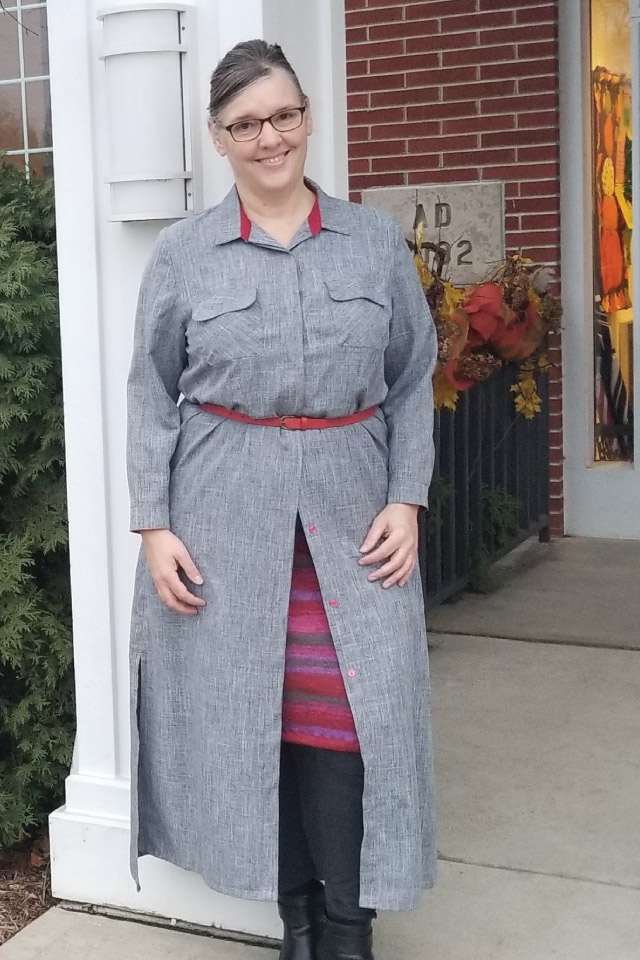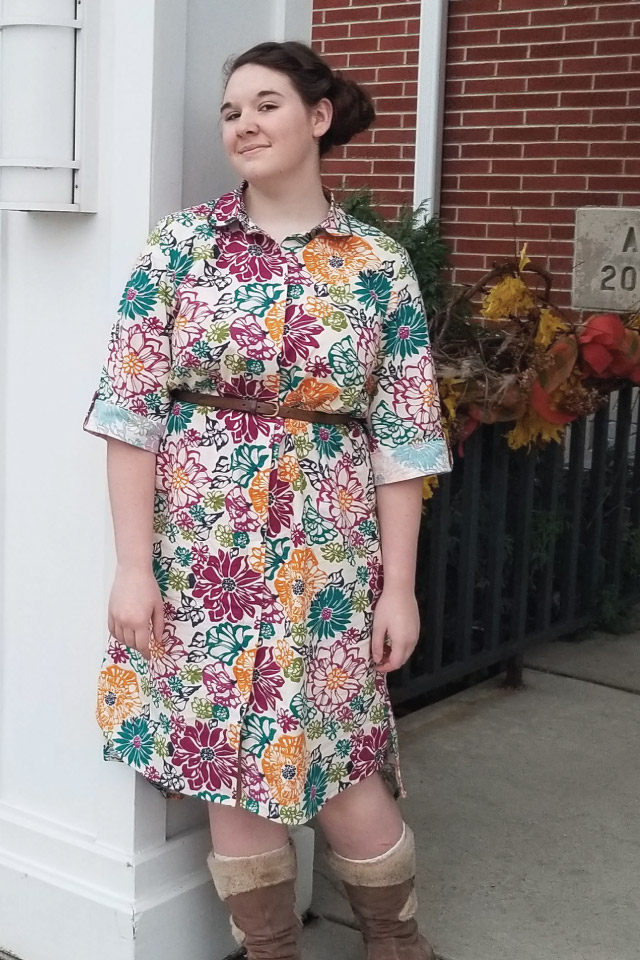 My name is Allison Falkey from Milwaukee, WI, USA. I made two Sedona dresses. One for my teen daughter, the other for myself. One is a maxi, the other is knee length. One has long sleeves, the other has fold over sleeves.
My daughter's dress is a cream cotton fabric with bright jewel tone flowers purchased from the clearance aisle of Joann Fabrics . It is the knee length dress with the curved hem. It is accented with wood-like buttons on the button tabs for the fold over sleeves. It is one of her favorites. Since it is winter here, she styles it with a brown belt, leggings and boots. But, I am guessing it will be a weekly favorite once it warm up and she can pair it with her favorites sandal Such a stylish, youthful look.
My dress is made from a gray melange poplin from Surge Fabrics (an online store), accented with red linen and topstitching. My dress is the maxi length. I accented the lining of the neck band with red linen, as well as the under side of the cuffs. Then I edge stitched everything with red thread. Took forever, but worth the effort, for sure. This dress is styled buttoned just below the waist, the left open showing off my red-toned knee length pencil skirt. I finish the look with a belt, and my favorite black heeled boots.
This dress is not complicated, but to get a fabulous result you do need to take your time on the details. Carefully follow the instructions for the front fold over placket and the inset sleeve plackets.
Every time I wear my dress strangers and friends, alike, want to know where I got it. I enjoy the look of awe when I tell them I made it.
Definitely a very on trend look.
---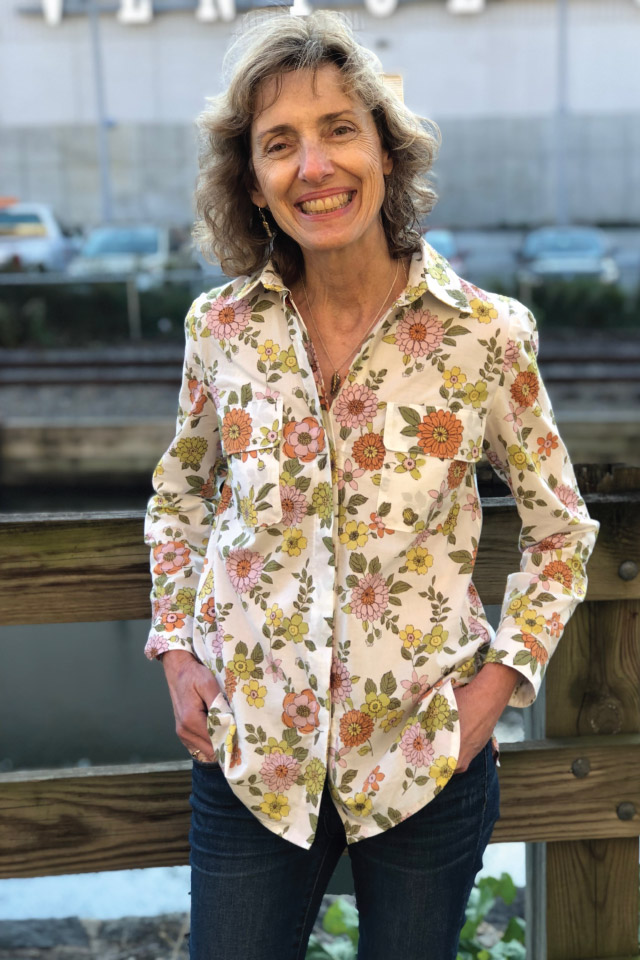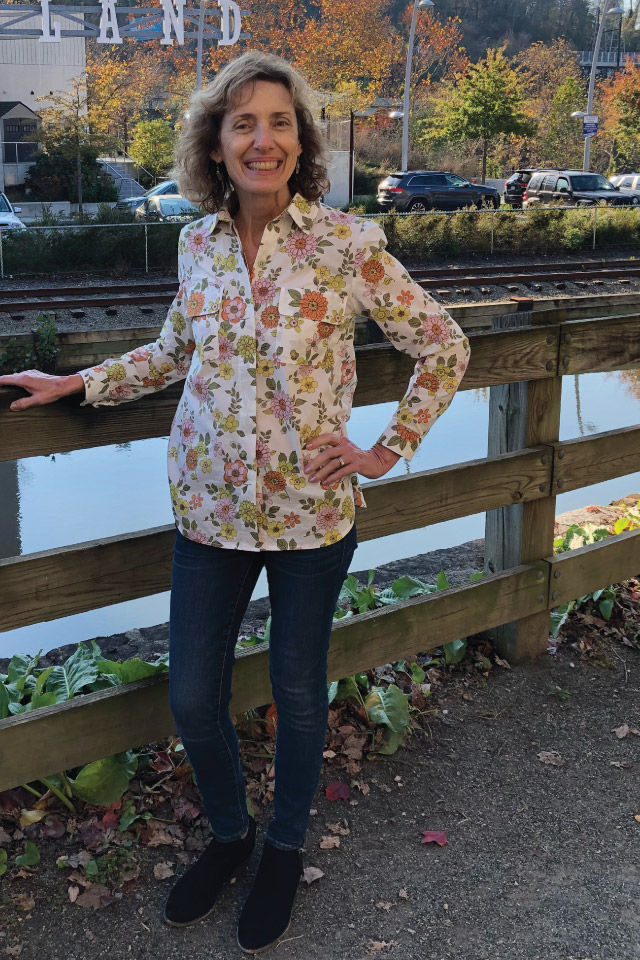 I am Andrea from Annapolis, Maryland, USA.
I made the shirt length, long sleeve Sedona with a centre back pleat. Fabric is cotton lawn purchased several years ago from Craftsy. I found the sewing instructions clear and easy to follow. Only advice is not to over think the instructions. When I wore my Sedona on a trip to visit my daughter, she thought it was really nice! I wore it with jeans and my Designer Stitch Chelsea Cardigan.
Instagram account is https://www.instagram.com/andreashpuntoff
---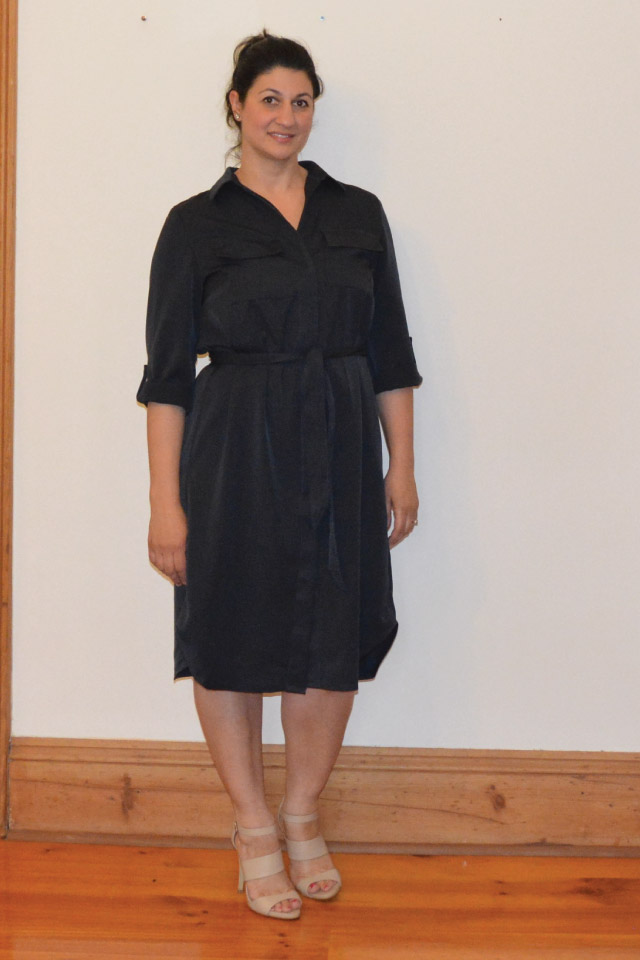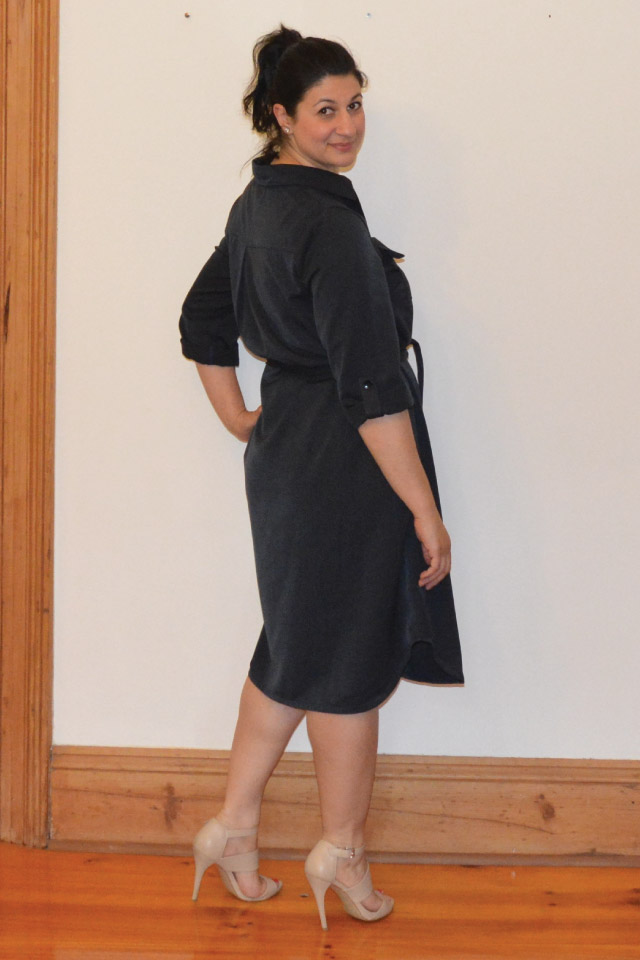 Angela from Australia
2. The knee length with rolled up sleeves is more my style and fits into my wardrobe as a dressy outfit with heels or sandals as a casual dress.
3. Spotlight – I thinks it's a suiting of some sort
4. See slow and mark well. Read instructions carefully at the start as the back varies depending on if you see the waist darts or not.
5. The fit at the end was spot on for me. Loose but still has shape.
6. I haven't worn it yet. The weather got really hot and then we went away on holidays.
7. I will mostly wear with sandals for daily wear.
8. Blog https://tinkerandstitcher.wordpress.com/
IG tinkerandstitcher (pretty weak at the moment but am getting it up and running)
---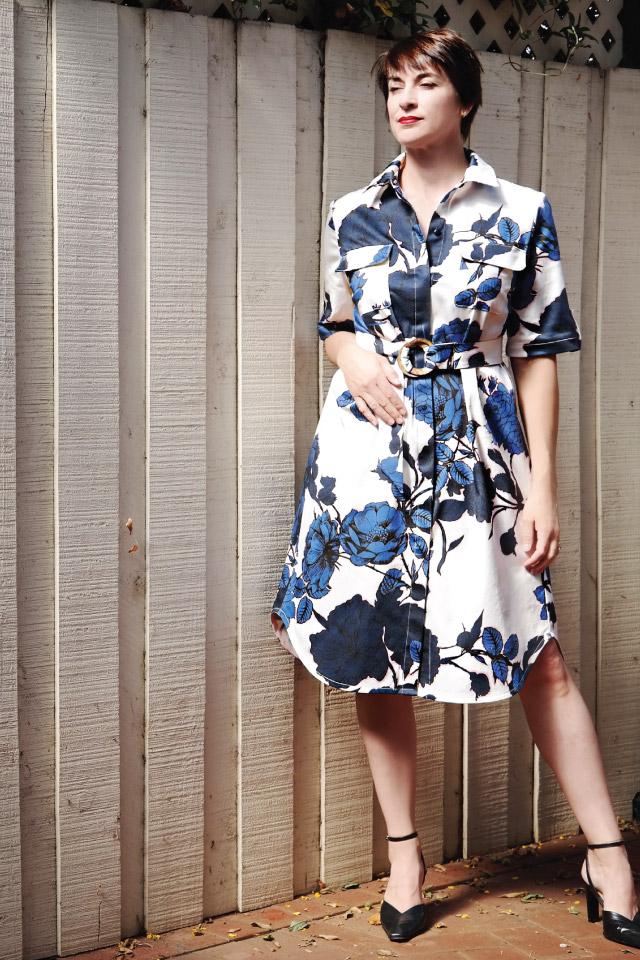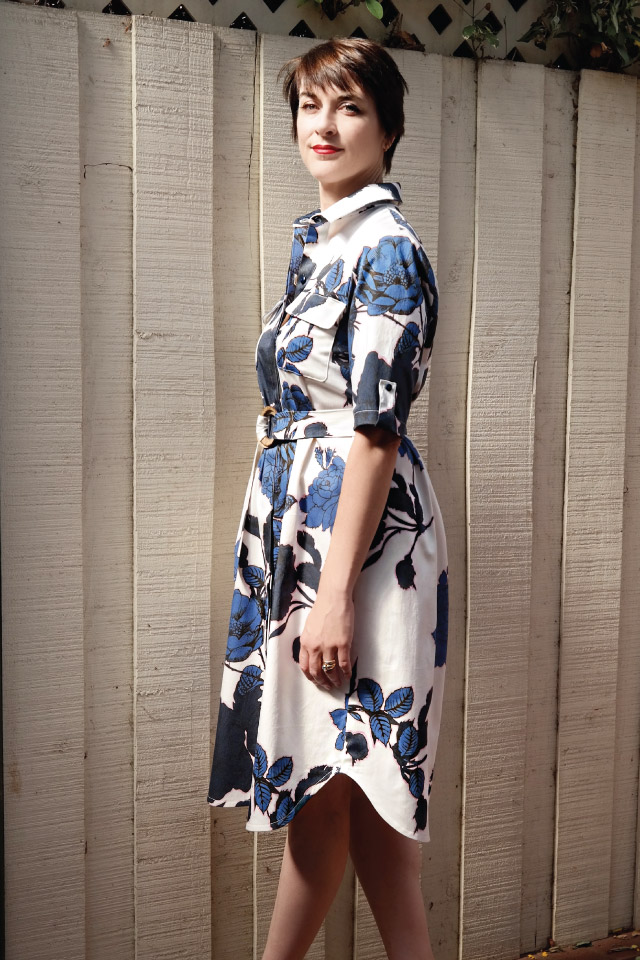 I'm Belinda from Adelaide and I've made the short sleeved dress length Sedona.
My fabric is a medium weight cotton sateen from Tessuti Fabrics which has been waiting in my stash for the perfect pattern. The Sedona is a great skill building pattern with constructing collars, collar stands, buttonholes etc. I had difficulty with my collar stand and removed the interfacing as it was becoming bulky but all other aspects sewed together easily.
I've worn my Sedona to job interviews, the supermarket and casual lunches; it's my favourite dress right now!
Sedona has 3 sleeve options and 5 length options which is GREAT value in my opinion!
---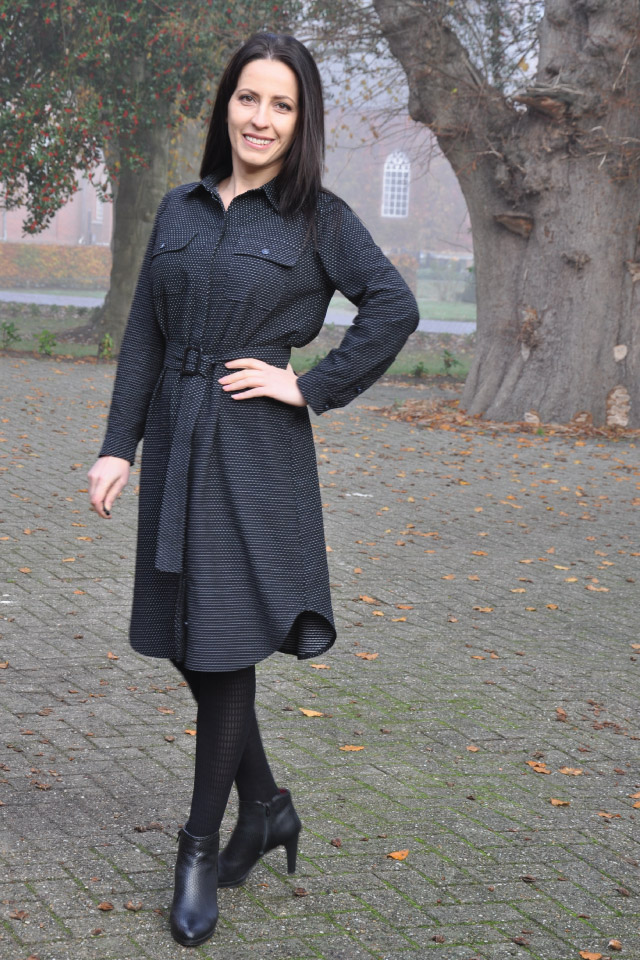 Hi, I am Camelia ( aka Calcedonia sewing ) from the Netherlands.
There are so many options in this pattern so I had to choose one to start and that was the knee length dress.
The fabric was a lucky find at a local market, 100% cotton with a woven polka dot in it. It has the perfect drape for this dress and because is cotton it was very easy to work with. I also made a shirt version in a polyester crepe and a tunic length in a poly/cotton blend so this pattern can go with a lot of fabrics.
When making the Sedona take time to interface the pieces as instructed, that will give you a sharp looking garment, also test the interfacing on a scrap of fabric to be sure that it will work with your fabric.
I love the concealed button placket, all those folds coming together like magic. If you are afraid of that, there is a small template in the instructions to practice those folds before you start doing it on your fabric.
I love this dress, is the best-fitted shirt dress I own, love the cups sizes in this pattern, that made it for a very easy to fit garment. I love to wear my dress with tights and booties and the shirt and tunic over jeans. This pattern is definitely a winner for me!
I blogged about this and all my other Designer Stitch patterns at https://calcedoniasewing.blogspot.com/
or you can see my video reviews on my YouTube channel https://bit.ly/2RmHUM4
and the sneak peeks of my sewing are on Instagram https://www.instagram.com/calcedoniasewing/
---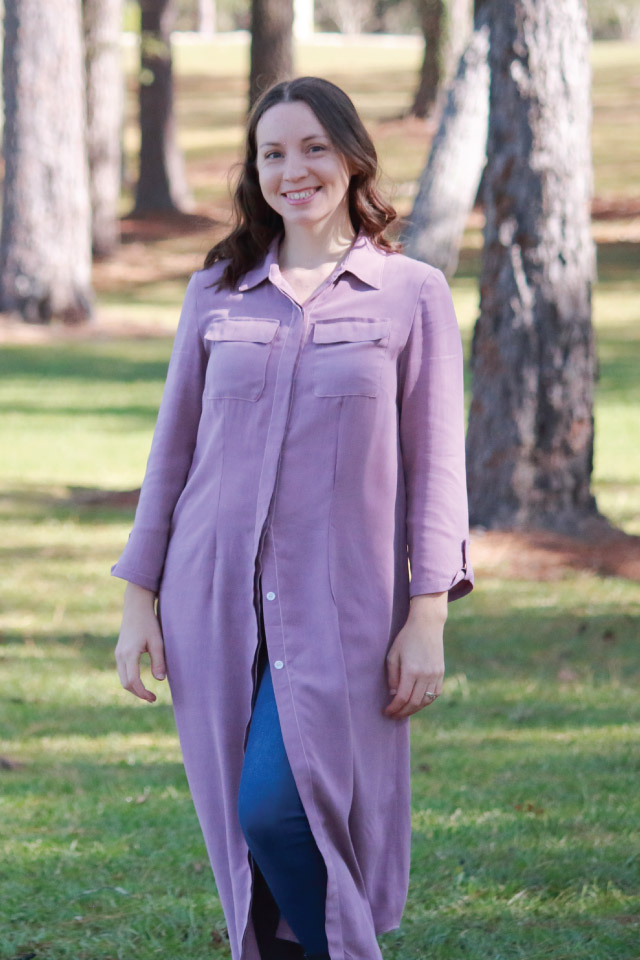 Hi, I'm Carmen Statham and I'm from Adel, Georgia. I choose the calf length dress because I knew the mauve challis I bought from stylishfabric.com would look fantastic. Folding the concealed button wrap was a bit of headache at first so I suggest using a piece of paper to practice the folds. And remember to press everything as you go along. One of my favorite things about making the Sedonaa was seeing how every detail made the dress special. I styled my Sedona dress over a pair of skinny jeans and in a pair of cropped boots. It's definitely a trend I wasn't sure of but it's grown on me especially for added coverage in winter. My blog is happilysewnafter.wordpess.com
---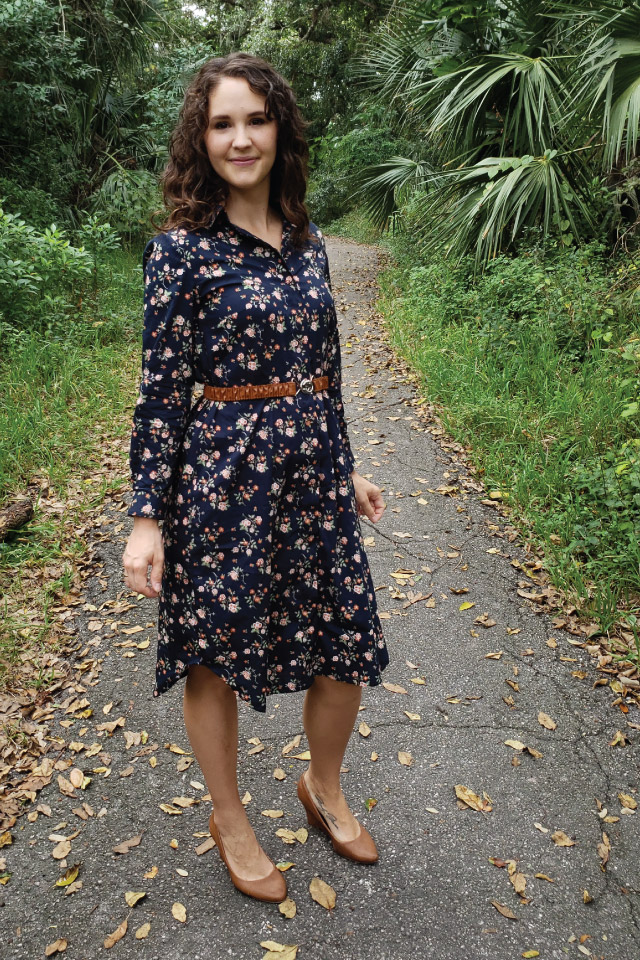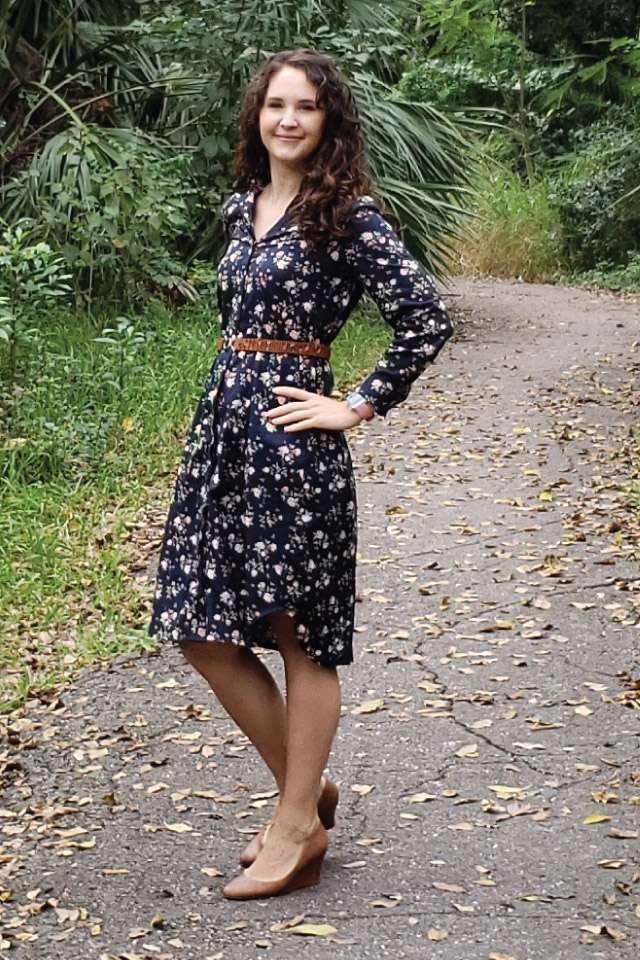 My name is December, and I live in South Florida, USA. I chose the mid-calf version with long, cuffed sleeves, because I wanted a very classic look that I can wear out and about or to work. My Sedona is made from a lightweight shirting purchased from Joann Fabrics.
The most difficult part of constructing the Sedona for me was the concealed button wrap, since I have not done one of those before. I recommend following the instructions carefully, and practicing the wrap on the paper pattern before sewing the button wrap. I also made sure to carefully press all of the folds for the button wrap to visualize the final product before sewing.
I used several techniques while making this dress that I had not used before, so my favorite thing about this pattern is really all of the different techniques you can learn while constructing it. The finished product is so lovely and so worth the time and effort it takes to learn these techniques (Cuff plackets, collars, concealed button wrap, etc.).
I wear my Sedona to work all the time, and my coworkers could not believe I made it. People tell me they wish they could find such a well-fitting shirt dress in the stores.
I typically wear my Sedona with a belt around the waist and wedges or flats that match the belt, but it also looks great unbelted.
Instagram: https://www.instagram.com/decembwar/
---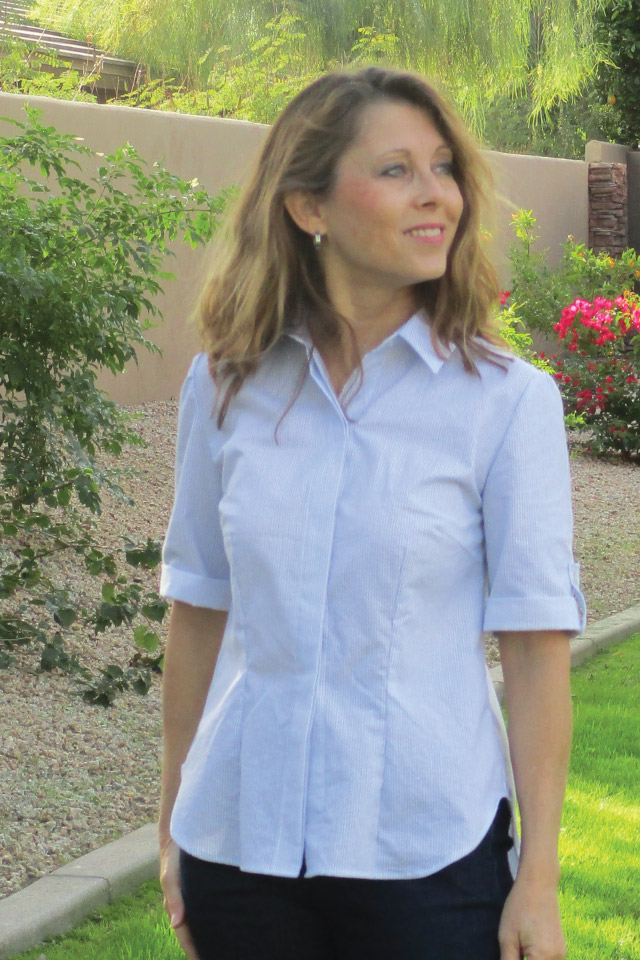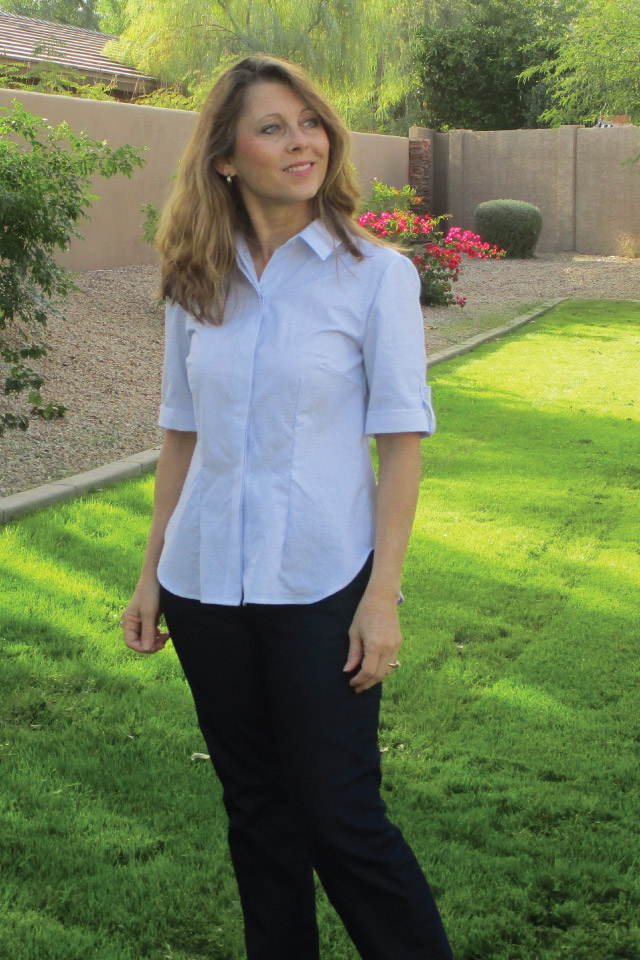 I'm Diane and live in Phoenix Arizona. I chose the casual shirt version with short sleeves because I don't have a job to dress up and go to; so I rarely wear them. The cotton shirting I used has been in my stash for a long time so I don't know where it's from. I love how soft it is though. The concealed button wrap was a new technique for me but wasn't too hard to grasp. I just had to really pay attention to the directions.
I love that I have a professional looking shirt when it's done (as with all of Ann's patterns). Immediately after taking the pictures of my Sedona, it got hung in my closet to wait for spring. It's been way too cold to think about wearing it. I'm not very good at styling so have no tips. For my pics, I wore Sedona with Alyse Pants. They go with everything! http://sewingwithd.wordpess.com
https://www.instagram.com/twochicklets/
http://twochicklets.etsy.com
---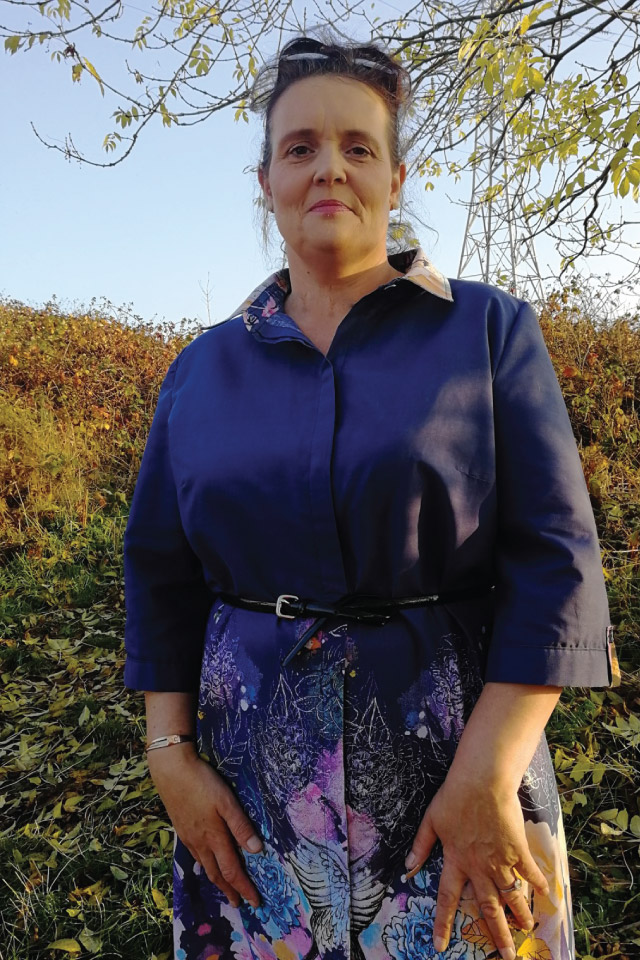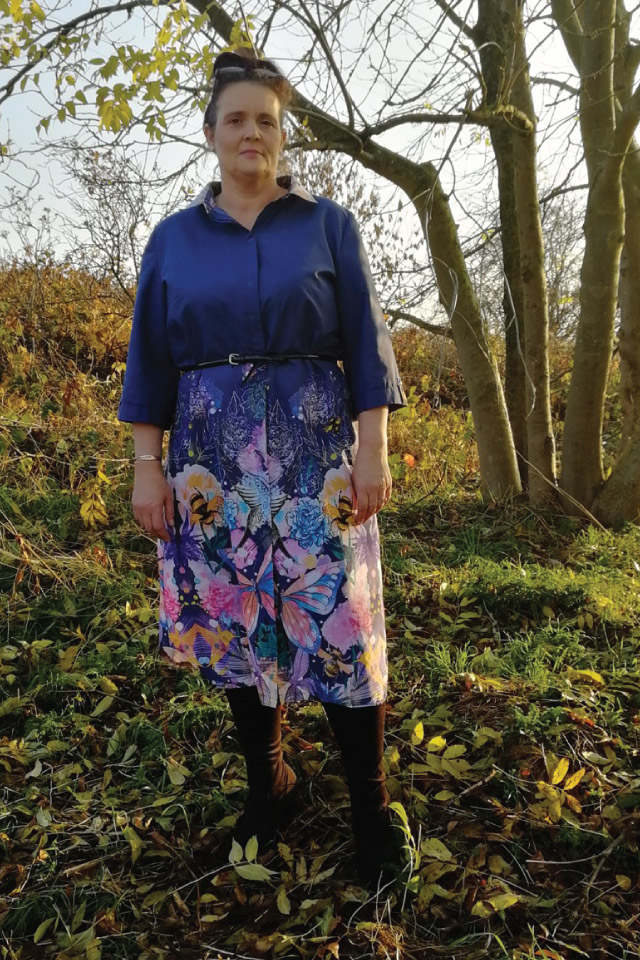 Hi! I'm Donna and I live in England, UK.
I chose to make the calf length version of the Sedona, as I love dresses with knee boots!
My fabric is a cotton lawn, with an amazing large border design that was perfect for showcasing with this pattern – some strategic cutting and placement of designs gave me a dress that is simply amazing!!
The hidden button placket is a really nice finishing touch, but could easily have caused me some head scratching!!… but if you follow the advice in the pattern and test it out on paper first, it just makes so much more sense!
I particularly loved watching my creation take shape, especially when the collar was added. A great collar finishes off a shirt dress perfectly.
I've worn my Sedona on quite a few occasions now, and it never fails to start a conversation – people love everything about it, especially the length!
I like to wear my Sedona with heeled boots and tights, especially as it's cold here now. I also wear it half open over a pair of jeans when I want a more casual look. It truly is a versatile piece of clothing, and one of my favourites.
---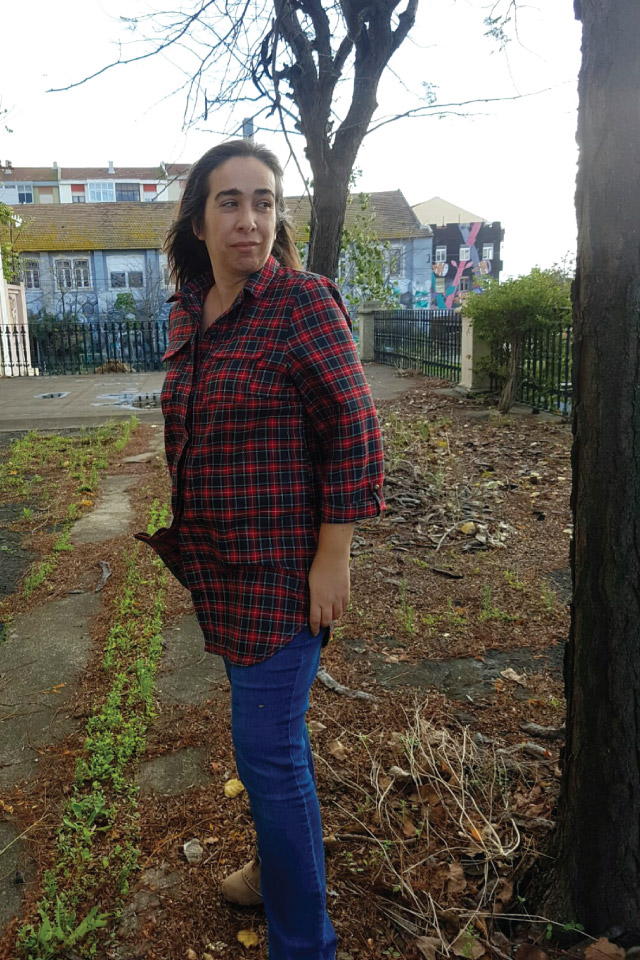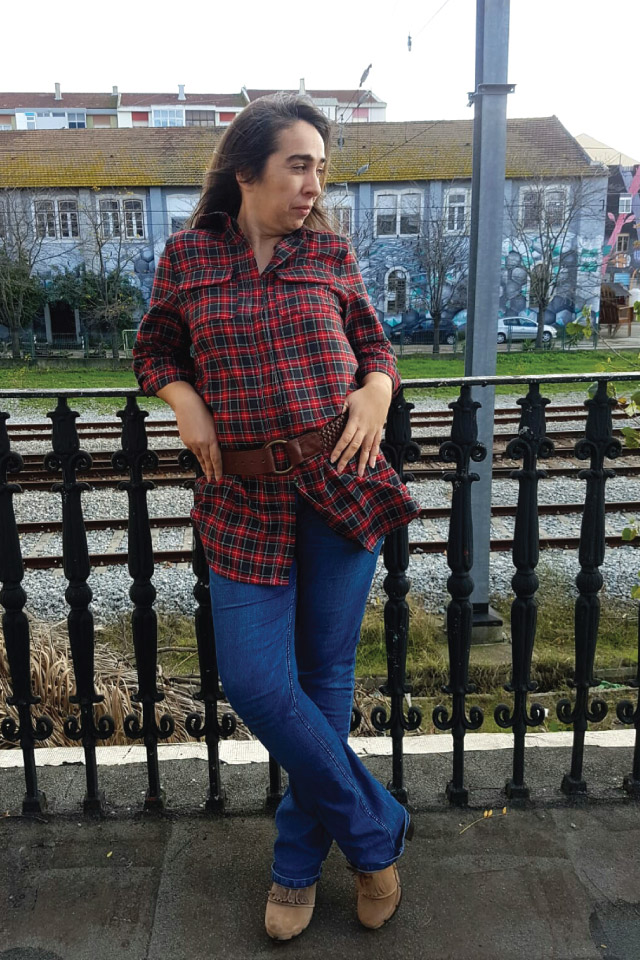 Hi! My name is Dora Serrano and I'm from Portugal.
I chose to sew Sedona – tunic version with folded sleeves, mainly because I was concerned that the fabric I had, would not be enough to make a longer version. And also because I do wear tunics a lot.
It's winter here, so I chose a warm plaid fabric with an adequate drape for this pattern. I purchased it in a local store some months ago when Ann showed us her inspiration in the testers group… after that, I pretty much saved it specifically for this!
This was something that I much enjoyed sewing. It required patience, time, persistence… and care.
One of the steps that took me longer to accomplish was the one that you have to fold your fabric to make the hidden closure for the buttons. But don't worry, practice with paper first and once you got it, you'll see it's only logic to make it like Ann explains.
Don't rush the Sedona sewing. I compare it a lot to slow cooking: It's going to take some time, but it will be sooo worth it!
This was actually what I enjoyed the most about Sedona: its "slow cooking" (I mean sewing…). I missed sewing a pattern like this.
I have worn my Sedona several times already and I get several compliments every time! On the first time, a friend of mine even asked me to make her one.
I usually wear it with my jeans and a large brown belt along with my vintage shoes, but you can wear this version with leggings and boots with or without belt.
If you'd like to know more about my sewing adventures, just follow me on:
www.instagram.com/colourbymim
www.facebook.com/colourbymim
or www.sew4five.wordpress.com
---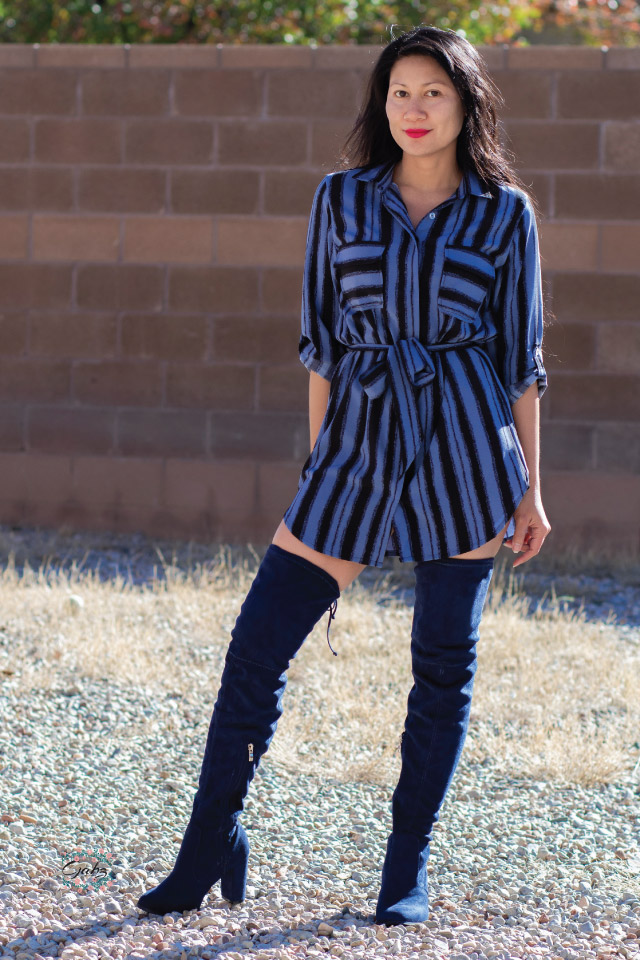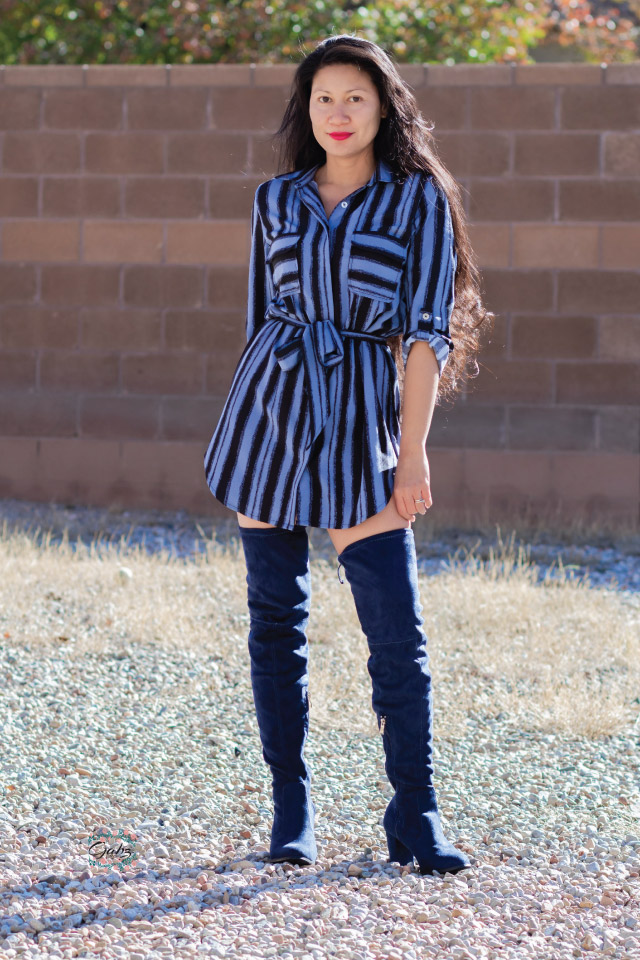 I'm Gabz Jefferson from New Mexico, USA. I chose tunic Sedona using striped polyester woven fabric from fabricmart fabrics and I'm in love with it.
Regarding the instructions, ahh, no worries! The steps are detail and pretty sure, you will easily follow and get them.
I wore my Sedona at friend's birthday wearing my pair of boots, of course. Everybody's saying that my Sedona looks really great. If you want to see my other works, please follow me @ www.instagram.com/itsewcolorful ,
https://itsewcolorful.wordpress.com
and www.facebook.com/itsewcolorful
---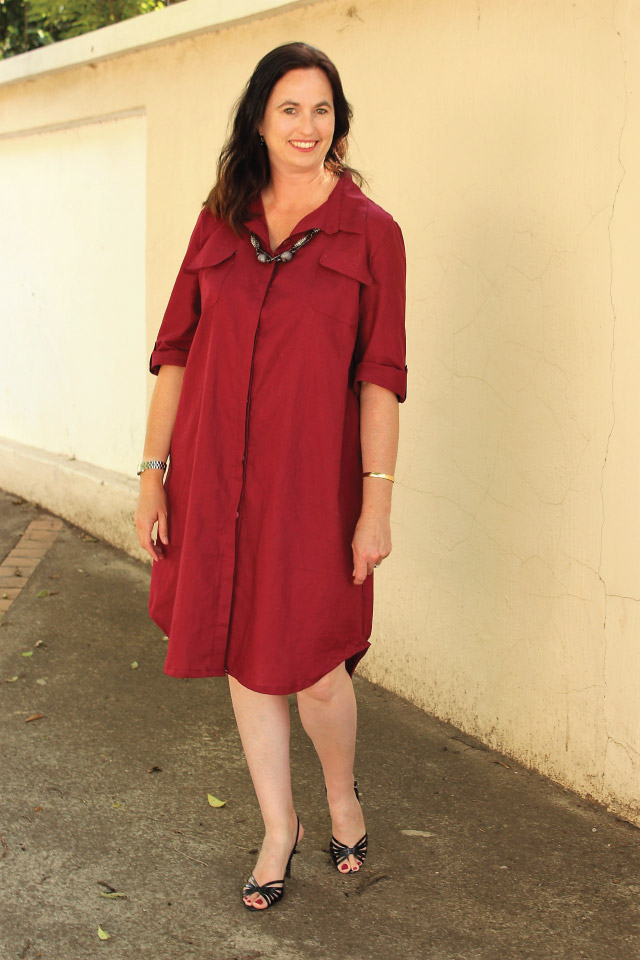 My name is Genevieve and I live in Johannesburg, South Africa. I chose to make the dress version of Sedona with a 3/4 sleeve. I have seen shirt dresses all over and really felt that I needed this in my closet. I used a wine red linen that I bought at a local fabric store. I totally love the placket on this dress but the key is to go slowly and make sure to iron as you go along. I find that following each step makes for a fun sew.
I really loved putting on my collar because it finished off the dress beautifully and I felt so accomplished afterwards. I have worn mine to church and received so many compliments. As it's summer here, I'm just wearing mine with sandals, but in winter I'll be adding tights, boots and a long sleeve top under it. I can't wait to make a maxi version for winter.
Https://www.instagram.com/gegiegrossmann
---
---
And tomorrow keep your eyes out for the next blog post –
Sedona Shirt Dress Tester Roundup Part 2.
Cheerio
Ann at Designer Stitch