And a g'day here from Australia to you all my lovely sew'ist friends. I hope that you and your family are all well and happy xx
Today is the day – where I get the chance to again SHOWCASE my wonderful wonderful roadies and their stunning Shardee makes in Part 1 of our Shardee Wrap Top Dress Pattern Tester Roundup. YAHOO !!!
The Shardee Top – or Dress – reflects Designer Stitch's fabulous FIT ! and will be your go-to for many occasions. Cut in a stretch jersey that swishes and swirls with every step, this style exudes effortless appeal with its flowy wrap silhouette. Slip on your Shardee and wrap the Top or Dress around your body to create a streamlined V-neck hourglass shape.
The Shardee's V-neckline is designed to suit all bust sizes with its picture collar for added detail.
Make your Shardee in its peplum top length – or its flared A-line above knee, knee or tea skirt length for a stunning silhouette to skim over and flatter the hips.
The Shardee is the PERFECT top or dress for your transeasonal wardrobe. I can guarantee yours will be in heavy rotation as the Shardee is so easy to wear yet with loads of fashion STYLE !
So lets start the Shardee Wrap Top and Dress Tester Roundup Part 1 – and I can guarantee you will be BEDAZZLED by all of my amazing testers. Love you all xx
Our roadies would like to share the following with you all :
If you could share with the readers ?
1. Your name and where you live ?
2. Your choice of option for the
Shardee
and why ?
3. What fabric did you choose and where did you purchase ?
4. What sewing tips can you share when sewing the
Shardee
?
5. What was your favourite thing about making the
Shardee
?
6. Have you worn your
Shardee
yet and what compliments did you receive.
7. And have you made any more versions of the
Shardee
– or have any plans too ?
(AU/UK) 6 – 30
(US) 2 – 26
(EU) 34 – 58
Cup Sizes – B, C, D, DD
On Sale for a limited time only – $9.50(US)
Very Confident Advanced Beginner and Above Sewing level
Shardee Wrap Top and Dress
---
My name is
Elise
and I live in Queensland, Australia. I made the short sleeve version of the
Shardee
which I love.
Though the next one I have planned will be long sleeve so I can wear through winter.
I made it using Rayon Spandex from Spotlight, I really like the way that Rayon Spandex drapes in this dress.
My favourite features are the low V neck line and full swirly skirt.
I wore this dress out for dinner for my 10 year wedding anniversary and I felt amazing.
---
Hi, I'm
Carmen
from Georgia. I chose to sew a peplum
Shardee
without the collar and with 3/4″ sleeves because I'm always in need of a pretty shirt to wear with jeans.
I made
Shardee
from a floral double brushed poly knit I purchased at Girl Charlie. It is so soft and easy to sew.
I have worn my
Shardee
on a trip with my children to an ice cream shop. I didn't receive any compliments but I still felt pretty wearing it.
---
I will start by saying I NEVER wear wrap dresses! There are two reasons for this. First, was wardrobe malfunction in high school that involved a wrap dress, a school bus, wind and a common full of fellow high school students. Second, they never fit my bust right.
BUT…SHARDEE! (It ought to be a song)I made all three; peplum, midi and tea length. My final is the tea length made from a rayon spandex obtained at Joann Fabrics. The day we took pictures had brutal wind,
Shardee
flipped and flirted, but stayed closed at all times. And she fits the bust with perfection.
Using rayon spandex, I found two things. First, I added clear unstretched elastic to the waist to support the weight of the skirt. Also, let her hang for a day or two before hemming. The tea length skirt did stretch out some which required leveling.
As for styling I wore mine with red heels for the finals photos but have also worn it with sandals for the beach. My midi length is great with fleece leggings and boots.
Shardee
can be fun for a day with friends, professional enough for the office, or even dressy for an evening out.
---
Hello all, This is
Brenda
from The Netherlands.
I made 2
Shardee
dresses, my first one is without the collar and cuffs and the second is with. I think it is a fun detail in the dress and it is easier to make than you think.
I used cotton lycra on both of my dresses, I got those at https://www.megastoffen.nl/.
The
Shardee
dress is an easy dress to sew, BUT! It is the first wrap dress that fits me well. I got no gaping around my bust but there is also enough fabric to cover everything. If you just follow the instructions your dress is going to be lovely.
I have worn mine multiple times already, just around the house, cause yeah, still got nowhere to go with covid.
Next I'm planning a top version to compliment my jeans.
---
Hi! I'm
Barbara
and I live in Northeastern Mississippi, USA. For my
Shardee
, I chose the peplum length with the collar and 3/4 length sleeves with cuffs. I used Lady McElroy Canet's soft jersey that was graciously gifted by Minervadotcom. You can read about my
Shardee
here: https://www.minerva.com/posts/1066239
---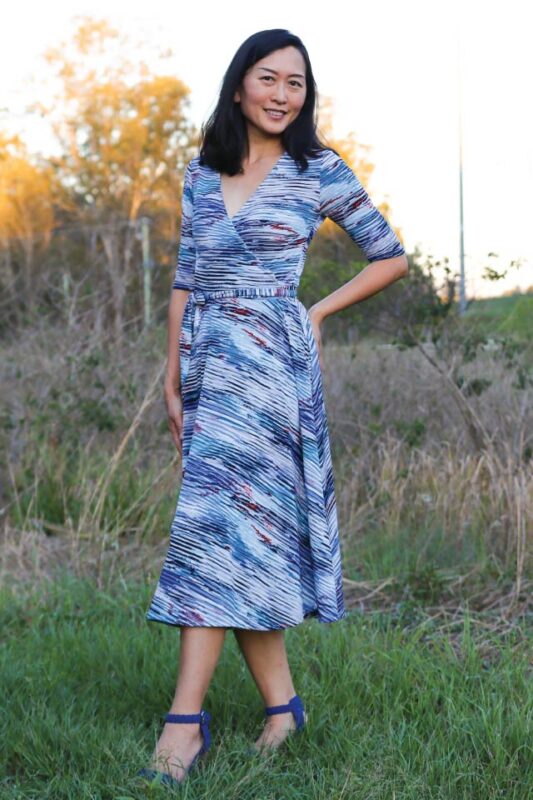 1.
Pimrak P
. I live in Brisbane, Australia
2. I chose tea-length dress because I feel it is more age appropriate for me and it makes me feel more sophisticated.
3. It is a polyester jersey. I bought it from East Coast fabric shop at
https://eastcoastfabrics.com.au/
4. Use jersey needle and a walking foot. Also, lower the presser foot tension a little so it does not drag the fabric.
5. Can I have more than one? V-neck, true wrap dress, and of course the super twirly factor!
6. No, not yet. We are in summer and I am waiting for the weather to be a bit cooler so I can show off my
Shardee
.
Though, I have shown my girlfriend the dress and she liked it.
7. No, not yet as I have been busy with all the beautiful new patterns that Ann keeps on creating (endlessly!)
8.
https://www.facebook.com/pimrak/
I used an viscose jersey. I bougth it by the lappenkraam a shop and webshop from Holland.
I love the collar and the sleeves option so much!
Yes i wear it a much and al the people loves it. And the colors of my fabric.
How awesome is that.
I have a weakness off vintage inspired dresses, most of all the tea length.
So it was easy to choose 😉 I made tne tea length, with collar and cuffs.
The fabric I used is a mix of cotton jersey and visose Jersey. It's steady enough to carry the weight of the tea length and flowy to make its falls so beautifully.
In the winter a short little vest will do the trick to stay a little bit warmer, and I don't break the look of the dress.
I made the above knee version with Elbow length sleeves.
2. Short sleeve, knee length option in size 2 B
3. Rayon spandex from spotlight
4. Go slow when seeing the neck binding.
5. It has pockets!!!
6. Yes I have worn it to work and my colleagues couldn't believe I made it.
7. Yes I'm planning to make a couple more in some other rayon spandex prints I found at spotlight