Greetings my fabulous sewing friends and I hope that this post finds you well and happy today.
As part of the new sewing pattern release of the gorgeous new Shardee Wrap Top or Dress I thought that it was timely that I write about how to adjust your flare on a pattern.
Flare can be found on many parts of a garment. Skirts, Pants, Sleeves, Dresses and even Collars and Cuffs. It can be found on any edge of a pattern piece if it has been adjusted for flare.
Flare can just be an increase of the pattern piece edge – which is called One Sided Fullness – or you can flare the pattern piece enough so not only do you get flare – or increased volume – on one edge you can also pleat or gather the other edge. This is called Equal or Unequal fullness.
When my roadies were taking part in the road test for the Shardee our Kim VDH had a gorgeous piece of fabric but was limited by the length of it.
Kim (who is featured in the above pic) asked if there was a way to adjust the skirt section of the Shardee to accommodate the length that she had.
And of course I said " Easy Peasy". And the following is the easy alteration.
Lets Talk About Flare First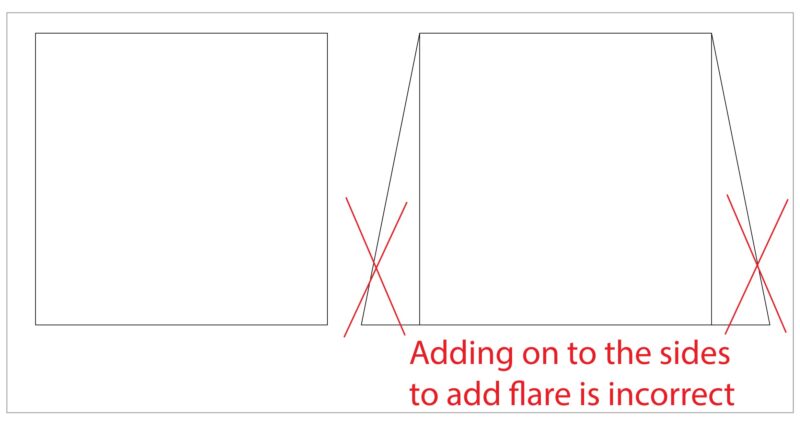 The above image is NOT what you do. I have drawn a rudimentary square and then just added to the side seams.
This will not give you flare that carries itself through the entire garment. Adding to the side seam IS part of the patternmaking process but it is called "spring" and it usually a maximum of 2.5 to 4 cms dependent on the length of the garment.
A spring is used when developing pleats in a skirt or it is added to the side seams of a coat – for example – to stop the garment from springing open below its buttons.
A spring essentially keeps the integrity of the design of the garment in place. But I digress !!
I can always tells when a garment has just had its added flare on the side seam only.
Firstly it creates an abnormal a-frame and the side additions just stick out.
There is no fullness throughout the rest of the garment as these side additions cannot move themselves over into the width of the garment.
How Flare is Added
The above image is a basic guide on what the pattern piece will look like when you are adding flare.
This is One-Sided Fullness.
The pattern piece is divided – split through each section. and then the desired flare increase is added into the lower – or hem – area.
The hemline is flared but the waistline area is kept together as we don't want to increase its length.
You would also open up the waistline if you were adding gathers or pleats but my post today is about one sided fullness.
But I want you to note the waistline itself. The waistline edge is curving around to imitate the hem curve. This is essential when adding flare to a pattern piece edge.
So lets talk about our Kim and her wish to reduce the Shardee skirt flare as she was limited by the fabric length that she had on hand.
Adjusting the Shardee Skirt Pattern Piece to Reduce the Flare
The above left drawing is the Shardee Skirt pattern piece – Tea Length.
When developing the shape I wanted the ultimate twirl factor so developed it on a 3/4 circle basis – plus I had to mirror the CF to get a good amount of wrap so there would be no wardrobe malfunctions when wearing it.
Hence the degree of curve and added fullness added to the hemline edge.
The above right image is what I advised our Kim to do. Draw dividing lines on her pattern piece so she ended up with 7 portions.
The easiest way to do this is measure the top and bottom edge – divide each by 7 – and plot those increments on each edge. Then draw dividing lines.
And make sure they are NUMBERED otherwise you will get disturbed by family members and then they will subsequently get mixed up …lol
After they are numbered you will cut along each of these lines to split your pattern into 7 portions.
After the pattern piece has been split into 7 portions we are going to overlap the hemline sections by 7cms while still keeping the waistline edges together – tips touching but not overlapping.
We don't want to increase/decrease the waistline edge but we DO WANT to decrease the hemline.
I suggested to Kim that she overlap her pieces 7cms at each cut line so that is a total of 7cms overlap.
This image above shows the original tea length skirt pattern piece superimposed over the reduced flare pattern piece.
You can see that the length of the waistline doesn't change – only the volume of flare at hemline.
And as I said in my opening it is NOT JUST ABOUT cutting a bit off the SIDESEAM.
I saw this recommendation in a blog post once and nearly FELL OFF my chair.
And now I would love to do a SHOUTOUT to our Kim VDH.
Here she is in her gorgeous make of the Shardee Wrap Top or Dress – full tea length skirt pattern adjusted as above steps- and then cut at the knee length version.
She still has a small amount of twirl which gives the illusion of a lovely flared dress. Well done my lovely.xx
And the finer details of the Shardee . It reflects Designer Stitch's fabulous FIT ! and will be your go-to for many occasions. Cut in a stretch jersey that swishes and swirls with every step, this style exudes effortless appeal with its flowy wrap silhouette. Slip on your Shardee and wrap the Top or Dress around your body to create a streamlined V-neck hourglass shape.
The Shardee's V-neckline is designed to suit all bust sizes with its picture collar for added detail.
Make your Shardee in its peplum top length – or its flared A-line above knee, knee or tea skirt length for a stunning silhouette to skim over and flatter the hips.
The Shardee is the PERFECT top or dress for your transeasonal wardrobe. I can guarantee yours will be in heavy rotation as the Shardee is so easy to wear yet with loads of fashion STYLE !

(AU/UK) 6 – 30
(US) 2 – 26
(EU) 34 – 58
Cup Sizes – B, C, D, DD
On Sale for a limited time only – $9.50(US)
Very Confident Advanced Beginner and Above Sewing level
Shardee Wrap Top and Dress
Love to you all my sewing friends.
Ann at Designer Stitch.