Hello my lovely sew'ists. I hope that you and your extended family are well, happy and safe xx
DRUM ROLL please – it is time for our new Stacey Jersery Dress Pattern Tester Roundup – Part 1.
I have been so fascinated by twists and ties of late (maybe you could all say BERSERK …lol…) as I love diving into the pattern engineering side of things – I just love making my brain work xx – so hence the Stacey and the twist and tie she has to offer.
It is such a great easy shape to wear – so much so that I wanted to include this gorgeous design into our catalogue.
The Stacey Dress is one of fashion's most prevalent styles and adds a FABULOUS element of interest to your dressing. With all of the Stacey options it will offer a wonderfully fresh take to your wardrobe rotation.
So lets start the Stacey Pattern Tester Roundup Part 1 – and a round of GASPS, OH WOWS and general LOVE EYES to all of my amazing testers. Love you all xx
Our roadies would like to share the following with you all :
1. Your name and where you live ?
2. The Stacey has loads of style choices – what did you choose and why ?
3. What fabric did you choose and where did you purchase ?
4. What sewing tips can you share when sewing the Stacey ?
5. What was your favourite thing about making the Stacey?
6. Have you worn your Stacey yet and what compliments did you receive.
7. How are you styling your Stacey ?
And the finer details;
(AU/UK) 6 – 30
(US) 2 – 26
(EU) 34 – 58
Cup Sizes – B, C, D, DD
On Sale for a limited time only – $8.95(US)
Confident Advanced Beginner and Above Sewing level
https://designerstitch.com/shop/stacey-dress
---
Hi, I'm Alaura and living in Italy.
2. I chose the long sleeve, v-neck, top length version. I will get much more wear out of a top than a dress. I love the long sleeves for this time of year as well!
3. In the white floral version, I used liverpool. The plaid version is made of a lightweight hacci knit.
4. Measure yourself well and read the tutorial twice. Make sure to chose your sizing correctly since there are built in cup sizing into the pattern–just so you don't make the same mistake I did.
5. My favorite pattern of making the Stacey was taking the time to do the darts and the ties. I couldn't wait to try them on and wear them out.
6. I've worm them out a couple times and heard, "It looks so good!", "Love that shirt", and of course the inevitable, "You made that?".
7. With the top length ones, I'm styling with skinny jeans and boots. Simple but the top is a showstopper all on its own!
8. www.instagram/alaura_made
---
Hi, I am Annet Lugtenburg and I am from the Netherlands. I chose the leopard style. I love this so much. I used a knitted fabric that I bought at www.driessenstoffen.nl Please measure your measurements carefully before making the Stacey. Furthermore, it is a very easy pattern that can be put together quickly. I like the ties that you tie nicely from the Stacey
I have worn the Stacey many times. With the turtleneck it is so nice and warm. And already received many compliments. With questions if I wanted to make them for them too. I wear the Stacey with black tights and short black high-heeled boots.
if you like it you can follow me on instagram. www.instagram.com/josewbo_creaties_
---
Hi im Ashley Riley from London. I love the Stacey pattern so much that it comes with different options and i had to make all three. But i have to say the turtleneck is my fav. The fabrics i went for was a ponti for my turtleneck great stretch, scuba for the v neck and scuba crepe for my round neck. I found that all three of theses fabrics worked really well for this pattern. I got my fabric from a facebook group called Coalvillefabrics. My only tips for this pattern is make sure you go by your measurements on this pattern. You also may need to extend your side darts if you get any pinching around the boobs. I also make a quick fit test before using my best fabric. My best part about this pattern it's a really quick sew, and the front ties really cool at the front. I've not been out much right now to wear all theses great dresses but when getting my photos done i had a few nice comments which makes you feel great knowing you have made it yourself. I've styled my Staceys with knee high boots and tights to keep warn and cosy, as well as a good pair of heels for a night out. Hope you all with love your Stacey as much as i do! https://www.instagram.com/madebyashleyriley
---
Hi everybody, I'm Brenda from The Netherlands and I made 3 Stacey's already. I made one dress and 2 tunics and used all 3 necklines. I love them all equally, it is like being wrapped in love.
I used French Terry on all 3 and bought my fabric for these at Droomstoffen (purple print) and Zus & Gus (solid fabrics). Both shops are local Dutch shops, but they are having a web shop as well. (https://www.droomstoffen.nl/, https://www.zusengus.nl/)
Stacey is a super easy sew. One thing you will have to pay attention to it the length of the bodice, it should end in the smallest of your waist in order to sit nicely. Oh and do check if you need a sway back adjustment. Ann has a great tutorial on this, so do check that if you need one.
I absolutely loved sewing up my Stacey's, they were quick to make but did differentiate from each other by their necklines. That's my most favourite part.
I've worn all of my Staceys on multiple days, but since I didn't went out (covid lockdown) it was just at home. I love to pair them with jeans or a legging or when the weather is gentle with stockings and pumps.
If you want to see more of my sews go and visit: https://www.instagram.com/fabricfairybrenda/
---
Hello my name is Elise and I live in Queensland, Australia. I have chosen to do the V neck Stacey in a 3/4 sleeve.
I started with the 50cms skirt length but have added 2 inches to account for my height. This was a super quick and easy sew. After making my toil I realized that I needed a sway back adjustment which is also a really easy adjustment if you follow Ann's instructions on FB. I just love this dress, I feel super confident. As I have made my dress out of scuba is is more suited for the cooler weather so as we are heading into summer in QLD I have not had a chance to wear it yet…..But I really can't wait to take it out for a spin next Autumn and Winter. I know I will be able to dress it up with heals or dress it down with tights and boots.
https://www.instagram.com/seweliseium
---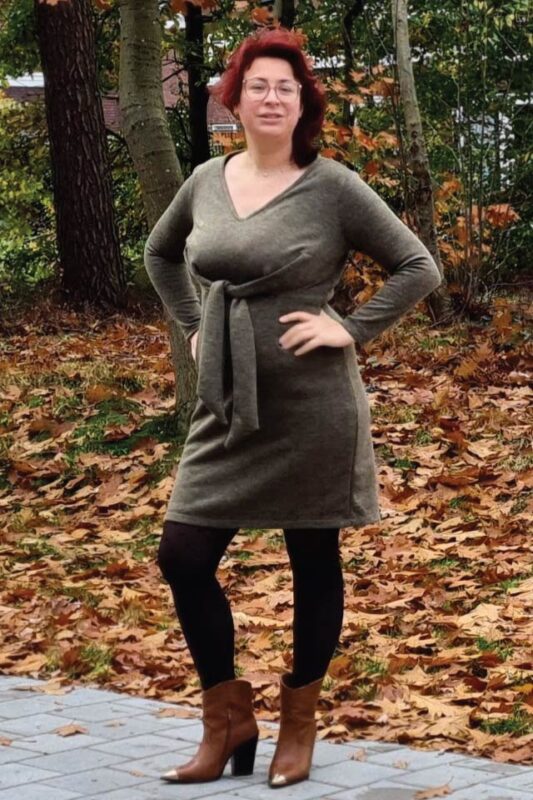 HI my name is Jose Vernooy Winkel from the Netherlands and I've had the pleasure of testing the Stacey dress. I love the every-day-style of this dress or top.
I have done the longest skirt length and paired it with long sleeves. It's the ideal go-to-work style for me this winter. When I saw this gorgeous merino sweat-knit it was screaming for a Stacey in my mind. It worked like a charm and I've been wearing it with pleasure right away.
I love the waist knotted style since it's so easy to wear with my bump! But afterwards it'll be a sure thing to wear too, because it hides some tummy issues perfectly 😉
I found this a very easy sew, and I can totally squeeze one sew into hectic preggo-mum-life❤️.
Mostly done on the serger so cut and sew is a quick process.
My best tip to sew any DS patterns is to follow the measurements table because it's spot on, especially paired with the cup sizes available.
If you'd like to see more of me and my makes, please follow me over on Instagram :
Https://www.instagram.com/jose.vernooy
---
Hi! I'm Kim and I'm from the Netherlands. I ordered fabric to make a warm Stacey dress with the turtleneck, but it didn't arrive on time. In the end I used a rayon jersey for the round neck version and I really love it! The fabric isn't too warm but with the long sleeves I can wear it in autumn and spring. I'll make a dress with turtleneck once my fabric arrives, but I think the different options paired with different fabric make it a great dress for all seasons. While sewing, make sure to reinforce the edges next to the ties. They get pulled every time you tie them, so it helps to keep them looking good on the long term. The Stacey is a very easy and quick sew – I made mine in a few hours and wore it the next day. Another great design!
www.instagram.com/sewing.kim
---
Hi everyone! I'm Hwee Ke from Singapore and I made 2 Stacey Dresses – a round neck dress and a v neck slightly longer dress, both sleeveless and using scuba fabric. I love both my dresses because they feature ties in front, a detail i love in many of the dresses I own! I've worn my Stacey dresses out for my anniversary lunch dates with my husband and he loved it. (Yes, we went on multiple lunches cos why not? 😂🤣)
The Stacey dress js really flattering when worn with heels and I can see myself wearing this to work then out for a lovely meal.
I think the best part of sewing Stacey is how fast it is to put together an absolutely stunning dress. And it's such a versatile pattern so u can have very different looks when you use different fabric.
My next Stacey will probably be one in Sweater Knit with a high neck for when i can go overseas on cold weather winter holiday again!
Blog: kekesews.blogspot.com
IG: www.instagram.com/kekesews
---
Hi everybody are you ready for your new favorite dress?
My name is Marit and I am from the Netherlands. Over here winter is coming and I hate cold! So I made myself not one, not 2 but 3 turtle neck Stacey's! Stacey is sophisticated and suitable for work, and at the same time sooooo comfy it feels like wearing a blanket!
My grey Stacey is a jersey jacquard from https://www.kickenstoffen.nl/Tricot-gebreide-kabel-jacquard
The purple is a double knit I bought in a fabric store in Barneveld, same as where I bought the red and black one.
Stacey is a quick sew, just take your time completing the darts and pressing the ties and you can whip up Stacey in one night!
Ever since my first toile I have been wearing the heck out of my Stacey's, making all my friends jealous and asking if I can make them one. Now that's a great compliment!
You can find my pics at www.instagram.com/modemamaprins.
For the pics I wore my Stacey with heels, but they also go very well with sneakers for a more sporty look.
Enjoy your Stacey! Xx
---
Hi there! I'm Monica from Virginia, USA. I chose to sew up the long sleeve turtleneck version. It is fall here in the US and I needed a cozy, warm dress. To go with my fall theme, I used a sweater knit fabric to make my Stacey. It is so stylish and super comfortable at the same time!
The Stacey dress was the maiden voyage for trying out my new projector set up. I love that Designer Stitch patterns include a projector file, it really helps to cut down on the prep time!
For my pictures I styled my sweater dress version with tall boots. I have worn my Stacey dress to church and just around my home. I can't wait to try out the other necklines and tunic length top.
If you would like to see more pictures of my Stacey, please visit my Instagram page at instagram.com/mwstitches.
---
Hi. I'm Shardee from the Netherlands.
The Stacey is a dress you can wear everyday. It's casual and glamour in one.
My Stacey is made of a kind of brushed jacquard fabric. It's so soft at the outside, you one want to pet the dress.
I made already another one in Punta with a round neckline. And I have plans for a summer version. Mmm I think I'm addicted 🤣. So let it be a little warning, you gonna make more than one Stacey 😉
If you like to see more of my work and a little bit of a private life, follow me on instagram Www.instagram.com/Sdvtje 😘
---
I am Sophie from Vienna, Austria 👋
I chose the v-neck Stacey for my finals because I wanted casual yet sexy 😉 I used a super soft Romanit-jersey from my local fabric store ❤️
The Stacey is an easy sew, you will be making all the options! just make sure you follow the instructions.
I made the mini length and since it's getting colder here, I mostly style with leggings and heels/boots
---
Hey All…Im Suzi Nasoor from Sri Lanka..of all the fantastic options of Stacey I chose the sleeveless and crew neck with the tunic length so that I could style it with my palazzo pants n floor length cardigan.
I chose a scuba with a beautiful border print which was purchased locally for my Stacey..love how it turned out.
When making your Stacey make sure u determine where your waist sits and adjust bodice accordingly…plus make sure u go patiently with attaching the front to the skirt. Also as usual do go through instructions thoroughly 😉😉.
Favorite part of making the Stacey is obviously making the front ties..trust Ann to come up with most unique n trendy yet easy to sew design unlike others.
I couldnt wear it out still (thanks to covid lockdown) but my neighbour who was near me while taking pics was swooning all along 😁.
I think styling the Stacey with the duster cardigan n palazzos turned out to b perfect. I cant wait to hack it to a maxi version and show y'all.
You can u can see more of me on my fb profile
https://www.facebook.com/fs.nasoordeen or my insta account
https://www.instagram.com/suzi_nasoor/
---
I'm Luana and I live in the US.
As soon as I saw the options for the Stacey I knew I wanted to make the V neck option. Regarding the length, I usually go for the shortest. While I wanted 3/4 sleeves since it's starting to get cold here, and that makes it a perfect transition piece.
I chose ponte knit that I purchased at Fabric Mart not too long ago.
A toile is very important for this dress to make sure that the bust darts are pointing the correct way. I had to correct that in my toile and that small change made a huge difference in my final dress.
There are multiple things I love about the Stacey: one is that it uses very little fabric, I was impressed I could use some large scraps I had for my toile. Also, I like how quickly it comes together and still looks like an elaborate dress.
I didn't wear my final Stacey yet, but I was able to wear my toile (after I corrected the darts) to the office, receiving compliments from my coworkers.
For the office, I wore it with shorter heels and matching accessories.
Blog http://lmfcrafts.com/
IG https://www.instagram.com/lmfcrafts/